Transitions
From Windsor Terrace to Hell's Kitchen: Winning a housing lottery unit and escaping a hellish, bed bug-infested building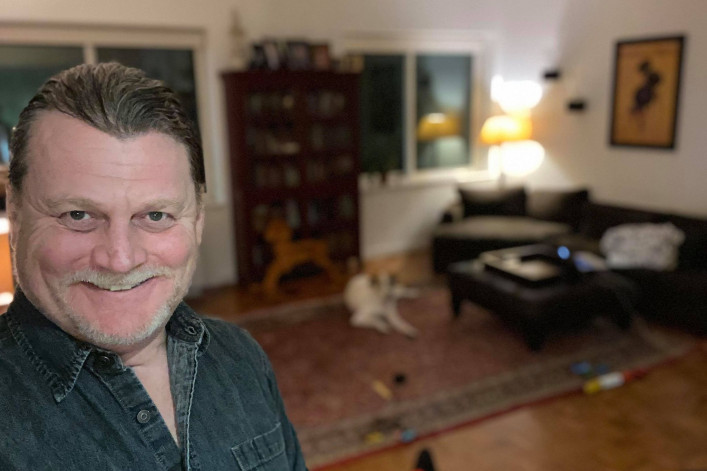 Robin and Chad loved their Windsor Terrace neighborhood, but their rental building was an assortment of nightmares: Subway noise, difficult neighbors, and the final straw–bedbugs. They decided to try for a housing lottery apartment—and less than a year later, they succeeded, scoring a two bedroom in Hell's Kitchen—with two bathrooms. Here's Chad's story.
I grew up in Canada, always admiring New York City from afar. I'd wanted to live here all my life. My wife, Robin, is New York born and bred, and shares my view that if you don't want to live here, then you must be kidding. She works in film/television post-production and I'm in web content, PR, and social media.
We were living in Brooklyn together in a fairly large, two-bedroom rental in Windsor Terrace, Brooklyn. We were on the second floor in an elevator building, and we had a balcony of sorts —the living room door opened out onto the first-floor roof and you could just walk around on it. There were stairs leading down to the street on either side. Our rent was just over $2,000 a month.
The area is gorgeous, nestled between Prospect Park and Greenwood Cemetery. It's great for young families and has great restaurants like the Brooklyn Commune and the Fort Hamilton Cafe. It also happens to be one of the best places in the city for Halloween, as entire blocks turn themselves into a trick-or-treat wonderland.  
But our experience was not so idyllic.
---
[Editor's Note: Brick Underground's series "Transitions" features first-person accounts of what it's like to move from one New York City neighborhood to another. Have a story to share? Drop us an email. We respect all requests for anonymity.]
---
When we first arrived at our new Windsor Terrace apartment, we had nowhere to sit but the floor. The moving truck was on its way with our furniture. That's when everything started to rumble. Our building was right over the F train, a crucial detail nobody mentioned when the place was shown to us. Now we knew why they wanted us there in the mid-afternoon, when the trains ran more infrequently.
My wife, Robin, hung her head, asking, "What have we done?"
Our son is now obsessed with trains, especially subways, and I often wonder if their constant sounds contributed to his fixation in some sort of a subliminal fashion.
Bad impressions kept piling up. As if it weren't noisy enough for our baby already, with the subway passing by regularly underneath us, the new neighbors quickly showed us we were in for a tumultuous stay.

That second night around 11 p.m., there came from directly above us the unmistakable sound of carpentry. Somebody upstairs was hammering, sawing, and using power tools. I was going to have to go up there.
I knew I had the right place as I approached, even if I couldn't have heard them working, as discarded lumber and disassembled furniture was piled in the hallway outside their door. It took a few tries knocking on their door for them to hear me. 
When they asked who was there without opening the door, I responded as politely as I could that we were their new downstairs neighbors, we had a baby, and suggested that there was perhaps a better time they could do their carpentry. They expressed disbelief that we could hear them, told me to go away, and that was that. But at least they stopped hammering.
As if that wasn't bad enough, our building just kept giving us more reasons to hate where we lived. Three women who worked as nannies for parents in the building also made a few extra bucks doing laundry for other tenants. That's why they were always in the laundry room, taking up all the machines, all the time. There was no way to load a washing machine, set a timer on your phone and come back when it was done to put everything in the dryer. You had to stay in the laundry room the entire time or lose your shot at getting any machine.
Down the hall was an older man who liked to go out and drink. No judgement there, except he had a habit of coming home, starting to cook something, and passing out on his couch until whatever he had on the stove burned enough to set off the fire alarm.
The apartment itself was fine. No view to speak of, but it was spacious enough to meet our needs, our growing boy was happy, and that's what was important to us. Plus, we were starting to make friends with other neighbors, and liked that there were plenty of kids for our son to play with. 
While the noise of the subway was upsetting, at least we were close to transportation. Our commute time wasn't so bad, and in fact was quite lovely when the train rides the elevated track for a while and you can see the city gleaming in the morning light. The only real drawback was when we'd visit family upstate. An hour on the subway back home after an hour on Metro-North with a baby and stroller in tow was no fun.
The best thing about the apartment was its affordability, that was its biggest selling point. My wife had previously lived in the West Village and loved the experience of having the whole world is at your fingertips the moment you step out the door. Meanwhile, rents in Brooklyn had started skyrocketing. In September, just less than a year into our two-year lease we began to talk about moving back to Manhattan.
Robin started investigating housing lotteries for middle-income families, and over the next year we looked at places all over the city. We went to Harlem, Chelsea, and even back to the West Village.
Finally, we were notified in January that our application for a housing lottery apartment in Hell's Kitchen had been accepted. We went to see the apartment in March and then our finances were reviewed—that part took the next six months.
From what we could tell, the way to qualify for a place here was to show that you couldn't afford it.
What eventually got us in, I think, was my decision to become a stay-at-home Dad for Liam. I had just started picking up the odd gig here and there as a freelancer, but I ceased all of that once we were being looked at for the new place. And because I'd contributed so little financially for the last couple years, we just made it under the wire.
Finally, we were told we could move into our new apartment in the beginning of November. Since our current lease wasn't up until the end of November, we asked and were permitted to move in at the beginning of December.
While the price for what we were getting was amazing, it was still going to be a significantly bigger part of our budget. We'd been paying just over two grand a month in the Brooklyn place and rent jumped up to over $2,500 in the Manhattan place. But we saw it as a move we needed to make.
As if to confirm this, our Brooklyn place was subsequently invaded by bed bugs.

Here's the thing about bed bugs, you can take all the precautions you want: Bomb your place with bug poison once a week and keep everything sterile and spotless, and they always come back if you have neighbors who aren't doing the same.
When it finally, finally, was time to leave that place behind, it still got in one last swipe at us. Due to the building's bed bug infestation, we had to pay an extra $1,500 to have our moving truck stay in a special facility overnight for a last treatment to ensure none of those nasty little bloodsuckers would survive the trip to our new home.
The new place seemed massive. Hardwood floors and high ceilings, a wide living room with large windows, a galley kitchen, a walk-in closet for her and another large closet for me. It had a bedroom for us, one for our son, and two bathrooms! Do you know how many arguments are avoided by having a second bathroom? Lots!

The building is new, has a concierge, and is safe and clean. It also has plenty of other amenities: There's a gym, an outdoor garden, a playground for little kids, a playroom, a bike room and storage lockers. Anything goes wrong and a maintenance worker will come fix it up. We feel spoiled!
We've gotten to know many of our neighbors and a lot of them have become dear friends. Whatever food you are in the mood for is close by. Tulcingo Del Valle has amazing Mexican food. Ollie's has great Chinese. The bar, Scruffy Duffy's, that my wife and I used to frequent in the '90s, and was closed years ago, has been resurrected, and is a block away.
Our boy is very active, so we take him swimming at Manhattan Plaza Health Club. We play street hockey in Matthews Palmer Playground. We play baseball in Clinton DeWitt Park. Go there at the right time of day and you can see hawks circling above you. 
The Intrepid is our backyard. Central Park is a 20-minute walk north. Chelsea Piers is a 20-minute walk south. Bryant Park is a 20-minute walk east. It has a skating rink in winter, and it's free if you own skates. That was a lifesaver during lockdown when there was nothing else to do with the kids. We live literally next door to our son's school.
Citi Bike has a rack on one side of our building, and buses regularly run up and down the avenues on either side of us. The subways are a short walk away, but it's the Times Square station, so it's pretty much whatever line you want. Commutes to family upstate are much easier, as we're no longer faced with an hour subway ride after leaving Grand Central Station. We can get anywhere in the city with little to no trouble. Times Square isn't far, but it's just far enough away that we don't see crowds of tourists, and a Target just opened in the neighborhood.
Another big advantage of our new place is that it's big enough that we can finally have a dog. His name is Max, he's a rescue and he's two and a half. Not sure of his breed, he's a cross between a retriever and a...horse, I think. We like big, goofy dogs, and that's just what we ended up with.
This is not to say we haven't been through hard times. Days after we moved into the place, our son was diagnosed as being on the spectrum for autism. That led to running him all over the city for treatments and hosting therapists here.
And then of course, there was the pandemic.
If we had stayed at the old Brooklyn place through all of this, everything would have been made infinitely worse. Where you live is where you are supposed to feel comfortable and safe. Bottom line, we didn't feel that way in the previous apartment. We do now. We've never been happier in an apartment. Robin often, unprompted, would suddenly exclaim, "I love our apartment!" at random times during the day and night for that first year. She still does from time to time. I do, too.
Hell's Kitchen doesn't fit its name these days. It's filled with families and smiles. There is a real community here. We're privileged to call it our home.
Brick Underground articles occasionally include the expertise of, or information about, advertising partners when relevant to the story. We will never promote an advertiser's product without making the relationship clear to our readers.