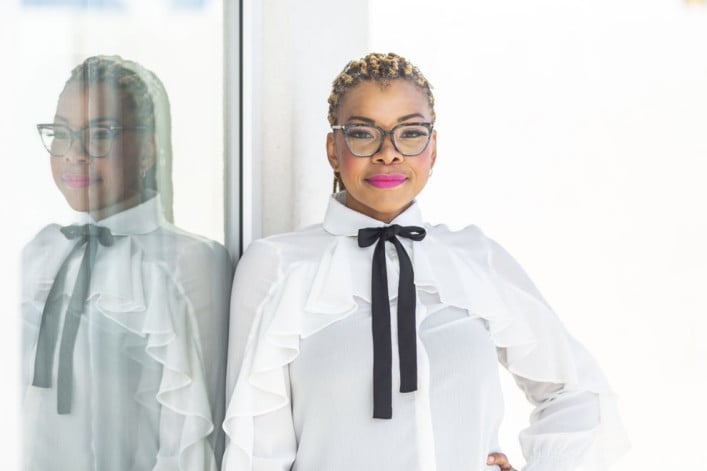 Tiffany loves her apartment and her Flatbush neighborhood, especially its Caribbean cuisine, but her downstairs neighbors are unbearable and complain about her constantly to the co-op board. After a shocking false accusation—that could have ended tragically—she is out of there, landing in Bushwick, where she has the freedom to make a little noise. Here's Tiffany's story.
I was born and raised in Wilmington, NC. I attended undergrad at UNC-Chapel Hill and after graduation lived in the Raleigh/Durham area for five years before leaving southern living for the Big Apple to find myself and build the life I wanted for myself.
I am a clinical research professional, and most recently started my own brand, Opinionated STEM, with the mission of engaging those interested in this growing industry by providing a uniquely different face and a voice. 
---
[Editor's Note: Brick Underground's series "Transitions" features first-person accounts of what it's like to move from one New York City neighborhood to another. Have a story to share? Drop us an email. We respect all requests for anonymity.]
---
Back in 2012, I had found a fifth-floor, one-bedroom rental in a co-op building in Flatbush near Brooklyn College and the 4 and 5 trains. It was very spacious and the bathroom and kitchen had been completely upgraded by the owners. It had hardwood floors, and every room had abundant of natural light. The building itself was home to many families, some with young children, which I liked—especially giving out candy to them on Halloween. 
The owners of the apartment wanted to sell the unit for an amazing price ($185,000). I was paying $1,100 in rent and the offer seemed more than appealing. However, a colleague of mine gave me sound advice to live there for a year before deciding whether or not to buy it. It is very much on the list of the best advice I have received in my life.
What I loved about Flatbush and my apartment was the location. At the time I worked at NYU hospital and the commute to work averaged about 45 minutes and required only one transfer to the 6 train at Union Square. My apartment was also walking distance of Flatbush Junction, a shopping area with Target, Homegoods, and Applebees, to name a few. 
I also appreciated that Flatbush Avenue is lined with local businesses including produce markets, clothing, laundromats, and health and beauty supplies. I am a young, single woman who often works late hours and if I am not working, I enjoy late nights out with friends. I always felt safe walking home at night from the train.
Another aspect of Flatbush I miss is the Caribbean culture. The cuisine cannot be underrated. I gained eight pounds within my first three months of living there because I could eat jerk chicken, rice and peas, and macaroni pie every day. Exquisite and Fisherman's Cove were my weakness.
If you live in Flatbush and never visited Sip N Chat, I feel sorry for you. The rum punch is unmatched and the food is pretty good too. And, if you were brave enough to go downstairs for the afterhours party, I commend you.
I really do not have anything bad to say about my Flatbush neighborhood, however, I hated my downstairs neighbors. I lived alone, worked long hours, but the moment I walked to the kitchen or turned on the TV they would complain to the co-op board and of course bang their broomstick on their ceiling.
It got to the point where I had a meeting with the board because the neighbors claimed I had moved in illegally and was not approved by the board. When that didn't work, they said I was not abiding by the co-op rules of having a certain square footage area covered with carpet or a rug. (I did.) If I took a shower, they would claim I left my shower running, causing water damage to their wall. (Again, lies.) I even sold my treadmill because I realized how thin the walls and floors were. I heard my next-door neighbors arguing and could hear my downstairs neighbors—the ones who complained about my noise—snore at night. 
The final straw occurred one day when I had friends over, and the usual broom-banging commenced and I went downstairs to confront the downstairs neighbors. They never opened the door, but minutes later, I saw multiple police vehicles parked in front of my building. I paid that no attention until they were at my door saying they got a 911 call about someone from my apartment going to my downstairs neighbors' home and threatening them with a knife. All untruths. I filed a police report about this false statement and that finally ended the harassment. But by then, I was completely sure I could not live there, nor would consider purchasing the unit.
Luckily, I had a friend who was a rental broker. Once my lease was up, I was very specific about what I was looking for: A 30-minute commute to work or less, first-floor apartment only, fully renovated, and a building/neighborhood with a younger population. I wanted the freedom to make some noise.
I increased my budget to a maximum $1,400 a month and traded one "bush" for another and found my love in Bushwick (or "East Williamsburg" in broker speak.) After a short search, I found a first-floor, fully renovated, one-bedroom railroad apartment within walking distance of the L and M trains for $1,350. The only drawback is this apartment does not have closet space!
Thankfully there's IKEA. I had an amazing exposed closet installed that has become a focal piece of my bedroom. Similar apartments on my block have been converted into two bedrooms, so I am very pleased with the size of my bedroom. It is basically the size of a studio apartment, and I still get a separate living space, kitchen, and bathroom. 
If I thought Flatbush was the perfect location, Bushwick is the mecca for getting around town. I can get to the LES in 20 minutes and the west side of the city in 30 minutes. I'm also a quick train ride away to transfer to the Long Island Railroad and walking distance of Ridgewood, Queens. Both JFK and LaGuardia are 25 minutes from my apartment, so choosing a flight is never a headache. 
My location has multiple of bars and restaurants within walking distance; many more options than when I lived in Flatbush. My neighborhood favorites are Party On (what I like to call my neighborhood "Cheers") and Talon Bar for libations. Mesa Aztec and-my daily favorite, Qdoba are the best for good eats. There are countless restaurants that deliver via delivery apps and they accept orders after a long night of hanging with friends.
The laundromat is across the street and I will bet on it against any building boasting laundry amenities. I can get across the street before anyone can get to their basement laundry. While there is no Target, Knickerbocker Avenue rivals Flatbush Avenue in terms of local businesses. Besides, I'm more of an Amazon shopper.
My current neighborhood is gentrified for sure, but still has hints of old-school Bushwick. There is the barber shop across the street and dudes usually sitting on the stoop playing music who are very respectful to me whenever I am leaving or coming in the building. Kick-ass graffiti lines many of the buildings and security gates and bodegas are at pretty much every corner.
Unlike Flatbush, my neighborhood never sleeps. The bars are always open and lively. I feel safe walking all times of day or night. Since the pandemic, I have noticed a large exodus in my specific building. Only three of the eight units are occupied. I suspect as the world opens back up and people return to NYC, they will get rented. I am not complaining! I should also say over the years, my rent has gone up and luckily my career has allowed me to afford the $1,650 I pay now.
I cannot see myself leaving this apartment if my next destination isn't on a beach or boat permanently docked in the Caribbean. To quote a song by The Roots & Erykah Badu, "[Bushwick] baby don't worry, you know that you got me."
Brick Underground articles occasionally include the expertise of, or information about, advertising partners when relevant to the story. We will never promote an advertiser's product without making the relationship clear to our readers.