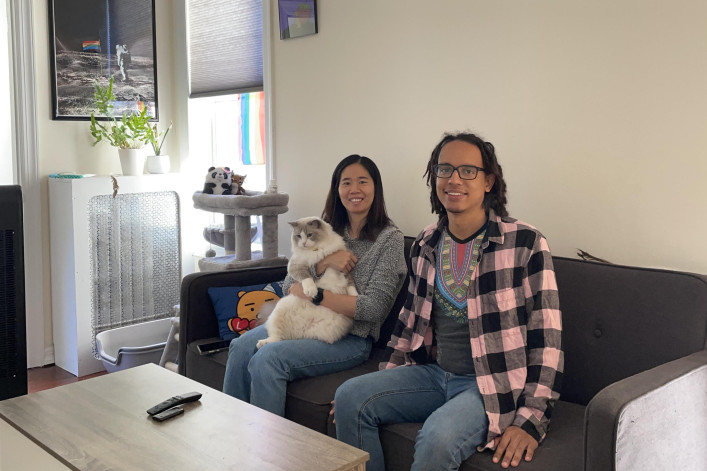 Antoine Amira, BOND New York
At first, Sam and Maxim, New York University doctoral candidates, enjoy living in StuyTown in the East Village where they have a great deal on rent, thanks to the university's graduate student housing program. But eventually their building starts to feel like a dorm and they want a change. They land in Hell's Kitchen, which they find quieter and with better options for dining out. Here's Sam's story.
I grew up in Los Angeles. My roommate Maxim grew up in Uganda and attended school in Virginia. We both moved to New York City to attend NYU.  I am currently a doctoral student studying chemistry, and my roommate Maxim is also a doctoral student who studies biology.
I was originally living in a spacious StuyTown two-bedroom apartment with a roommate, although the kitchen was fairly small. The building had elevators and laundry, but I often had to wait for a machine to open up, especially on the weekends.
---
[Editor's Note: Brick Underground's series "Transitions" features first-person accounts of what it's like to move from one New York City neighborhood to another. Have a story to share? Drop us an email. We respect all requests for anonymity.]
---
The area felt very safe because of all the security that StuyTown provided. However, there was one thing I did not like: The thin walls. We could hear everything our neighbors were doing. I wore earbuds to block out the noise. And the building was old: There were broken floor tiles plus a bathtub that was often clogged.
Still, we got quite a deal thanks to NYU, which provides some graduate students with discounted apartments at StuyTown. We were paying $1,240 each with gas and electricity included.
I really liked the East Village and the short commute to work. I work as an adjunct instructor for undergraduate courses on campus. My trip was just a 20-minute walk or if there was bad weather, I would take the L train down to Union Square and transfer to the R and get off at the 8th St.- NYU stop.
I didn't like how noisy 14th Street was, especially at night. It was hard to sleep sometimes because of all the noise. I felt lucky we had Trader Joe's nearby for its cheap and delicious groceries. Target was also really close by for anything else I could need.  
My favorite things to do in the East Village was walk to Union Square Park or Tompkins Square Park and go bar hopping with friends on the weekend; we usually went to a bar called The Immigrant. As for restaurants, Hane Sushi, has the best quality fish out of all the sushi places I've tried in NYC. They also had this great plum wine. And I liked the udon and chicken at Raku, a great restaurant nearby. Other than that, I typically cooked my own meals.
My roommate there was in the same program as Maxim and introduced us. We became friends and planned to live together when I decided to move out of StuyTown in July—the building felt like a NYU dorm and I was ready to explore other neighborhoods in Manhattan.
Maxim and I looked around the Lower East Side and Kip's Bay area and saw about 15 places. Then we enlisted the help of Antoine Amira, an agent at BOND New York. He showed us five apartments, mostly in Hell's Kitchen, which were within our price range. Our search ended when Antoine texted us to say he found an apartment in Hell's Kitchen that just came on the market and we hurried to see it. It was perfect for us!
Moving during the pandemic was not bad at all because we didn't have much furniture. We just had to be a little more careful with our neighbors by wearing masks at all times and not sharing the elevator.
Our new apartment building is a six-story building that was built in 1901. The building has an elevator, super, and laundry room—exactly what we were looking for! And surprisingly it isn't hard at all to find empty machines even during the weekend. The view from our apartment is much nicer than the view I had at StuyTown. We can see Times Square from our fire escape!
Now we pay $1,475 each so our monthly living expenses are much higher. The internet at StuyTown was also cheaper—we had RCN there, it is much more affordable than Spectrum, which we have now. 
The East Village definitely attracts a younger crowd compared to Hell's Kitchen; it felt like there was something fun going on all the time. Tompkins Square Park was always a blast to go with people if we were feeling like dancing or watching people. StuyTown also had its own events so it was easy to meet other people who lived there.
Still, I love how quiet it is in Hell's Kitchen compared to StuyTown. I also like that there are more restaurants within walking distance. There is a Food Emporium and Target nearby so it remains easy to get groceries and home goods. I also frequent H-Mart and stock up on Korean food.
We are still new to Hell's Kitchen but so far, we are very happy with the neighborhood. We walk along nearby Hudson River Park and when friends visit it's easy to take them to Times Square and Broadway. 
There are lots of coffee shops here too, like Gregory's Coffee and Vanilla Gorilla Cafe for a delicious iced latte and a sandwich. Dim Sum Palace has really cheap and tasty dim sum. I was really happy to find a Los Tacos #1 two blocks away because they have the best tacos in NYC.
The commute is not bad at all. We just take the A, C, or E train and get off at West 4th and walk to campus—it's actually faster than walking to work from StuyTown.
While we haven't made any new friends in the neighborhood yet, because we are trying to be careful about the Delta variant, other friends have come to visit. We get a lot of compliments about the spacious kitchen and abundance of light.
Maxim and I love the apartment and neighborhood. If the rent doesn't go up too much, we would love to stay in the neighborhood for a long while.
Brick Underground articles occasionally include the expertise of, or information about, advertising partners when relevant to the story. We will never promote an advertiser's product without making the relationship clear to our readers.