Transitions
From Union Square to Gramercy: A 'sleepy' neighborhood turns out to be just right for a young family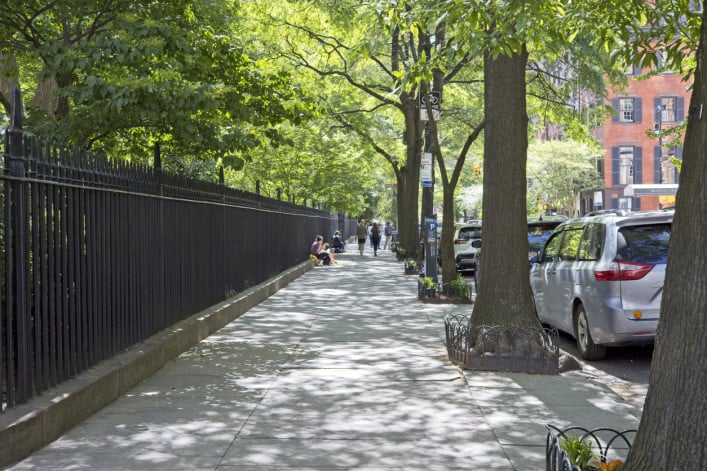 Lauren Z. Rosenthal and her husband Marc were living near Union Square, but the many chain stores and singles scene made the area feel anonymous. They wanted more of a community feel and found it just blocks away in Gramercy, where they met other families. It feels pretty sleepy for the city—and that's perfectly alright with them. Here's Lauren's story.
I was born and raised in Westchester. But I moved back to New York to go to law school and be closer to my family. My first apartment in NYC was in Chelsea, where I lived alone. The building was mostly single folks—many of which were gay. I met my future husband, Marc, in the lobby of my building and eventually he moved in with me.
I owned my alcove studio. I renovated it twice, once to make it livable, and later to add a dishwasher and granite countertops. My maintenance was under $1,000 a month so it was very affordable. The building even had washer/dryers on every floor.
---
[Editor's Note: Brick Underground's series "Transitions" features first-person accounts of what it's like to move from one New York City neighborhood to another. Have a story to share? Drop us an email. We respect all requests for anonymity.]
---
I became obsessed with The Hummus and Pita Co. one block away on Broadway. And there were many good restaurants in the neighborhood but sadly, they are all closed now. Even famous Sammy's Noodle, which delivered to me in all my subsequent NYC neighborhoods, closed during the pandemic.
We got engaged in 2010 and decided to move so we could start a family. We hunted like crazy. We looked at bigger/pricier one bedrooms with a nook for a baby under $1 million. We made some offers and sadly, the perfect place got away. I think we looked for a year and finally ended up just south of Union Square. We wound up getting this bizarre, narrow duplex apartment that needed a gut renovation. At least it had laundry in the basement.
There was a huge outdoor space off the upstairs bedroom, and we added elegant glass railings, but once we had our first baby you couldn't convince me to put him up there. He slept in a space next to the TV until he was almost one.
I commuted downtown for court appearances—I work as an attorney. Marc drove to work in Brooklyn where he is the co-owner of a roofing supply company.
Our Union Square building was big and fairly anonymous. We didn't get to know many people and few families resided there. We soon realized there is simply no neighborhood there. Supposedly, there were regular sightings of Alex Baldwin near our building, but we never saw him. To us, there didn't seem to be anything very noteworthy about the area, just chain stores like 7-Eleven and homeless encampments.
We didn't like the vibe and so when I became pregnant with my second child, we wanted to find a two bedroom with a more traditional layout. We looked in Brooklyn's South Slope area just as things were starting to heat up, but the good stuff needed massive renovations and paying over $1 million to live in Gowanus seemed crazy at the time.
So, we ended up moving to the Gramercy Park area. I found a place online myself and we immediately made an offer ($1.6 million) and it was accepted. It was just so normal: A basic kitchen, two decent-sized bedrooms, and two bathrooms. The basement has a big laundry room.
We worked with Laura Amin, a broker at Compass, because she had shown us a ton and we had worked with her before. Now we're in debt up to our ears, but the maintenance is less than our prior building. It was around $2,000 including utilities but it's gone up. It's around $2,500 now.
And now we have much better apartment where we can regulate the temperature ourselves. It's a very well-run building with a big staff. It has over 300 units and there's always someone to help you. Our building has lots of elderly tenants who have lived there for years as well as new young families like ours.
Gramercy seems like a sleepy neighborhood, but it has a community feeling and the area suits the stage we're at now. Because we have a child, we spend all of our free time in playgrounds and parks. We also have a bunch of friends in StuyTown that we can see more easily. We also go to Asser Levy, the nearby public pool. Mostly we stay above 14th Street now.
We still use the same Union Square station as our main subway stop, even though the buildings are 20-minutes apart by foot. We still visit most of the same places we did while in Chelsea.
Marc drives deep into Brooklyn so he likes that he can park in the building because he leaves at 5 a.m.
Mariela's Pizza and a gourmet supermarket are nearby and we were excited about them, but they closed just after we moved in. I used to like Sal Anthony's Italian but they're closed now too. Thankfully Bluebell is still around and I like Taqueria Gramercy. We are also super close to Trader Joe's, which is so convenient.
This is my absolute dream apartment and I love the neighborhood. The school is great and it is where I found all my mom friends. It feels like a community to me. I go to the playground and even if I don't know someone, I still see familiar kids. We hope we can afford to stay in it but that is up in the air right now.
Brick Underground articles occasionally include the expertise of, or information about, advertising partners when relevant to the story. We will never promote an advertiser's product without making the relationship clear to our readers.