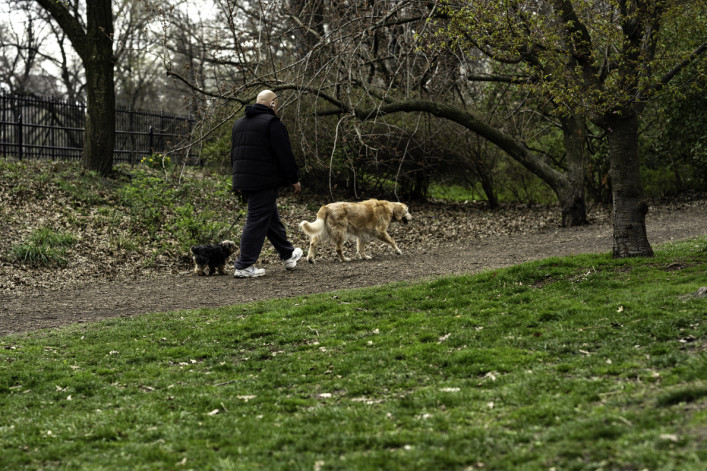 A newly married couple, Darius and Caroline, (along with Darius's mother) decided to make a move from Moriches, New York, to the Upper East Side, to be closer to family. They left behind a quiet townhouse on Long Island that was a 25-minute drive to the nearest grocery store. Now they appreciate being close to work, places to socialize and shop, and they're pleasantly surprised by the spaciousness of their new place. Here's Darius's story.
I grew up in Queens but lived on Long Island for 11 years in Merrick and most recently in Moriches. Caroline grew up in New Jersey and has lived in both Merrick and Moriches with me.
Our most recent apartment in Moriches was in a very quiet complex, near farmland. The 1,000-square-foot apartment had three bedrooms and cost $3,500 a month with water included. We loved that the whole, two-floor townhome was ours—ah, the privacy! It had a washer and dryer but it was just very far from stores and the rest of the family. 
---
[Editor's Note: Brick Underground's series "Transitions" features first-person accounts of what it's like to move from one New York City neighborhood to another. Have a story to share? Drop us an email. We respect all requests for anonymity.]
---
Being in a rural area was very peaceful and that's what we loved about it. The downside was that there weren't many places to go to. Most restaurants were about 45 minutes away so we stayed home and cooked mostly. When we didn't cook, we would order from Carlos Pizza of Manorville but always for pick up because of Covid. They have a very small dining room with six tables so we always played things safe. 
I work for the Local 6a Concrete and Cement Laborers and do jobs in all five boroughs of NYC. Before the pandemic, Caroline worked right by Penn Station but she is working from home permanently now. Her corporate office is in Long Island City. In general, we had to drive if we wanted to get somewhere. Only public form of transportation was the Long Island Rail Road, and the closest station, Ronkonkoma, was about a 30-minute drive.
The isolation, as great as it was for the peace and quiet, was also the hardest thing to deal with. Moriches is close to the Hamptons and is about an hour and a half from the city with no traffic. But at peak hours, it could take two and a half to three hours of driving to get to the city. I would start work at 7 a.m. and would leave the house at 5 a.m. to avoid any traffic. It typically took an hour and a half to get there. 
At the start of the pandemic, we decided to move to New York City with my mother.
We had been wanting to move to the city for some time but the high rents and sizes of apartments were our main deterrent. We also wanted to be closer to my aunts and uncles, her siblings, who live in the city. We have a pretty large family and we're all very close, so being near to them is very important to us.

We saw that rents in NYC were dropping but finding a place was tricky: A lot of the real estate companies we worked with in the past had seemed to have very new agents. There were a lot of bait and switches: We would see a three-bedroom unit online and when we showed up to view the unit, it was a studio that was $1,000 more than the three bedroom.
Then my mom found Antoine Amira, an agent at BOND New York, when she was checking listings on RentHop and he really stood out. He asked a bunch of questions about our budget and wanted to know what was important to us. When we went to meet him, we thought we were looking at one place, but he came prepared with almost 10 places so we could see our options.
Light and space were very important and we needed at least a two bedroom because of my mother.
Our budget was about $2,500 per month and while we didn't specify any neighborhood, we saw the Upper East Side was pet-friendly and that was important to us. We liked being able to be near both Central Park and Carl Schurz Park. Having laundry in the building and an elevator were nice, but they were not deal breakers.
Antoine showed us a bunch of units in the Yorkville area. Several fit the bill. We opted for the one with the most in light in every room! It is gorgeous and spacious, which we weren't expecting for a NYC apartment. The layout is amazing. The bedrooms are far apart and don't share a wall.
The building has beautiful marble and tile flooring. It is a prewar walk up and we are on the fifth floor, but it is not as bad as you might think. The stairs are big and there are two sets. And being on the fifth floor pushes you to become more organized. You can't forget things when you leave the house!
Our rent is $2,100 gross with one month free so the net effective rent is $1,925. The price of a studio pre-Covid! We didn't pay a broker fee.
We have two small pups so being close to a park was important to us; now we are just five blocks from Central Park.
We're actually saving a good chunk of change now that we don't have to schlep all the way from Moriches for work or social activities, and we're saving almost 50 percent on living expenses.  

My work commute is much easier now that I can take the train. We are between the 86th Street and 96th Street Q train stations and we also have access to crosstown buses on those two thoroughfares as well. There are express buses on Second Avenue that can take us downtown as well.
I won't have to worry about paying as much as I used to for tolls and gas. I do still have a car—it was a necessity while on Long Island, but now I'll need it less.
We had a washer and dryer in our unit in Moriches, which we don't have here, but there are several laundromats right on our block. We're also close to C-Town, which is very affordable; grocery options were pretty limited in Moriches. We had Lidl, which was affordable when it came to meats, but everything else was expensive. If we wanted to go to a Stop & Shop, we'd have to drive 25 minutes and they were always out of stock on many items. 
One thing that I miss is the privacy: We didn't have neighbors above or below us in our Long Island apartment and we do now. I was a little worried about hearing a lot of noise but so far, it's been pretty quiet. 

All of my friends are in NYC now so it's great being closer to everyone. I haven't had anyone visit the new place yet because we are still being cautious with Covid. 

We love being in the city and hope to stay here for years to come.
Brick Underground articles occasionally include the expertise of, or information about, advertising partners when relevant to the story. We will never promote an advertiser's product without making the relationship clear to our readers.