Transitions
From Port Washington, NY to Hell's Kitchen: Giving up suburban hobbies for urban amenities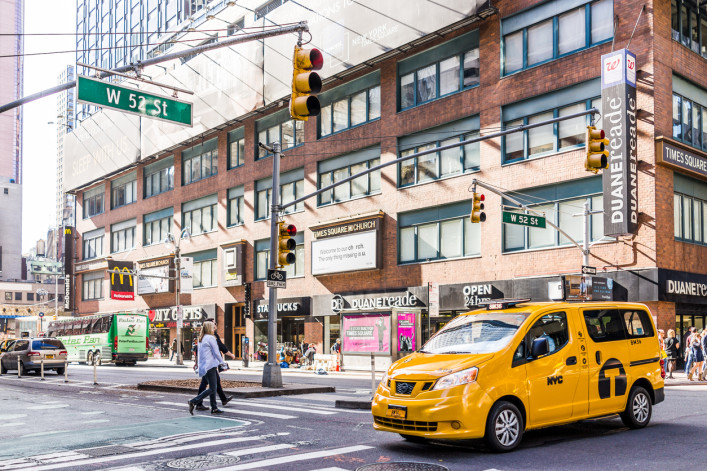 For years, Floyd Feather Jr. debated about whether to move to Manhattan, where he worked, or remain on Long Island, where he enjoyed his quiet, residential neighborhood and spent his free time sailing. His breezy lifestyle always won out—until he sold his boat and falling rents lured him to Hell's Kitchen. Now he's very much a fan of NYC living and urban amenities. Here's his story.
I grew up in Port Washington, a small waterfront community on the north shore of Long Island. I left for about 10 years for school and work. When I got a good job opportunity in Manhattan, I moved back.
For the last two and a half years I was living in a prewar apartment complex of eight buildings. It was on five acres with 200 feet of water frontage and a dock. I rented a two-bedroom apartment that was approximately 900 square feet. Aside from a shared laundry room, there were no amenities. (I usually dropped off my laundry elsewhere because the building's facilities were often very crowded.)
---
[Editor's Note: Brick Underground's series "Transitions" features first-person accounts of what it's like to move from one New York City neighborhood to another—or outside the city. Have a story to share? Drop us an email. We respect all requests for anonymity.]
---
The neighborhood was quiet, very residential, but within walking distance of restaurants and bars. My rent was approximately $2,800 monthly, including use of a private, single-car garage.
I had access to all of the things I needed in town and was also close enough to the highways for when I needed to go somewhere. I liked the layout of our buildings; I only shared an entrance and hallway with five other apartments so it was very private. The complex was very well maintained and the staff were always very responsive. My unit had a lot of storage space, the bedrooms were very large, and the kitchen and bathroom had been updated just prior to my move-in.
Two close friends of mine lived locally, and I had other friends scattered on Long Island, so there was always plenty of socializing. Port Washington has excellent restaurants and my favorites were La P'tite Framboise, Finn MacCools, Waterzooi, and Bonsai Sushi. I also had four, large grocery stores within a five- to 10-minute drive from my apartment.
Sailing is deeply rooted in the culture of Port Washington and I also owned a sailboat for years, which occupied a lot of my free time. 
I commuted into Manhattan for about eight years of my time there. Port Washington is an ideal place to live for Manhattan commuters because the Long Island Railroad express trains are only 35 minutes during the morning and evening rush, which made my door-to-door commute roughly 50 minutes most days. I'm the director of client solutions for a telecommunications service provider based in Manhattan. 
I thought about moving to Manhattan on and off over the last five years, mostly to be closer to my job and also closer to many of my friends in the city. I was always torn between being near the water and my boat versus being closer to my office. My boat won out for many years since my commute was under one hour, but I ended up selling my boat about 18 months ago, shortly before the pandemic.
My office reopened in July 2020, and rents were falling in Manhattan, plus I was driving to my office each day to avoid being on train, and it started to make more sense to move. When my lease was up for renewal, I went month to month and started looking for a place in Manhattan near my office.
I did not intend to use an agent, and I did not have a tight timeframe so I could take my time to find exactly what I wanted. 
I was looking for a full-service, dog-friendly building with a gym and outdoor and other amenity spaces. I was looking for a one bedroom, or a large alcove-style studio and I wanted to stay below $4,000 per month. 
I probably went a little bit overboard with my search: I researched and toured 12 buildings and 44 units before putting a deposit down. 
I moved into a large, one-bedroom, south-facing unit at 525 West 52nd St. in Hell's Kitchen in November 2020. It has large closets and in-unit washer/dryer along with a large kitchen. My rent is $3,850 per month, with the first three months free on a 15-month lease.
The building's amenities are exactly what I was looking for, with a large rooftop terrace, a fitness center, plus a screening room and sports lounge. There is also a pet care company in the building, which has been perfect for my dog, Oliver, a two-year-old Whoodle (wheaten terrier/poodle hybrid).
I am definitely liking being in Manhattan better. I have a much broader social circle in the city, and I no longer have to travel back and forth. There are many more dog-friendly activities in Manhattan so that my dog doesn't have to be alone at home when I am out. I also love having in-unit laundry—that was a firm requirement with a new apartment.
I've grown very fond of ordering my groceries online for most staples, and then going to Whole Foods or the sidewalk produce vendors for fresh fruits and vegetables.
One of the biggest changes is that I no longer have to commute 50 minutes—I'm now about 10 minutes from work. It is nice to be able to go out after work, and still get back home in 15 minutes, rather than an hour later.
I still have my car because I need it for client meetings outside of the five boroughs. I was able to lock in a very discounted monthly rate for a year at a garage just a half block away. 
I've found a few new favorite spots close to my apartment, such as Crispin's, Taboon, and Kare Thai for regular takeout. I've also gotten to revisit some other neighborhood favorites: 44&X, Obao, and Bocca di Bacco.
It has definitely been challenging making new friends during the pandemic. I'm thankful that I have a small, established network of friends in Manhattan who have visited since I've moved. They love the space and the building and I'm hoping to lure some of them here when their leases expire.
Everyone I have met in the building is friendly and welcoming. And I was able to host my family for a small holiday gathering at Christmas this year—they were amazed by the building and amenities and look forward to visiting more. 
I definitely plan to stay in NYC, at least for the foreseeable future. Long term, I plan to buy an apartment, but for now renting will be a great way to get comfortable in Manhattan and decide in which neighborhood I want to live permanently. 
Brick Underground articles occasionally include the expertise of, or information about, advertising partners when relevant to the story. We will never promote an advertiser's product without making the relationship clear to our readers.