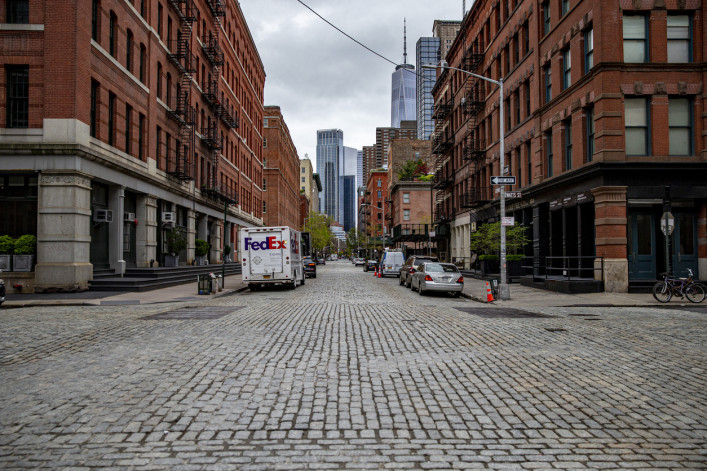 Even before Thomas Jepsen, a native of Denmark, landed in Williamsburg, he found out that living in NYC requires some street-smarts. But he acclimated quickly (great restaurants helped). During the pandemic he decided to leave the roommate life behind and move to move to Tribeca, where the cobblestone streets reminds him of Europe. Here's his story.
I was living on Powers Street in a furnished room in the middle of Williamsburg, paying $1,300 per month, soaking up everything that Williamsburg has become over the last couple of years.
Coming from Denmark, ready access to public transportation was always something I longed for and was why I made sure to choose an apartment close to the Grand Street station in order to easily get into Manhattan. The apartment was in relatively good condition, but it was a basic rental apartment. The front door needed a proper nudge to close properly and the room was definitely smaller than I would have liked. 
The neighborhood offered everything my stomach could desire, like ramen from Okonomi and lamb chops from BK Jani. My apartment was a manageable 15-minute-walk away from St. Anselm, a restaurant where I spent a sizable amount of my income eating their wine-braised octopus and aioli artichoke hearts. Yummy!
Banter Bar was almost right around the corner from there—a charming pub atmosphere and frequent Premier League games made it a place my friends referred to as my second home.
My commute was never bad in Brooklyn—I am self-employed so I had the option to just work from my apartment, but I rented a space at WeWork, which forced me to get out of the house. The office was about a 20-minute walk from my apartment, although it felt longer in the winter months.
The laundry situation in Brooklyn was interesting to say the least. It looked like it was a major water leak waiting to happen, but I appreciated having a washing machine in the apartment, although nothing about it seemed like it would ever pass an inspection. Fortunately, no major water damage occurred while I was there.
I would get groceries from Key Food Supermarkets, which was not too far away and get my wine from De Wine Spot.
When it seemed like the pandemic was going to be around for a while, I was a little reluctant to look for a new place because the level of fear in the city was at its absolute highest and it discouraged me from being around strangers. In addition, when I first moved to the U.S., my search for a place involved everything a foreigner could do wrong, including using Craigslist. I had some very strange interactions. 
---
[Editor's Note: Brick Underground's series "Transitions" features first-person accounts of what it's like to move from one New York City neighborhood to another—or outside the city. Have a story to share? Drop us an email. We respect all requests for anonymity.]
---
For example, for my first visit here, before I moved, I made plans to stay at an Airbnb.  Since I was going to be arriving late in the evening, I suggested that the host just leave the key in a place where I would be able to find it. 
Her reply said it all: "Honey, this is Brooklyn," in a tone that indicated a sincere sympathy for my well-meaning, gullible European attitude. What seemed like an obvious thing to do, she considered the fastest way to becoming a crime victim. I decided I would do my next search more thoughtfully.
Around the middle of March, restaurants were closing. My heart sank when Governor Andrew Cuomo shut down indoor dining because it made me to realize the seriousness of the situation. Over the next few months, as things closed down and I was forced to stay home, I felt my desire to move increase dramatically. As much as I liked the company of roommate, it was time to live alone.
I considered buying an apartment at the time and started looking into it, although I very quickly figured out that it was probably going to be more difficult, and more taxes than I was willing to pay. 
I decided to move to Manhattan—specifically, Tribeca, which offers a sense of cleanliness that I didn't feel in Williamsburg. Perhaps I idolize cobblestone streets from living in Europe. When I committed to it, finding the apartment went really quick.
I found a management company called Move In Easy that run by a couple of Danes who seemed very familiar with the housing that fit what I was looking for. I was mostly concerned about moving to a place where I would feel like an adult in a neighborhood where I could see myself staying for a couple of years.
In August, I moved to a corner apartment with 11-foot ceilings and wrap-around windows. While I am now paying $2,300 per month, it does have a kitchen of a different caliber, a roof terrace and a nicely stocked gym.
The WeWork I used to go was better than the place where I work out of now—it had a homier feel to it—and I miss some of the people there who helped inspire the idea for my latest startup, Passion Plans, after a late-night conversation with someone about what we could do to improve the overall housing situation across the country. 
Although laundry isn't in the actual apartment, it is in the building. At least I no longer feel scared that my desire to wear clean clothes will result in a major water leak. 
I have yet to find a restaurant that serves wine-braised octopus but have found my replacement for ramen in Kuu Ramen. Tribeca sure feels chicer, cleaner, and more put together. I've found a great relaxed bar in Tribeca Tavern, and have no question that I will come to love the area for everything it has to offer. In terms of small plates, I have sure found a worthy contender in Haizea's tapas offering. 
While Brooklyn was fun, Manhattan feels like home, although it is still a home I am settling into.
Brick Underground articles occasionally include the expertise of, or information about, advertising partners when relevant to the story. We will never promote an advertiser's product without making the relationship clear to our readers.