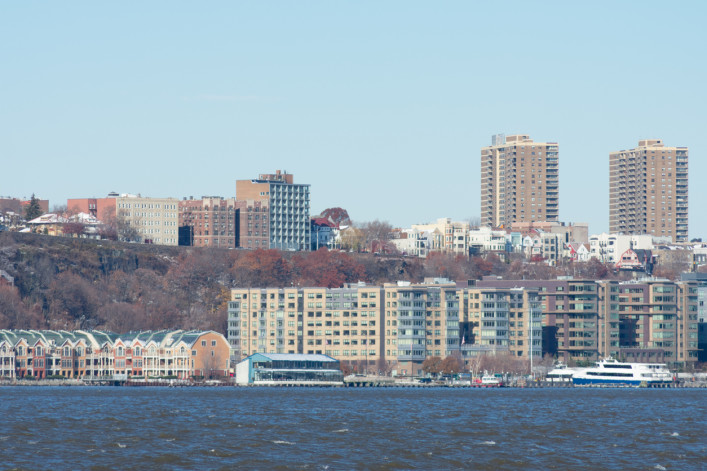 Tara Glick was raised in New Jersey and was living with roommates in Brooklyn until recently, when she moved back to the Garden State so she could live by herself in an amenity-laden tower—and open a new restaurant in it. She likes her new place so much she wishes she had moved across the river sooner. Here's her story. 
I grew up in Toms River, NJ, but in my adult years I have always lived in a big city—first Boston and then New York City. Most recently, I was living in Prospect Lefferts Garden, Brooklyn, in a two-bedroom apartment with a roommate. Our 90-unit building had an elevator but no other amenities, and while the apartment itself was large and light filled, it wasn't well maintained. Our total rent was $3,000, and I paid $1,700 because I had the master suite.  
I had wanted to live alone for a while, but the real catalyst for my move to the Port Imperial area of Weehawken, NJ, was that I was opening a new restaurant. I am the executive pastry chef at Porter, a modern American gastropub on the ground level of RiverHouse 11, a luxury rental complex. So it made sense to me to avoid a long commute and look in the waterfront area there for my first solo apartment.  
I looked at a few buildings along in the area, such as Riverbend and RiverTrace, but ultimately opted to rent in Riverhouse11 because of its location on top of my restaurant. The perks of living above my workplace were too big to turn down! Talk about a short commute! And being able to get to work during a pandemic quickly and without riding public transportation was a real plus.
---
[Editor's Note: Brick Underground's series "Transitions" features first-person accounts of what it's like to move from one New York City neighborhood to another—or outside the city. Have a story to share? Drop us an email. We respect all requests for anonymity.]
---
In NYC, it was just never possible to find an affordable one bedroom in a good location, but I got a great deal in NJ. I pay $2,000 for a luxury unit with two months free. I was able to rent directly via the leasing office so didn't have to use a real estate agent or pay a fee. [Editor's note: Rents for currently available apartments are higher.] 
My apartment is about 700 square feet, and I'm on the third floor and look out the back of the building over the light rail system, but it's private, which was important to me. I didn't want to be staring into another building.
I moved on September 1st. I used a moving company, but I packed myself. The pandemic didn't really affect the move, aside from the uneasiness of having strangers in my space, but they were very professional and wore masks and gloves.
It was well worth it. In NYC, I never had the things I have now: A washer/dryer, dishwasher, bathtub—that's my Covid-19 stress escape. 
Pro Tip:
Wondering whether Weehawken is a good fit for your budget, commute and lifestyle?  Triplemint's Gold Coast Guides are standing by to answer your questions. They'll help you figure out whether Jersey City, Hoboken, Weehawken or another Gold Coast town makes the most sense for you, and show you apartments that fit your needs.  Click here to speak to a Triplemint Gold Coast Guide or view apartments online. >>
I have a dog, Brix, and this neighborhood is much more dog friendly. In Brooklyn, I lived close to Prospect Park and loved taking the dog there for a walk, but it didn't always feel safe going there at night. Here in NJ, the sidewalks are clean and well-lit so I feel comfortable taking Brix at any time. There are poop bag dispensers everywhere and trash cans that aren't overflowing like in NYC. People here actually pick up after their dogs! I also have a dog daycare in a nearby building where I drop off my dog on busy days. When the weather is nice, we head out to one of the dog parks in the area.
Living in NYC, it's inevitable that at some point you deal with unwanted critters and that is the worst! The neighborhood was also noisy (I lived across from a middle school playground). Living in a shiny, new building by the water, I don't have concerns about vermin or noise. 
Still, of course living in Brooklyn had its perks. I loved being just a few blocks from my two favorite wine bars, my friend's place Glou and &sons. I loved the energy and fast pace of the city. 
And going out to do my laundry was also a real drag. There was no laundry in my building, so I had to haul my dirty laundry several blocks to the laundromat. I'm also a procrastinator when I finally got around to it, my laundry bag was 20-plus pounds. One of the things I love most about my new living situation is having a washer and dryer in my apartment.
In Brooklyn, I took the train everywhere and luckily, I had a train station on my block. Working in the restaurant industry though, you have to take the trains late night and service can be really unreliable. For the nine months before I moved, I partnered with my friend to run Glou during the pandemic. That was a block away from my apartment. I've always been inclined to find a short commute! For years in NYC, I lived in Chinatown and worked in Tribeca, a 20 minute walk. It's a big relief to have pretty much no commute at all now. 
While I spent most of my time in my own restaurant, I love Charrito's in Weehawken for margaritas and the amazing views. 
And if I feel like cooking at home, I get a Whole Foods delivery. Having a concierge makes getting deliveries a breeze. I live very close to Acme Foods. I can get pretty much anything I need or want. In Brooklyn, the grocery options were terrible. The only option was an overpriced Associated. Every few weeks I would take the train to the closest Trader Joe's to stock up.
Friends and family have all visited and realized it's not as far as they think! The proximity to the city is also a huge plus. It's just steps from the NY Waterway Port Imperial Ferry Terminal and the Hudson-Bergen Light Rail.
I went back to Brooklyn last week to catch up with some friends, and it took me about an hour each way but I zoned out listening to podcasts. I can't wait to host people once the weather warms up and we can hang out by the pool or on the roof deck. 
Overall, I feel like I've gained so much in terms of quality of life. I feel like Port Imperial is a real community. Sometimes I miss the busyness of the city, but I feel so much less trapped. I really wish I moved here sooner and plan to stay a very long time.
Brick Underground articles occasionally include the expertise of, or information about, advertising partners when relevant to the story. We will never promote an advertiser's product without making the relationship clear to our readers.