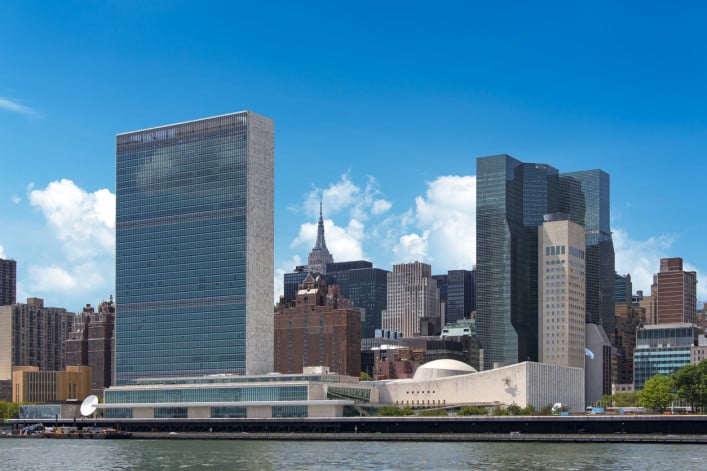 Jen Scigliano and her wife lived in their Bushwick apartment for less than a year when they were tempted by falling rents in Manhattan. They decided to take the plunge and move again to get more space and easier commutes. The decision paid off when they landed a two bedroom in Murray Hill for far less than they were paying in Brooklyn. Here's Jen's story.
For the past year, my wife and I were living off the Flushing Avenue station on the M line in Bushwick. We were renting a two-bedroom, one-bath condo for $2,700 a month.
When we first went to see it, we were definitely sold on all the modern finishes and amenities (private balcony, shared rooftop and backyard, laundry, gym) even though the unit itself was pretty tiny. The neighborhood was an interesting mix. There were a lot of people who had been living in the area for years, if not decades, but there were also lot of younger people who were looking to be close enough to Williamsburg without necessarily paying Williamsburg prices. 
---
[Editor's Note: Brick Underground's series "Transitions" features first-person accounts of what it's like to move from one New York City neighborhood to another—or outside the city. Have a story to share? Drop us an email. We respect all requests for anonymity.]
---
I was born in Queens, spent most of my childhood in Virginia, and then moved back to NYC when I was in high school. My wife was born in South America and lived in Brooklyn for about 15 years. We've been together in Brooklyn for five years.
We loved having private outdoor space that had a really nice view of the city. We were especially grateful for it once the pandemic hit. Being able to step out for some fresh air helped curb some of that cabin fever we were all feeling.
Our entire friend group is in Brooklyn, and at the time we were only a 15-minute walk or a five-minute cab ride away from most of them. Unfortunately, we moved into that place only two months before lockdown, so while there were tons of bars and restaurants in the area, and we had takeout options for cuisines from all over the world, I don't think we got to enjoy them aside from when "to-go" drinks were a thing and everyone was out and about in the streets during the summer.
We had laundry in the building, however there weren't enough machines and one or two were usually out of service. Still, we were grateful we didn't have to deal with lugging a cart to the laundromat.
We had two major grocery stores near us—Food Bazaar and Bravo Supermarket—but after a few months living in the area we realized it was much cheaper to Instacart or Amazon Fresh our groceries especially if we were looking for any organic or healthy options.  
I work in real estate for The Wheelock Team at Keller Williams NYC; our office is located right next to Grand Central and my morning commute was always much smoother than the commute home. To get into the city usually took me just around 25 minutes, but the ride home was usually double. 
Our lives were good in Bushwick, but we first started discussing a possible move around the end of September (our lease was up in January). The rental market had crashed and working in real estate, I had seen people getting some really amazing deals. At the same time, we'd been in our place for less than a year and really didn't want to think about the daunting task of packing everything up and moving again.
We started touring apartments in November, but we were still pretty wary and unsure if we'd actually go through with it. A big part of it that was whether or not our management company would be willing to lower our rent to match the current market.
The process of finding a new place is always stressful. There was so much inventory out there, and we spent hours scouring listing sites StreetEasy and Localize and my wife and I had an endless text thread of apartment links narrowing down our favorites. 
Thankfully, our agent was actually my boss, Erin Wheelock, who luckily has some stellar negotiating skills 
Our budget was pretty flexible, although we were willing to pay more if it meant a bigger space as well as having more accessibility to parks, grocery stores, shopping, etc. We'd also realized that while building amenities like a rooftop and gym were great, we didn't use them nearly as much as we first thought we would, so the only real amenities that were non-negotiable were laundry in the building and an elevator. Having a doorman was a plus but not a must-have.
There were a lot of discussions in the beginning in terms of what neighborhoods we would and wouldn't want to be in, mostly based on both accessibility to trains as well as the overall feel of the area. We ended up narrowing down our search to Fidi, Lower East Side, and Midtown East/Murray Hill and the finalists ended up being between a unit on the Lower East Side and one in Murray Hill
In the end, we settled on the spacious two-bedroom place in Murray Hill, which allows me to walk to work and is a one-stop commute for my wife from Grand Central; and the best part was Erin was able to get the rent down from about $3,100 to $2,500!
We have laundry in the building, a live-in super (which is amazing to have—something we didn't realize until after we moved), and a doorman—we haven't missed a single package since the day we moved in. During the pandemic packages, going missing seemed to increase in NYC so we are very thankful that we don't have that headache.
Although our lease in Brooklyn wasn't up until end of January, we moved in a week and a half before Christmas. Talk about stressful!
Now that we are settled into our Murray Hill apartment, the pros of the move are obvious; being close to work and close to so much that we like to do in the city, also we're close to more grocery stores than we could possibly want, lots of parks and walking paths to enjoy with our pups, and countless bars and restaurants of all kinds. 
The area also feels extremely safe. Our Brooklyn neighborhood wasn't unsafe per se, but living so close to major NYC landmarks and knowing there are always people out and about at all times is really nice. The flip side is it can sometimes feel like we never escape the hustle and bustle of the city like we did when we lived in Bushwick.
There are few other things to miss as well. Being able to go home after a long day and feeling like we had that separation from the constant "go" energy you get living in Midtown is definitely a big one. My wife and I both have South American roots, so it's been a little tricky to find nearby restaurants with authentic dishes; however, we've also explored different restaurants and bars and found new favorites like The Overlook Bar, Park Tavern, Mulligan's Pub, and John's Coffee Shop, which is now our go-to diner almost every weekend!
We love our new building. Management is extremely responsive, the laundry room has a lot of machines, and everyone in our building is really nice—neighbors are chatty, which wasn't really the case at our old place. I'm also a bit of a shopaholic, so I have zero complaints about being within walking distance to all of my favorite stores. (This is not a plus in my wife's eyes.)
Most of our friends and family have come to hang out and they can't believe how much bigger our new place is and the fact that we're paying less than we used to.
Another reason for the move: We wanted to get a feel for living in Manhattan to help us figure out if we would want to buy there someday.
I've always envisioned myself as staying put in NYC, but my wife would love to buy a proper house with more space than you can typically get here. However, after seeing the convenience of being so close to anything and everything you could possibly want, and also the fact that both of our careers are based here, she's definitely warmed up to the idea of putting down roots in Manhattan and considering buying. 
Brick Underground articles occasionally include the expertise of, or information about, advertising partners when relevant to the story. We will never promote an advertiser's product without making the relationship clear to our readers.