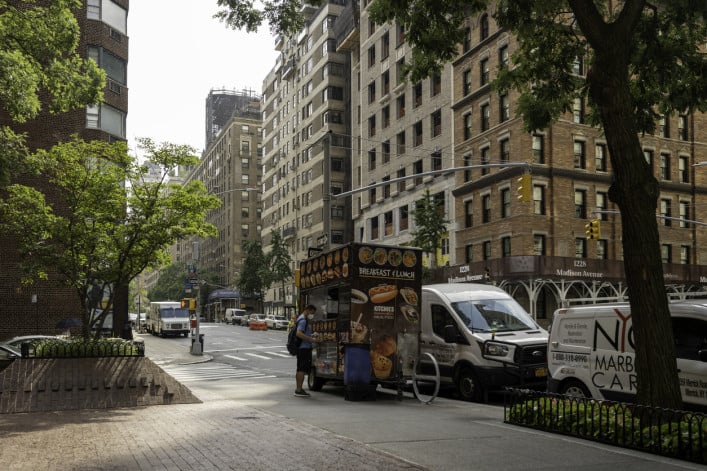 Diana Ramirez found her co-living situation convenient, but the lack of privacy and her one-hour commute was brutal after late nights at her job in the wine industry. Falling rents gave her an incentive to move to her own place, where she will soon welcome someone very special: Her young son, who is coming to live with her. Here's her story.
I am originally from the Philippines but came to New York City to get my master's degree at NYU. Most recently, I was living on the Upper West Side, a block away from Central Park West, for about four months.
I found the neighborhood beautiful and if I wanted a stroll by the park, I could be there in two minutes! The newish walk-up building I was living in had five floors and I lived on the third. My apartment was a three bedroom, and I shared it with two male roommates. My room fit a queen-sized bed, a big desk, and wardrobe that wasn't really big enough but I made do.
All amenities, including toilet paper, bi-weekly cleaning, paper towels, dish soap, were provided by the landlord because it was a co-living building—June Homes. My share of the rent was kind of hefty though—$1,500 plus a $25 fee for utilities. We had laundry in the unit and I did most of my shopping online. Because there was no doorman, packages were sometimes stolen. 
I loved that the neighborhood was quiet and also surrounded by delis so grabbing a beer (or five) was very easy!
---
[Editor's Note: Brick Underground's series "Transitions" features first-person accounts of what it's like to move from one New York City neighborhood to another—or outside the city. Have a story to share? Drop us an email. We respect all requests for anonymity.]
---
My commute was the worst part of living there. I work on the Upper East Side in the wine and alcohol industry and commuting from the Upper West Side to 59th and Park Avenue might not sound far, but it was not easy. It was about 45 minutes by subway or I could walk from Columbus Avenue all the way to Central Park South and then head several avenues east. 
Drinking is a huge part of my life and having late nights working and drinking would pose a problem for me in the morning. I dreaded having to travel for almost an hour (not to mention walk six blocks to get to the subway) and it became the bane of my existence. I was easily persuaded to move when I found out living on my own would only be a bit more expensive than what I was currently paying! Moving somewhere close to work—and without roommates— would be so worth it for more privacy and a shorter commute!
So, this spring I decided to take the plunge. It was scary, I have to admit. Since I'm not from NYC and not familiar with many neighborhoods, I didn't know how to find a nice place, nice area, and a nice school district for my son, who will be coming this summer from the Philippines. I asked people I met, "Hey, is this street good?" I saw about 20-30 apartments and every single one had something I didn't like. After a handful, it made me realize if I wanted one thing, I would have to sacrifice something else. Such is life in NYC!
I initially looked on Craigslist and RentHop, which both had similar listings. Then I found agent Antoine Amira, an agent at BOND New York. What I adored about Antoine (besides the fact that we both speak French), was that he cared. And he was the only agent I met who actually listen to me. I found most agents just wanted to sell. Because of the pandemic, buildings were getting emptier every day, and he really took into consideration what I liked and what I needed.
I told him I wanted something I could afford ($1,200-$1,800), new or at least sort of new, a one bedroom with a huge living room. I was hoping not to have a walk-up, but a walk-up was better than living on the first floor with all that noise! I was hoping to get laundry in the unit but even that is a luxury I could forgo.
I ended up at on East 91st Street on the Upper East Side in another fifth-floor walkup. The building doesn't have many amenities, but it is huge and newly renovated. I got a one-month concession. The gross rent is $1,700 with one month free, so the net rent is $1,558.33. The landlord allows new tenants to pay the net rent the first year. 
The biggest stressor was having to furnish the whole thing! My previous apartment was fully furnished. I didn't have to worry about furniture assembly and which sofa to get or when I will get real plates instead of using paper ones. Living was a lot more convenient back in my old co-living apartment, but the privacy I have now is unbeatable. Living with roommates could be fun at some point, and then you realize that someone's been drinking your orange juice, and someone didn't clean the pans you would like to use. Or you end up taking out the trash even if you barely stay home.
This area where I live now has more bars and restaurants than my previous apartment so they are fun to try out now that things are opening back up.
Key Foods is just around the corner, so grocery shopping isn't so bad. My only concern is I cannot buy a lot of groceries at a time because of the walk-up. Laundry is just outside the building downstairs; even though we don't have in it the actual building, it's still convenient. I absolutely love Wondee Siam—they have the best Pad Krapaw Moo Sub. I also love Nobu and Jean-Georges, which is easy to get to from where I live now.
Making friends in the new neighborhood, especially without roommates, is not easy. I am vaccinated, but others aren't. So, I am still skeptical about meeting new people. There are some bars that are poppin' though so that's good and I feel this summer it will be easier to be social.
I am so happy I decided to forgo a co-living situation and get my own place. My new place is located right across the street from a good public school so when my son comes, I will have a very short commute to bring him to school. My son is turning five in August and will begin kindergarten, so that was a major reason why I chose this building. Everything has come together so nicely and I absolutely plan on staying in NYC now that my commute is a dream.
Brick Underground articles occasionally include the expertise of, or information about, advertising partners when relevant to the story. We will never promote an advertiser's product without making the relationship clear to our readers.