Transitions
From Gramercy to the Upper West Side: Upgrading from a studio to a two bedroom thanks to a pandemic discount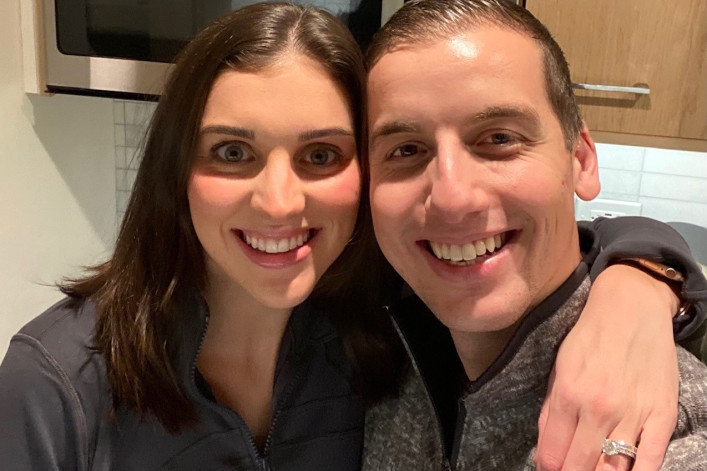 Charlie and Courtney loved living in Gramercy—they even got engaged in its small, exclusive park. But the pandemic made working from home in a studio less than romantic. They decided to take advantage of pandemic discounts and upgrade to a two bedroom in a newer building with great amenities. It's a good fit for now—until the rent goes up. Here's Charlie's story.
I was born and raised in Islip, New York, which is on Long Island—it's about a 60-minute train ride from Manhattan or a 75-minute drive. My wife Courtney was born and raised in South Jersey.
Most recently I was living in a rental in Gramercy, first by myself, and then with Courtney once we were engaged. We loved being only a few blocks away from Gramercy Park, where I proposed to Courtney. [Editor's note: Gramercy Park can only be accessed by those who own a key and live in one of the 39 buildings directly surrounding the park. However, guests at the nearby Gramercy Park Hotel and the National Arts Club can access keys, and the park has been open to the public on Christmas Eve in the past.]
To pull off the proposal, I reserved a room at the Gramercy Park Hotel so we could enter the park. And I invited my wife's family and my family to stay in the hotel to celebrate with us.
---
[Editor's Note: Brick Underground's series "Transitions" features first-person accounts of what it's like to move from one New York City neighborhood to another. Have a story to share? Drop us an email. We respect all requests for anonymity.]
---
Our apartment was a 500-square-foot studio with a small kitchen and I paid $2,200 in rent. 
It was in an older, doorman building with laundry in the basement. We had access to the roof, which was a great spot for happy hours, but we lived on the first floor, which was not so great.
Being on the first floor meant being woken up by barking dogs at 7 a.m. on the weekend. Our neighbors walked their dogs early and the barking would echo in the hallway as they entered or exited the building. We also heard a lot of noise in general from people coming into or leaving the building. It was certainly nice not to have to rely on an elevator, but I would have appreciated privacy and peace.
I loved the neighborhood pre-pandemic, however the area suffered greatly with a lot of store and restaurant closures.
We had a lot of favorite places for eats in that nabe: Our favorite for a fast casual dinner was Dos Toros, our favorite restaurant was Dos Caminos, and the best slice was at Lunetta. We went to Morton Williams on 24th and Second to shop for food and also took full advantage of Grubhub to order sushi, Italian food, pizza, and Chinese—all in the area.
There were lots of fun bars; it's a great area for younger adults 25-35. The Rose Bar at the Gramercy Park Hotel was one of our favorite places to go on dates. It was also the bar where we celebrated with friends and family after we got engaged. Most of our friends lived in Murray Hill or Midtown East, so this was a convenient neighborhood to meet up.
I work in finance as an investment analyst in Westchester and was doing a reverse commute, taking the 6 train to Grand Central and take Metro North to Rye, NY. But that halted during the pandemic and I started working from home in March of 2020.
My wife and I also are bloggers who founded and own Prepared Cooks, an informational food blog that Courtney and I started in 2020. We found ourselves asking many questions about best practices in the kitchen during the pandemic and wanted to share what we learned by starting a food blog. My wife and I work on the website from our apartment.
In October 2020, we started to think about moving because we wanted more space to make working at home more comfortable. So we scoured StreetEasy and started checking out apartments on Upper West Side.
My wife and I always loved the area—we lived there during the summer of our junior year of college. The neighborhood has a lot of families walking around so it feels very safe. We also noticed that fewer stores and restaurants closed during pandemic compared to the neighborhood around Gramercy Park.
It took several months to find what we were looking for. In March we ended up upgrading from a studio to a two-bedroom apartment.
While we are paying more than double our old rent, we took advantage of lower rents during the pandemic to get a great deal on a larger apartment. Our new apartment did not charge us for amenities, so we saved a little there. We went from paying $2,200 a month to $5,000 a month.
It's worth it. We are now in a newer, 51-story doorman building. Most apartments feature a corner window in the main living space, which lets in a lot of light. We have washer/drying in unit, which was a huge factor in picking this apartment. Also, two bathrooms are a real luxury. We also have great amenities: a sun deck, lounge, gym, parking garage and outdoor grills. Another thing that makes us happy is the elevators are very fast.
We love taking pictures for our food blog in our new kitchen that has new appliances. We would have never considered taking photos in our old place!
Because we have a parking garage in the building, I drive to work now. My wife continues to blog from home.
We haven't taken any public transportation since moving to the Upper West Side. However, we are not too far away from the 59th Street subway.
We now love going to Lincoln Center and enjoy being near Columbus Circle, which has great stores (like Whole Foods, Lululemon, and Crate & Barrel. Being on the West Side gives us an easier commute to Madison Square Garden for Knicks games and concerts. Our new favorite bar is now As Is NYC—it has amazing craft beers) and our new favorite restaurant is Nobu Fifty Seven.
We are very close to Central Park, which of course is so much bigger than Gramercy Park. It's great for long walks or jogs.
There have been a few little mishaps. We tried to have a beautiful couch delivered to our new apartment, but it could not fit in our apartment door so we had to return it. We live on the corner of the building, and the delivery team was not able to maneuver the couch from the hallway into the apartment. If our apartment was in the middle of the floor, it would have fit. We are waiting for delivery of a new couch and praying it fits!
We also had a run-in with some water bugs one night. They came up through the drains. The building put bleach down the drains and we haven't had any issues since.
Overall, we are thrilled we moved. We have had a few friends over to visit the new place and they love the area.
Our lease ends March 2023. The new rent will likely be 20-30 percent higher than what we paid during the pandemic. So while we are enjoying the UWS, our goal is to eventually move to the New Jersey suburbs. NYC rent is getting too expensive.
Brick Underground articles occasionally include the expertise of, or information about, advertising partners when relevant to the story. We will never promote an advertiser's product without making the relationship clear to our readers.