The best and worst things about this prewar two-bedroom co-op in Tudor City are one and the same, according to architect Rosario S. Mannino: the ceilings.
"The unit has really nice beamed ceilings," says Mannino, who has offices in Manhattan and Rutherford, New Jersey. "But they look low," and, he says, they make the rooms look smaller than they are.
The kitchen is another problem area. 
"It's very dated," he says. He recommends gutting it completely.
For this week's Reno Ready, Mannino details exactly what he'd do to bring this old-school apartment into the modern age.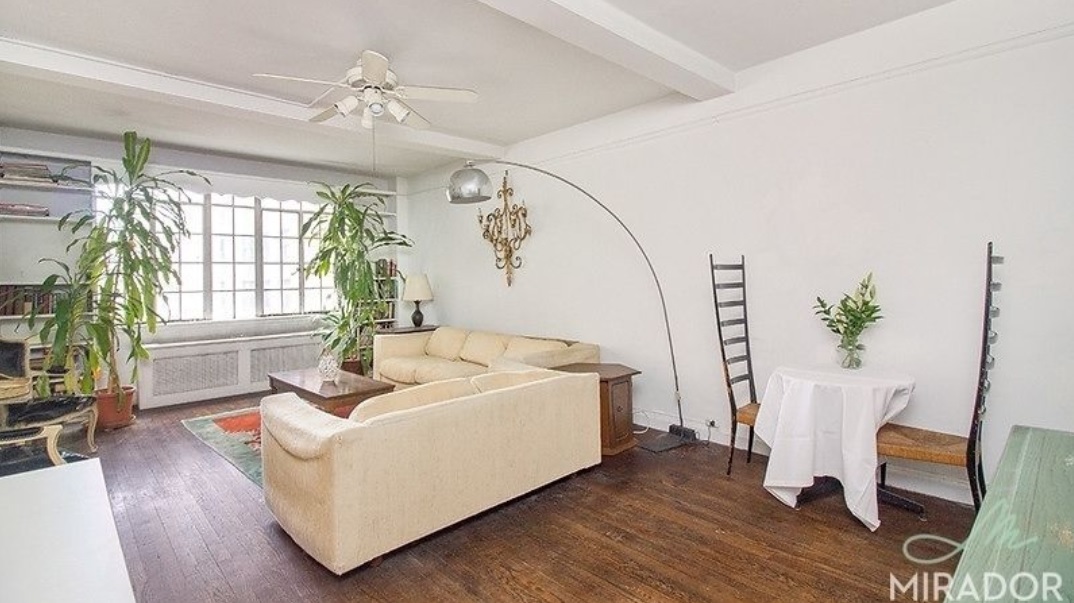 Brightening up the living room (also shown at top)
Walls: Mannino likes the current shade of white on the walls here, so he'd keep them as is.
Ceiling: He'd keep most of the ceiling white, too.
"I'm a fan of a high-gloss ceiling," Mannino says. "It reflects more sunlight and makes the space feel brighter."
As for the beams, he'd paint them a slightly darker accent color so that they stand out—maybe a light gray or a cream—and keep them more matte to differentiate them from the rest of the ceiling. A gallon of Benjamin Moore's Decorator's White is $75. 
Radiator and bookcases: Mannino isn't a fan of the current radiator cover, so he'd have a new wood one built. He would also have bookcases built into the space to the left of the heater. He would paint it white to match the walls. He believes that this should cost about $15,000.
Wall unit and flue-less fireplace: On the left-hand side of the room, Mannino would put a wood-veneer, flue-less fireplace, and a built-in wall unit where the resident could conceal a television. He thinks that this would look especially good in a walnut stain. Plus, "you'd actually be able to light a fire in it," he says. "You won't get a ton of heat, though. It's more for the aesthetic."
He believes that this should cost about $20,000.
Window Treatments: Mannino would go with drapes in here since he thinks the windows have a "very traditional feel." Prices for these Rod Pocket drapes start at $393 at The Shade Store.
Floor: Mannino likes the original hardwood in here, but would suggest bleaching the boards.
"It'll brighten the place up," he says. He thinks this should cost about $9-$10 per square foot.
Lighting: "I'd definitely change out the fan," Mannino says. He'd prefer a "a more contemporary-looking designer light" for this space. In addition, he'd put up a couple of sconces in line with the beams on the walls. This Pacific chandelier is $1,125 at Lightology. These aged-brass sconces are $264 each.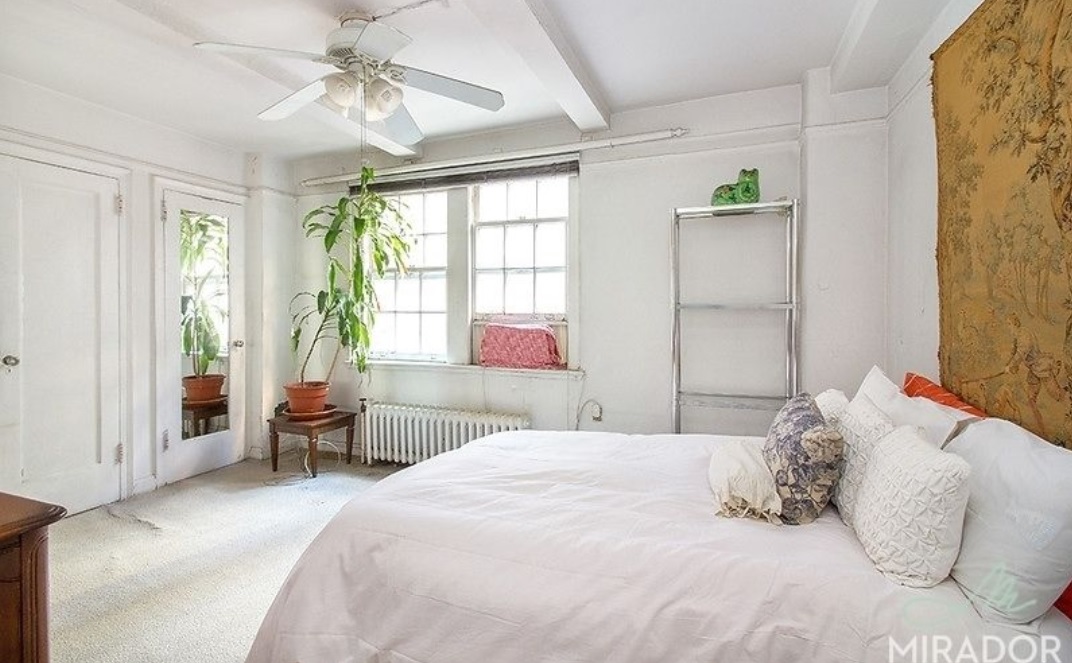 Ditch the carpet in bedroom one
Floor: Mannino hates the carpet in here, so assuming that the same hardwood throughout the unit is probably present underneath it, he would pull it up. He'd recommend bleaching it, too.
Walls: "I'd stick with white in here, too," Mannino says, and stick with a single matte finish for the beams too.
"It'd make the room feel even smaller if we start to break it up," he says.
Radiator: He suggests putting in an enclosed radiator cover that's aligned with the windows in order to hide the unsightly heater and paint it white. He thinks that this cover should cost $6,000.
Door hardware: Mannino thinks the doorknobs look a little dated, so he'd replace them with nicer, newer handles. These chrome knobs are $32 each at The Home Depot.
Lighting: "I'd get rid of this fan, too," Mannino says. In its place, he recommends putting a decorative chandelier. But he doesn't think that that will be enough light for this space, so he'd add a concealed ambient light behind a headboard to create a nice, soft light for the room. This Possini Euro White Flower Wide Pendant Chandelier is $200 at Lamps Plus. He says the ambient light behind the bed should cost around $10,000.
Window treatments: He'd choose drapes in here, too.
"I'd probably go with something colorful in here," he says. These Thermalogic Weathermate Grommet Top Window Curtain panels are $70 at Bed Bath & Beyond.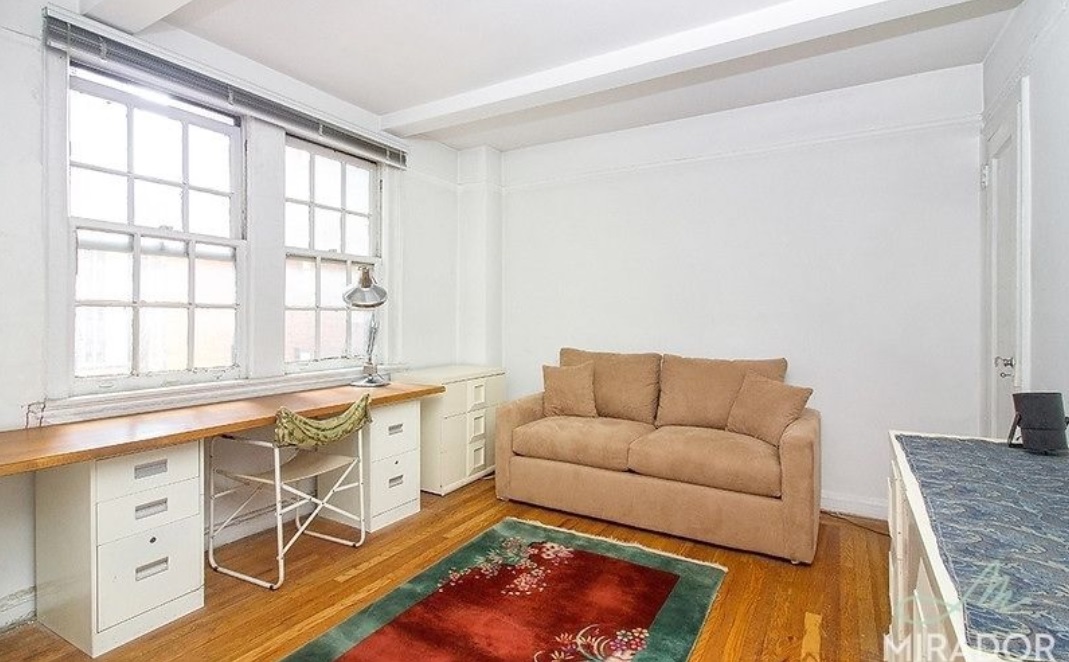 Create a nicer office in bedroom two
Desk: Mannino would have a wood veneer desk built into the space by the window with bookcases on the either side. He would also add a dropped soffit ceiling above the desk in order to add in some small puck lighting there for the desk area. He thinks this should cost about $20,000.
Window treatments: He'd have them built into the soffit by the desk.
"They'd be drop-down shades with a more contemporary feel," he says. He thinks this ought to cost $2,000 or so.
Walls: He envisions this room in a rich, soothing navy. He'd even paint the ceiling and the beams that same shade.
"I would not do gloss in here, though," he says. "Just an eggshell [finish]. To tone things down a bit." A gallon of Benjamin Moore's Hale Navy is $75.
Floor: He'd bleach the wood floor in here to brighten up the room.
Lighting: If ceilings are not concrete and Mannino recommends putting in recessed lighting, he would have four of them installed. If, however, the ceilings are concrete, he would put up track lighting, running the tracks along the walls perpendicular to the window. He believes that recessed lights will cost $300 each. This 3-Light Straight Cylinder Track Kit is $73 at AllModern.com.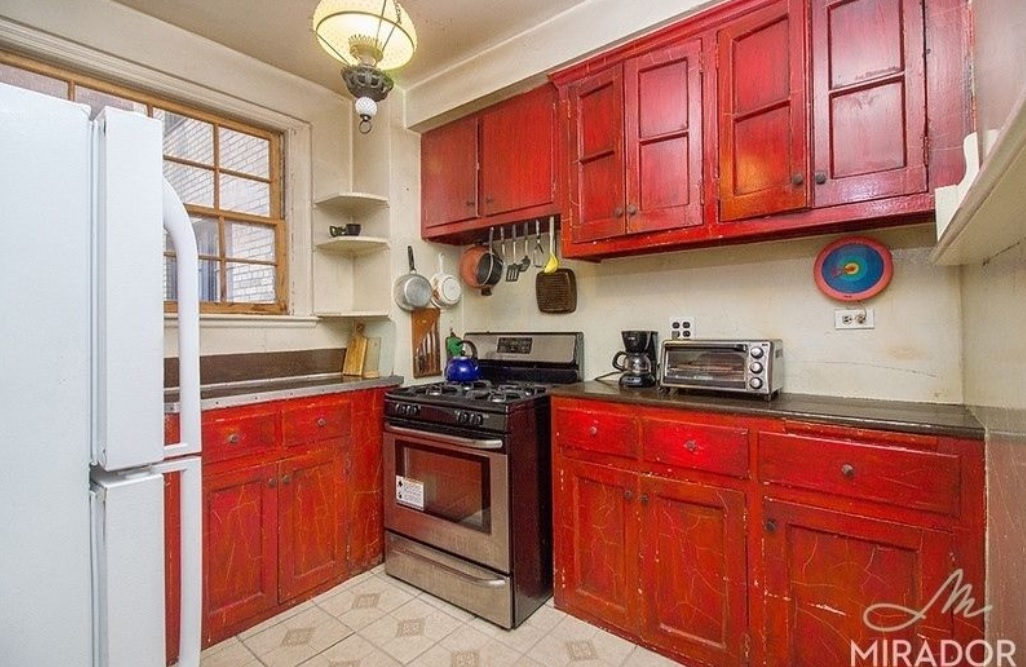 Replace the kitchen cabinets, pronto
Floor: Mannino would put in large ceramic tiles in a neutral color like gray. He thinks these should cost $15 per square foot.
Cabinets: In place of those ancient, scratched up red cupboards, Mannino would put in full overlay wood cabinets, which "will have a more contemporary feel." The upper cabinets should have glass doors "to make things feel lighter in here." He'd paint them that same Hale Navy as in the second bedroom/office.
The color "will make a nice, bold statement, but it won't be too noisy," he says. He believes these cabinets should cost $15,000-$20,000.
Shelves: There are currently three small shelves in the corner by the window. Mannino would remove them, and install two thick walnut shelves that will match the wall unit in the living room. He says these ought to be $1,000.
Countertops/Backsplash: Mannino would install stone for the countertops—maybe Calacatta Gold, a white with gray veining—and would have it run up the wall to the ceiling to serve as the backsplash. He believes this will be about $20,000.
Lighting: He'd install four recessed lights into the ceiling.
"They're functional," he says. "I don't want them to be too noisy." He'd put under-cabinet lights in too. The recessed lights are about $300 each. These under-cabinet lights are $84 at Lamps Plus.
Ceiling: He'd paint the ceiling a high-gloss white so it flows with the living room.
Sink/Faucet: A new sink is in order here. He'd replace the current one with a deep stainless steel under-mount sink. He'd get a new faucet, too. This Kraus under-mount sink is $304 at eFaucets.com. This Delta pull-down faucet is $396 at The Home Depot.
Window: Mannino feels that no window treatment is the right way to go in here.
"It'd let more light in," he says. "And it's not like you need a kitchen to be private, anyway."
Appliances: He'd replace the range with a new one, and get a panel-ready refrigerator so that it'll match the cabinets. This Bertazzoni gas range is $2,599 at DesignerAppliances.com. This Bosch 24-inch panel-ready fridge is $1,794 at AJMadison.com.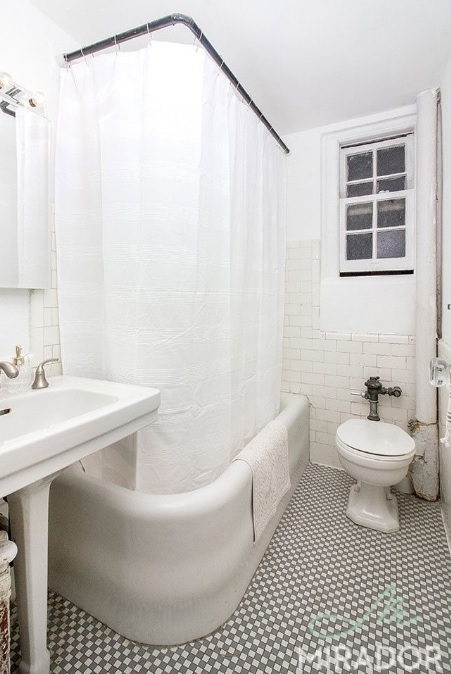 Keep the bathroom tile
Floor: Mannino likes the existing tile, so he'd hang onto it.
Toilet: He hates the old-school Flushometer toilet, so he'd get a newer, more modern one. This Toto Ultramax Round one-piece toilet is $355 at houzz.com.
Walls: He's ok with the subway tile that's already on the wall, but he'd like to run it up the wall all the way and get a darker grout between the tiles so as to emphasize the black-and-white theme in the room. Tiles should be about $8 per square foot.
Tub, sink, and faucets: He thinks the tub and sink seem fine and functional, so he'd keep them, but he'd get new hardware in here for both. This Glacier Bay Modern Single-Handle 1-Spray Tub and Shower Faucet in chrome is $99 at The Home Depot. This Moen Genta Single Hole Single-Handle faucet is $98, also at The Home Depot.
Medicine cabinet: He'd get a new, deeper medicine cabinet in here. This Kohler single-door medicine cabinet is $205 at eFaucets.com.
Lighting: He'd put in a new, more modern wall sconce, like this George Kovacs piece, $95 at Lamps Plus.
Brick Underground articles occasionally include the expertise of, or information about, advertising partners when relevant to the story. We will never promote an advertiser's product without making the relationship clear to our readers.