In the past, finding a New York City apartment in a building offering anything in the way of amenities—be it an elevator, a doorman, a package room, on-site laundry, or a gym—was considered a triumph. But these days, many luxury buyers view these types of amenities as necessities rather than extras. Today, developers of high-end buildings go above and beyond to try to grab attention, and they know adding a children's playroom isn't going to cut it.
In this week's Buy Curious, Brian Morgan of Citi Habitats, Phillip Salem of Triplemint (a Brick Underground sponsor, FYI), and Nicole Gary of Keller Williams Tribeca clue you in to some of the craziest, most over-the-top amenities they've seen, and where you can find them.
The proposition
I'm looking for an apartment in a building that offers lots of impressive amenities. What are some of the most extravagant amenities out there at the moment? What are prices like?
The reality
Morgan says that lately when it comes to amenities, developers don't just want to keep up with the Joneses, they want to top them.
"They are trying to outdo the competition and create buzz around their project," he says. "Having an over-the-top amenity is a great way to gain publicity for a new building."
Another aspect is the "build it and they will come philosophy," he says, explaining that if a development is in off the beaten path (for millionaires and billionaires), buyers will only come out there for something extra special.
Finally, Morgan says, "a certain segment of luxury buyers is always in search of the biggest and the best. The idea of living in the tallest residential tower or in a building with spectacular and unusual amenities is definitely appealing to them."
What are the most stunning amenities?
There's the new 11-story Soori High Line in West Chelsea for one, which offers private indoor swimming pools in some apartments. Yes, you read that correctly: private swimming pools. 
Discover off-market properties in your dream neighborhood that perfectly suit your needs and budget.  Meet and deal with sellers before their apartment hits the market.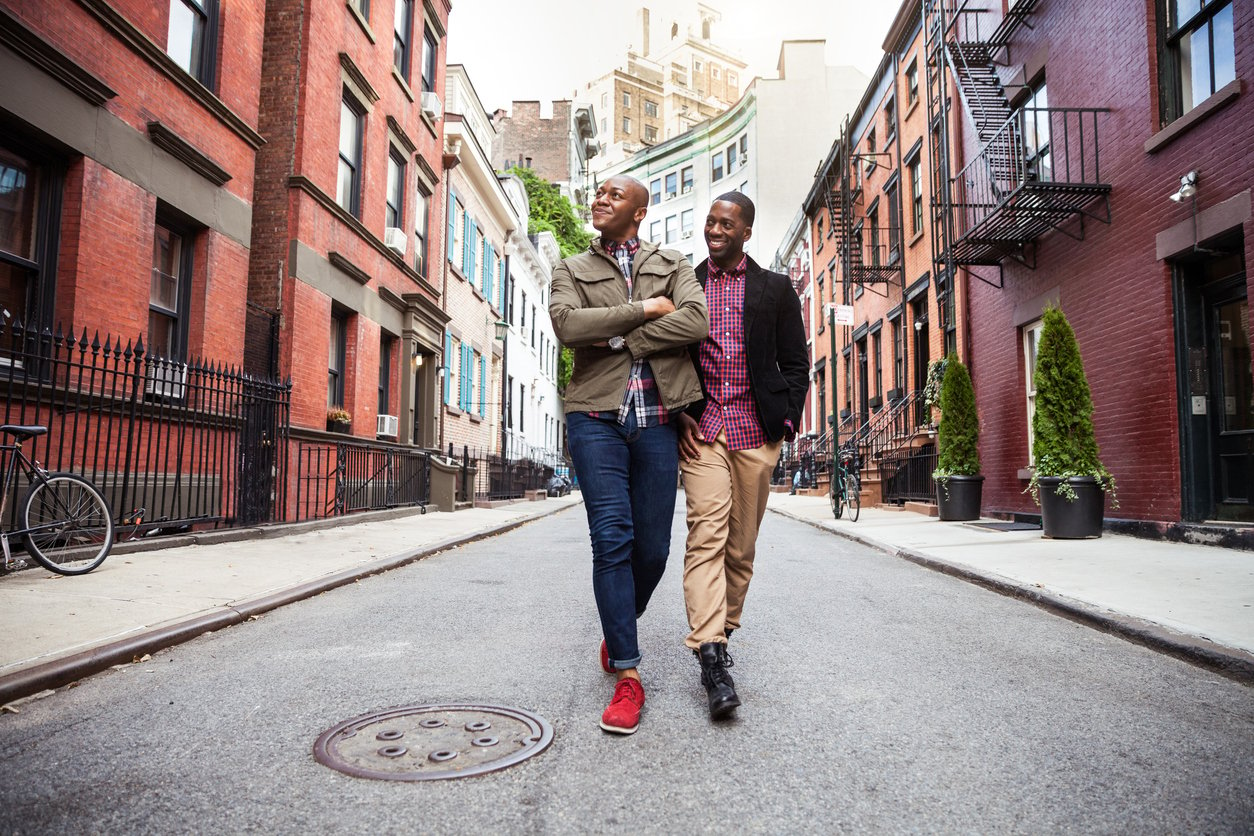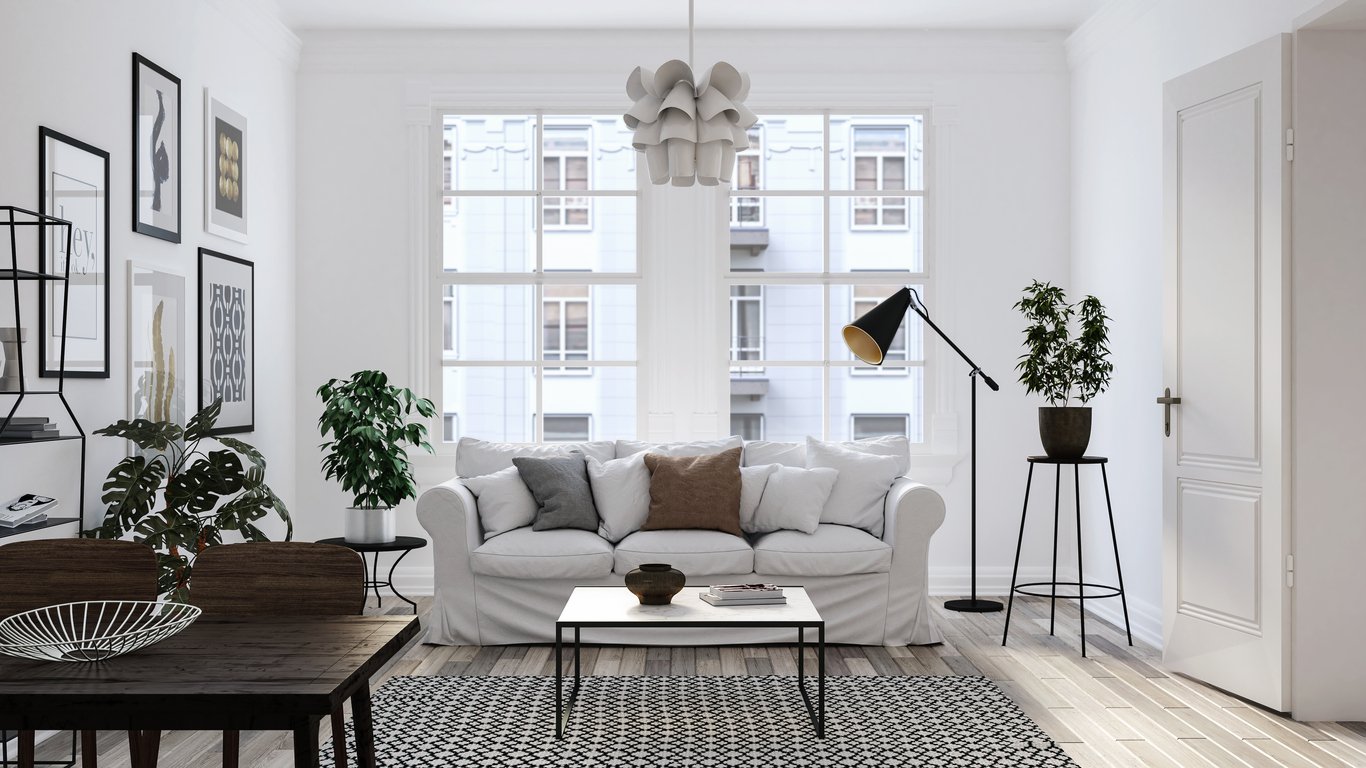 Let Triplemint's off-market team give you exclusive access to apartments in your price range and desired neighborhood that no one else has seen. More options, less competition, no bidding wars. 
"They're directly off the living room," Salem says. The building even offers bi-weekly pool maintenance.
Clinton Hill's Waverly Brooklyn condo building has what is purportedly the borough's first fully-automated on-site parking system. Residents simply leave their vehicles and they are robotically maneuvered to an empty spot. Vehicles are similarly retrieved when the owner wishes to head out again.
The Kent, at 200 East 95th St. in Yorkville, has "The Sound Lounge," a rehearsal studio with professional-quality guitars, a drum set, a piano, and amplifiers. It was designed by Lenny Kravitz's design firm, and can be used for parties, musical performances, movie screenings, and more.
"It has everything you would want to create a song," Salem says. As if that wasn't enough, The Kent also has "Camp Kent," described as an indoor/outdoor play space for kids with a tree house, a fake campfire, and a picnic table.
Morgan says that the most impressive amenities package he's seen is at The Aldyn at 60 Riverside Blvd. on the Upper West Side. Spanning 40,000 square feet, the amenity space includes a bowling alley, an indoor rock-climbing wall, a full-sized basketball court, and a 75-foot pool. 
Morgan also likes the guest suite at 50 Franklin St. in Tribeca, which he said owners find especially useful.
"Building residents can reserve this suite, which has a kitchenette, for their out-of-town guests," he says. It costs about $150 per night.
But for really over-the-top offerings, he points to 1 Seaport at 161 Maiden Ln. in the Financial District, which gives its condo owners the exclusive use of one of the building's three private yachts. Residents can reserve a yacht up to three times a week—each comes with staff—and only pay for fuel and docking.
For Gary, the most extravagant amenity in the city currently is the private jet concierge service at 111 Murray St. Residents can book travel with as little as four hours notice, and can go anywhere they wish. (Paris, anyone?)
There's also Park Slope's 251 First St., which offers a stroller valet, something bleary-eyed parents appreciate mightily. Residents simply call down to the doorman before leaving and he gets their stroller out for them.
Honorable mentions go to 100 Barclay St., which has a private wine-tasting room with seating for six, as well as a climate-controlled wine storage room, and 520 West 28th St., the futuristic building designed by the late, world-renowned architect Zaha Hadid, which has the only private IMAX theater in New York City.
What kinds of buildings have extravagant amenities?
"Typically, new construction condo buildings are where buyers can find the most elaborate amenity spaces," Morgan says. "Prewar co-ops may have a pool or a gym wedged in the basement, but they were built in an era before the mentality of 'the more amenities, the better' took over."
Also, for an example of a supposedly out-of-the-way building compensating with amenities, Gary cites 1 Manhattan Sq., which is located in the Two Bridges sub-neighborhood of the Lower East Side. The building has over 100,000 square feet of indoor and outdoor amenity space, including a basketball court, a bowling alley, a gym, a spa, a pool, a demonstration kitchen, and a theater, as well as landscaped private park space.
What about the outer boroughs?
"The majority of over-the-top amenity buildings are in Manhattan," Salem says. But there are some in the outer boroughs as well.
"You are seeing this more and more with new developments in Brooklyn," Gary says. "The further out the building is, the more amenities buildings are including."
What types of amenities do buyers want? 
"I'm working with a client now who must have access to an on-site pool," Morgan says. "And I've had several buyers in the past who would only consider buildings with a gym. But I've never had a client demand a rock-climbing wall or a golf simulator. In many cases, these more extravagant amenities are simply a fun novelty."
In fact, the more outré amenities can be veritable ghost towns.
"Some of my clients specifically request buildings without these lavish amenities because they don't think they will use them—and as a result, don't want to pay for them," Morgan says.
Gary says that while some of her clients love the unrestrained opulence of these types of extras, others could care less, especially if they're buying the apartment for a pied-à-terre.
How expensive are apartments in these lavish buildings?
Pretty costly.
Apartments in these buildings can be more than double the overall Manhattan condo average, which is $1,460 per square foot, according to Citi Habitats and Corcoran Group research. Entry-level apartments in these amenitized luxury buildings start around $1.5 million for a one bedroom, Morgan says, and can go over $2 million.
How much do luxury amenities add on to the price?
That's not so easy to quantify, says Jonathan Miller of appraisal firm Miller Samuel.
"When most people look at this subject, they think of it in an à la carte mode," he says. "If I have a pet spa, that adds x percent. Add a pool, that adds y percent, etc."
But Miller says that's not actually the case.
"I'm not saying that if a building installs something that it doesn't add some sort of value, but it's hard to extract that in a real sense," he says.
Still, Miller thinks developers would be wise to keep the competition in mind when designing a building's amenities package.
"Does adding a gym add value?" he asks. "It's probably more about what happens if you don't do it. Then you [run the risk] of being inferior to the majority of the market."
What happens if a pricey amenity breaks down?
"In most luxury buildings, the amenities are fixed before a resident even notices," Salem says. "And sometimes, if it cannot be fixed, it is replaced entirely with something that is even better." 
Are buildings with amazing amenities better?
The answer is in the eye of the beholder.
"Boutique conversions—say, for example, a loft conversion in Tribeca—will still command a premium and be highly desirable," Morgan says. "And in many cases, a video intercom system and an elevator are the only 'amenities' in this style of building."
Gary says that a slew of over-the-top amenities don't necessarily make for a better living experience.
"But it certainly makes it a more attractive building and a nicer lifestyle," she says. "Many of my clients are purchasing a lifestyle. They like to live that lifestyle and impress their friends with it." 
Check out these listings in buildings with extravagant amenities: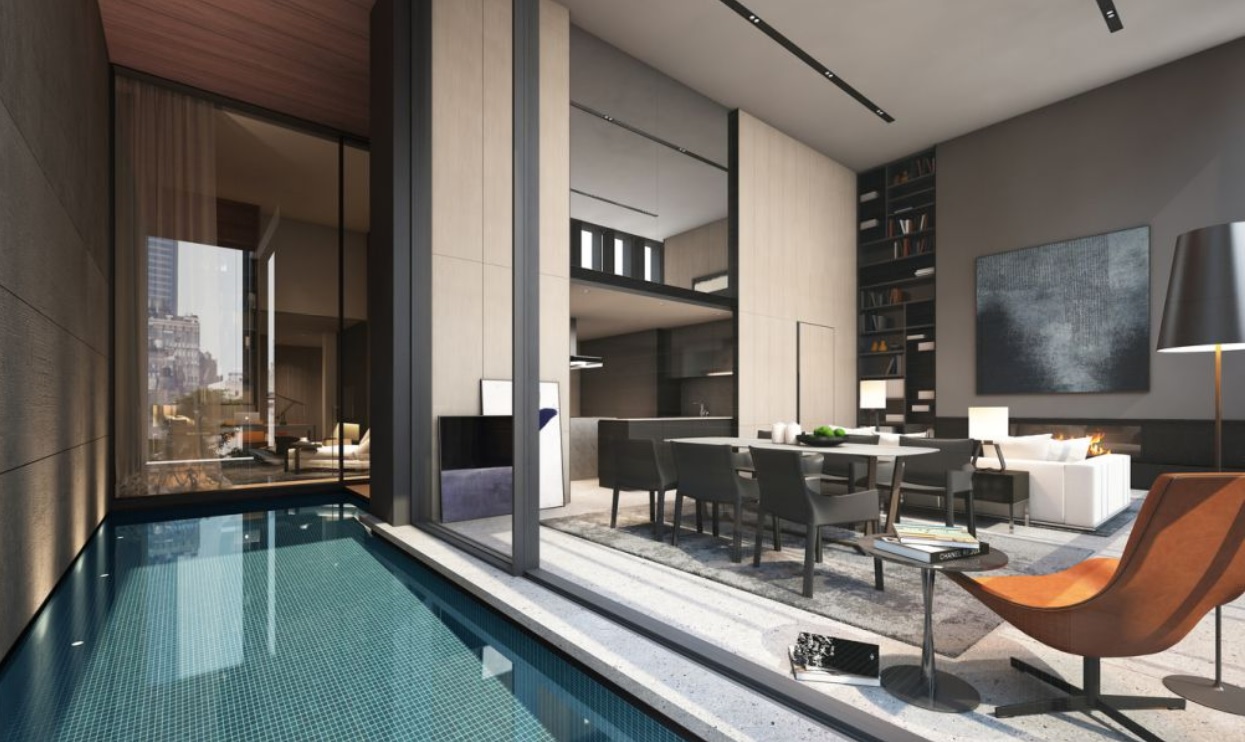 This 3,586-square-foot, floor-through five-bedroom, five-bath duplex has a private elevator landing, a double-height living room with 18-foot ceilings, floor-to-ceiling windows, oak-paneled walls, a gas fireplace, and a chef's kitchen with high-gloss lacquer cabinetry and waterfall-edge countertops. The master suite has a private terrace and a walk-in closet. There's radiant heat flooring in all living areas, and a partially enclosed, private, and heated swimming pool. This is in the Soori High Line, which offers a 24-hour doorman, a gym and spa, a dedicated yoga and Pilates studio, a lounge, storage, and private parking (which is available for purchase). It's listed for $9,750,000. Common charges are $4,540 a month. Taxes are $6,374 a month.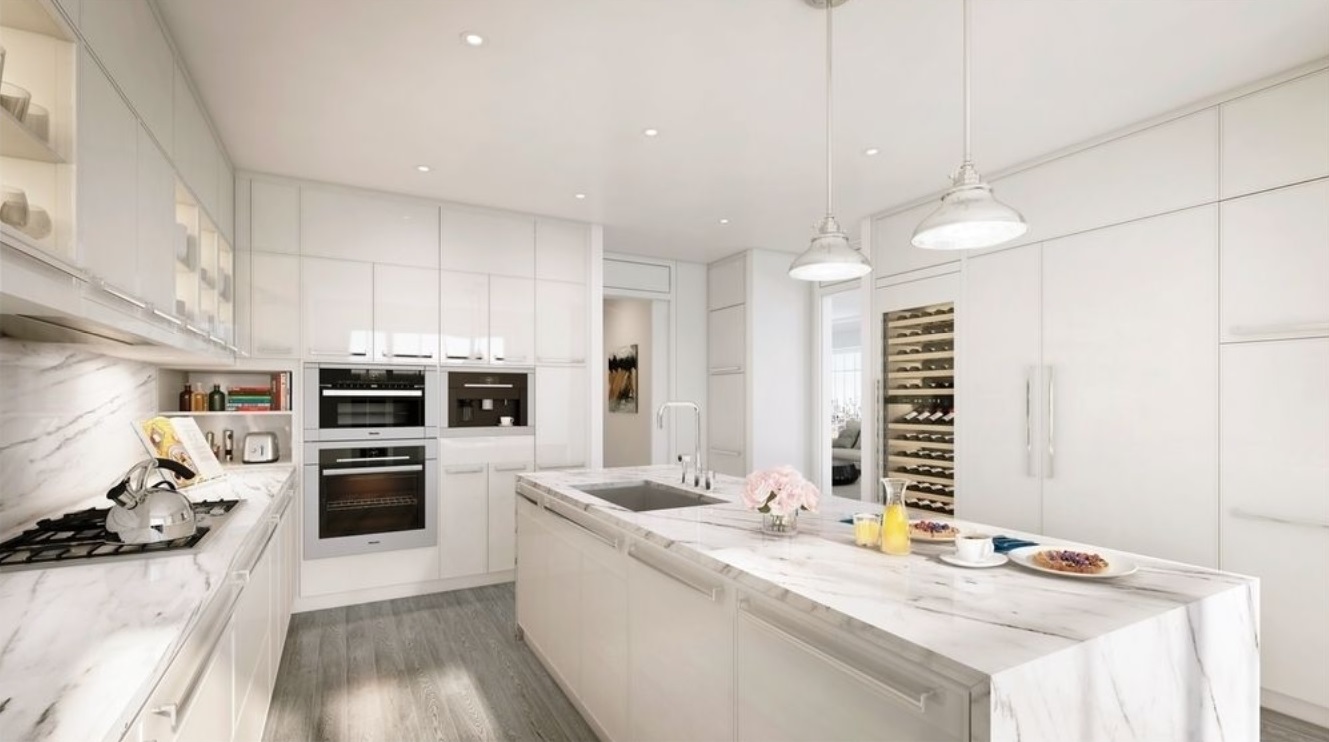 This 1,481-square-foot two-bedroom, two-bath condo in The Kent has laundry, custom millwork, and an eat-in kitchen. Amenities include a 24-hour doorman, a concierge, stroller valet, lobby cold storage, a 55-foot indoor, heated pool, a gym, The Sound Lounge music rehearsal space, a landscaped courtyard, a dog spa, and a bike room. It's priced at $2,993,000. Common charges are $1,678 a month. Taxes are $180 a month, thanks to a 421-a tax abatement.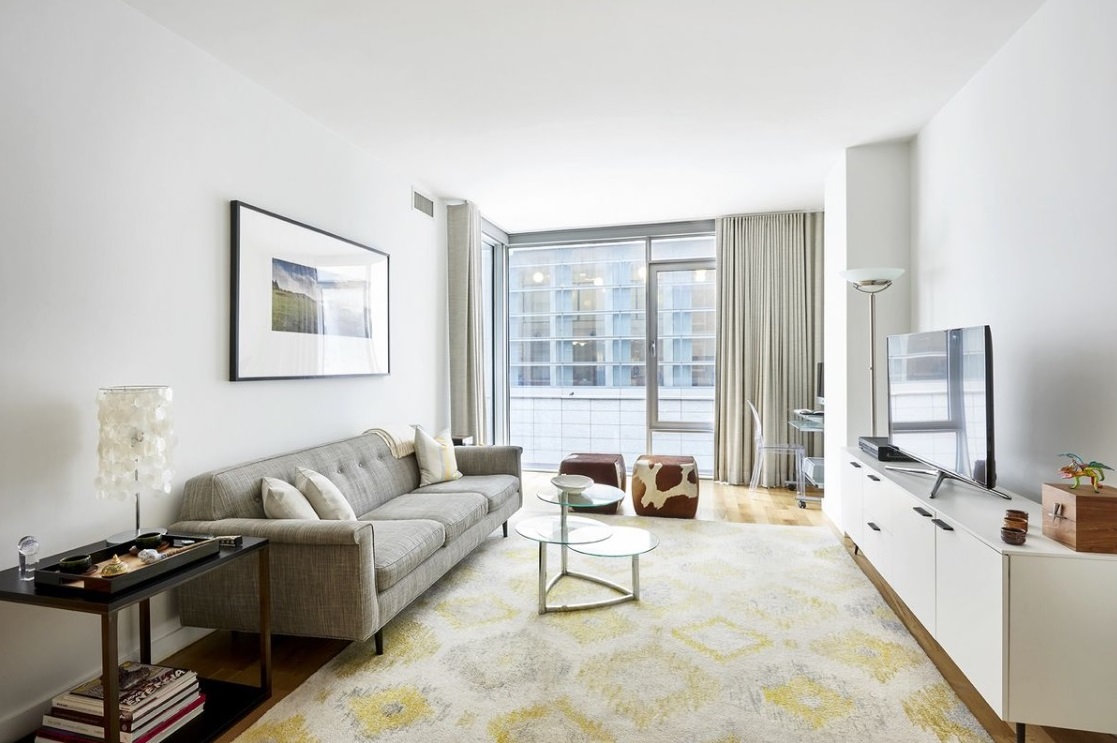 Listed for $1,250,000, this 779-square-foot one bedroom has 9-foot ceilings, floor-to-ceiling windows with electric shades, a loft-like living room, an open kitchen with Caesarstone countertops, oak hardwood floors, a walk-in closet, and central air. There's also a private storage unit in the basement. Amenities include a full-time doorman/concierge, a gym, a media lounge, a dog spa, a bike room, a garage, a landscaped roof deck with a grill, dining, and lounge areas, and a guest apartment that can be rented out for short-term visits. Common charges are $992 a month. Taxes are $817 a month.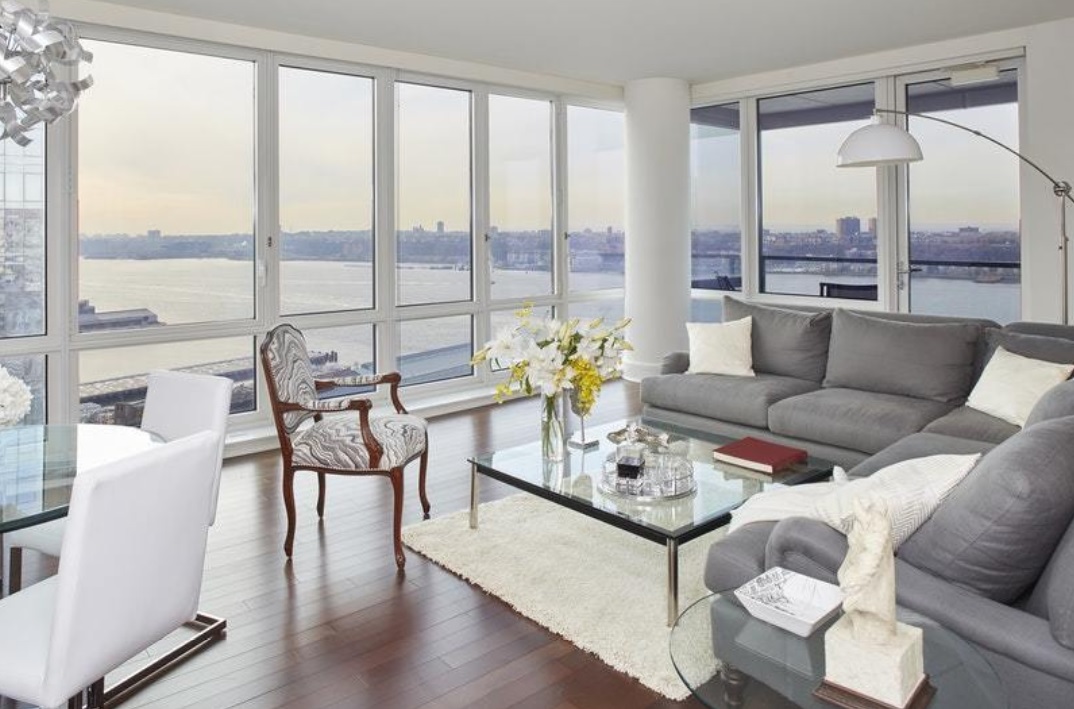 Listed for $3,850,000, this three-bedroom, three-and-a-half bath corner unit has floor-to-ceiling windows facing the Hudson River, Brazilian cherry floors, a private outdoor terrace, an open kitchen with hidden appliances, a walk-in closet in the master suite, and a storage unit. It's in The Aldyn Condominium, which has a 24-hour doorman, a concierge, on-site parking, a landscaped courtyard, a gym with a 75-foot indoor pool, a yoga studio, bowling and basketball court, billiards, a rock-climbing wall, and two lounges. Common charges are $1,661 per month. Taxes are $2,010 a month.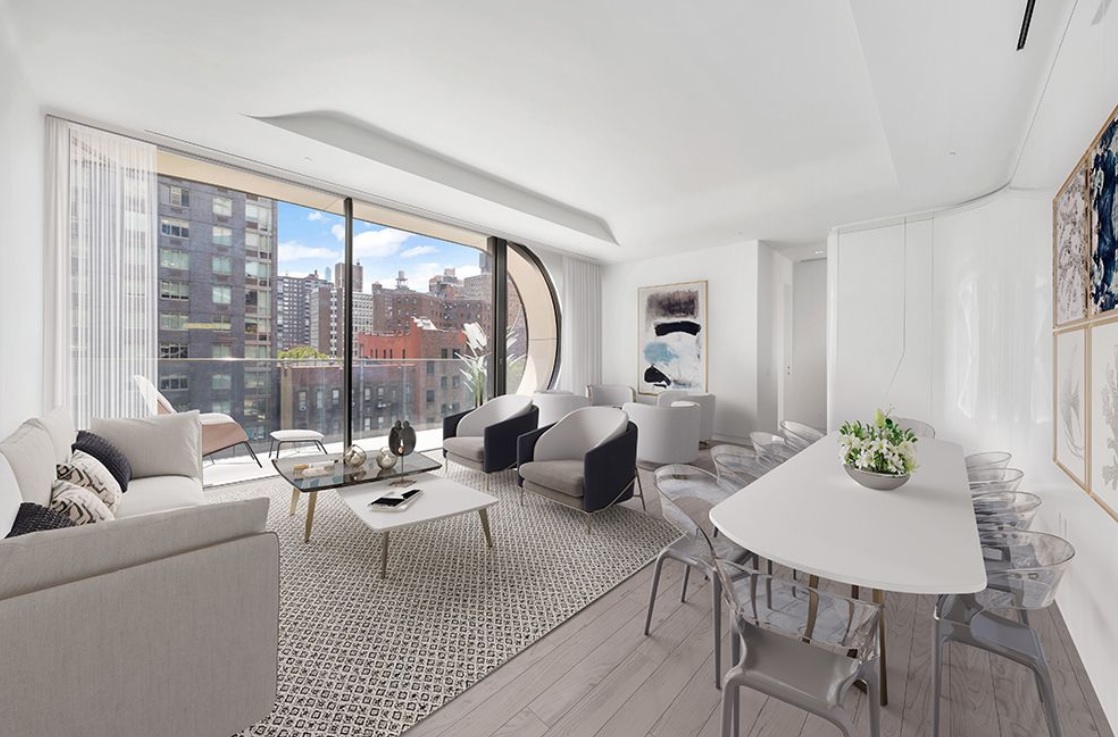 This 2,924-square-foot, three bedroom, three-and-a-half bath has a large entry area with a powder room, a 650-square-foot great room with a balcony overlooking the High Line, a high-end kitchen, a windowed family room, a corner master suite with a windowed bath, 10-foot motorized windows, high ceilings, and custom wall paneling designed to display an art collection. It's in a boutique condo building that has secure entry through a drive-in garage, New York's only private IMAX theater, a 75-foot swimming pool, a gym, a spa suite, automated robotic parking, and storage vaults with a private viewing room.
There's also a full-time concierge, doorman, and hand-delivered mail. It's listed for $8,795,000. Common charges are $5,475 a month. Taxes are $5,248 a month.
Brick Underground articles occasionally include the expertise of, or information about, advertising partners when relevant to the story. We will never promote an advertiser's product without making the relationship clear to our readers.