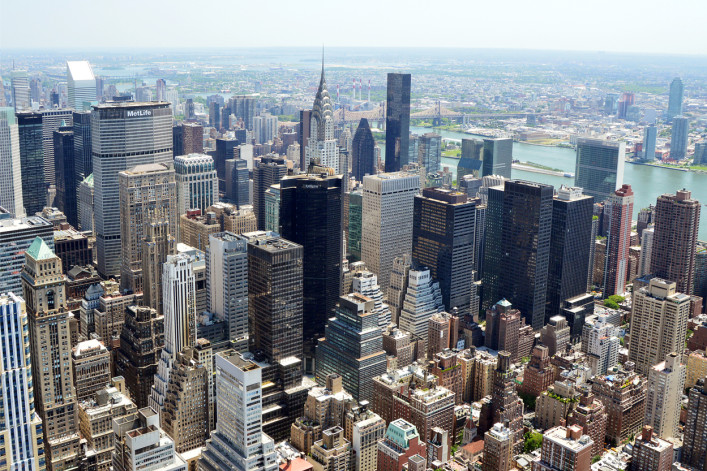 For New Yorkers, 2018 was a year in which buyers and sellers—and renters, too—received some loud wake-up calls. That's because certain long-held expectations about New York City real estate got turned upside down. 2018 shook assumptions that buyers always show up, sellers always make money, and renters never have leverage.
Sometime during the first quarter, New York City slipped into a buyers' market, meaning that buyers are now calling the shots and have the bargaining power. But that doesn't mean buyers are clamoring for apartments, in fact, it's the opposite. Sales are slumping in Manhattan and slipping in Brooklyn and Queens.
And so 2019 "is going to be the same or weaker than 2018," says Jonathan Miller, president of appraisal firm Miller Samuel, who points to stagnant wage growth, rising interest rates and President Trump's tariffs, "which reduce affordability on everyday consumption."
Miller says the NYC market is in reset mode—and so figures for sales and prices may paint a very different picture in 2019: "I don't think we're done with what I call price discovery, where buyers and sellers are recalibrating what value actually is," he says
There's a lot to process, so read on for what you need to know as a buyer, seller, or renter in order to navigate New York City real estate in 2019, plus what to expect from the influx of new Amazon and Google employees, the L train shutdown, and neighborhoods to pay attention to in the new year.
Buyers: Get off the fence when you find value
You can expect 2019 to remain a buyers' market for sure, but if you've decided to put your NYC purchase on hold, you're not alone. You may be camping out in the rental market for now.
One reason you're likely cautious about buying is the new federal tax law, which caps your state and local tax deductions, including property taxes, at $10,000 and lowers the debt limit for new mortgages from $1 million to $750,000. It punishes high tax areas like New York City and has "caused many consumers to pause," says Miller.
The key question, is when do you jump back into the market?
"There's just not that many times when it's a buyers' market, and it is now," says Diane Ramirez, CEO of Halstead. Buyers "should seize the day and go out and get what they want—but make sure they get that value they're looking for, whether it's price, quality, or whatever value means to them."
You're likely to face less competition now when you do go to buy. Bidding wars are dropping. They accounted for 7 percent of transactions in the third quarter of 2018, nearly half of what they were in the third quarter of 2017—and a sharp drop from 31 percent in 2015.
Discover off-market properties in your dream neighborhood that perfectly suit your needs and budget.  Meet and deal with sellers before their apartment hits the market.

Let Triplemint's off-market team give you exclusive access to apartments in your price range and desired neighborhood that no one else has seen. More options, less competition, no bidding wars. 
Where should you look to find value?
Though Brooklyn set median and average price records over the summer, a slowdown there is underway. Sales dipped 5 percent, and inventory ticked up. Still, Brooklyn will continue to be a hot area for buyers come 2019. While inventory has increased, it was at a record low last year.
Robbie Gendels, senior loan officer at National Cooperative Bank (a Brick Underground sponsor) points out that for many New Yorkers, their dream apartment is right under their noses. Buying the apartment next door to combine with your own in order to gain space is a trend she sees continuing in the new year. For some buyers this is a more affordable way to create a dream apartment—after all, you already own half of it.
Sellers: Come to grips with pricing
In 2018, brokers urged sellers to come to terms with decreasing prices. Because even though your neighbors may have done very well on a past sale, you can't expect a similar bonanza now that NYC is in a buyers' market. But some sellers may still have visions of dollar signs dancing in their heads and find it hard to let go of hitting a certain price.
Miller theorizes that sellers take roughly two years to adjust and adapt to a market shift and its subsequent pricing, and it will still be nearly a year before sellers "can go into a closing and not feel like they've left money on the table," he told Brick last month.
Aleksandra Scepanovic, managing director of Ideal Properties Group, calls it "spoiled sellers syndrome," because they are "so strongly accustomed to prices always rising" that they have trouble accepting "that their home may just be worth less than they are trying to sell it for," she says.
Sellers "need to understand that they have to price their properties at where the market is currently. They can't look at comps from one to two years ago," adds Alexander Boriskin, an agent at Douglas Elliman.
Pro Tip:
Unsure what your apartment is worth in a buyers' market? Before you list your place publicly, test your price quietly among real-life, qualified buyers via the pre-marketing program at New York City real estate brokerage Triplemint.  There's no charge to participate, nor any obligation to enter a traditional listing agreement if your place doesn't sell during the pre-marketing period. Click here for more information.
Sales of studio and one-bedroom apartments are showing the biggest declines, Miller reported in his third quarter Manhattan market report for Douglas Elliman. These buyers usually need financing, so an uptick in interest rates is going to be painful to them.
In fact, resales of smaller Manhattan apartments that cost more than $1 million face the possibility of selling at a loss in 2019. According to StreetEasy data prepared exclusively for Brick Underground, one in five apartments priced between $1 million and $4 million that were bought and sold in the last five years sold at a loss, a drastic increase from the one in eight in the previous five-year period of 2009 to 2013. Smaller apartments are at the biggest risk for this trend, the data showed.
The data turns on its face a commonly held belief about NYC real estate that sellers need be mindful of in 2019: You can't always expect to make money when you sell in NYC.
You can expect resales in Brooklyn and Queens to fare better than their Manhattan counterparts in 2019, if you consider that just 10 percent of Brooklyn sellers sold for less than they paid between 2014 and 2018. In Queens, 17.9 percent took a loss during the same period.
Look for sellers and developers to get creative to entice buyers in 2019. For example, Extell Development offered to pay common charges for up to five years for any of its apartments bought before the end of the year, which gave those buyers a (temporary) savings of many thousands of dollars.
Take these tactics with a grain of salt, warns Ramirez. "Saying you'll pay some months' worth of maintenance or common charges, that might be helpful at the end of the negotiation, but I just don't think you'll see negotiation if you're not priced to sell," she says.
Renters: Concessions are the name of the game
If you scanned rental listings for NYC in 2018, you were more likely than not to see "no fee" or lease terms that offer one or two months free. That's because with an oversupply of higher-end apartments, landlords are looking for ways to encourage you to sign a lease without actually lowering the rent.
That's likely to be the case in 2019 as well. What that means for renters, either new or existing tenants who have a lease coming up for rent renewal in larger, more expensive apartments, especially those in non-prime neighborhoods, is that you have some bargaining power.
If you are seeking an apartment and find one you like, if it doesn't come with some kind of concession, ask for one. If you are already renting an apartment and your lease is up for renewal, "speak to the landlord to see if you can get at the same price," says Ramirez of Halstead.
Tech effect: Sellers will be disappointed by Amazon and Google impact
There were a lot of headlines about Amazon's decision to put one of its second headquarters in Long Island City, Queens, where the company plans to hire 25,000 new employees. In the weeks following the announcement, there was nearly a 19 percent hike in Long Island City sales prices as sellers eagerly anticipated well-heeled tech buyers. But some important details came later: Amazon will bring just 700 employees to LIC next year; it won't have the full 25,000 for another decade
Similarly, Google's Hudson Square expansion plans—the company plans to more than double its staff to around 15,000 in the next decade—could also inspire sellers and landlords in the area to hike prices. But an increase would not likely stick.
While the influx may take a bite out of the oversupply hampering the LIC market, it won't wipe it out. According to a StreetEasy report, LIC sellers "are likely to be disappointed," says Grant Long, StreetEasy senior economist. While the average salary of a new Amazon HQ2 employee is $150,000—that's not enough for multi-million-dollar condo. And new employees are unlikely to have a NYC-sized down payment sitting in their bank accounts, and so are likely to rent instead.
The L train factor: Hassle for some, affordable apartments for others
The 15-month L train shutdown that begins in April has many renters fleeing Williamsburg—rental inventory was up 25 percent, and rents have fallen to 2015 prices, according to StreetEasy. While the loss of the L train is a deal breaker for some commuters, for others, it could be a major opportunity to snag a deal in 2019.
"There are many Williamsburg renters that are hunkering down and renewing leases at deeply discounted rates," says Tali Berzak, a broker at Compass. "Unfortunately, I predict that this shutdown will be more disruptive than anticipated, and these same renters will find themselves breaking leases to move south toward Bedford-Stuyvesant and Crown Heights," where many of their neighbors are migrating because of access to multiple train lines. "I think we'll see a greater influx of renters from Williamsburg in the summer of 2019," she adds.
[Editor's Note: On January 3rd, Gov. Andrew Cuomo announced that the L train would not shut down as planned, but instead be repaired on nights and weekends.]
"There's going to be some amazing deals because of the L train shutdown—if you can handle getting to work or work from home or local or can bike, walk or do a rideshare," says
David Maundrell, executive vice president of new development for Brooklyn and Queens at Citi Habitats. "Obviously, rents have gone up along the J and Z trains because of this, but if you're willing to walk to those trains, there will be really good deals for people."
Neighborhoods: Where to watch in 2019
Downtown Brooklyn has seen a wave of new high-end developments that are mostly high-end rentals that come with loads of amenities, including restaurants and stores on the lower levels. Extell's City Point is one of the standouts—it has an Alamo movie theater, a food hall, Target, Trader Joe's, and other retailers.
The neighborhood make sense for new renters: It is close to multiple subway lines, the borough's business center, and its courthouses. You can get a new, two-bedroom apartment with great features (like an indoor swimming pool, gym, roof deck, and storage, for starters) for $4,000 or less—with no broker's fee. Try doing that in Manhattan.
Over in the Bronx, Mott Haven is drawing tenants to its new, affordable rental buildings. In fact, the neighborhood ranked sixth in the city for new development in a New York Times report in July.
"There's been a lot of talk about the Bronx, especially from people in Bushwick, East Harlem and Harlem, who are really interested in living in Mott Haven," Maundrell says. "That whole 'build it, and they will come' is happening." Citi Habitat represents Bridgeline, a newly built rental building at 329 East 132nd St., where two bedrooms are available for $2,750 a month. "We're really impressed with the traffic and leasing," he says.
The Lower East Side is "the most underdeveloped area in Manhattan that is prime for new development product over the next five years," says Richard Hottinger, an associate broker with Corcoran. There are however, thousands of condos in the pipeline for the neighborhood, thanks in part to mega projects like One Manhattan Square and 247 Cherry Street.
Amenities: What developers try to lure you with
While high-end building amenities like pools, gyms, and kids' playrooms will likely always be desirable in NYC, developers are constantly trying to raise the bar to set their building apart and attract new buyers.
So that's how you get extravagant amenities in some buildings like in-unit pools, automated parking, stroller valets, and for the 1 percenters: the use of a building's private yacht or jet.
But the most popular NYC amenities remain those involving pets, says Maundrell. If you're a pet owner on the hunt for a new apartment, you're likely to find that large new buildings offer dog runs, grooming, sitting, walking or even daycare facilities.
"Whether it's incorporated into the building or built into its retail space and gives residents a discount as an amenity, there's going to be a lot more, and a little more advanced, pet services as different vendors come up with different ways to collaborate with developers," he says.
Another trend you can expect to run into during your apartment hunt: Apartments are shrinking in some of the bigger buildings going up. So buildings' common areas are expanding to include co-working spaces for tenants or owners who may not have room for a home office.
And instead of being relegated to the windowless basements or lower floors, amenity spaces like gyms, party rooms and other common areas are being put on higher floors.
"Instead of putting a space on the second floor with no view, everyone gets to have a great view," Maundrell says. "It's nothing new, but it's happening more and more. It has real value and is a 'wow' factor for people walking into the spaces."
Related links: 
Everything you need to know about buying a loft in NYC (including where to find an affordable one)

The 8 most affordable NYC neighborhoods to buy an apartment in 2018
The buyer's and renter's guide to the NYC elementary school game
New data suggests your Manhattan apartment may be worth less than you paid five years ago
New report shows Manhattan sellers still in denial about buyers' market
New report: Buyers are starting to 'camp out' in the NYC rental market
Brick Underground articles occasionally include the expertise of, or information about, advertising partners when relevant to the story. We will never promote an advertiser's product without making the relationship clear to our readers.