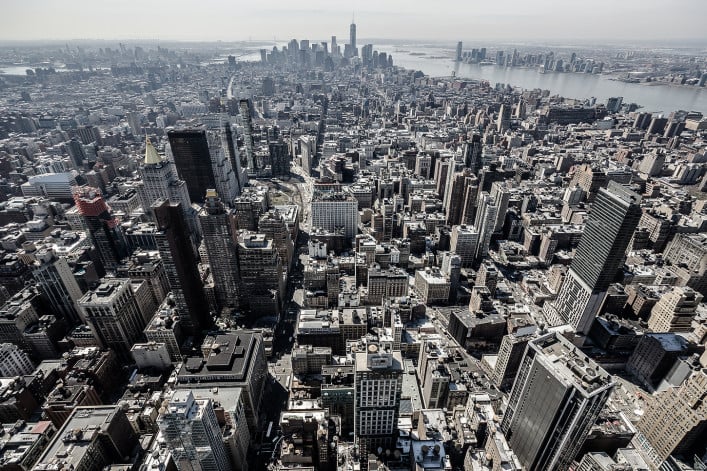 If you spent more than $1 million on a Manhattan apartment in the past five years, you might want to sit down for this.
According to data prepared exclusively for Brick Underground by StreetEasy, one in five Manhattan apartments, priced between $1 to $4 million that were bought and sold in the last five years, sold at a loss. That's a startling increase from the prior five-year period of 2009-2013, when only about one in eight sold for less than their owners paid.
Within the $1 to $4 million-price range, smaller apartments were at the biggest risk of selling at a loss, suggests Grant Long, StreetEasy's senior economist.
"The $1 to $4 million price range includes a wide array of inventory ranging from 500-square-foot studios in luxury condos to two- and three-bedroom apartments in older co-op buildings," Long says. "While the larger homes at relatively affordable price points have generally remained popular over the past few years, smaller luxury units have become more common and have struggled to maintain value."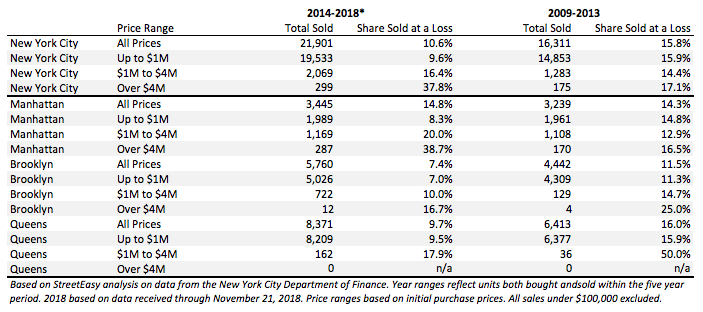 The two consecutive five-year timeframes (2009-2013 and 2014 through November 21, 2018) compared by StreetEasy correspond to the end of the Great Recession and subsequent real estate price run-up, and the period including and following the market peak in 2014.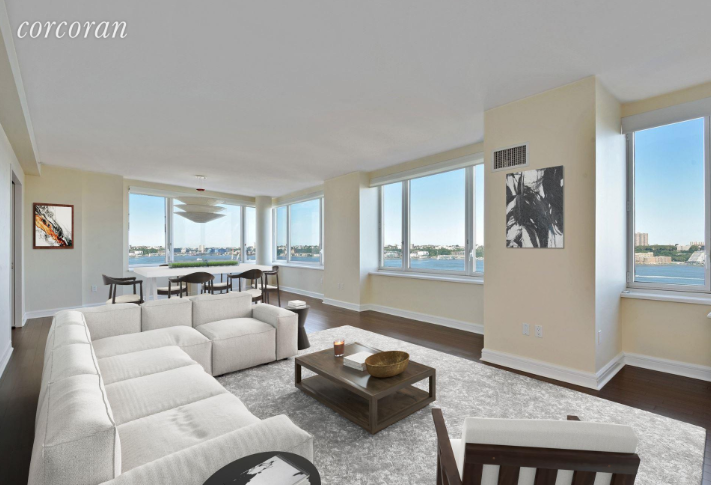 More sellers in the red
StreetEasy's Long cautions that sellers who buy and sell within five years may be more likely to be motivated by personal circumstances, like relocation or divorce and thus more willing to take a loss. On the flip side, the sales data doesn't capture money spent on renovations—or the transactional costs of buying and selling property.
Closing costs in NYC are approximately 11-12 percent on either end, notes Ari Harkov, a broker at Halstead. "You need that amount of appreciation just to break even."
Pro Tip:
Unsure what your apartment is worth in a buyers' market? Before you list your place publicly, test your price quietly among real-life, qualified buyers via the pre-marketing program at New York City real estate brokerage Triplemint.  There's no charge to participate, nor any obligation to enter a traditional listing agreement if your place doesn't sell during the pre-marketing period. Click here for more information.
The five-year snapshots reveal a harsh truth about NYC real estate, says Harkov: "There's been an assumption that if you buy in New York City, you always make money. This shows this is not the case. A huge chunk of sellers don't make money."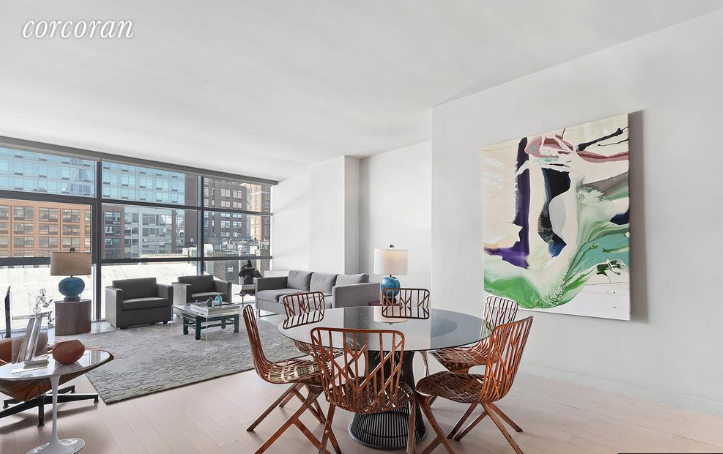 Manhattan $4 million-plus resales fared the worst
Sellers of Manhattan apartments priced above $4 million faced an even grimmer reality: Of the 287 Manhattan apartments priced over $4 million that were bought and sold between 2014-2018, nearly 39 percent sold at a loss, compared with nearly 17 percent in the prior period.
Often when luxury condo buyers become sellers themselves, they are confronted with the downside of today's frothy new development market. 
"People have been bamboozled by new development hype," says Leonard Steinberg of Compass. "The problem is not every apartment, even when comparing units in the same high-end building, commands top dollar." 
That said, Steinberg cautions against looking at real estate investments through a five-year window.
"A better evaluation is one that is long-term—after all, most people do not buy and sell in a short period of time," he says. Plus a short view makes bad decisions appear more prominent: "There will always be people who buy the wrong real estate at the wrong price," he says.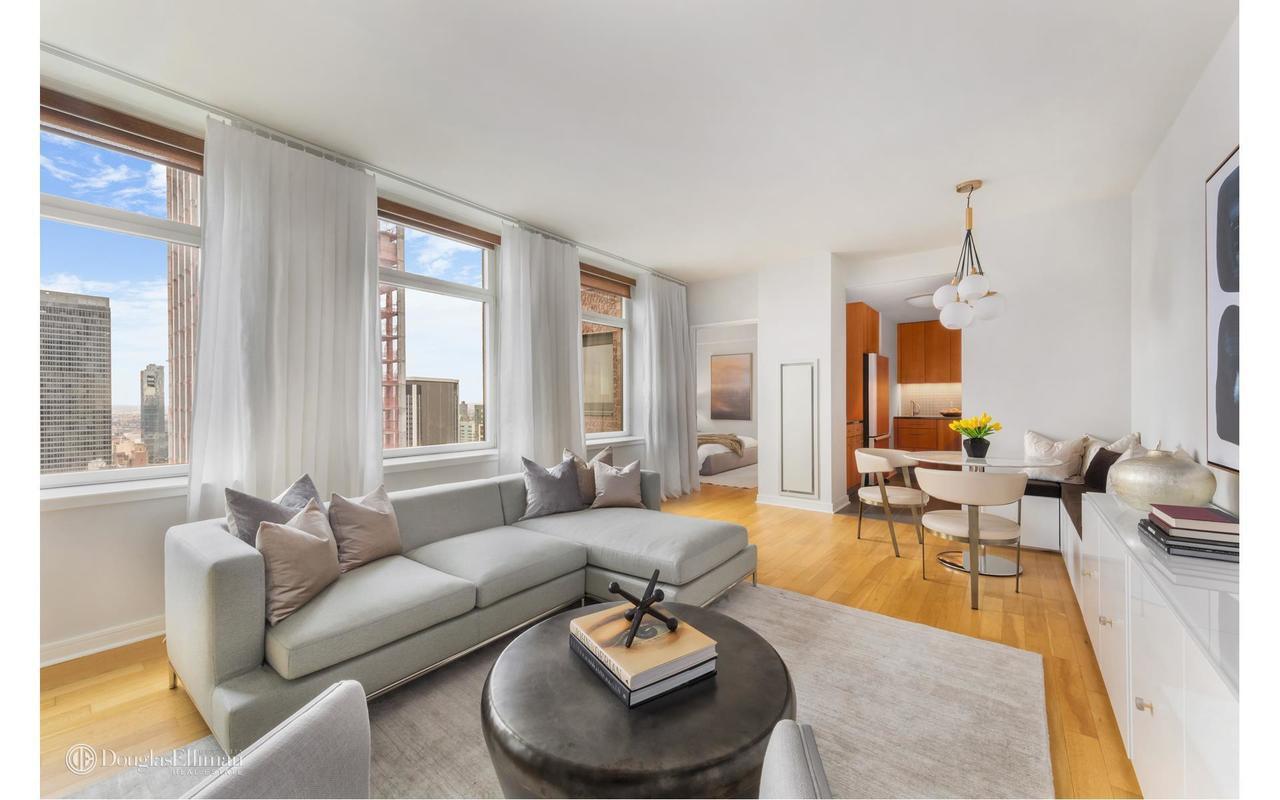 Queens and Brooklyn fare better than Manhattan
Manhattan resales have faced stiff competition from the influx of new condos into the Manhattan market in the last 5 years. You can see that most glaringly in prices of luxury co-ops, once the vanguard of Manhattan real estate. Prices for luxury co-ops have fallen between 2014-2018, according to Jonathan Miller, president of appraisal firm Miller Samuel, who previously told Mansion Global, "new development is the new prewar." 
By contrast, in Brooklyn and Queens, where new development has been mostly rentals, resellers in the $1-$4 million category were not only less likely to take a loss than Manhattanites in the same price category, they were less likely to lose money in 2014-2018 versus 2009-2009: In Brooklyn, only 10 percent of apartments in that price range sold for less than their owners paid, versus 14.7 percent in the prior five-year period. In Queens, 17.9 percent took a loss, compared to 50 percent in the prior five years.
"It's like I have been saying for four years, the market is tight at the top," Miller tells Brick Underground.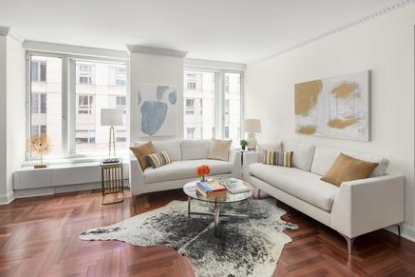 The winners: Apartments under $1 million 
If you bought a place for less than $1 million in the last 5 years in Manhattan, Queens or Brooklyn, give yourself a pat on the back (or consider taking up real estate as a profession). 
Across the board in all three boroughs, sellers of apartments under $1 million were by far the least likely to sell for less than they paid. Only 8.3 percent in Manhattan, 7.4 percent in Brooklyn and 9.5 percent in Queens bought and sold at a loss in the past 5 years.
Miller points out that the under $1 million "starter" market is very different in Manhattan vs. Brooklyn and Queens. Brooklyn saw triple the number of sales in this price category, while Queens saw over four times the sales.
In recent years, Brooklyn has shifted from a cheaper alternative to Manhattan to being a competitor, while Queens is drawing buyers who are priced out both of those boroughs. But the Brooklyn market is tapping the brakes as of late: Low inventory has ticked up while sales cool in response to rising interest rates and uncertainty caused by the new federal tax rate.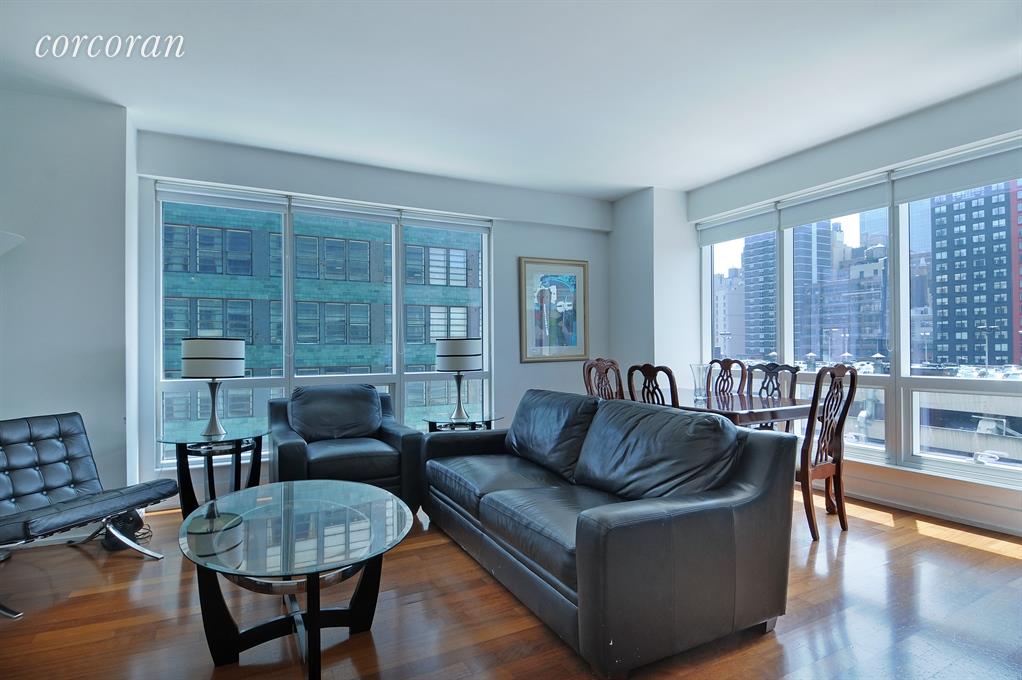 Takeaways for buyers, owners, and sellers
Buyers: When evaluating listings, check the last price sold to see whether the seller may be selling at a loss and factor in transaction costs (such as broker's fee and closing costs) and any improvements they may have made to the apartment in the past few years when you're setting your offer. If you're looking to low ball, you may do better by focusing on other, longer-held properties where the owner will walk away with a profit. On the other hand, if someone is selling at a loss, they may be more desperate/motivated to move quickly.
 
Owners in at-risk categories: You might want to table thoughts of selling in the next few years unless you have to. This could instead be a good time to renovate—invest in your property to position it to better compete with new condos—for example, by installing central air and a washer/dryer in the unit. If you're thinking of refinancing, be aware that the appraisal may come in lower than you think.
 
Sellers in at-risk Manhattan price segments: If you must relocate, considering renting your place out for a couple of years instead of selling right now. (However, you should be aware there's tons of competition in the higher-end rental market, so your asking rent needs to be competitive while being high enough to avoid a loss on your carrying costs). If you can't put off selling, steel yourself for a possible loss and make sure your Xanax prescription is up to date before negotiating with a buyer.
As Long of StreetEasy points out, "The important thing for anyone buying in the city to remember is that it can be much more difficult to make money in New York City real estate than many imagine."
Brick Underground articles occasionally include the expertise of, or information about, advertising partners when relevant to the story. We will never promote an advertiser's product without making the relationship clear to our readers.