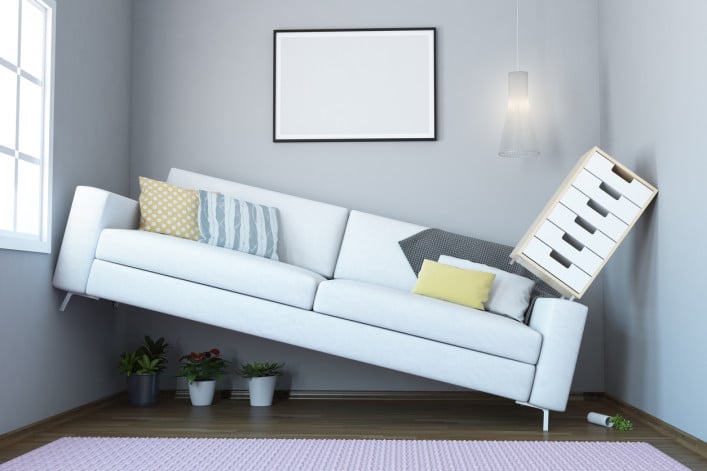 Do apartments shrink or change in response to cooling markets? You might be surprised to find out that apartment sizes do change. While developers can't (always) lop off part of a building,  there are other steps they can take, like packing more small apartments in bigger buildings to make up for slowing sales.
It takes anywhere from two to four years, sometimes longer, for a residential project to go from an idea to being ready for you to move in, so developers can't respond quickly to sudden shifts. But the market has been downshifting now for a few years, long enough for some trends in new buildings to emerge. For example, you're more likely to see apartments that have smaller layouts or are in far-flung neighborhoods, as developers look to maximize their profits. Sometimes the differences are upgrades designed to make you sign on the dotted line, like amenities or nicer finishes.
"When we came out of the recession in 2010/2011, certain buildings that came out around that period did very well—150 Charles, 432 Park Ave., Walker Tower—because there was strong demand and no inventory, because there was no construction for two to three years, so when they came out there was a rush to purchase those units," says Shlomi Reuveni, CEO of Reuveni Real Estate. "Those units were mostly larger apartments and sold at very high numbers, so developers took that as an indication of what should be built and that's how other projects were designed at that point for the future. But now things have shifted and changed."
Read on for the ways developers have made changes to their projects in order to get you to buy or rent a new apartment.
Bigger buildings = more apartments + lower prices
Developers are doing bigger buildings with more units in them in order to cover their costs, and those apartments are aimed at a lower price point (note that "lower" doesn't necessarily mean "affordable" for many if not most New York City buyers).
"The goal is to serve a market that is more 'normal' for lack of a better phrase," says Ari Harkov, an associate broker with Halstead who works with new developments. In broad terms, developers are pitching their projects to the larger pool of buyers that can afford a $2 million apartment, rather than the smaller pool that can afford a $20 million apartment.
Smaller apartments are a better hedge in a slowing market because they are easier to rent out than large ones.
"A lot of developers found out that when you build very high-end apartments, they don't work as rentals, because there aren't too many people who will rent a penthouse for $60,000 a month, so you're stuck reducing your price," he says.
Builders who get tax breaks in exchange for incorporating affordable apartments also need to scale up the size of their projects in order to make it work for them financially.
"We're seeing a lot of large-scale rentals popping up, because it can be difficult to make smaller rental projects work with an affordable component" that enables developers to qualify for the tax breaks, says Andrew Barrocas, CEO of brokerage MNS. "I think this is a trend you'll continue to see for the next year or so, especially as interest rates continue to inch up."
More new condos—and more for your money—in outer boroughs
Some new developments are coming to neighborhoods that haven't seen larger-scale development before because the cost of land and building in Manhattan is too expensive for builders.
If you're looking for a price point below $1 million for a condo, you'll need to look to Brooklyn, Queens, or the Bronx. "Forget Manhattan, it's non-existent," Harkov says. But for popular spots in Brooklyn, a starter condo price will be in the $800,000-$900,000 range for newly built condo.
So where exactly can you find new development? David West of Hill West, an architecture and design firm, says he's seeing projects going up in the South Bronx; Jamaica and Sunnyside, Queens; and in south Brooklyn. Barrocas seconds Sunnyside, and adds Woodside and Astoria, as well as Prospect Lefferts Gardens and Flatbush in Brooklyn. 
There also are projects planned for Ridgewood, Queens, and in Greenwood, Brooklyn, along the Fourth Avenue corridor south of Park Slope, says Adam Meshberg, founder of the Meshberg Group, an interior design and architect firm.
If your budget is a bit bigger, keep an eye out for new condos in northern Manhattan, in West Harlem, Morningside Heights, and Hamilton Heights, Meshberg adds.
Of course there's continued development in established neighborhoods, too. Long Island City is getting a 68-story, 802-unit condo building, the Skyline Tower, that, if and when it sells out at projected pricing, will be the first $1 billion condo project outside of Manhattan, says Eric Benaim, CEO and president of Modern Spaces, which focuses on Brooklyn and Queens.
If you still want Manhattan
Richard Hottinger, an associate broker with Corcoran, says the Lower East Side has a large pipeline of inventory coming to the market. "I believe it is the most underdeveloped area in Manhattan that is prime for new development product over the next five years," he says.
And there's a migration of people priced out of the prime Upper West Side area in the 70s and lower 80s that are moving into new projects aimed at the corridor along Broadway between 86th and 96th streets, Reuveni says, adding that that trend will continue. "Anything above that up to 125th Street is doing very well, there's very strong demand by buyers looking for quality new housing at a certain price point that's no longer achievable in the 70s and low 80s on the Upper West Side."
Smaller rooms, smaller apartments
Keeping apartments small is not a new concept, but it is a trend now for developers who are creating, for example, one- and two-bedrooms that are about 10 percent smaller than apartments built two to three years ago.
"You can build smaller units and squeeze more space from the bedrooms where people only sleep and put more space in the living room," Harkov says.
That also allows developers to put a larger number of smaller units into a building, which means they can sell more apartments and (ideally) achieve a greater gross sellout (or the total amount paid for apartments in a building). "This is the opposite of what was done five years ago when all these developers said let's build these gigantic expensive apartments that billionaires will buy and the price per square foot will go up as the units get bigger," Harkov says.
In three- or four-bedroom apartments especially, you might notice on the floor plan that the third and fourth bedrooms are particularly small, sometimes barely meeting the city's minimum of 80 square feet in order to qualify as a legal bedroom. These rooms may be labeled nursery, child's room, or office, on a floor plan, indicating that its not full-size.
And kitchens are getting smaller, too. "It depends on the demographics of the building, but typically if a building is geared toward Gen X and Boomers, they'll want larger kitchens. If there's a younger millennial generation demographic, then it's acceptable for the kitchens to be smaller," says Sara Ianniciello, design director for Whitehall Interiors, a design arm of Hill West Architects.
No end to high-end amenities
Amenities like pet spas, juice bars, and golf simulators might seem either trendy or played out (some experts said they were out, others said they were in). But one thing industry experts appear to agree on is that new buildings have to offer a lot of perks, especially for mid- to large-size projects.
Two things to look for in a new building: A well-organized package room to receive all your deliveries, and a virtual doorman.
"There's a gigantic shift in demand for package rooms, and even small buildings have to have them, as well as a virtual doorman, otherwise you can't sell the units," Harkov says, adding that the cost for a virtual doorman has dropped from about $40,000 to about $7,000. Even older buildings "designed before the era of Amazon" will need these amenities.
Some of the most desirable amenities relate to health and wellness, as well as convenience. Some new buildings are offering shuttle buses that will ferry apartment dwellers to the subway station or taking gyms to the next level by offering branded equipment like Peloton bikes, virtual training programs for activities like boxing, and even taking the gym out of the basement to make it more accessible and appealing.
You can continue to expect fancy rooftops in new buildings, and even smaller buildings will have features like pools and outdoor kitchen, private cabanas, or simply a communal planted space. 
Essentially, the more upscale the building, the more upscale the amenities. "Some projects, like Waterline Square with over 70,000 square feet of amenities, have everything from a dog enrichment center to [an] indoor tennis court," Hottinger says. (For more on where you can find buildings with high-end amenities, check out "New NYC condo buildings woo sports fans with eye-popping basketball and tennis courts, soccer fields.")
More communal living
Apartments may be getting smaller, but common areas are getting bigger. So if there's no room for a home office in the apartment, it's not a deal breaker.
In midsize buildings, you'll find open lounges and co-working spaces that are just for building tenants, says Ben Igoe, owner of JBS Project Management, a development management company. In some of these spaces, you can even find phone booths where you can take that important call, instead of having to go back to your apartment.
Communal kitchens are another popular amenity. Management companies use them to host wine tastings, chef demos, and other events.
High-end finishes with value in mind
As technology improves, manufactured countertops and other man-made finishes are becoming even more attractive and durable.
"When you're building on 57th Street for $4,000 a square foot, of course you have to have extraordinary finishes. But when you're bringing [an apartment] to market in the $800,000 to $3 million range, the focus for buyers has shifted more to value," Harkov says. 
Case in point are materials like faux porcelain: "The products are becoming amazing, and just getting better and better," Meshberg says.
No more purchases off floor plans
It seems hard to believe but there was a time not long ago when buyers bought apartments pretty much sight unseen. Now they want a hard-hat tour, or to see a model or a finished product before they'll sign off on buying the apartment. Imagine that!
"The days of selling from renderings on an unfinished building are behind us," Igoe says. "Now there's a lot of product and when people are ready to make a move, they don't want to wait a year in advance. If you're not delivering the project for a year, they're nervous."
Brick Underground articles occasionally include the expertise of, or information about, advertising partners when relevant to the story. We will never promote an advertiser's product without making the relationship clear to our readers.