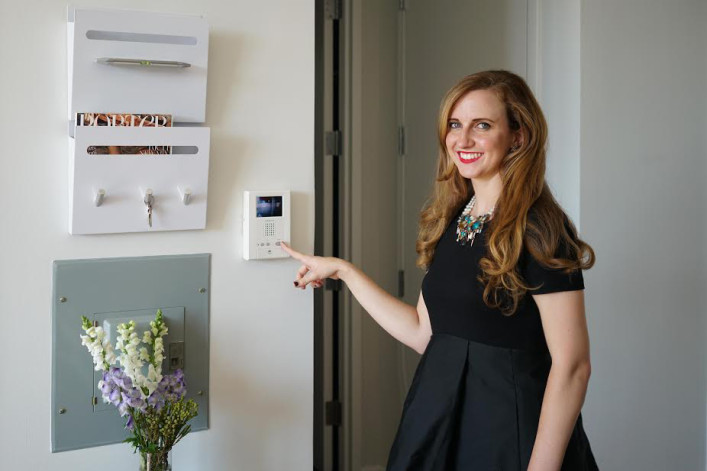 I'll be honest: I've never lived in a doorman building in New York and I've never really felt the need. At first, I just couldn't afford it, and then I discovered I enjoyed the privacy that comes with not having a near-stranger take stock of all of my comings and goings (and embarrassingly plentiful Seamless orders). In short: having a doorman is the solution to a problem that's never existed for me.

Even in my doorman-less state, however, I was curious about the influx of new construction and remodeled apartments that now offer remote doorman systems, including the name-brand Virtual Doorman. Are they essentially the same thing as having a real-life doorman? Do they make a building any safer? What's the difference between a remote system and a video intercom? And who exactly are the people behind the intercom, anyway? 
 
TRIAL AND ERROR
I arranged a trial doorman run at 345 Union, a new condo building in East Williamsburg that, among its other amenities, offers a remote doorman system (not to be confused with a Virtual Doorman, a name brand and one of several high-tech platforms offering the service). I called up to a top unit and was promptly buzzed in by the apartment's owner, Thomas. He had just come from a traditional doorman building in Chelsea and said he much prefers the privacy afforded to him by no physical doorman actually being in the building. "With this system, no one is seeing when you go in or when you come out," he told me.

And, since there's no person sitting behind a desk 24/7, the cost is on average about $1,000 per month lower than similar buildings with doorman (and presumably there's no holiday tipping required, either). The biggest difference between this system and a standard video intercom, Thomas told me, is being able to receive packages when you're not at home, a definite perk for busy New Yorkers (and arguably one of the bigger draws of living in a doorman building in the first place).

Here's how it works: the delivery person buzzes the remote doorman and is granted access to a locker room where they can then put the package. The tenant then gets an email saying a parcel is waiting for them. It sounds pretty no muss, no fuss.

But this particular system—a VirtualWay service and an Airphone video intercom —has some kinks. "I have no way of knowing which package has been delivered," Thomas told me. So aside from separately keeping an eye on following UPS tracking numbers, there's no indicator to what the package is, from an Amazon Prime delivery to a Blue Apron order. 
GOING POSTAL
And then there's the mailroom itself. In some remote doorman system buildings, there are storage racks and slots for each individual apartment. But at this particular building, which has more than 40 units, it's just a small, windowless room with boxes stacked haphazardly by the door. The building manager told me he's been meaning to get shelves in, but the biggest amenity is currently a refrigerator in the back corner for perishables that's still too small for most food deliveries.

The room is locked by a "remote doorman" stationed in India or by the tenant's electronic key fob (though Thomas said he was never given a fob and thus, has to use the doorman system). But I was shocked to see that there was no actual video confirmation that Thomas was who he said he was after he gave his name and apartment number—a possible security risk for someone looking to get inside the package room without actually breaking in, though there was a camera stationed out in the hall.

Thomas struggled for about half a minute trying to find his package amid the 20 or so boxes from Jack Threads, Amazon, and Birchbox. There were several  larger, heavier boxes already on their side, and it was unclear whether a careless delivery person or tenant was responsible. After finally finding his parcel (a coat rack), he closed the door and it clicked behind him.  
REMOTE POSSIBILITY 
For those with traditional doormen, small talk often feels like a necessary evil. But with the virtual ones, it's unlikely the people on the other end of the line would want to engage in small talk, either—a pro for both parties, especially for antisocial New Yorkers.
Thomas says he keeps up on building news by chatting with his super. 

Remote doorman services first showed up in the city about 15 years ago, according to the New York Times, and have become more advanced and inexpensive as technology has become better. A brief sweep on StreetEasy found around 200 rentals with remote doorman systems touting how luxurious and safe the buildings were.

And, in a building the size of this one, it's simply more cost-effective to have a digital doorman instead of a flesh-and-bone one, saving tens of thousands of dollars annually.
BELLS AND WHISTLES
I then decided to check out nearby luxury apartments on Bedford Avenue. My friend, a longtime resident of one massive doorman building, said she loves having doormen (and sometimes, women) behind the front desk greeting her.

Because her building is built on a much larger scale (taking up the entire block across from McCarren Park), more structure is necessary. To that end, the mail room looks not unlike a grown-up college mail hub, with individual mailboxes illuminated by purple lights and a separate, more organized package room.

Admittedly though, this organization comes at a price. While Thomas pays around $3,300 a month for a one-bedroom with balcony, the amenities stop after the remote doorman, rooftop access, meeting room, and mail room. For a similar one-bedroom at my friend's building, expect to pay at least $3,900 – though, there are plenty of amenities like a swimming pool, wine tasting room, and pet spa (yes, really).

The question is, is it worth the extra $600 a month for that doorman?  
Other systems, like the Virtual Doorman, the first to come to New York, has more buildings around the city than any other system, but many co-op users have complained in the past about the high cost of equipment, which varies on the building and its size. There's also Cyberdoorman, a startup based in the Bronx that advertises their services for as low as $20 a day.
It's important to mention that my own experiences in a single remote doorman building isn't indicative of every single building like it in New York.
SAFETY COUNTS
After an informal poll of friends who live in doorman buildings, it seems like they live in those buildings because they feel an added sense of security. But in post-Bloomberg New York, the city is safer than it's been in decades, and in many neighborhoods, there's plenty of on-street activity around the clock, making them collectively safer.

But no matter how safe New York is, the major fault with remote doorman systems is that there is no physical presence of a doorman to help you out if and when you need brute strength to tackle a would-be assailant.

In the end, it comes down to your budget and your preferences. If you're living very far east or west in Manhattan where there is less foot traffic, a doorman may be the way to go. But if the building is on a busy thoroughfare and you're fine with someone on the other side of the world taking your packages, go for it.

As for me, I prefer my own low-tech doorman—my landlord, who is kind enough to sign for all of my packages while I'm away, and refrain from judging me for how much Seamless I order. 
Related: 
Is home security system Canary worth a try?
TBT: Amy Schumer dishes on a drunk "doorman," being flashed on the subway, and more
Bye, bye luxury building: what I do—and don't—miss
The doorman premium: to pay or not to pay
18 ways to get the white glove treatment in a non-doorman building
Brick Underground articles occasionally include the expertise of, or information about, advertising partners when relevant to the story. We will never promote an advertiser's product without making the relationship clear to our readers.