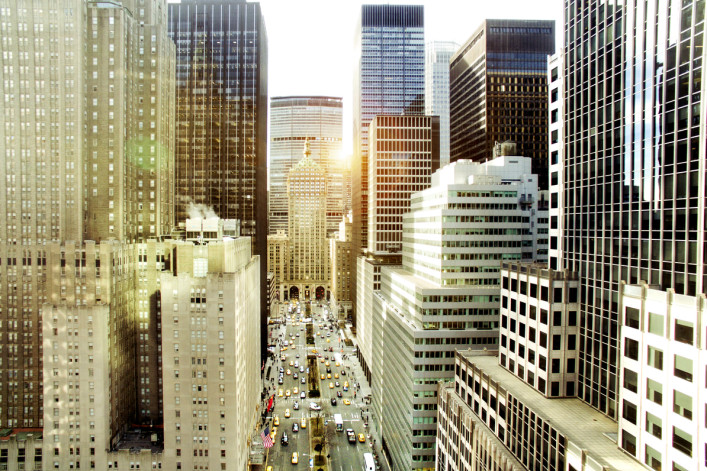 The uptick in mortgage interest rates is one of the factors hurting the Manhattan residential market, which had a bumpy second quarter this year, hitting first-time buyers in particular.
According to the Douglas Elliman Report, sales and prices were down, and inventory was up year over year in the second quarter of 2018. Jonathan Miller, president of the appraisal firm Miller Samuel and author of the report, tells Brick Underground that a rise in mortgage interest rates is hurting the starter market.
"The lower the price point, the higher the share of financing," he says. More than half of the starter market is financed, according to Miller, which is why a rise in the interest rate particularly impacts this market.
"That's where you see the build-up in inventory," Miller says. The second quarter recorded the most inventory in seven years and lowest second-quarter sales in nine years.
But for some there's a silver lining: It is a little easier these days to get a loan as banks have been easing certain restrictions in an effort to make up their volume.
Rate relief may be temporary
Mortgage rates have been slipping this month, but that relief is expected to be temporary. According to the Washington Post, which cited the Freddie Mac survey of lenders, the 30-year fixed-rate average dipped to 4.52 percent from 4.55 percent a week ago and 3.96 percent a year ago.
Lawrence Yun, chief economist at the National Association of Realtors, told the Washington Post that interest rates are closely followed by first-time buyers who lack cash to buy a house. He said interest rates are expected to go higher three to six months from now.
Higher interest rates have been leading to a general easing of guidelines as banks see fewer clients, according to Mark Maimon, vice president at Freedom Mortgage.
"We're starting to see qualifications loosen in an eerily similar way to what led to the crash of 2007/2008, when in some cases you didn't have to even verify that you had a job," he says.
(A survey by Core Logic found that less restrictive qualifying guidelines by Fannie Mae and Freddie Mac are making it easier to get a mortgage these days, according to this article.)
Easing of lending criteria
"As rates go up, banks' loan inquiries and closing volume generally go down. Some lenders will try to increase volume by easing their lending criteria, which is what happened on a much larger scale leading up to the crash of 2007/2008," Maimon says. 
This has led to banks starting to roll out products for self-employed borrowers that look at the cash going in and out of a person's bank accounts to quantify their qualifying income on the application, rather than doing a traditional review of their tax returns, which is the industry standard in most cases, Maimon adds.
"This can help some self-employed applicants qualify who may not qualify otherwise, but this offering may come with higher interest rates," he says.
In another example, he cited a vendor that does HELOC transactions who used to lend only on total loans of $1.5 million and required a 720 credit score, who will now do loans up to $2 million and dropped the credit score requirement to 700.   
Rates still historically low
But, he says, it's not a sky-is-falling scenario.
"We're still seeing interest rates lower than historical averages," Maimon says.
"We're currently in the 4 percent range for most 30-year fixed primary residence loan scenarios, but some loan scenarios such as investment properties or lower credit score loans may already be in the 5 percent range or higher depending on the circumstances.
"And we're not going back to crazy days pre-2007, either," he says.
"There has been a slow trickle of these loosening guidelines, but we're nowhere near how flexible it was in 2007 and before. Lenders are bound by laws that help ensure people have the ability to repay the loan over time," Maimon says.
A contrary perspective comes from Brittney Baldwin, a vice president at National Cooperative Bank (a Brick sponsor). She says that lending guidelines have stayed the same over the last few years.
"Income still has to be documented, and a lender has to show that it is 'stable.' This can sometimes be difficult when self-employed," she says.
However, one shift that she's seen: "People are still refinancing but many are looking to take cash out for renovations since we are seeing people stay in their homes longer," she says.
Brick Underground articles occasionally include the expertise of, or information about, advertising partners when relevant to the story. We will never promote an advertiser's product without making the relationship clear to our readers.