Sales Market
New deed theft law offers NY owners more protections from scammers
Prosecutors can flag properties that may have been fraudulently acquired
Evictions can now be halted in housing court during a deed theft investigation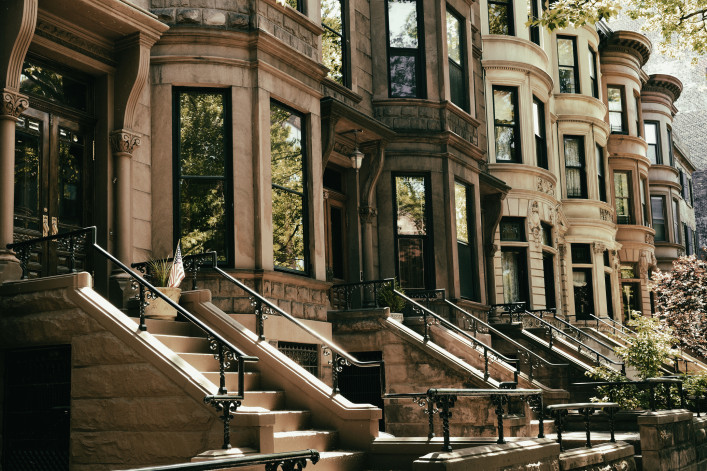 Scammers beware: Governor Kathy Hochul signed legislation on Tuesday offering new protections against deed theft, a crime in which con artists steal properties from owners.
Perpetrators of deed theft often target older owners, those facing financial trouble, and minorities, forging their signatures or tricking them into signing away their houses. The practice is common in New York City; the Sheriff's Office has received at least 3,500 complaints of deed theft in the past decade. 
"Deed theft cheats hardworking New Yorkers out of the opportunity to own and keep their homes and forces families out of their communities—particularly in Black and brown neighborhoods," Hochul said in a statement. "With the protections enshrined in this legislation, however, we are empowering homeowners and law enforcement to fight back against deed theft."
Pausing evictions
The new legislation would require that courts pause an eviction or foreclosure proceeding if there is an ongoing deed theft investigation or a dispute over the title, protecting owners from being thrown out after unintentionally signing away their property. 
That might seem like common sense, but previously, possible victims of deed theft could be tossed out of their houses even amid an investigation into the crime. That's because the civil court system—where most evictions take place—and the criminal court system—where a local district attorney would investigate a scammer—operate separately, says Oda Friedheim, supervising attorney at the Legal Aid Society, who deals with foreclosure prevention and deed theft cases.  
"If you were lucky enough to get a district attorney or other law enforcement to even start an investigation, which sometimes can take years or years, during that time, the homeowner is still completely subject to any kind of civil proceedings resulting in the loss of his home, such as foreclosure," Friedheim says.
The new law essentially requires more communication between both court systems, giving prosecutors more power over civil cases involving suspected deed theft, Friedheim says.
"I think it's a good step in the right direction, connecting the two more strongly," Friedheim says. 
Establishing red flags
The law would also let local district attorneys "flag" properties that might have been fraudulently purchased to discourage future transactions. Perpetrators of deed theft often use a series of transactions to hide the initial fraud, but flagging a property would warn subsequent buyers about a potential fraud. 
That warning can help victims challenge later deed transfers, because they could show that a buyer did know or should have known about the initial fraud.
If a scammer had been criminally convicted of a deed theft, the new law would also instruct civil courts to presume that their deed transfer was fraudulent. That means an owner wouldn't bear the burden of proving that their property was stolen in civil court.
And lastly, the law expands the state's existing Home Equity Theft Prevention Act, which protects owners facing foreclosure or default from predatory buyers. Owners who are on a utility lien list—unpaid utility charges that can result in a foreclosure—can cancel a sale contract under the newly expanded law.
Stronger protections for vulnerable owners
All in all, the changes offer more protections for owners at the risk of deed theft, particularly in Brooklyn, where the practice is widespread compared to the other four boroughs. Of all the deed theft complaints the NYC Sheriff's Office received in the last 10 years, 1,500 were in Brooklyn. 
Scammers and speculative purchasers have targeted Black and Latino New Yorkers in gentrifying areas, raking in millions of dollars worth of property. And lawsuits—like that of Queens local Johnnie Jackson, who lost his house to mortgage fraud—can take decades to be resolved. 
"Deed theft robs New Yorkers, especially older adults and people of color, of the generational wealth built through owning their homes," said Attorney General Letitia James in a statement. "The perpetrators of deed theft force their victims to endure humiliating and terrifying situations, often evicting families from their homes."
Not a silver bullet
The latest legislation puts bad actors on notice, but it is far from a silver bullet, says Scott Kohanowski, the general counsel at the nonprofit the Center For NYC Neighborhoods.
Notably, it does not make deed theft into a separate crime, a change proposed by State Senator Myrie in April 2023. (That bill has not yet passed through the assembly). The state needs additional protections for owners to prevent deed theft and predatory speculative purchasing, Kohanowski says.
One of those resources could be the limited liability company disclosure law, which would require LLCs—often used to obscure ownership of property in NYC—to list a beneficial owner. The law would help identify the true owners of real estate in the city, but Hochul has not yet signed it. 
Brick Underground articles occasionally include the expertise of, or information about, advertising partners when relevant to the story. We will never promote an advertiser's product without making the relationship clear to our readers.