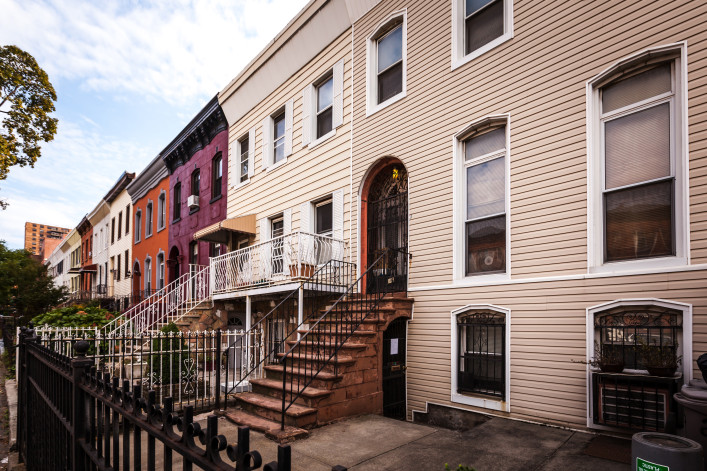 Deed theft is a crime that involves tricking apartment and townhouse owners with fraudulent paperwork—victims effectively hand over the deed to their property, often without knowing what they are doing. This practice was recently highlighted in an article in the New York Times. Brooklyn resident Broadies Byas was deceived into signing away the deed to her townhouse in Bedford Stuyvesant.
She's far from the only one who's fallen victim to this scam, which disproportionately impacts homeowners of color.
Thieves have targeted Bed-Stuy and other Brooklyn neighborhoods, including Crown Heights, Flatbush, and Brownsville. New York State Attorney General Letitia James says her office receives more deed theft complaints from Brooklyn than the other four boroughs combined. 
Areas in NYC where gentrification has caused property values to rise are ripe for this criminal activity. Thieves look for owners who are struggling to make their mortgage payments on properties that can be resold for a profit. They find them by combing through public records.
The Automated City Register Information System shows liens against a property, which is a sign an owner is struggling to make payments. If you're in that situation, it can make you vulnerable if someone offers to help you with your payments—and the offer turns out to be a scam.
Eric Goidel, a senior partner at the law firm Borah, Goldstein, Altschuler, Nahins & Goidel, says, unfortunately, victims find out too late that their deed has been stolen. If you (or someone you know) could be a target, it's worth educating yourself about this type of scam and taking these measures to protect yourself.
Keep up with your payments
A lien is a debt owed on a building or property. It can be related to many aspects of property ownership, including taxes, building code violations, mortgages, or monthly charges. Victims of deed theft are often vulnerable because they have fallen behind on payments through illness or job loss.
In these situations, keeping up with your financial obligations is easier said than done but unpaid mortgage payments or other liens related to tax payments can put your apartment or townhouse at risk of foreclosure. It also makes you vulnerable to scams where fraudsters promise cash, only to switch out loan paperwork for fraudulent deed transfers. 
Refinance with a reputable bank
If someone comes to the door promising to be the answer to your financial woes, it is likely too good to be true. The advice from the New York State Attorney General is: "Be skeptical of online ads or telephone callers that promise they can get you a mortgage modification or save your home from foreclosure. Only your bank or loan servicer can approve a loan modification." 
Do your research or speak to someone you trust about what is being offered. Homeowner Help NY is a non-profit which partners with the AGs office to offer tools and support for New Yorkers to help avoid these traps and find qualified mortgage assistance relief from a range of trusted partners.
Keep your information private
Don't give your personal financial information to a caller or visitor offering to save you from foreclosure. This includes your bank account number, social security number, or the name of your loan servicer. It is a violation of New York law to charge upfront fees for mortgage-related services, so if you are asked for this type of payment, consider it a red flag. You can report violations to the Attorney General's hotline at 1-855-HOME-456. 
Register your property with the city
Jerome Strelov, a real estate attorney with Frankfurt Kurnit Klein & Selz, says New Yorkers can register their condo or townhouse on the Department of Finance website and get a notification when deeds, mortgages or mortgage-related documents are changed. (The system does not work for a co-op, where owners are shareholders in a building.) This can alert you to any changes fraudulently carried out without your knowledge. 
File a complaint
If you think you have been scammed by a foreclosure rescue operator or a debt relief organization, you can submit a complaint to the New York State Attorney General's Office.  
Lobby lawmakers for change
A deed theft law was passed earlier this year, which tightened enforcement on this type of fraud and extended the time limit from five to 14 days for a homeowner to rescind a transaction. It also now allows a District Attorney to go to court and have an illegal deed thrown out, and restore a property to an owner. These legal changes are welcome but Goidel points out they are reactive rather than proactive. He believes there needs to be a user ID and password associated with a property so transactions can be encrypted and you can protect your property from scams.
 
"That would require a combination of government and private involvement and I don't know if there's enough interest in doing this. Until the government and the banks, and the title companies get together and say we need to pass more protective measures, it's not going to happen, " he says. 
Brick Underground articles occasionally include the expertise of, or information about, advertising partners when relevant to the story. We will never promote an advertiser's product without making the relationship clear to our readers.