New Yorkers appreciate the flexibility of a 'junior-four' apartment—a large one bedroom with a dining area that can be walled off to create another bedroom. The four refers to the number of rooms—living room, dining area, bedroom, and kitchen. The dining area is the "junior" room.
And savvy NYC residents know that these apartments offer two bedrooms for less—but they're not as inexpensive as a true one bedroom.
In this week's Buy Curious, Allison Deutsch of BOND New York, Tania Isacoff Friedland of Warburg Realty, and Michael J. Franco of Compass break down what you need to know about junior fours, including whether there are many unconverted ones still on the market in NYC, what people typically do with them, and where you can find one.
The question:
What are junior fours—are they one bedrooms, or two? How are they priced?
The reality:
"When you buy a junior four, you get the functionality of a two-bedroom apartment for a lower price," Deutsch says. Buyers don't grow out of them as quickly as a standard one bedroom, and they're good for resales, she adds.
Just remember that a junior four will usually cost a little more than a regular one bedroom, so don't be surprised when you see the price tag.
Franco adds that would-be buyers need to remember that if you do convert the space to a second bedroom, "it's likely a smaller bedroom—often without a closet and potentially no separate HVAC."
Are unconverted junior fours still available in the market?
Absolutely, but you have to do a little detective work, Deutsch says. They might be called different things, she says, like a "convertible two bedroom" or "one bedroom with a dining room."
But not all convertible two bedrooms are junior fours. One bedrooms with long living rooms that can be cut in half are also often marketed as convertible two bedrooms. You need to see the floorplan to know if it is a true junior-four layout.
What determines if a dining room can be converted into a bedroom?
A legal bedroom must be at least 80 square feet, and the width and length of the room, as well as the ceiling height, each need to be at least eight feet.
"There also needs to be two methods of egress, one of which must be a window of at least 12 square feet that opens to the street, yard, or interior courtyard," Deutsch says. "The other needs to be a door that you can open from the inside without the need for a key or tools."
In addition, a room is not considered a legal bedroom if you need to go through another bedroom to access a bathroom or if you need to pass through the room to get to another room.
Are you automatically allowed to convert a junior four to a two bedroom?
You're not allowed just to put up a wall—the process is more complicated than that. You need the building's approval, and you will have to hire an architect. 
Altering the layout of your apartment requires a permit from the Department of Buildings, and to get a permit, your architect has to submit plans to the DOB for approval and use a registered and insured contractor to perform the work. 
Deutsch suggests checking whether building in question allowed other conversions in recent years. It can give you an idea if your plans would be likely to be approved—but it is not a guarantee that yours will be approved. 
Do you need to convert it back for resale? 
No, you don't usually have to convert a two bedroom back to a junior four for resale. Many buyers are happy to find a unit where the work has already been done.
"Since a converted junior-four is usually less expensive than a traditional two bedroom, yet can still function similarly, you get more value leaving it converted," Deutsch says. In fact, unconverted units are usually less in demand. "Having to put the work and time in to create the additional room will put some buyers off."
Plus, adds Franco, if the property is marketed as a two bedroom, then you'll attract two-bedroom buyers in addition to one-bedroom buyers.
Where are you most likely to find junior fours in NYC?
They're most commonly found in post-war high-rises built in the 1950s and 1960s, an era "when people wanted separate dining areas," Deutsch says. These buildings are typically co-ops.
Neighborhoods with the most post-war buildings in NYC include the Upper East and Upper West Side, Murray Hill, Gramercy, Greenwich Village, and Sutton Place.
Want to get a junior four? Here are some on the market: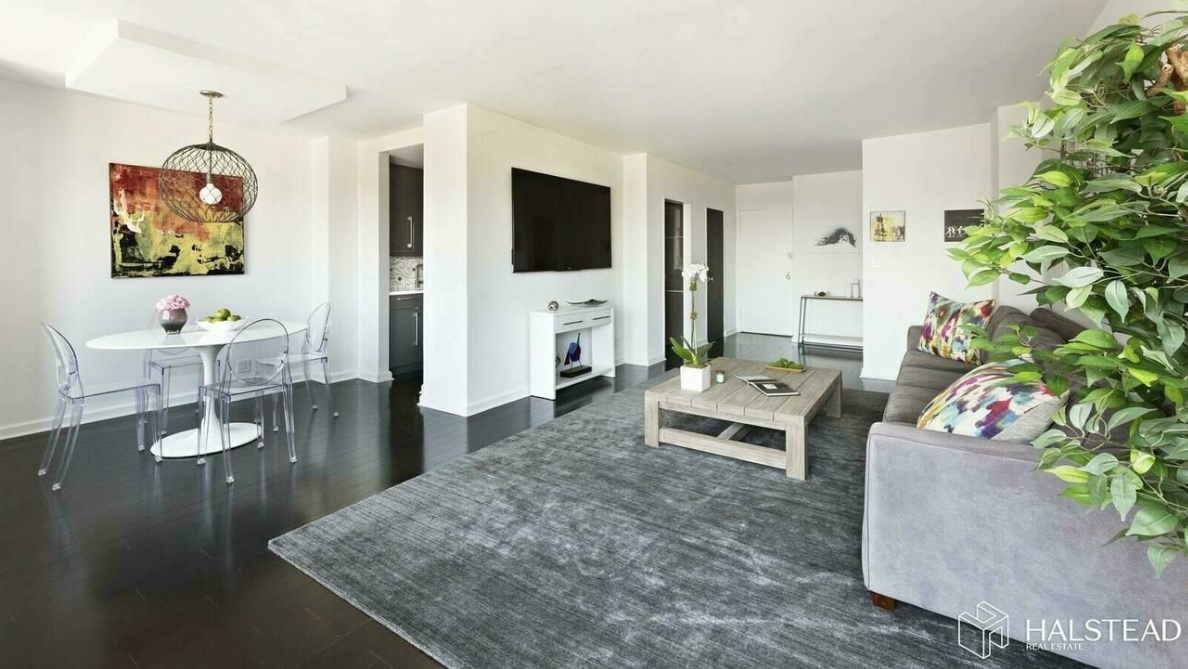 Priced at $1,495,000, this gut-renovated, one-bedroom, one-bath junior-four (also shown at top) has ebony floors, a renovated kitchen with white Italian glass countertops and stainless steel appliances, custom hand-painted white parquet floors in the bedroom, a large dressing area with a walk-in closet, custom window treatments, and a new HVAC system. It's in the Brevoort East, a co-op building with a 24-hour doorman, concierge, resident manager, landscaped gardens, fitness center, playroom, roof deck, parking garage, laundry room, storage, bike room, and a back-up generator. Maintenance is $2,020 a month. Pets, guarantors, and gifting are allowed.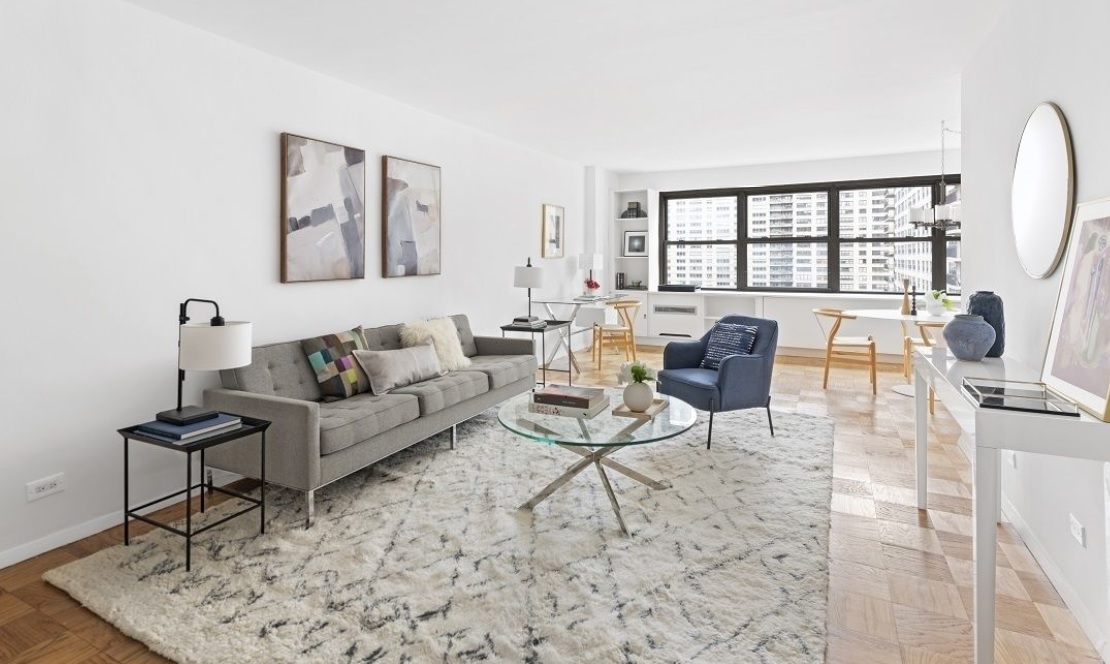 Listed for $789,000, this one-bedroom, one-bath junior four has white walls, wood floors, granite counters in the kitchen, and an oversized stall shower in the bathroom. There's also an L-shaped living/dining room, through-the-wall air-conditioning, two walk-in closets, plus two other closets and a linen pantry. It's located in the Lincoln Towers co-op complex, which offers full-time doormen, five acres of private grounds, a workout room, on-site laundry, a circular driveway, and parking (for a fee). Maintenance is $1,562 a month and includes utilities.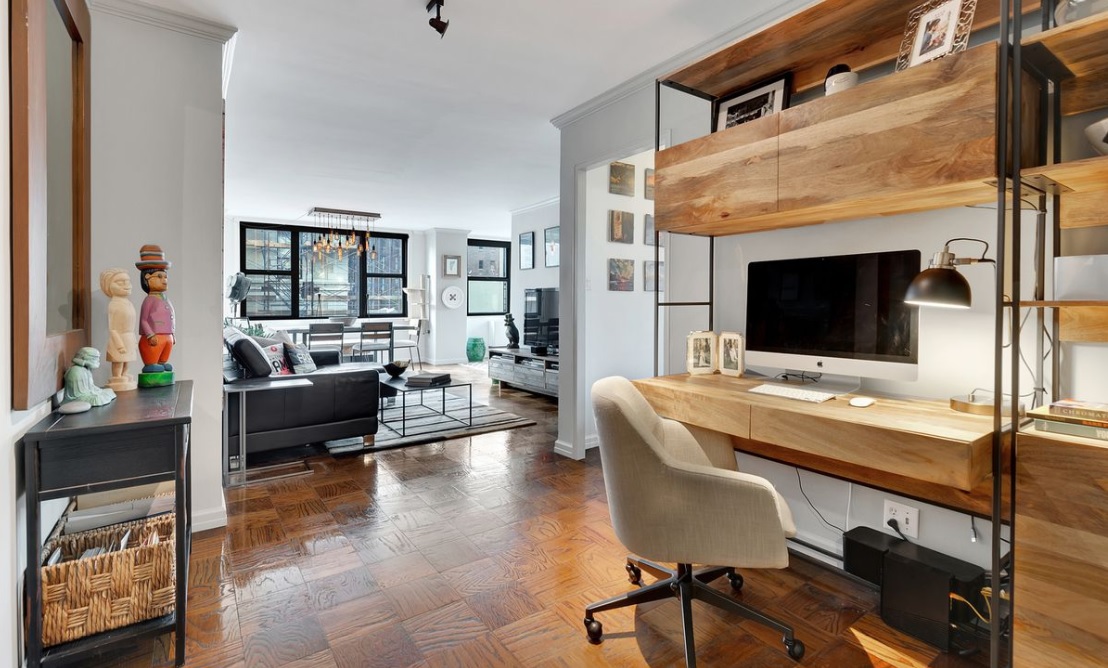 Following a recent $200,000 price drop, this 950-square-foot, one-bedroom, one-bath junior four is now asking $1,295,000. The unit offers a large living room, an entry foyer, lots of closets, hardwood floors, and a king-sized bedroom. It's located in a 16-story co-op building with a 24-hour doorman, a live-in super, a planted roof deck, and a garden. Pets are welcome. Pieds-à-terre are not. Maintenance is $1,829 a month.
Features of this $699,000 one-bedroom, one-bath junior four include a large living area, cherry flooring throughout, customized closets, a pass-through kitchen, and a dining area. The unit is in a full-service doorman co-op building that allows co-purchasing, pets, gifting, and pieds-à-terre. Maintenance is $2,040 a month.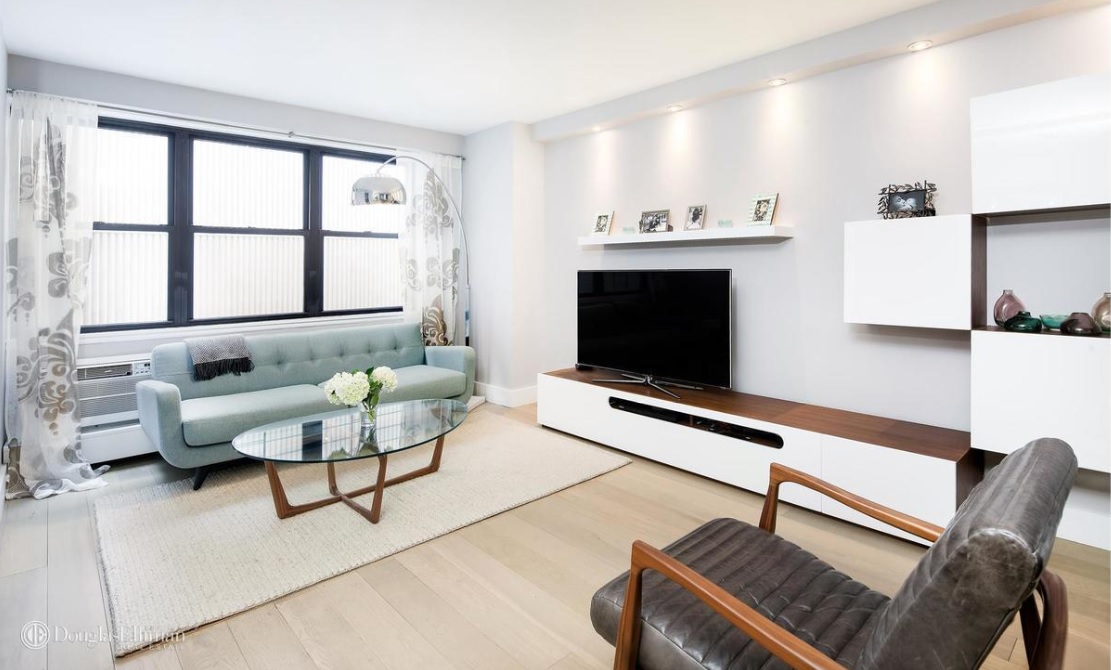 Listed for $825,000, this one-bedroom, one-bath junior four has already been converted to a two bedroom. The unit has white marble counters, solid-core doors throughout, and custom closets. It's located in a co-op building with a full-time doorman, resident super, updated laundry room, bike room, and storage room. Maintenance is $1,801 a month. Pieds-à-terre are allowed, as are parents co-purchasing. Dogs up to 40 pounds are welcome. And subletting is permitted after two years' residency.
Brick Underground articles occasionally include the expertise of, or information about, advertising partners when relevant to the story. We will never promote an advertiser's product without making the relationship clear to our readers.