Buy Curious
What you need to know about living in Sunset Park, Brooklyn, an under-the-radar place to find a deal
The southwestern Brooklyn community of Sunset Park made headlines in April when the worst shooting in the history of the city's subway system took place at its 36th Street subway station.
This is not the Brooklyn of $5 lattes and $1,000 baby strollers that typically makes the news. It is a quiet, low-profile area that's home to large, well-established Hispanic and Asian immigrant populations. However, it is starting to appear on more New Yorkers' radars: The neighborhood is beginning to draw buyers and renters priced out of other parts of the city, but listings are limited.
In this week's Buy Curious, Jacob Wood, a broker with Douglas Elliman, and Sarah Sawyer, a broker with Compass, give us the inside story on Sunset Park.
The question:
The news stories aside, I heard that Sunset Park is an interesting place to live and that I can save money by moving there. What can you tell me about it?
The reality:
"It absolutely is less expensive than Manhattan and several other Brooklyn neighborhoods," Wood says. "For example, the median closing price of a two-bedroom co-op is half of what it is in Park Slope, which is only 10 minutes away on the train."
Sawyer agrees, adding that it's "significantly cheaper whether you're buying or renting."
Where is it?
Sunset Park is bounded by Park Slope and Green-Wood Cemetery on the north, Bay Ridge on the south, Borough Park on the east, and Upper New York Bay on the west.
Why would NYers want to move to Sunset Park?
"People who have been priced out of other Brooklyn neighborhoods like Park Slope, Crown Heights, and Fort Greene are coming to Sunset Park," Sawyer says.
In addition to the cost savings, it's the short, convenient commute that attracts people, Wood says, adding that it has a great "quality of life and cool, authentic ethnic restaurants and shops."
Its proximity to South Park Slope, which is only 20 blocks away, is a huge draw, Sawyer says, adding that it's also appealing because "it's a quiet, safe neighborhood that's a little off the beaten path."
Where in Sunset Park should you live?
The community is not divided into areas of sections, per se.
The west side, which is nearest to subways and closer to the shopping and office complex  Industry City, is considered a little more hip and cool and is where most of the residential real estate action is happening these days, Wood says.
The east side, which is farther from the train, is home to the import shops of Chinatown, where the signs and restaurant menus are written in Mandarin
What are housing and pricing like?
As is true of all of Brooklyn, Sunset Park is a seller's market, Wood says, adding that there is a two-and-a-half-month supply of inventory.
The area "is becoming attractive to people who have been priced out of the South Slope and Gowanus," he says.
Sawyer, who has a brownstone listed for $1.695 million, says that she had nine offers, with eight of them over asking price. There's keen interest, she says, because "there aren't many brownstones on the market. People who buy them tend to stay in them for a long time."
There are only 19 co-ops and single-family houses on the market, according to StreetEasy. There are many two-family houses in Sunset Park, and when multi-families are added to the tally, the number of properties on the market still is only 63.
Co-ops, sixth-floor walk ups that date to the late 19th century or early 20th century, are the most common housing option.
"They are among the oldest co-ops in the city," Wood says. "They were built as co-cops in the 1920s by the Finnish [immigrant] population. Co-ops were popular in Europe at that time but not in the United States."
He adds that there's "a fair amount" of one- and two-family rowhouses. Although some have brownstone, sandstone, limestone and stone-brick facades, the majority are brick.
Co-op prices range from $300,000 for a one-bedroom unit to $800,000 for a renovated three-bedroom unit, Wood says. One-family houses in turnkey condition run about $1.1 million or $600 per square foot, and two-family residences, which are much more common and were originally built that way and not converted, typically sell for $1.2 million or about $500 per square foot.
To put things in perspective: "We've only had two dozen one-family houses that traded in the last year," Wood says. "But in the same time period, over 200 two families traded."
The neighborhood includes the largest historic district in the Northeast that's listed on the National Register of Historic Places. Several buildings, including the Brooklyn Army Terminal and the former 18th Police Precinct Station House and Stable, also are on the list, and the Green-Wood Cemetery is a National Historic Landmark.
Is there a lot of new development? 
There is some new residential development, but not a significant amount, Sawyer says.
Although the community is "not far along enough in its evolution" to attract investors and condo developers, "sooner or later it will happen on the waterfront," Wood adds.
What's the transportation situation?
The N, R and D subway lines run through Sunset Park as do the B35, B63 and B70 bus lines. There also is ferry service from the Brooklyn Army Terminal to Manhattan.
What is there to do?
The neighborhood's 24-acre, namesake public park has an Olympic-size swimming pool, a playground, and a recreation center.
"People come from Manhattan for the pool," Sawyer says. "The 360-degree views of Brooklyn and Manhattan at the top of the park, which has cherry blossoms in the spring, are amazing."
Brooklyn Waterfront Greenway is a 14-mile-long bike path, and Bush Terminal Piers Park has tide ponds and athletic fields.
Chinatown is a shopping, culinary and dining destination.With its galleries, boutiques, restaurants and bars, Industry City is the community's cultural center. The Brooklyn Hangar hosts musical performances and dance parties with DJs. Other attractions include Five Boroughs Brewing Co. and Fort Hamilton Distillery, which offer tastings and tours.
Green-Wood Cemetery, a nearly 500-acre green space on the northern boundary of the community, offers walking tours. Artist Jean-Michel Basquiat and New York Philharmonic conductor Leonard Bernstein, who wrote the score for "West Side Story," are among the notables reposing there in perpetuity.
"People like to go to the cemetery to hang out and be in nature," Sawyer says. "There are fewer people around than in the parks, and there's a pond. It's the quietest park you'll ever be in."
What's the restaurant/nightlife situation?
There are a number of established ethnic restaurants, including the cash-only Kai Feng Fu Dumpling House, the Mexican dining spot Tacos El Bronco, and Bamboo Garden, which is known for its dim sum.
"One of my favorites is the Yemeni restaurant Yafa," Wood says. "It has amazing food, Arabic coffee and chai teas, and it always has great 1990s hip-hop playing in the background."
One of the newer nightspots, Ha-Weeda Tavern, is a billiards bar and restaurant.
How about grocery stores?
In addition to Bravo, Key Food and CTown, there is a delivery-only Whole Foods in Industry City.
"Chinatown is filled with mid-size grocery stores that offer staples for Asian cooking," Wood says. "They sell items imported from China whose names are written in Chinese. They are a must for anyone cooking in that style."
Check out these listings in Sunset Park.
This renovated co-cop, listed for $450,000, is in a four-story, 20-unit building that dates to 1912. The one-bedroom, one-bathroom unit has an open-floor plan. Features include exposed brick, high ceilings, bamboo composite floors, a walk-in closet and large windows in the bedroom, and a spa-like bath with custom tile and high-end fixtures. The pet-friendly building has an outdoor courtyard and bike-storage area.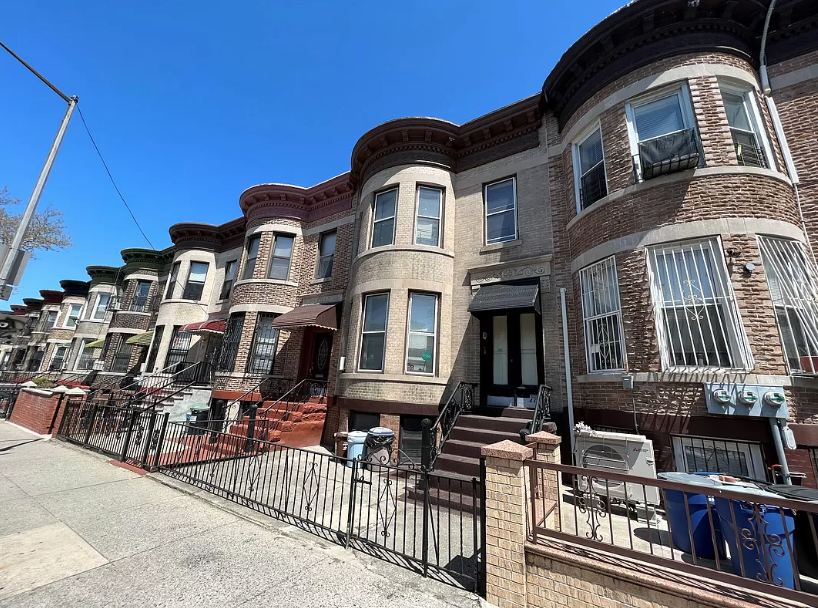 Listed for $1,398,888, this 2,080-square-foot, two-family brick house, which is 20 by 50 feet, was built in 1899. The two-story residence has much of its original detailing, a separate entrance in the front, and a full-size basement. The top level has six rooms, including three bedrooms and one bathroom; the lower level has five rooms, including two bedrooms and one bathroom.
This two-bedroom, one-bathroom top-floor co-op, which is across from the park, features a renovated bathroom and kitchen, original parquet floors, French doors, and 10-foot-high ceilings. The four-story building, which dates to 1927, has 40 units. There is a live-in super, a common laundry room, solar roof panels, and a bike-storage area. Cats, but not dogs, are permitted.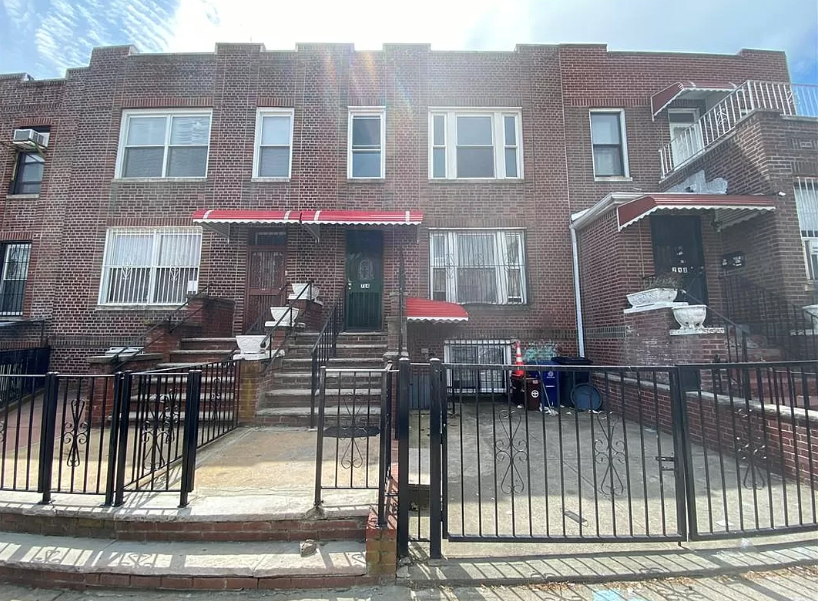 This 1925 two-family brick house, which is 2,320 square feet, has high ceilings, decorative molding on the walls, a big backyard, and a walk-in basement with a separate entrance. The two units each have three bedrooms; there are two full bathrooms and one half bathroom. The house is listed for $1.575 million.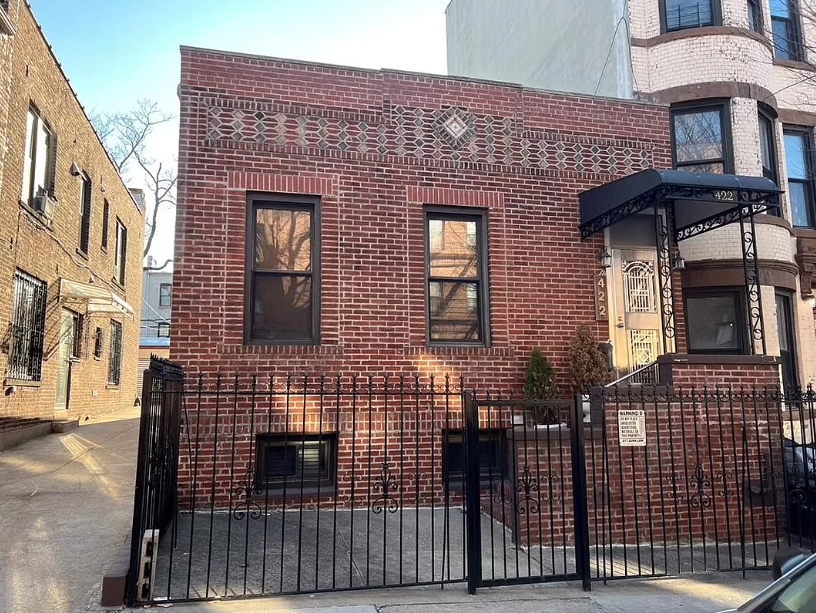 This 1,000-square-foot, single-family, semi-detached house, 20 feet by 60 feet, is listed for $1.499 million. Features include a two-car garage, a finished basement, parquet and hardwood floors, and a dining room with a ceiling medallion and moldings from 1910, the year the house was built.
Nancy A. Ruhling is a freelance writer based in New York City.
Brick Underground articles occasionally include the expertise of, or information about, advertising partners when relevant to the story. We will never promote an advertiser's product without making the relationship clear to our readers.