Buy Curious
What you need to know about living in Bayside, Queens, a waterfront locale with suburban and city amenities
The northeast Queens community of Bayside, which legendary film stars such as Charlie Chaplin, Gloria Swanson, Rudolph Valentino, and W.C. Fields called home before Hollywood was born, is a waterfront locale that fuses suburban serenity with city amenities.
While it's true the subway system doesn't reach here—you need a car, or depending on the neighborhood, you can take a bus—many destinations are accessible with a short drive, since several major roadways connect here. 
In this week's Buy Curious, Mark Karten, founder/broker of Karten Real Estate Services, and Betsy Pollak, an associate broker with Century Homes Realty Group, give the scoop on Bayside.
The question:
I've heard that Bayside is a really nice place to live, sort of like a suburban version of Astoria, but it's very far from Manhattan. What can you tell me about it?
The reality:
"In real estate, it's all about location," Karten says. "In that respect, Bayside offers the best of New York City because it's still in Queens and you get all the benefits of suburbia and Long Island. The Cross Island Parkway, the Long Island Expressway, and Clearview Expressway converge in Bayside—you can get to them in five minutes. And you're only a 25-minute Long Island Rail Road ride to Manhattan."
Where is it?
Bayside's boundaries are the East River and Little Neck Bay on the north, Union Turnpike on the south, the Cross Island Parkway on the east and Francis Lewis Boulevard/Utopia Parkway on the west.
Why would NYers want to move to Bayside?
It is the sense of community and the feeling of serenity that bring people in, Pollak and Karten say.
"We've had some families who have been here for 30, 40, 50, and 60 years," Karten says. "Because of this, we're a tight-knit involved community. We are all about watching out for our neighbors. Every week, one of the streets is blocked off for filming TV shows and movies because it looks like it could be anywhere. You don't feel like you're in Queens because there are lawns and white-picket fences."
He adds that "you can see the Throgs Neck Bridge from just about everywhere in Bayside, and you give up nothing except the subway."
The "affordable" co-op prices also entice people, Pollak says, adding that Bayside's central location is "really convenient, and when you return from Manhattan, it's quite refreshing and peaceful. Yet there's a lot of action and nightlife on Bell Boulevard."
Where in Bayside should you live?
Bayside Proper, also known as Bayside Central, has one-, two-, three-, and four-family houses.
Bayside Gables, the most exclusive section, is Bayside's only gated community. The "unique, unicorn homes, which have no set style," are among the most expensive, Karten says.
The Weeks Woodlands section, which shares a cross street with Bayside Gables, has large single-family homes.
Bay Terrace is home to the shopping center of the same name and the Bay Club, a condo development that has another shopping center. You'll find older, six-story co-op buildings here. 
"You don't need a car here," Karten says. "It's very bus-centric, and everything is within walking distance."
Bayside Hills is "its own little community of single-family Tudors," Karten says.
Oakland Gardens has a selection of single-family homes and co-ops.
What are housing and pricing like?
Bayside offers a variety of traditional architectural styles, including Tudors, Colonials, Capes, and Victorians with wrap-around porches. Single- and two-family homes predominate; there also are co-ops in six-story, elevator buildings. Condos are less common. Most of the housing stock dates to the 1950s and 1960s; condos are newer construction.
Inventory is scarce: There are only 56 single-family houses, 29 two-family houses, 212 co-ops and 25 condos on the market, Karten says.
"For single-family homes, it is a seller's market," he says, adding that properties that are priced at market value or slightly above are under contract in 30 or fewer days and generate multiple offers and bidding wars. 
"For co-ops, it's a slight seller's market. There's so much competition with little variation in the available offers that they're staying on the market for an average of two to three months, and there are no multiple offers," he says.
Single-family houses that have three bedrooms and two baths on 5,000-square-foot lots generally start at $999,000 and typically sell for around $1.15 million to $2.5 million, with the higher prices being for new construction. In February, a single-family house in Bayside Gables sold for a record $2.5 million, and another in the same neighborhood that Karten describes as "spectacular" is listed for a record $5.45 million.
Co-op prices start at $175,000 for studios, $178,000 for one bedrooms, $185,000 for two bedrooms and one bathroom and $339,000 for two bedrooms and two bathrooms. Three bedrooms with one bathroom start at $315,000, and three bedrooms with two bathrooms are about $325,000.
Condos, which are in newer buildings, tend to command higher prices. At Bay Park Manor, a three-story 16-unit development that opened in 2016, for instance, two-bedroom, two-bathroom units are $639,000 to $738,000, according to StreetEasy.com.
There also are some two-family houses with live-in landlords for rent. Prices typically are $1,700 for one-bedrooms, one bathroom; $1,800 for two bedrooms, one bathroom; $2,400 for three bedrooms, one bathroom; and $2,650 for three bedrooms, two and a half bathrooms.
Is there a lot of new development? 
Large-scale residential development is limited. The only new project, Karten says, is Bay Lane Estates, a boutique development that offers luxury semi-attached, two-family condo townhomes complete with garages.
Each has two units: a three-bedroom, three-and-a-half-bathroom house with a two-bedroom, one-bathroom apartment above. Prices are $1.655 million, according to the website.
What's the transportation situation?
There is no subway line in Bayside. The No. 7 local and express lines, however, are accessible at Flushing, which is nearby. There are several buses that serve the community: Q12, Q13, Q16, Q27, Q28, Q30, Q31, Q46, Q76, and Q88 make local stops; QM2, QM3, QM5, QM6, QM20, QM32, QM35, and QM36 run express. The Bayside LIRR express station on the Port Washington line connects the community with Manhattan, Queens, and Long Island.
What is there to do?
Bayside, as its name implies, is on the water, and offers several outdoor green spaces and activities.
Crocheron Park, which is 46 acres, has ball fields, tennis courts, a children's water park in the summer, and a basketball court.
The 17-acre John Golden Park, which is adjacent to Crocheron Park, has a pond, trails, a baseball diamond, tennis courts and a picnic area.
Fort Totten Park, which is named for the preserved Civil War fortress on the site, has a swimming pool and grassy areas and offers bird watching and canoeing on Long Island Sound.
Alley Pond Park, which is 655 acres, is the second largest public park in Queens. In addition to hiking trails, it has playgrounds, barbeque areas and sports courts and fields. There is also a driving range and miniature-golf course.
Clearview Park has an 18-hole golf course.
What's the restaurant/nightlife situation?
Bell Boulevard is the community's main street and is home of many of the restaurants and specialty shops that define it.
Several iconic restaurants that got their start in Astoria, including Bareburger, Neptune Diner, and Taverna Kyclades have also opened in Bayside.
One of the most iconic dining spots is VIVO! Restaurant & Catering, which is right off the Cross Island Parkway. It's set in the former home of Rudolph Valentino. 
Rosa's Pizzeria recently opened at the Bay Terrace Shopping Center.
There are a number of specialty shops, including Robert's Butcher Shop, Joe's Sicilian Bakery, Pesso's Ices & Ice Cream, and Ben's Kosher Delicatessen Restaurant & Caterers.
How about grocery stores?
In addition to small, locally owned markets like Bayside Milk Farm, there are several chain supermarkets, including Stop & Shop, Food Universe Marketplace, The Food Emporium, Key Food, Foodtown, and H Mart.
Check out these listings in Bayside: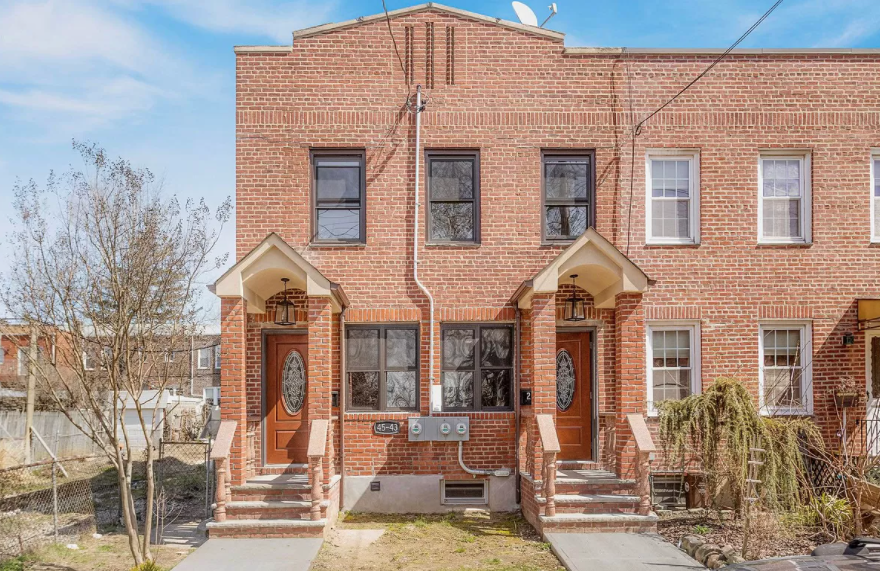 Listed for $1,295,000, this red-brick, two-family house is in the heart of Bayside. Built in 1955, the 1,781-square-foot house has four bedrooms, two baths, and a backyard with parking spaces for two to three cars. Recently renovated, it is within walking distance of the LIRR station.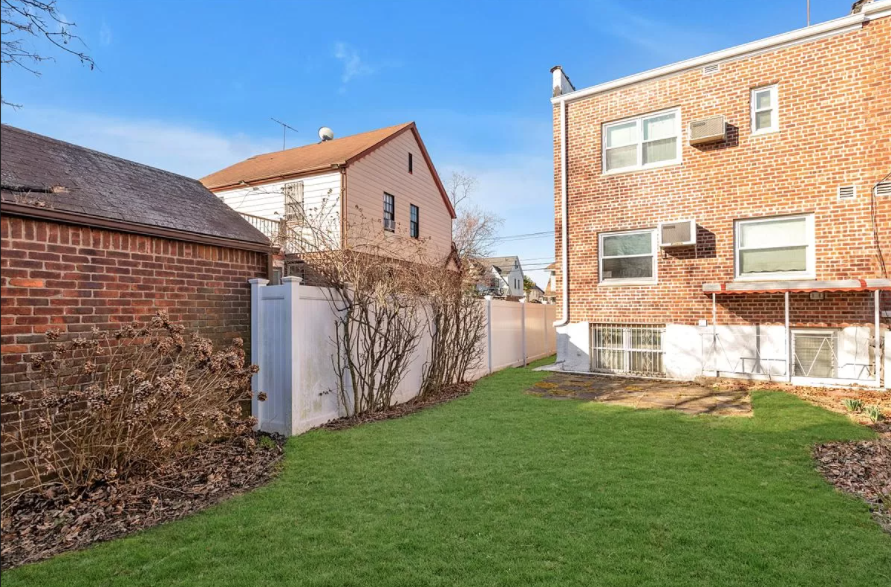 This two-story, single-family house, listed for $890,000, has three bedrooms, two full baths and one half bath. The semi-attached house was built in 1940 and has a garage, private driveway that can accommodate two cars, and laundry room.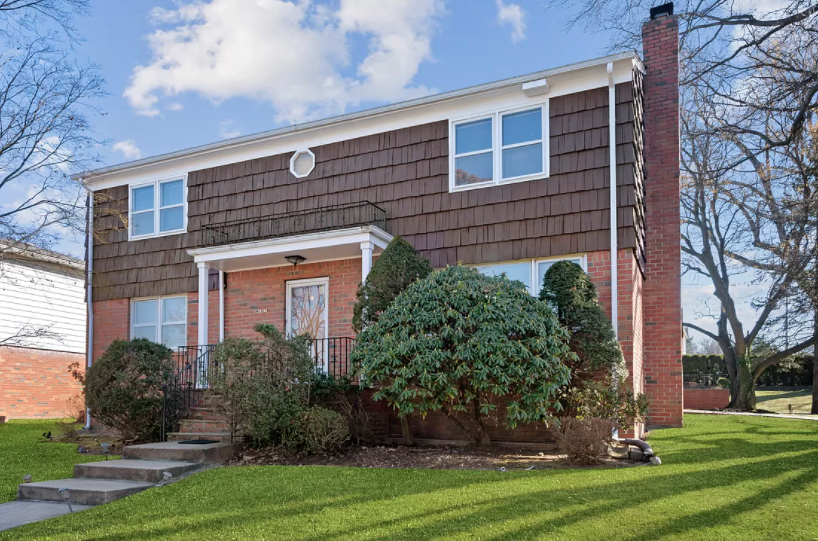 This single-family house, in Bayside Gables, is listed for $1,368,000. In addition to four bedrooms, three full baths and a half bath, the two-story house, which was built in 1950, has central air conditioning, hardwood floors, a fireplace, balcony, and attached two-car garage.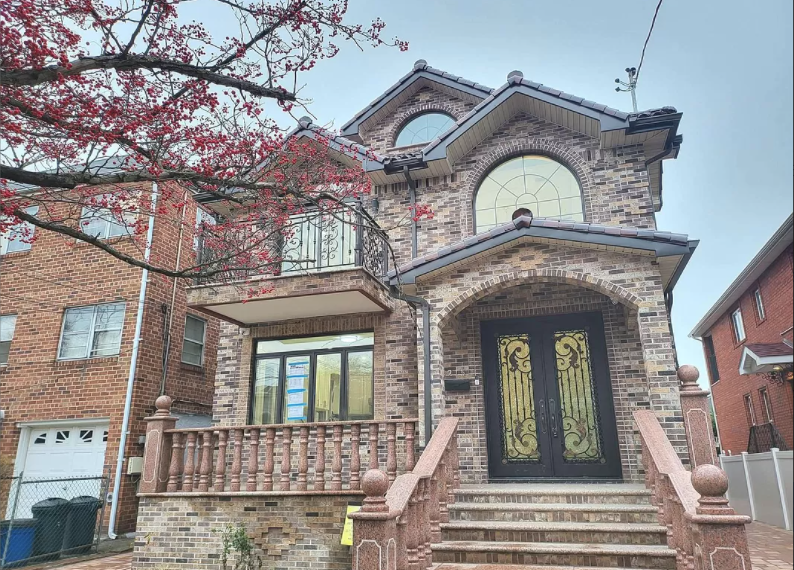 Listed for $2,199,000, this two-family, 2,500-square-foot brick house, which was built in 2021, has five bedrooms, six full baths, and one half bath. Other features include a finished basement, wood-paneled ceilings, balcony with a wrought-iron railing, and detached garage.
This one-bedroom, one-bath unit in the Baybridge Townhouse Condominium is listed for $598,000. The condo has central air conditioning, hardwood floors, granite countertops, and hardwood cabinets in the kitchen. The building's amenities include 24/7 security, a gym, swimming pool, laundry room, children's playroom, and concierge service.
Nancy A. Ruhling is a freelance writer based in New York City.
Brick Underground articles occasionally include the expertise of, or information about, advertising partners when relevant to the story. We will never promote an advertiser's product without making the relationship clear to our readers.