Buy Curious
What you need to know about living in Rego Park, Queens, a convenient location with great shopping
The Queens neighborhood of Rego Park, which gave us comic Sid Caesar, burlesque queen Gypsy Rose Lee, drummer Tommy Ramone, and Pulitzer Prize-winning graphic artist Art Spiegelman, has the perks of city living and the friendliness of a little town.
It's a quick trip to Midtown Manhattan, but you don't have to go all the way there to get what you need because Rego Park is a major shopping destination with a diverse array of ethnic restaurants.
In this week's Buy Curious, Sonia Martinez, a broker at Keller Williams Realty Landmark II, and Igor Rafailov, owner/broker of E-Z Sell Realty, give us the inside story on Rego Park.
The question:
I've heard that there are a lot of options when it comes to housing in Rego Park. What can you tell me about the selection?
The reality:
Noting that the prices in Rego Park and neighboring Forest Hills, which is within walking distance, "almost match each other," Rafailov says. But: "If you want to live in a new-construction condo or apartment building, Rego Park has a lot more to offer," he says.
Martinez adds that your "dollar gets more value and space in Rego Park than it does in Manhattan. And it's convenient because of its connection to Forest Hills and its shops and transportation."
Where is it?
Rego Park is bordered on the north by Elmhurst and Corona, on the east and south by Forest Hills, and on the west by Middle Village.
Why would NYers want to move to Rego Park?
"The commute is easy, and the community has everything you need—schools, hospitals, culture, and culinary variety," Martinez says. "People come from all over Queens to shop here, and it's a calm, suburban-style setting for families and people of all ages."
And, best of all, she says: "You don't need a car; everything you possibly need is right here, and the public transportation is good."
Where in Rego Park should you live?
The community is divided into two geographic designations: north and south.
The north section, which is closest to Forest Hills, is where you find most of the community's condos, co-ops, and apartments as well as some commercial real estate. There also are, Martinez says, some single-, two-, and three-family houses.
The south section, where you'll find mainly single- to three-family houses in Tudor and Colonial styles, is strictly residential.
The south area contains the tree-lined neighborhood Crescents, which is named for the semicircular streets that surround it. It has single-family houses with large lawns.
What are housing options and pricing like?
Most of residences are post-war and are in the Colonial style. There are, however, some Tudor-style prewar options.
But there isn't much inventory: There are only 154 condos, co-ops, and single-family houses on the market, according to StreetEasy.
"It's a seller's market," Martinez says. "There are bidding wars for single-family homes because of the pandemic."
She notes that single-family houses stay on the market an average of 68 days. "If priced appropriately, they sell quickly," she adds.
Attached single-family houses generally are priced from $1.1 million to $1.7 million, depending on the amount of renovation, and detached single-family residences run from $1.5 million to $2.5 million, according to Rafailov, who notes that there's one semi-detached house on the market for $1.738 million.
New-construction one-bedroom condos start at $550,00; two bedrooms sell for an average of $750,000, says Rafailov, who notes that older two-bedroom units average about $650,000.
There are few, if any, three-bedroom units, he adds.
One-bedroom co-ops average $275,000; two bedrooms average $450,000, and three bedrooms average $550,00 to $650,000, he says.
Rents in older buildings generally are $1,600 to $1,700 for studios; $1,800 to $2,200 for one bedrooms, and $2,600 to $2,700 for two bedrooms, Martinez says.
At one of the newer complexes, The Alexander at Rego Center, rents are about $2,395 for studios, $3,349 for one bedrooms and $3,349 for two bedrooms, she adds.
Is there a lot of new development? 
In the areas that are zoned R-7 for medium-density, multi-family complexes, investors are buying property and building condo buildings, Rafailov says, adding that this has resulted in "a lot of new development."
The newer developments include the luxury high-rise apartment building The Alexander at Rego Center, which has 312 units and was built in 2015; and a 22-story, mixed-use 100-plus-unit luxury condo complex at Queens Boulevard and 65th Road that is under construction.
"This will be one of the tallest structures in Rego Park," Martinez says, adding that it will include a garage for 400 vehicles.
She adds that because of all the new residential buildings, "parking in the community is a problem."
What's the transportation situation?
The M and R subway lines make stops in Rego Park, which is about a 30-minute ride from Midtown Manhattan. The Q38, Q60, Q72, and Q88 bus lines also serve the community. The QM10, QM11, QM12, and QM18 offer express service to Manhattan.
Rego Park also offers easy access to the Long Island Expressway and the Grand Central Parkway. The ride from the Long Island Rail Road stop in Forest Hills gets you to Midtown Manhattan in 15 minutes and is a 10- to 15-minute walk from Rego Park.
What is there to do?
Flushing Meadows-Corona Park, which shares a border with Rego Park, was the site of two World's Fairs and is home to the U.S. Open. In addition to hiking, biking, and kayaking, visitors can play a variety of sports, including soccer, baseball, tennis, volleyball and even cricket.
The park also includes Queens Theatre, which puts on professional theatrical productions.
Other green spaces that are within a 10- to 15-minute drive include Juniper Valley Park in Middle Village and Forest Park in Kew Gardens.
Queens Museum and New York Hall of Science also are close by.
Then there's the shopping: Rego Park's stores draw people from all over Queens. You can find big-box shops such as Bed Bath & Beyond and Marshalls and the only IKEA in Queens.
Queens Center mall in Elmhurst is about a 10-minute walk.
What's the restaurant/nightlife situation?
The community's commercial districts are on Queens Boulevard and 63rd Drive.
There are a variety of ethnic restaurants that reflect the community's population. Popular dining spots include Cheburechnaya (kosher, Russian, Uzbek); Black Sea Fish & Grill (Mediterranean-Turkish); U Yuri Fergana (Uzbekistan kosher); Tandoori Food & Bakery (Russian, Uzbek); Dallas BBQ (American); Avellino Ristorante & Pizzeria (Italian); London Lennie's (seafood); Tropix Bar & Lounge (bar and pub); Dinerbar (American); and Bamboo Ya (Japanese and sushi bar).
How about grocery stores?
In addition to Costco, which is in the Rego Center mall, residents have a choice of Key Food, Food Dynasty, CTown Supermarkets and Foodtown.
Other options include Netcost Market, which specializes in Eastern European foods, and Exclusive Glatt Supermarket.
Check out these listings in Rego Park.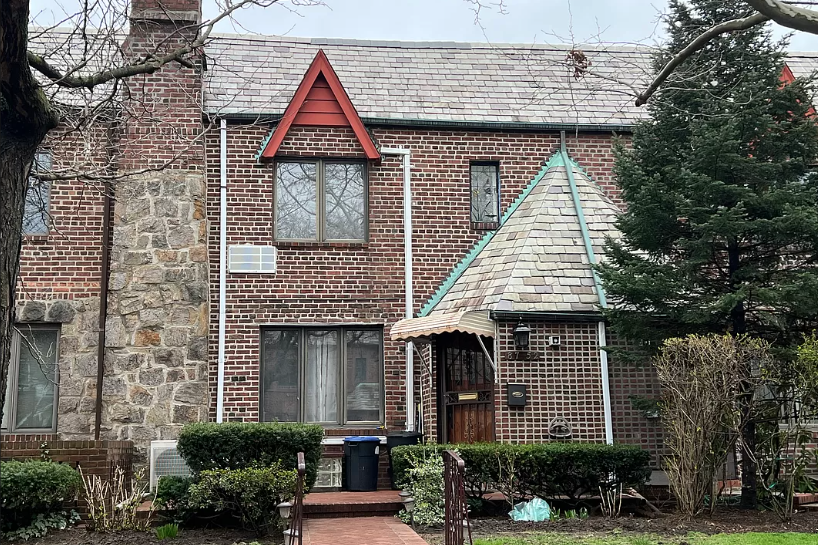 Listed for $1.088 million, this single-family house has three bedrooms, one full bathroom, and one half bathroom. The 2,093-square-foot, two-story brick house, built in 1938, has an eat-in kitchen, a fireplace in the living room, a full finished basement with a laundry room, and a closed back porch with a terrace.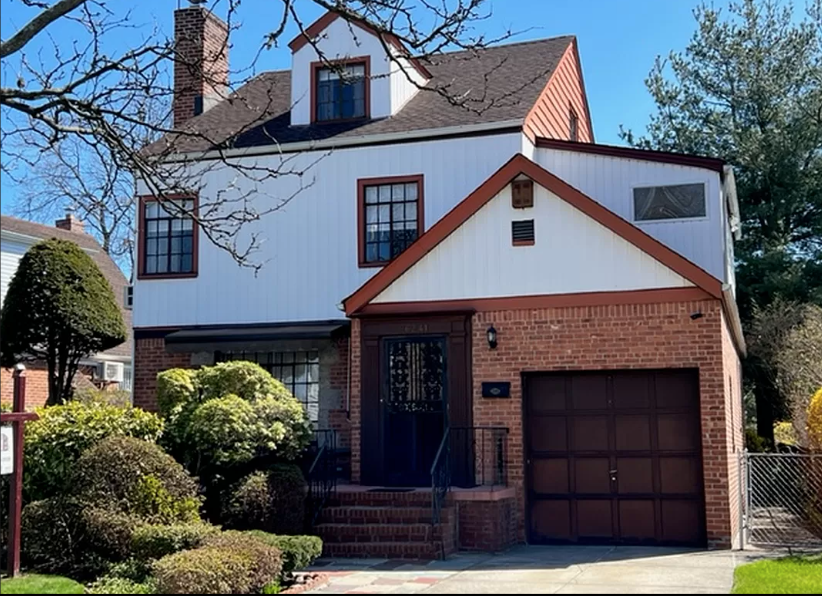 Built in 1940, this 2,464-square-foot, two-story house is listed for $1.575 million. In addition to a formal living room and dining room, it has three bedrooms, two full bathrooms, and one half bathroom. Other features include hardwood floors, a fireplace, and a garden.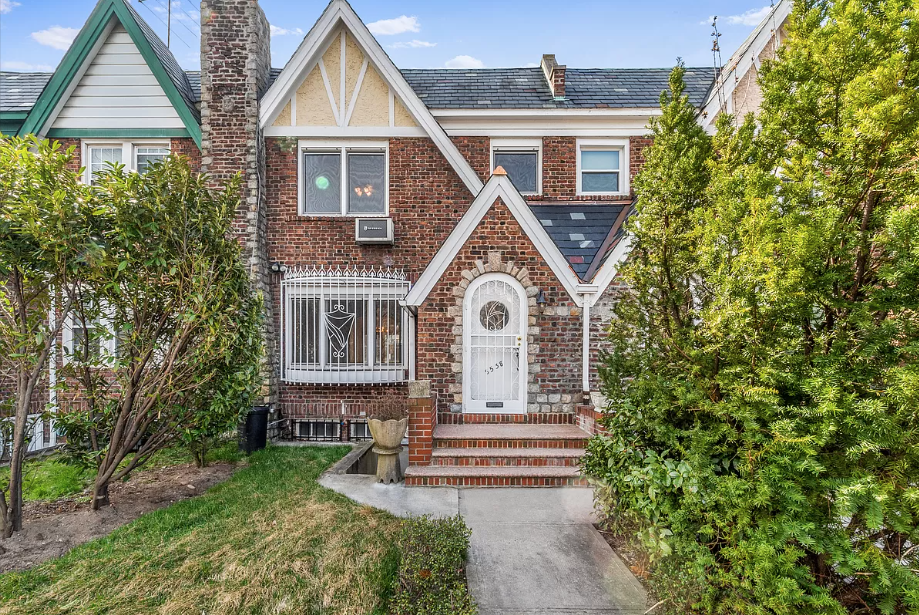 This newly renovated 1,530-square-foot, two-family house, listed for $938,000, has a legal studio apartment in the basement. In addition to a formal living room and dining room and eat-in kitchen, the two-story house, which was built in 1932, has four bedrooms, two full bathrooms, and one half bathroom. Other features include a laundry room, garden, hardwood floors, and two-car garage.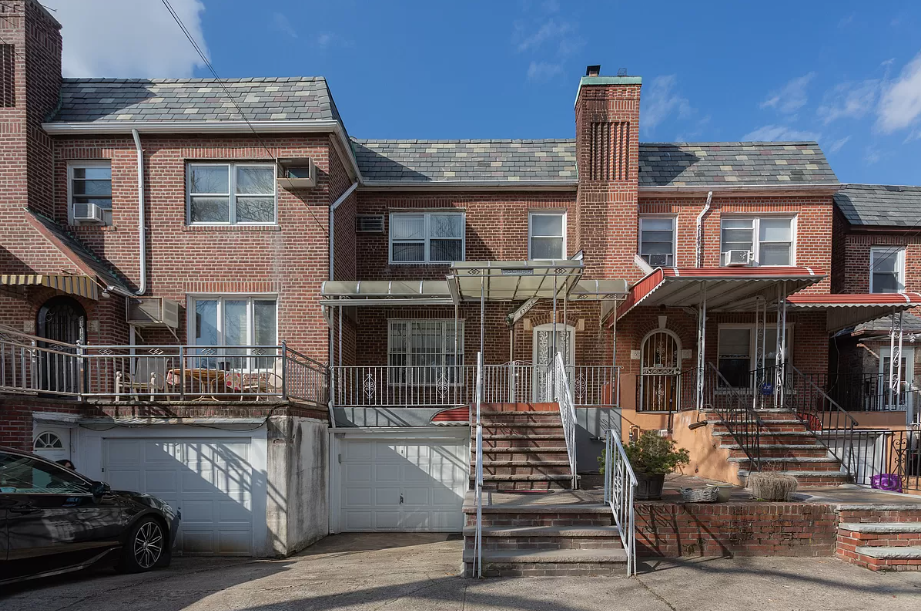 This two-story house, in the Rego Park Crescents, has three bedrooms, one full bathroom, and one half bathroom. Listed for $1.199 million, it has hardwood floors, an eat-in kitchen with granite countertops, a marble bath with a double hot tub, and one-car garage. The 20-foot by 133-foot park-like yard has a fig tree and raspberry and blueberry bushes.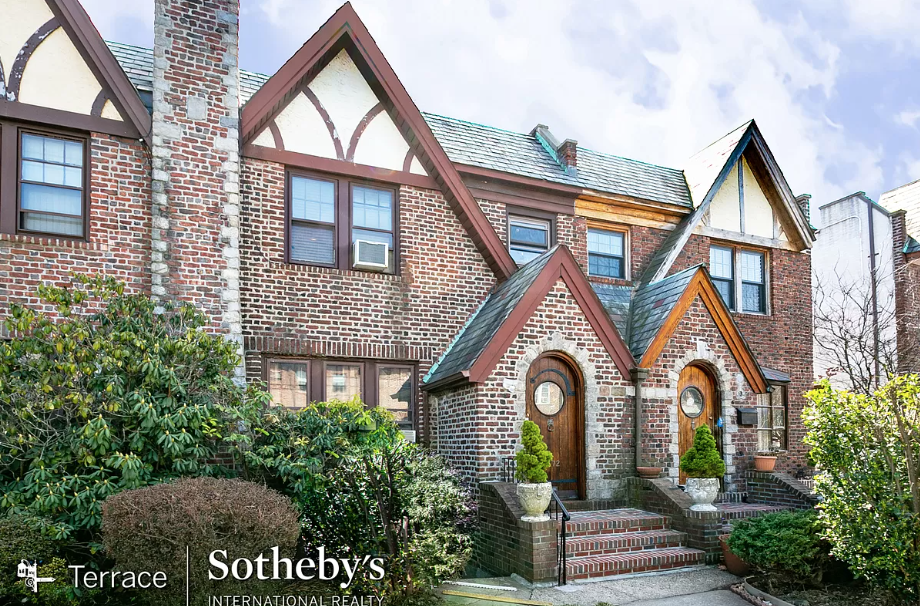 Listed for $899,000, this two-story, attached English Tudor-style house, built in 1931, has three bedrooms, one full bathroom, and one half bathroom. The 1,780-square-foot house has stained-glass and leaded-glass windows, original wrought-iron entry gates, wood-beamed ceilings, and stucco walls. There is terracotta flooring in the entry, a skylight on the second floor, a semi-finished basement, and a one-car garage.
Nancy A. Ruhling is a freelance writer based in New York City.
Brick Underground articles occasionally include the expertise of, or information about, advertising partners when relevant to the story. We will never promote an advertiser's product without making the relationship clear to our readers.