Thinking about buying a duplex in NYC? There are a few things you should know before you take this big step. (Sorry, couldn't resist.)
In this week's Buy Curious, Victoria Rong Kennedy of Citi Habitats, Paul Hansen of Keller Williams Tribeca, and Jordan March of Mirador Real Estate tell you everything you ever wanted to know about about apartments spread over two floors, including where to find them, who should avoid them, and whether it's better to buy a duplex that was purposely built as one or a combination of two separate apartments.
The question:
I've been seriously considering buying a duplex in NYC. What should I know about these sorts of properties? What should I ask about?
The reality:
You might not realize it, but the word "duplex" means something different here than it does in others parts of the country.
"Outside New York, a duplex most of the time refers to a two-unit dwelling that houses two separate residences under one roof separated by common walls. In New York City, a duplex is a single apartment with two floors connected by stairs," Hansen says.
What makes a duplex desirable?
Lots of things. For starters, they're unique. "A duplex is a very special product—and they are comparatively rare," Rong Kennedy says. Buyers who want to avoid cookie-cutter NYC apartments often seek out duplexes simply because they're different.
In addition, people who grew up in houses and who miss the privacy that they offer—with bedrooms separate from the main living space—prefer duplexes. And for high-end buyers, the ultimate apartment is a penthouse duplex, which she likens to "a house in the sky."
Duplexes offer the grandness of a house, Rong Kennedy says. A staircase "indicates to guests that there is plenty more to the home than may appear at first glance," she says. At the same time, you can still enjoy all the amenities that a condo or co-op building offers: A doorman, concierge, and gym, which you won't have in a house. 
Outdoor space is another reason: Garden-level duplexes give buyers a backyard while buying a penthouse duplex gives you access to a private roof terrace.
Added privacy is a consideration. Not only do you find the bedrooms on a different floor from the living room, you can find duplexes that have bedrooms on different floors, which parents of teens—and the teens themselves—will probably like.
Why would you avoid a duplex?
There are just as many reasons not to buy one as there are reasons to buy one.
If you're used to living on one level, spreading out over two floors can be disorienting or awkward, at least at first.
If you have children who aren't walking yet, or family members with mobility issues, obviously you need to consider whether having to go up and down stairs multiple times a day is a good idea. 
In addition, "the space around the stairs is not truly usable square footage, but you still pay for it," Rong Kennedy says. "In a city where every inch counts, this could be considered wasted space." 
Hansen feels that since duplexes are often created through the combination of two apartments, this can often result in "odd configurations that don't make sense."
Plus, they can be more costly to renovate, especially if you're trying to install kitchens or bathrooms in areas that don't have easy access to plumbing.
Duplexes can also be more expensive to heat and cool than typical apartments. "In the summer, the top floor will be more difficult to cool as hot air rises, and in the winter, the ground floor may be more difficult to keep warm," Hansen says.
Where can you find them?
They can be found anywhere in NYC, and Rong Kennedy says that buyers can find a good concentration of purposely built duplexes in neighborhoods like the Upper East Side, Chelsea, and Midtown East.
As for custom renovations, "they can be found in any building as long as the condo/co-op board allows owners to go through the floor/ceiling to add a stairway between two separate units," she says.
March suggests beginning your search for a duplex in luxury buildings, "both in the elegant prewar co-ops on and around Fifth, Madison, and Park avenues, as well as on Central Park West." He also advises looking at new developments in Hell's Kitchen or condo conversions in Tribeca, Soho, Chelsea, and the far West Village and Meatpacking District.
How much more do they cost?
Overall, it should be the same price per square foot price point compared to other simplex units, says Rong Kennedy.
"However, since the stairs themselves take up some square footage, you may feel you are paying more," she says.
Plus, "if it is a penthouse duplex or a garden duplex—or another very unique apartment—you will pay a premium for the outdoor space or the unique nature of the home. People always covet spectacular spaces you can't find every day."
Hansen notes that when it comes to duplexes, the price mostly depends on whether or not both floors can be used as legal living spaces.
"For instance, when a duplex includes a basement, cellar, or attic, you'll find that these apartments are (or should be) priced cheaper because the Certificate of Occupancy may consider part of the space uninhabitable as living or sleeping spaces."
Where do you find duplexes?
In both condo and co-op buildings, but Rong Kennedy notes that combination duplexes are more likely to happen in condo buildings because most co-ops (and their typically more rigid boards) will forbid breaking through the floor/ceiling because it could compromise the structural integrity of the building and will be highly disruptive to neighbors.
Always check to see if a duplex you are considering was built that way or if it was originally two apartments that were later combined.
Hansen says "it usually makes more sense to seek out and purchase a duplex that was designed and built as a duplex" since "combinations are not always finished with the level of pristine quality" that many would expect from such an expensive endeavor.
Check out these NYC duplexes: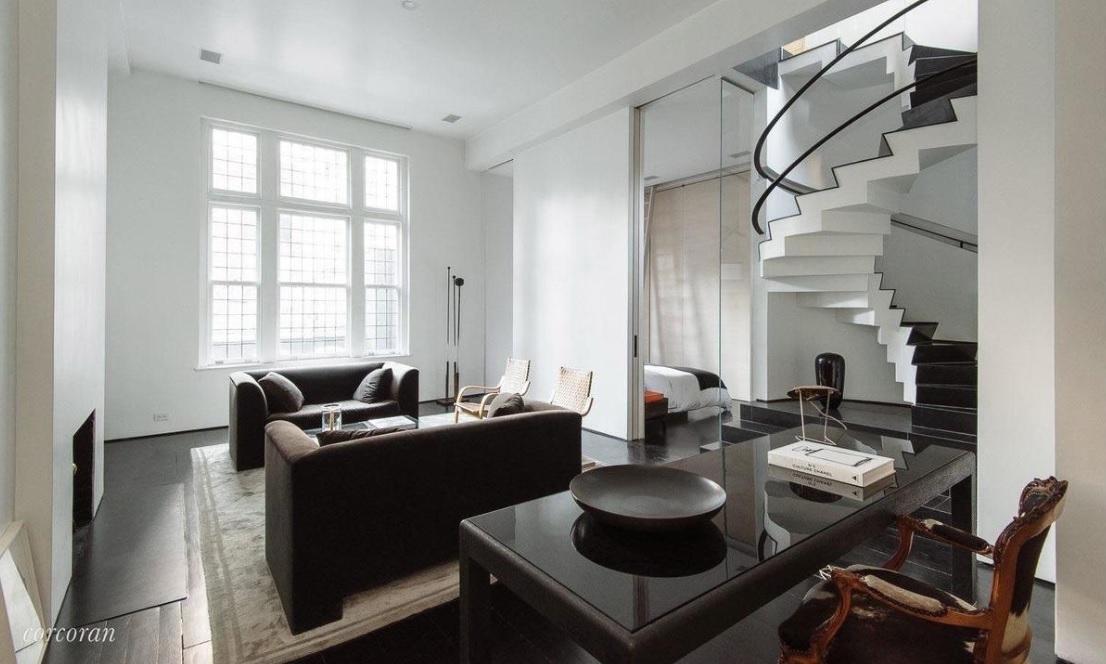 Priced at $2,750,000, this two-bedroom, two-bath duplex penthouse (also pictured above) has a private landscaped terrace, a great room with a wood-burning fireplace, 15-foot ceilings, a wall of windows, a kitchen with Corian counters, a Sub-Zero fridge, and a built-in espresso machine. There's also a dumbwaiter for added convenience when entertaining upstairs, an architectural staircase leading upstairs, another wood-burning fireplace upstairs, two skylights, and a wall of glass that folds completely open to transform the second floor and terrace into one seamless space. In addition, there's central air, radiant heated floors, laundry with a vented dryer, custom lighting, and lots of storage space. It's in a pet-friendly building with a live-in super and a part-time doorman. Maintenance is $1,875 a month.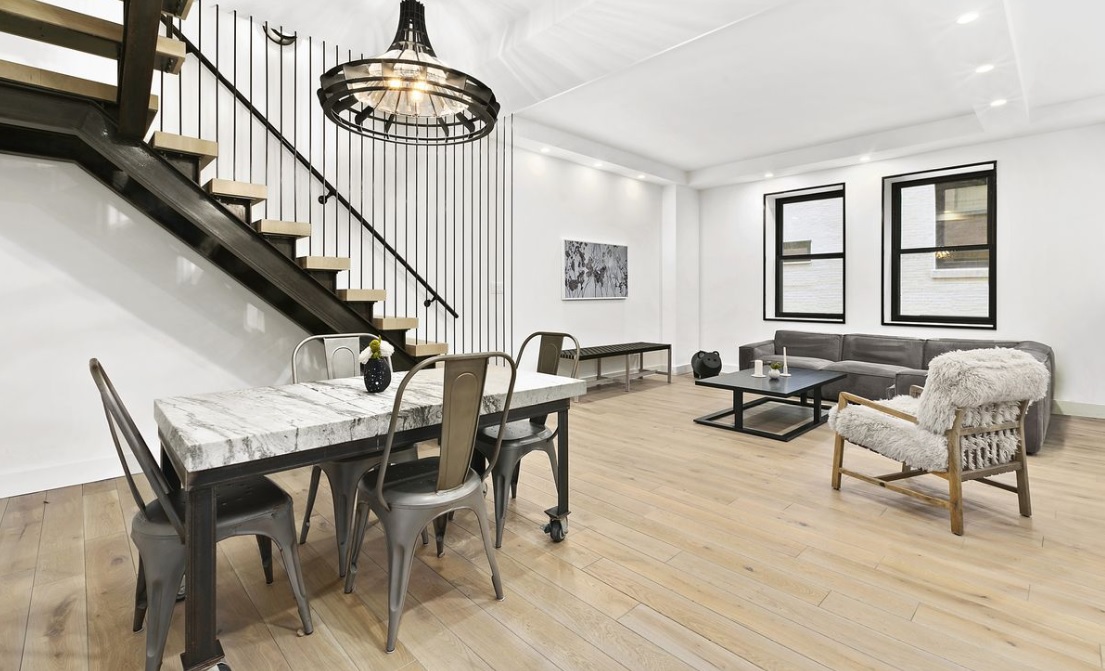 The first floor of this 1,400-square-foot. two-bedroom, two-bath renovated duplex has a large great room with an open layout, wide-plank oak floors, recessed lighting, a bathroom, and a sleek kitchen with wine storage and custom cabinetry. It is asking $2,750,000. The upper level has the bedrooms, another bathroom, and a washer/dryer. It's located in the American Thread Company Building, a full-service prewar condo building with a 24-hour doorman, private storage, common roof deck, a gym, and a live-in super. Common charges are $1,057 a month. Taxes are $1,125 a month.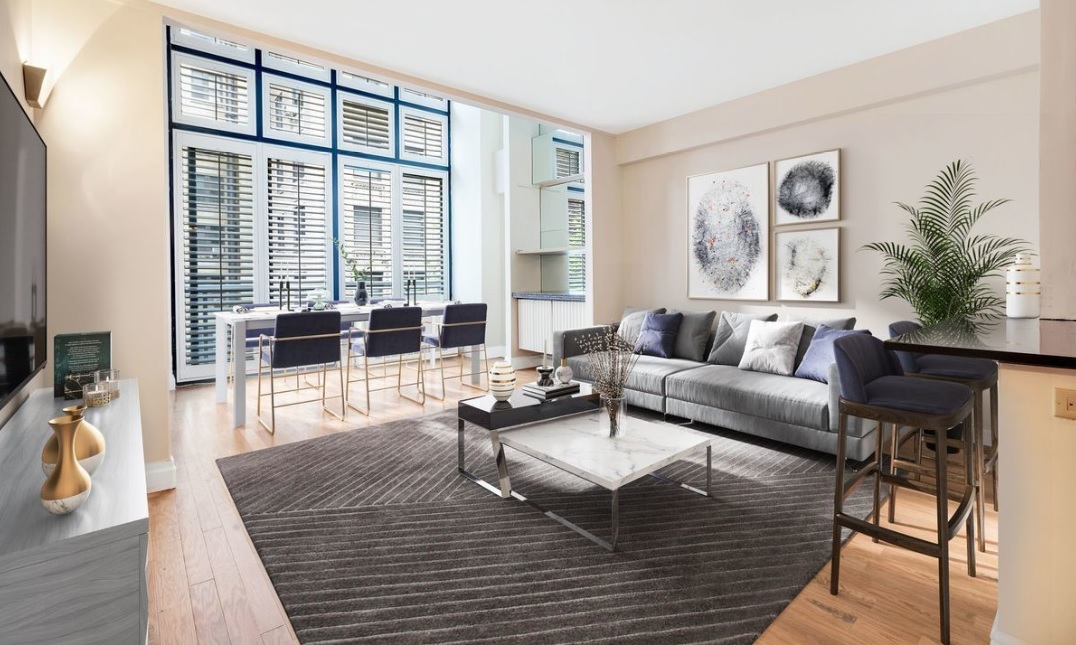 Listed for $995,000, this one-bedroom, one-and-a-half-bath duplex has 18-foot ceilings, floor-to-ceiling windows, a recently updated kitchen with stainless steel appliances, black stone counters, and a Juliet balcony. It's located in The Savannah, a condop with laundry on every floor, a health club, and a garage in the building. Maintenance is $1,750 a month.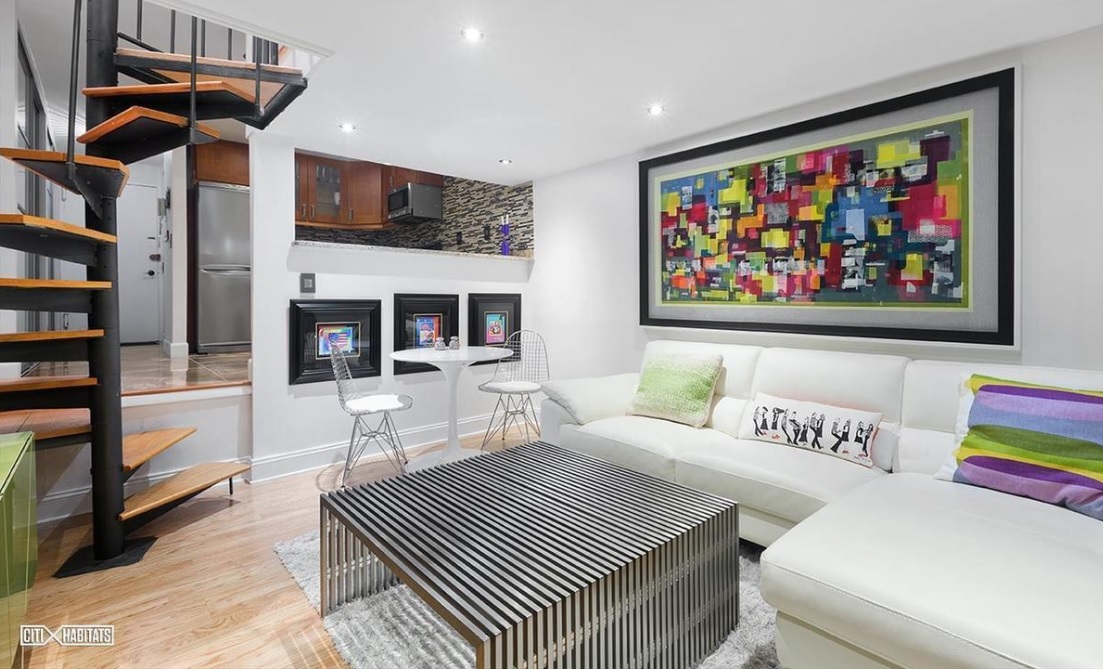 Priced at $685,000, this one-bedroom, one-bath co-op duplex has custom closets, stainless steel appliances in the open eat-in kitchen, a sunken living room with exposed brick, and a bedroom with a through-wall air conditioner and space for a large bed. It's in a boutique co-op building with a part-time doorman, a live-in super, laundry on every floor, and an elevator. Maintenance is $1,103 a month.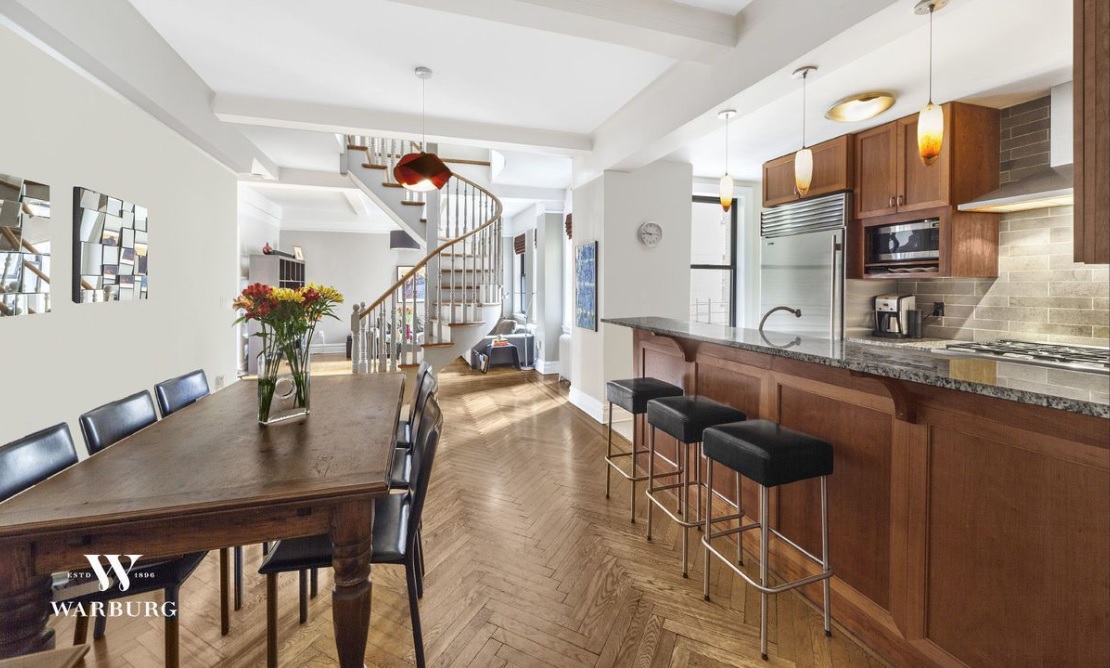 The first floor of this 2,000-square-foot, three-bedroom (plus study/fourth bedroom), three-bath duplex features an open kitchen (with granite countertops, a Sub-Zero fridge, and a dishwasher), a dining area, a living room, and a study/fourth bedroom with a home office and a bathroom. A custom stairwell leads to the second floor which has the master bedroom with an en suite bathroom, another bathroom, and two other bedrooms. It's in a full-service 24-hour doorman co-op building with a resident super, laundry room, bike room, storage bins, fitness center, landscaped, furnished roof deck, and 24-hour garage next door. It is asking $2,450,000. Maintenance is $3,834 a month.
Brick Underground articles occasionally include the expertise of, or information about, advertising partners when relevant to the story. We will never promote an advertiser's product without making the relationship clear to our readers.