Renovation
From 1 room to 2: The insider's guide to temporary pressurized walls
These walls are not permanently attached to other walls or floor and can't obstruct ventilation, sprinkler systems, or exits
Pricing ranges from $700 to over $3,000 depending on size and ceiling height, door styles, and options like soundproofing
Not all buildings allows them so get approval from a landlord or property manager; DOB permits may also be required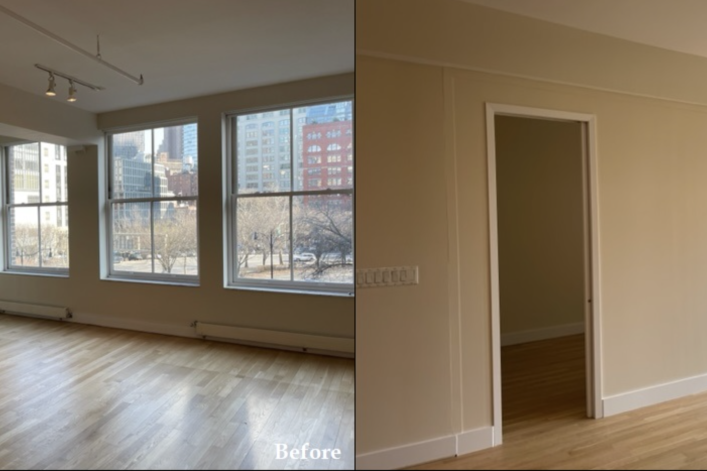 Renting in New York City always causes sticker shock, even more now that the city is experiencing record-breaking rents. So if you are a recent college grad or young professional, your strategy might be to divide and conquer an apartment—and squeeze in a roommate or three—in order to turn a place you can't afford into one that you can. One of the ways to do this is to put up a temporary pressurized wall, which can transform a one-bedroom apartment into two (or a two bedroom into three, and so on). 
Using a temporary pressurized wall—one that is not permanently attached to the existing walls or floor and doesn't interfere with the ventilation or sprinkler systems or block exit routes—is a popular strategy to add a legal bedroom for apartment shares or families. You can also use a pressurized wall to create a nursery or even a home office if you work remotely.
---
[Editor's Note: A previous version of the article ran in June 2022. We are presenting it again here with updated information for June 2023.]
---
Because adding a temporary pressurized wall can change an apartment's layout, you or your landlord may need to get a permit from the Department of Buildings (see more on this below). This involves hiring an architect, drawing up plans, and getting the plans approved—a policy that has been increasingly enforced over the last several years. As a result, many landlords and management companies prohibit temporary walls. In these buildings, you can still explore other solutions, such as installing bookshelf walls that stop at least one foot from the ceiling and are considered furniture. There are also curtain room dividers that are reinforced to block out sound. Neither of these requires permits (or even permission). 
But if those solutions don't suffice, you have two options: seek out a different building or try and work with your existing landlord.
"Most of my clients still prefer pressurized walls," says Donny Zanger, owner of All Week Walls. "They are adults who are looking for real privacy, and pressurized walls are still the best way to achieve that." (BTW, Zanger started the company because he needed a way to afford his own rent.)
Here's what you need to know about using a temporary pressurized wall safely, and a round-up of the companies that sell and install them.
What exactly is a temporary pressurized wall?
Temporary walls are non-load-bearing (they do not support the ceiling) and are not permanently attached to other walls or the floor. As such, they are able to be installed and removed without causing damage to other permanent walls—no nails, screws, or other fasteners required. 
They are around five inches thick, give or take a few centimeters, and can support up to 25 or 30 pounds; you can usually pay extra to have the wall reinforced for mounting a flat-screen TV or other heavy objects.
You can also add soundproofing, which is described as offering about the same noise barrier as real walls. 
When planning to put up a temporary pressurized wall, it is important that this wall not block exit routes or interfere with your apartment's ventilation or sprinkler systems.
Note that these walls offer (much) more sound insulation and privacy than walls that do not extend to the ceiling or are free-standing.
Do I really need a DOB permit for a temporary pressurized wall?
The answer here is maybe. According to Andrew Rudansky, press secretary at NYC's Department of Buildings, the DOB doesn't differentiate between pressurized or temporary walls and "regular" walls when it comes to permitting requirements, so you still need to follow some rules.
He says that if a floor-to-ceiling divider is added to an existing space and changes the layout of a dwelling, permits might be required because of egress, light, and ventilation issues. "There is no definitive answer for whether a project that adds a wall needs a permit or not because every renovation project is different," he says.
He recommends consulting a design professional like an architect or contractor or contacting the DOB directly to see if your project requires permits and approvals. When contacting the DOB directly, be sure to call the borough office where the apartment is located. 
Another way to get feedback is to attend the DOB's weekly open houses every Tuesday from 4 to 7 p.m. your local borough office, which have resumed after a pandemic pause. At these "Buildings After Hours" events, you can receive one-on-one attention. 
Another important consideration when adding a temporary wall is making sure any new bedroom is legal. This means it must be a minimum of eight square feet for either length or width and at least 80 square feet (so you can't make a bedroom out of long, skinny space). There must be a window that faces outside for natural light and air that also offers a means of escape in an emergency (so no air shafts). No pass-through bedrooms are allowed.
Pro Tip:
Looking for an apartment to subdivide? Be aware that most landlords require you and your roommates to earn a combined annual salary of at least 40 to 45 times the monthly rent. If you don't—or if you're an international employed person, self-employed, non-employed with assets, retired, or an international student or U.S. student—you'll need a guarantor for your lease who earns at least 80 times the monthly rent and lives in New York, New Jersey or Connecticut. Or you can turn to Insurent Lease Guaranty. Accepted at more than 4,700 buildings across the city representing over 475,000 apartments, Insurent Lease Guaranty is a quick and easy way to get the apartment you want. Click here to learn more.
How to find a building that allows temporary pressurized walls
If adding a wall to create a room is the only way to make an apartment work for you, then you need to make doubly sure that it is permissible by the landlord. Try to have the owner confirm it in writing. Some buildings can be vague about what they allow, so make sure you specify pressurized walls that extend to the ceiling. 
On the flip side, some building owners are aware that allowing pressurized walls gives them an edge over those that require a 12-inch gap or other loophole. And in some cases, the longer the lease, the more amenable the landlord may be. 
If you're planning to carve out additional rooms, always check directly with management—not your real estate agent—before you sign a new lease (start your search with these NYC landlords that allow temporary walls). Be sure to look for listings that say "wall shares allowed" and rule out any that say "no pressurized walls." 
Find out what styles of temporary walls are allowed and if the building requires you to work with a specific wall company. Note that most wall companies have forms and specs on their website to make it easy for you to weigh the options with your landlord. These companies are also used to working with buildings and can help smooth out the process.
Pro Tip:
Need help finding a rental that allows temporary walls? The rental experts at The Agency, a Brick Underground partner, know exactly where to look. If you sign up here, you can also take advantage of The Agency's corporate relocation rate—where you'll pay a broker's fee of 10 percent of a year's rent instead of the usual 12 to 15 percent on open listings. Bonus: The agents at The Agency are a delight to deal with.
How much does a temporary pressurized wall cost in NYC?
The whole idea behind these temporary walls is to help make your rent more affordable. If you and your roommate are signing a new lease, you may be planning to split the cost of the temporary wall installation. Explore the different companies and features to find the most cost-efficient solution using the following tips. Be sure to get all the costs and other details in writing, and read the fine print to avoid any surprises.  
Prices for temporary walls from the companies below range from $700 to over $3,000, depending on ceiling height, added features, and any custom requests. 

Add-on features vary among companies but different door styles (sliding, pocket, standard, and single- or double-pane French doors) and windows are common and available in different sizes. 

Prefabricated walls with seams tend to be cheaper and quicker to make and install, though seamless walls blend in better with permanent walls and the ceiling and look more like traditional walls. 

Some companies lease the walls for a specified time frame (usually two to three years), after which a renewal fee is required. Others let you purchase the wall outright (a good option for long-term renters). None of the companies contacted ask for a deposit.

All companies will remove the wall for no extra charge within a time specified in the lease or purchase agreement and with advance notice. Make sure you know what your company requires from the get-go. 

Before the company arrives, make sure you reserve the service elevator if there is one (walk-ups may cost extra); clear out four feet of space on either side of the wall. 

The walls are painted white unless you request a custom color, in which case you will need to buy the paint yourself and let the company know in advance. 

Plan for anywhere from four to eight hours for the installation, and to be there to let them in (or make plans for the building to allow access) and also at the end, to make sure it all looks as planned. 

Payment is required on the day of installation, usually once the wall is in place. Unless otherwise noted, all the companies listed below accept cash, checks, credit cards, and PayPal. 

Make sure you have your landlords give approval before the company arrives—and never schedule the installation on the day the moving company will be unloading boxes. 
Here are five of the more well-established wall companies that work in NYC, listed in alphabetical order.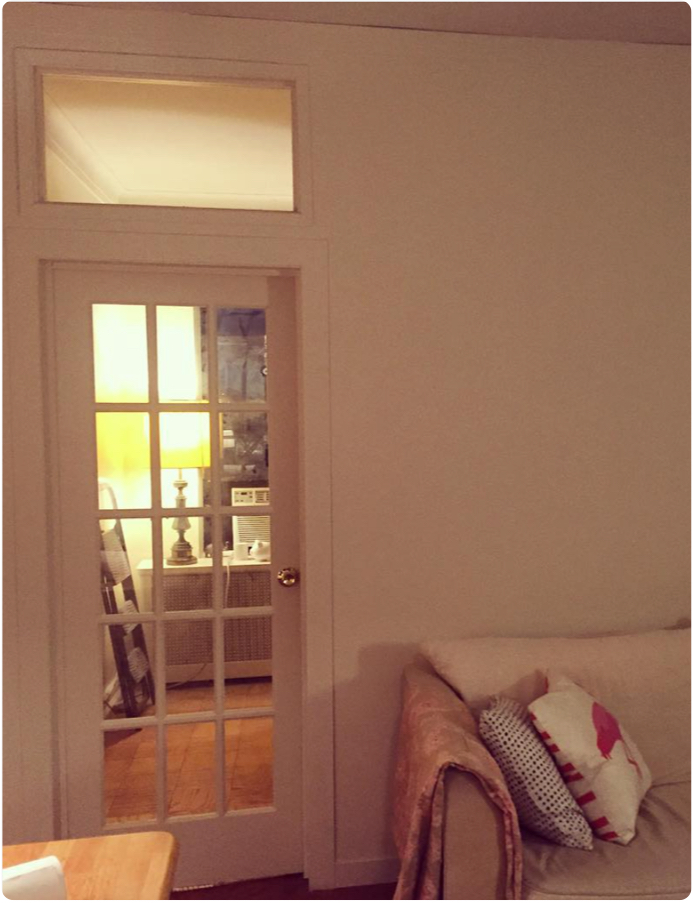 As the oldest pressurized wall company in NYC, All Week Walls has "over 15 years of experience and over 5,000 walls built," according to its website, and a solid reputation in NYC for its customer service and quality products. They will even work weekends, a rarity among wall companies. 
Temporary walls run from $700 to $2,000, depending on the finish and features. "Most customers want multiple walls such as T-configurations and also a seamless look, all of which pushes up the price," Zanger says. He also recommends adding soundproofing for more privacy (at an additional cost).
Removal is included within the first year and with at least 30-days' notice; otherwise, it will cost $850.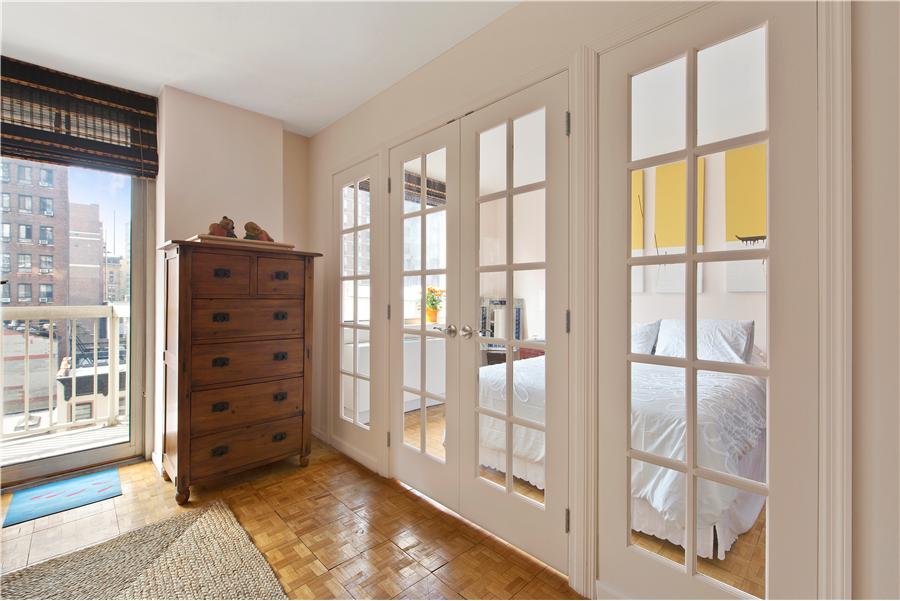 Manhattan Pressurized Walls (aka MPW), in business since 2009, is what at least a handful of management companies report as their company of choice.  
Prices start at around $1,200 for an eight-by-10-foot seamless pressurized wall with a standard swinging door and goes up from there depending on additional costs for different doors and other features. MPW offers extra soundproofing options to make the temporary walls as noise-tampering as regular walls.
All temporary walls are painted with two coats of Benjamin Moore paint in your choice of white, China white, linen white, or white dove in a flat finish. Custom colors and finishes will be charged accordingly, or you can paint the walls yourself. 
The lease term is two years, with an option to renew for an undisclosed amount (it will be specified in the lease agreement). Unless you provide at least four weeks' notice, the cost of removal during the lease period is $420.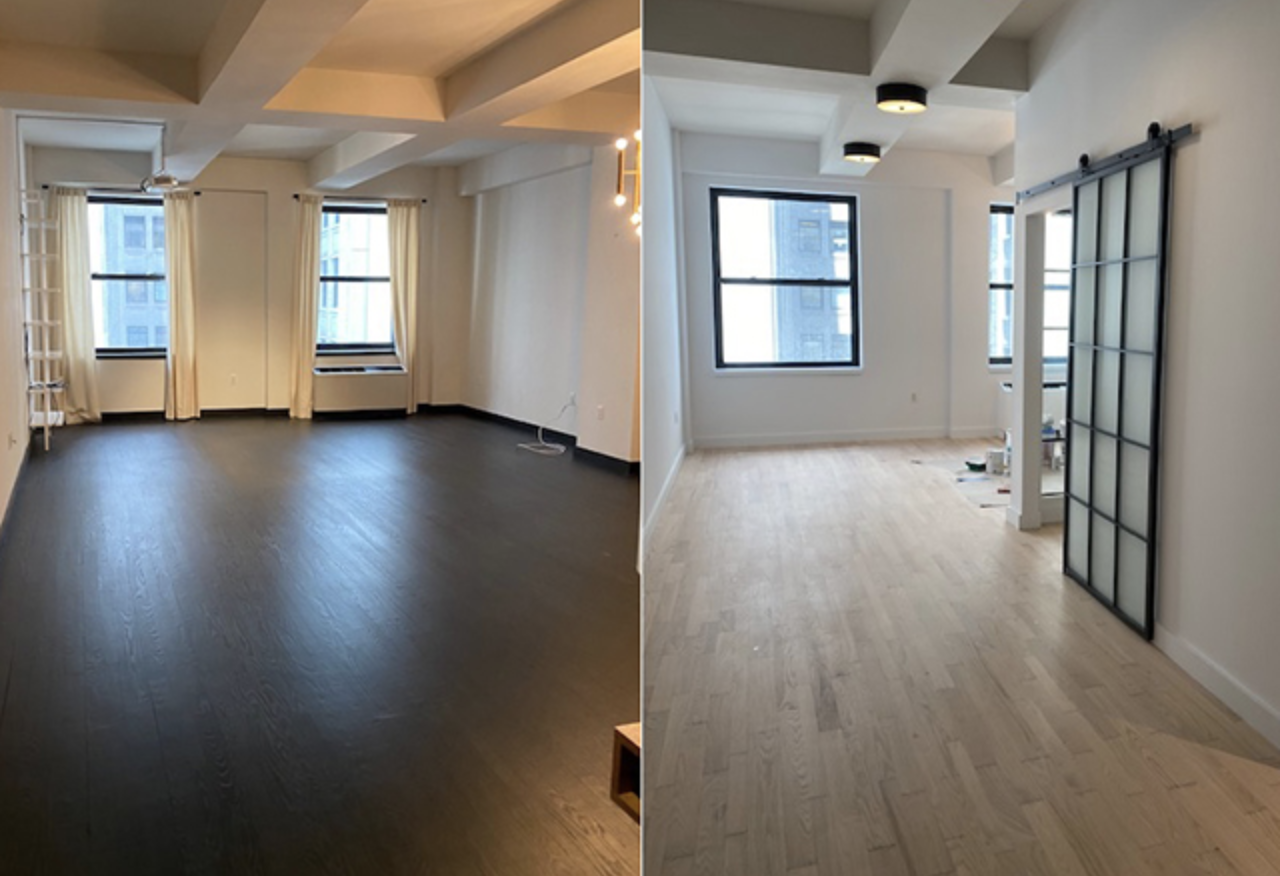 1DayWall (affiliated with NYC Interior Remodeling) builds temporary walls that range from about $875 to $2,500. Their standard wall is 4.75 inches thick, and unlike the other companies listed here, they also offer, upon request, a three-inch thick wall (which is helpful in especially tight spaces).
The walls are painted flat white using Benjamin Moore Super Hide paint (the default of most NYC rentals); custom colors will cost extra and must be provided by the client. Although the company claims the walls are "quite noise resistant," it will add more sound insulation upon request. 
The wall can be removed for a one-time fee of $350 plus tax. The company only accepts a certified check.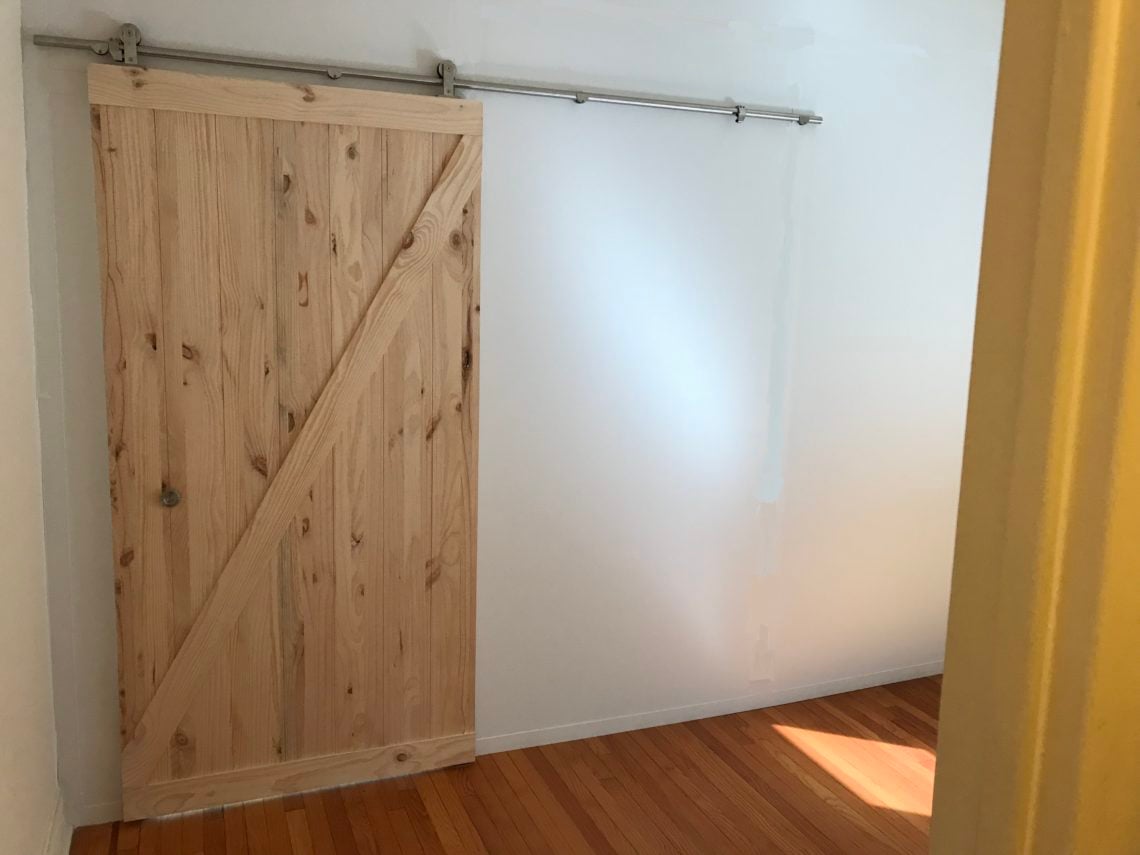 Brooklyn-based Room Dividers NY has been around since 2004. The company builds all the walls on-site and to spec, so there's no prefabrication. 
Prices range from $750 to $2,500, with the average being $1,100 for a wall with a standard door.
The lease term is three years and can be extended for another three years for $150. Removal is free of charge during the lease period so long as you provide a 30-day notice. 
Long-term renters can choose to skip the renewal fee and purchase the walls outright, in which case removal will be either $150 or $300 depending on how long you've had them.
Per the website, a week's notice is usually sufficient for you to schedule a new installation. The walls are five inches thick, same as regular walls, and "offer similar sound insulation." 
Like other companies, Room Dividers NY offers doors in many sizes but recommends going no smaller than 30 inches to make it easy to move furniture in and out. Unlike other companies, it offers sliding barn doors (priced accordingly).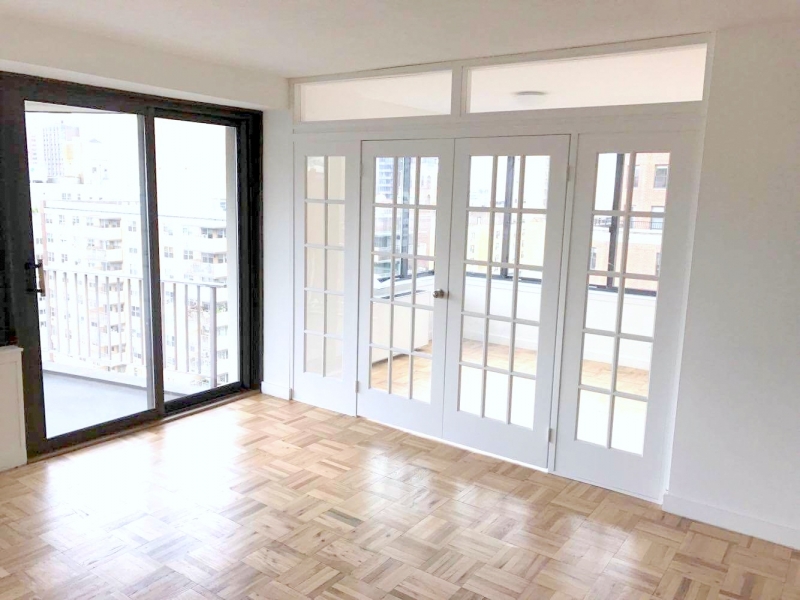 Founded in 2012, Wall 2 Wall was named "Best of NYC 2019" in its category by New York magazine. It is also the go-to company for many landlords throughout the five boroughs. 
"As a high-volume company, we have relationships with practically every building in NYC and know what's allowed and what's not," says owner Eddie Sapienza.
The price of the most basic wall with a swinging door is $1,125 for clients on a budget. But Sapienza says he will build anything a client wants, "including a wall with double-frosted French doors in the center and lighted plexiglass windows on either side."
Wall 2 Wall also guarantees all mechanical parts such as hinges and door tracks—but not holes punched through walls (it happens). 
—Earlier versions of this article contained reporting and writing by Lucy Cohen Blatter and Donna M. Airoldi.
Brick Underground articles occasionally include the expertise of, or information about, advertising partners when relevant to the story. We will never promote an advertiser's product without making the relationship clear to our readers.