Looking to convert a one bedroom into a two bedroom, create a nursery out of a dining alcove, or cordon off an office area?
You should know that creating a new bedroom requires a new Certificate of Occupancy from the New York City Department of Buildings. If a room is less than eight feet along one dimension, or lacks a window, it won't be considered legal for a bedroom. And even if you have the space, in some cases, your building may have rules against putting up room dividers. 
So what are your options if you need to carve out a room and want to stay on good terms with your building? Bookshelf walls are one temporary option for dividing rooms, but they won't help you cut down on noise. For that, you might consider sound-dampening curtain room dividers.
The material used in a curtain room divider is thicker than standard curtain fabric and manufactured to absorb sound. While not completely sound proof—you will hear the same kinds of sound that would travel through a thin wall—they can help cut down on noise somewhat better than the hard surfaces of other temporary room dividers, like bookshelf walls. 
A curtain room divider has two sides—that's also what differentiates them from regular curtains, which may have a fabric bleed or a rough surface on the back. 
"When privacy is less of a must, but a flex space is needed, curtain dividers are a quick and easy option," says Betsy Helmuth, owner of Affordable Interior Design, who recommends treating it as a visual element. She advises to allow for enough fabric—it should undulate when you open or close it—to prevent gaps. 
Helmuth recommends a neutral color like tan or gray and avoiding white or cream, which would easily show dirt. If using a pattern, Helmuth cautions against anything too busy. 
From bespoke to budget, here is a rundown on function, design, types, cost, and installation methods of curtain room dividers in New York City.
NY City Blinds specializes in luxury custom-designed treatments. A manager there said the store does many acoustic curtains, which are popular because they can be used again when a renter or owner moves. He recommended velvet as especially sound proof. 
NY City Blinds uses three layers of fabric in its curtain room dividers. The middle lining absorbs noise and also is useful in retaining heat in the winter and cool air in the summer. 
Curtains are typically installed all the way around the room in order to block the most sound. For a 15-by-20-foot room with a 10-foot ceiling, the price is roughly $5,630. This is inclusive of designer visit, fabric, installation and a one-year warranty. NY City Blinds also manufacturers straight divider acoustic curtains, which do not go all the way around the room. Prices will vary depending on room size and fabric selection. 
The Shade Company manufactures made-to-order soundproof curtain room dividers. Its designers will bring fabric swatches to your home and provide free style consultations. Their fabrics range from traditional to contemporary and they have an array of hardware options to customize your room divider design. 
For an 8-by-10-foot room with a 10-foot ceiling the price for a soundproof curtain room divider would be about $2,500, and a 15-by-20-foot room with a 10-foot high ceiling would be about $3,500.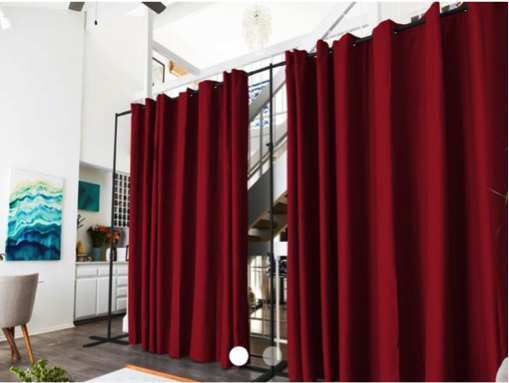 RoomDividersNow sells readymade soundproof room divider curtain kits and is recommended by Helmuth. The kits include curtains, installation equipment, and set up instructions. There are also instructional videos on their website. 
Installation options include ceiling track, tension rod, free standing, and hanging room dividers. The End2End Room Designer Kit (shown above) starts at $250 and the Infinite Room Divider Kit (shown top) starts at $160. Both are drill-fee options. The curtains are made of 100 percent polyester.
Curtains only
If you're buying curtains separately, you'll likely need to find someone to install them. You can book a handyman via Handy, TaskRabbit or other providers. (Check out Brick Underground's "Best Handyman companies in NYC.")
Arthur Zelenkov, director of business development at Set Up NYC, a handyman service provider, estimates an installation can range from $130-$380. 
If you're willing to purchase hardware separately, these affordable divider options are machine washable, have five-star Amazon customer reviews, and come in several sizes.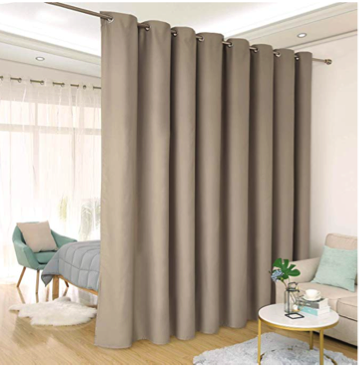 This thermal-insulated blackout curtains is 15-by-9-feet and is 100 percent polyester.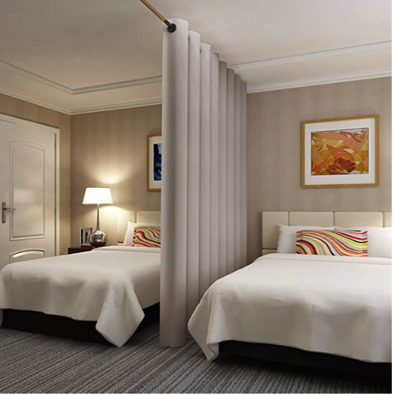 These will make your room look like a hotel room, in a good way. They are 100 percent polyester.
Brick Underground articles occasionally include the expertise of, or information about, advertising partners when relevant to the story. We will never promote an advertiser's product without making the relationship clear to our readers.