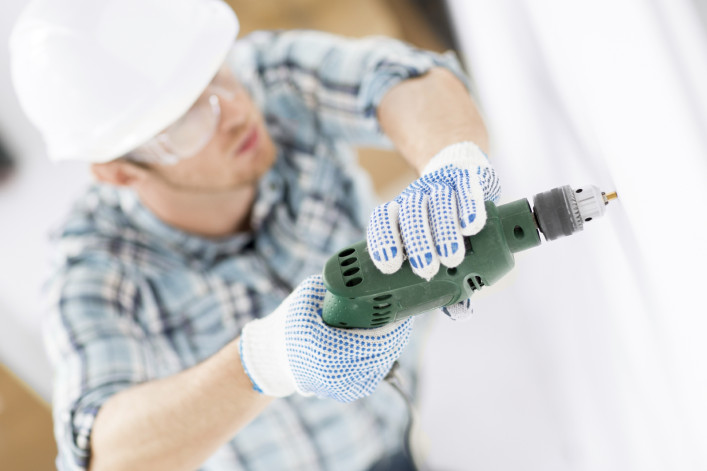 Having just moved from Manhattan to Brooklyn, I was in dire need of help putting my new place together: pictures and paintings to re-hang, new storage units to assemble; and plenty of errand running, cleaning, and sorting. Strapped for time and not exactly super-handy, I decided to turn to the Web and outsource my apartment issues to some of the biggest (and newest) home help services and found out who was the most punctual, which has the most bang for the buck, and which services to skip entirely.
The skinny
: Having just made its millionth booking, this cleaning monolith, which recently expanded its services to furniture delivery and assembly, is known for its $29 cleaning deals. It also raised $64 million in funding,
according to TechCrunch
. 
The job: Installing an air conditioner window unit and hanging pictures
The cost: $120 for two hours (minimum allowed for any service)
Insured? Yes, up to $2 million
Wait time to confirm booking: 1 hour
The experience:  I tried to book Handy on the same day of service, but had to wait until early the next morning since there weren't any slots the night before. My handyman got to my place about 15 minutes early and with a huge arsenal of supplies. (Great, since the last time I used Handy, the serviceman arrived without nails, screws, or levelers and completely wrecked a wall while trying to hang a picture.) After showing him where I wanted the air conditioner and fetching the bracket, he got straight to work, completing the task in about 30 minutes. Since I had paid for two hours, I also got him to hang a few pictures and a set of wall sconces. He was careful to measure first to make sure each was centered. The whole transaction was polite and professional.
The verdict: Positive, with reservations. He said he only gets paid about $70 of the $120 charged, which may explain why Handy often offers such deep discounts. I'd much rather put some of that money to tip him versus giving it to a bigger company. (He did carry his tools up 3 flights of stairs, after all.)  A rep for Handy told me they're unable to provide a breakdown of the payment model, but said cleaners make "up to $22 an hour" and $45 an hour as a handyman. 
​
The skinny:
Founded in 2008, TaskRabbit has gone through several iterations, first using a bidding model like eBay where taskers could bid on services, to an invitation model,
letting customers pick from a select group
. That model seems to have worked for the company, which has now raised more than $40 million in venture funding. You pay by the hour for the service, starting at an hour, meaning less initial cost than Handy.
The job: Assembling a baker's rack
The cost: $65 per hour
Insured? Yes, up to $1 million
Wait time to confirm booking: 45 minutes
Time arrived:
5:45pm
 (she came from a different borough and said she hadn't known how long the commute would be)
The experience: I booked a day-of appointment to get a baker's rack assembled. The handywoman let me know an hour before that she'd likely be late. She arrived with all of the requisite tools and was quickly making sense of all of the diagrams, screws, and metal poles in the rack, though she did drop a few pieces during assembly. 
The verdict: Being nearly an hour late for a job is pretty unprofessional, but once she arrived, she was zippy and had a great attitude about the obtuse baker's rack instruction manual. Though she took a little over an hour and a half to assemble, she only billed for an hour and 15 minutes. I'd definitely use TaskRabbit again, especially for smaller tasks around the house. 
The skinny:
As part of the company's ever-growing list of grab-bag offerings, Amazon recently
expanded its handyman services to 11 new cities across the country 
and offers the usual fare of picture-hanging, furniture assembly and more. The staff aren't Amazon staff as of yet, but rather the site serves as a connector to local guru services, which include everything from music lessons to home exercise bike installations. Handyman basics, like TV mounting, organizing, and furniture assembly, are also offered. You either pick a pre-selected service or customize as you need, and go from there.
The job: Installing custom lighting
The cost: Varies, based on service. Amazon also has a price match if you find a lower price within 14 days of service.
Insured?  Varies; individual handymen have their own insurance
Wait time to confirm booking: Tried twice over 48-hour period to get electrician to install my custom light; neither time worked, and then the only time available was for four days after I needed the service done.
Time booked: N/A
Time arrived: N/A
The experience: Two hours after my first query, I got a single response from a local handyman. I said I was interested in hiring his services ASAP, but never got a second response. I filed a second request soon thereafter, and still got nothing.  My task remained incomplete, and trying to find an actual person to speak to at customer service was a nightmare.
The verdict: Amazon still has a long way to go with its outdated, user-unfriendly website. The tasks are categorized in a very specific yet disorganized way — there are options for treadmill assembly versus exercise bike assembly, same with trying to find a "general handyman" versus someone who only does spackling or bookshelf assembly. And if you try to search for services, you're simply sent to the rest of Amazon, to buy more items. It seems like the company has, for now, bit off more than it can chew.
The skinny: More a modern yellow pages and local community site than an actual handyman company, Thumbtack lets users hire personal trainers, dog trainers, wedding officiates, and more. Handymen are one small part of this crowd-sourcing  puzzle.
The job: Installing paintings and pictures
The cost:  N/A
Insured? Thumbtack doesn't insure its workers per se; it is a third-party app connecting small businesses and independents with jobs. 
Time booked:
I booked a service 
on Thursday
 at 
8 am
. I didn't hear back from anyone by 
Friday
 at 
noon
, so I made a new request. A person from Long Island asked to come over and look at the pictures before giving me a quote, which I was uncomfortable doing. 
Time arrived: N/A
The experience: Thumbtack lets you fill in what you're looking for (in my case, someone to install pictures) and select the best from whomever contacts you. In theory, great, but I was left in the lurch waiting for a Godot-like handyman who never responded to my original query, then trying to figure out how exactly Thumbtack vets its handymen (having a stranger demand your address in a private message while you're home alone is pretty unnerving.) Thumbtack warns customers in its safety section to "use your best judgment" when picking a handyman, which made me feel uneasy. I used my better judgment and took a pass.
The verdict: Since I'm deep in Bed-Stuy, it makes sense that there aren't as many local handymen ready at the drop of a hat, but for last-minute jobs, I would go to one of the bigger companies that insures its workers and has a better vetting process. My pictures are still sadly waiting to be hung, but if I didn't have a tight deadline, maybe more workers would bite.
Final takeaway:
Now that I have a better sense of handyman services in NYC, I would most likely go with TaskRabbit or Handy for the next non-DIY emergency. I liked how professional the two who ended up coming over, and they both were vetted and insured by their respective companies, though I dislike how opaque Handy's pay scale services seem. Thumbtack would be good for more long-term projects if you have the time and energy to do your research, but Amazon's home services seem lost in the fray and struggling to play catch-up.
Also: Though they're not currently in New York, also be on the lookout for handy start-ups like
Zaarly
(currently available in Austin, Denver, San Francisco, and Kansas City) and
AskforTask
, a handyman service currently in Canada.
Related:
Brick Underground articles occasionally include the expertise of, or information about, advertising partners when relevant to the story. We will never promote an advertiser's product without making the relationship clear to our readers.