Hunters Point, a section of Long Island City, is one of those neighborhoods where modern apartments and buildings loaded with amenities reign supreme. And this two-bedroom, two-bath, located in a building right next to the famous Pepsi sign, is no exception.
The apartment is asking $4,920 (no broker's fee), which includes an en-suite bathroom off the master bedroom, stainless appliances, lots of windows, and a private deck (which comes outfitted with two deck chairs and a table). The home appears to be on the second floor, which isn't great for sunlight, but it looks like the views—including the water and the city skyline—make up for that.
The building, located at 4540 Center Boulevard, has a 24-hour concierge, laundry facilities (though there's a washer-and-dryer unit in the apartment, too), a bicycle room, landscaped communal roof deck, and more. But it also happens to be about $700 more than the median price for two-bedrooms in the neighborhood.
So is it worth considering? We asked our experts (and veteran renters), real estate research and analytics firm NeighborhoodX founder Constantine Valhouli and freelance writer Lambeth Hochwald, to weigh in with me on this week's Take It or Leave It.​
The apartment:
Size: Two-bedroom, two-bath
Location: 4540 Center Boulevard (at North Basin Road)
Monthly rent: $4,920/month, no broker's fee
Flexible layout: No
Days on the market: 22
Subway: 7 at Vernon Boulevard-Jackson Avenue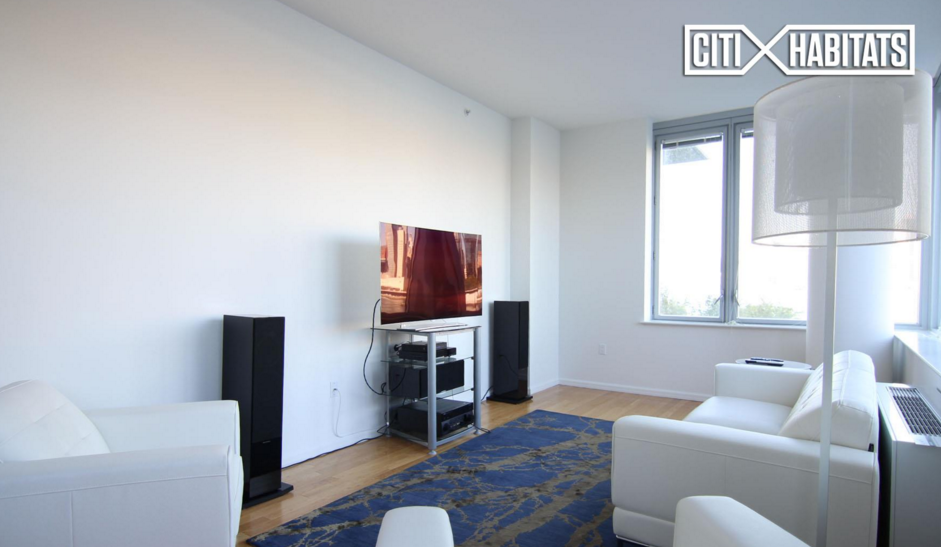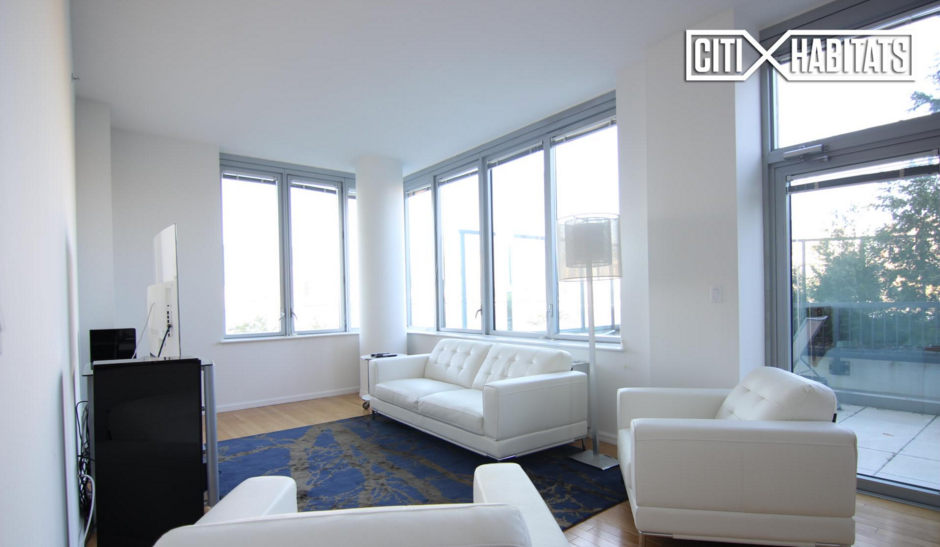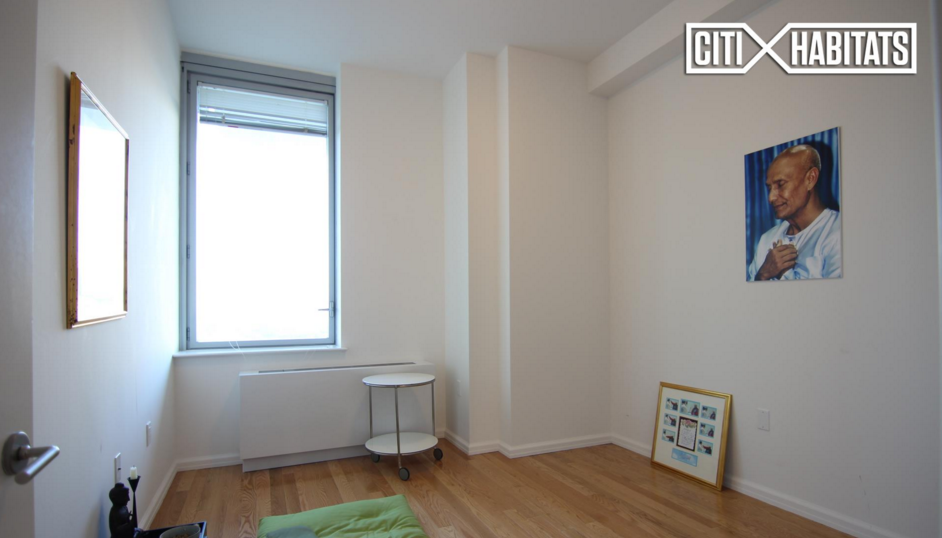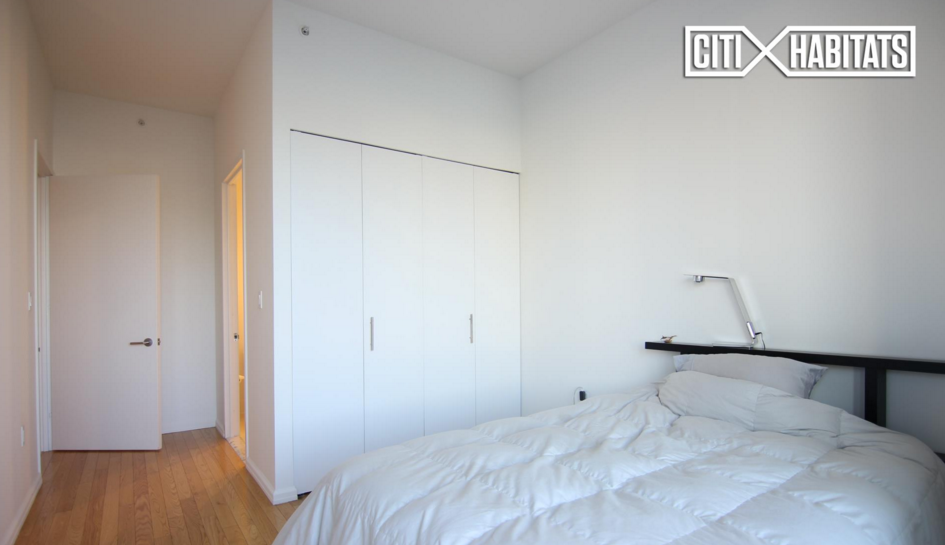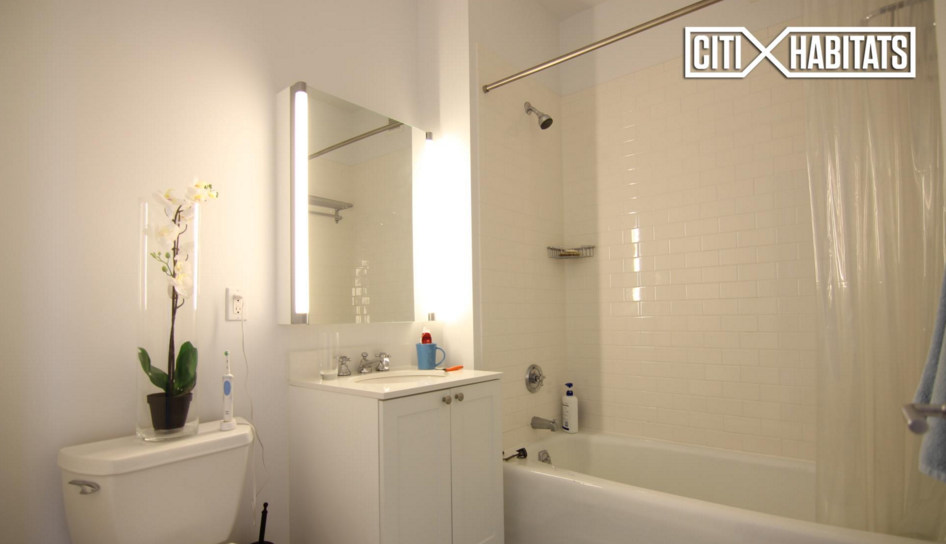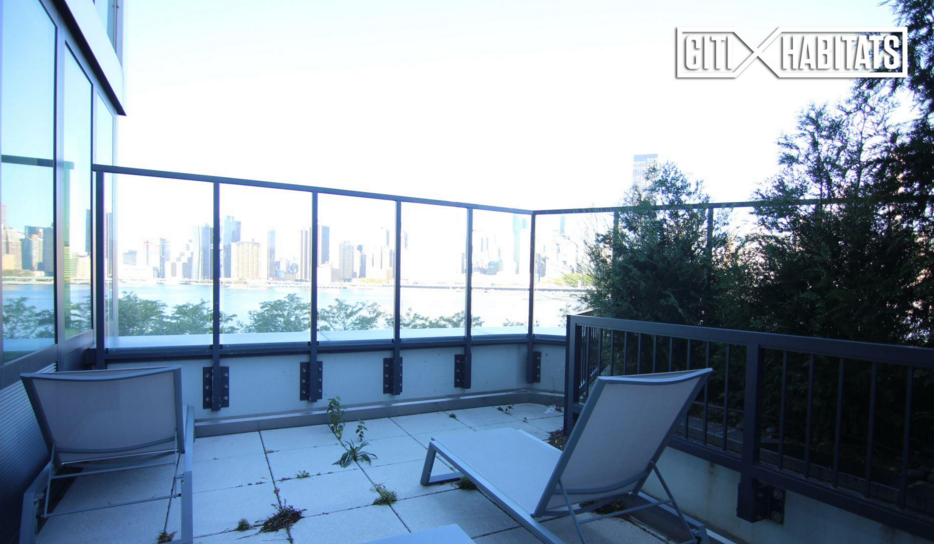 Pros and cons:
"I wouldn't call this apartment 'charming' but that doesn't mean I don't like it. This is classic Hunters Point: modern (some could even say a little cold) and luxe, with easy access to amenities. The fact that there are two full bathrooms is a nice perk, but of course the biggest perk of all is that deck with a view. It's not the snazziest deck we've ever seen, but it'll certainly do." —Lucy
"You've got thoughtful design and finishes, a washer and dryer in the unit, balcony, and southern exposure. But the listing doesn't [show] square footage. What is up with brokers treating square footage like it's some sort of state secret? Also, LIC has proximity to Manhattan, but the neighborhood isn't there yet." —Constantine
"You had me at hello with this apartment's private furnished terrace boasting glorious views of the Manhattan skyline and East River. True, this is a second-floor apartment but it's worth any street noise you might hear while sipping your coffee in the early morning hours. And just think of all the selfies you can take in front of Long Island City's iconic Pepsi-Cola sign just steps from your new pad." —Lambeth
Who this apartment would be perfect for:
"A couple with a baby who want the conveniences of living in a large building. I have to assume a lot of the neighbors have kids, too, so: built-in playdates." —Lucy
"Someone who prefers views of Manhattan to actually being in Manhattan. Or someone who prefers to have amenities in the building rather than in the surrounding neighborhood." —Constantine
"A Manhattanite ready to give Long Island City a try. This place might also appeal to you if you're living solo and working from home thanks to the nice-sized second bathroom." —Lambeth
The verdict(s):
TAKE IT: "It's pricey for the neighborhood, but for this particular style apartment in this type of building, I can't see you doing much better than this price." —Lucy
LEAVE IT: "For that price, one could live in a slightly smaller, less renovated unit in a charming neighborhood of the city." —Constantine
TAKE IT: "Provided you can stay zen during routine 7 train shutdowns." —Lambeth