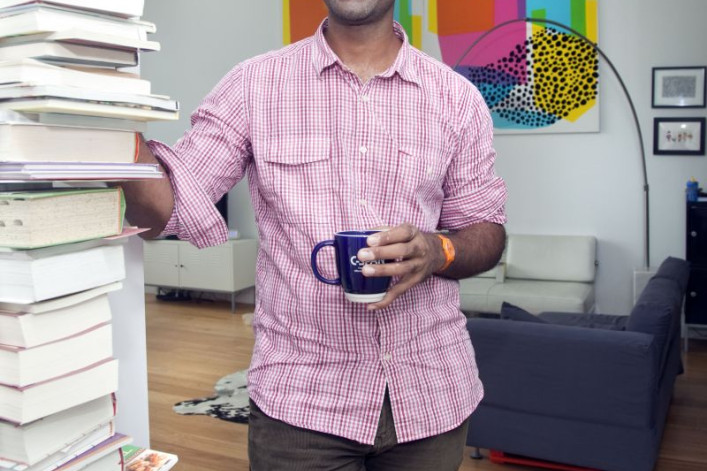 LICNYC is a blog about arts, culture, restaurants, real estate and life in Long Island City. Founder/blogger Amol Sarva--a Stuyvesant High School graduate with a Ph.D. in philosophy from Stanford--is a tech entrepreneur who leads Peek and was a founder of Virgin Mobile USA. 
Sarva was born in Queens, raised in Little Neck and lived in San Francisco and Paris before settling in Long Island CIty in 2001. He is no stranger to real estate. He built East of East, a 13-loft residential building in Long Island City dubbed  "the most important new building in the borough" by New York Daily News in 2010.
LICNYC started in 2002, around the beginning of the real estate boom for the neighborhood. The only hotspots were PS1 and a few local shops like Sage. His blog gets over 10,000 unique visitors per month.
Long Island City is a quick and easy commute to Manhattan, and the mix of artists and finance-types populating the nabe make the demographic a little hard to pin down. Luckily there are neighborhood bloggers for this!  We asked Sarva to give us the inside scoop on Long Island City.
1. What would you tell someone moving in? 
LIC is great and changing fast. History is artists and industry. Present is increasingly professionals that work in Midtown but hail from the Island or Queens. Future is going to be lots of little kids crawling these streets. Be ready.

2. Where are the best deals in the neighborhood in terms of real estate? What about in terms of dining/entertainment? 
Best deals are some of the really large three-bedroom apartments in Arris or L Haus. There was some overpricing when those buildings first came on the market and re-sales on them have been soft. Rental is tight though. Very tight, expensive, high quality stuff.

Food is cheap and pretty good diversity. The best "deal" is probably Italian. Manducatis Rustica, Manettas and Bella Via (easily A-list Italian a la Italy and not expensive.)

3. What's your favorite location within the neighborhood to live?
Right near PS1. Views, not built up into a yuppie palace, best subways, and more arty than the waterfront which is the other center of gravity.

4. Do you have a dream building?
East of East…for obvious reasons (I built it).

5. Any buildings that feel out of place with the feel of the neighborhood?
No. I'm pro development. But the waterfront stuff is awfully dull considering how much money is available to build good stuff in those development budgets

6. Any real estate related controversy brewing or currently happening in your neighborhood?
They are ongoing. But the townies (Kenny Neon...) have essentially lost. Which means the old-timer LICers are basically few and their complaints are increasingly drowned out by all the fast, loud, rich new folks crawling around in search of lattes and private schools.

7. How has the neighborhood changed in the past 5 years? How do you think it'll change in the next 5?
Massive change and it is continuing fast. The post-recession construction has now started in earnest -- there are several big new projects underway. LIC will look like a hybrid of Battery Park City and Downtown Brooklyn before long.

8. What do you think your "sister" neighborhood might be?
There is no sister neighborhood. LIC is an industrial site of new buildings/projects/megadevelopments. It is NOT the home of lots of old apartment buildings, so it has no "feel" like all the other ethnic and neighborhoodie parts of town.

9. Which neighborhood feels like the opposite of your neighborhood?
Too many ways to be opposite.  But it's not as "youth" themed as Williamsburg and it's not as old-timer as UES. It's Queens, so it's not establishment or revolutionary. It's outsiders to that culture war.

10. Would you stay in this neighborhood forever if you could?
Maybe. Depends on how it goes. This isn't a timeless neighborhood anymore, like Brooklyn Heights might be or the West Village, frozen in a certain rhythm. It's changing fast. I hope it doesn't end up like Battery Park or Hell's Kitchen or Trump's Far Upper West Side. All hellish areas to live.

11. If not, where would you want to go?
The Bronx. Hunts Point. Because is seems like the undiscovered country. 

12.   What is one of the biggest misconceptions about the neighborhood?
Something about being in "Long Island". It's kind of an IQ test.
---
See all Confessions of a Neighborhood Blogger
Related posts:
Brick Underground articles occasionally include the expertise of, or information about, advertising partners when relevant to the story. We will never promote an advertiser's product without making the relationship clear to our readers.