Ask a Renters Rights Lawyer
Ask Sam: What is a 'Frankenstein' apartment and is it legal?
New rules abolish 'first rent' for newly combined or reconfigured rent-stabilized apartments
Changes to the law remove the incentive for landlords to create Frankenstein units to raise rents
Owners can now charge the combined rent for the two units, with a limited increase for upgrades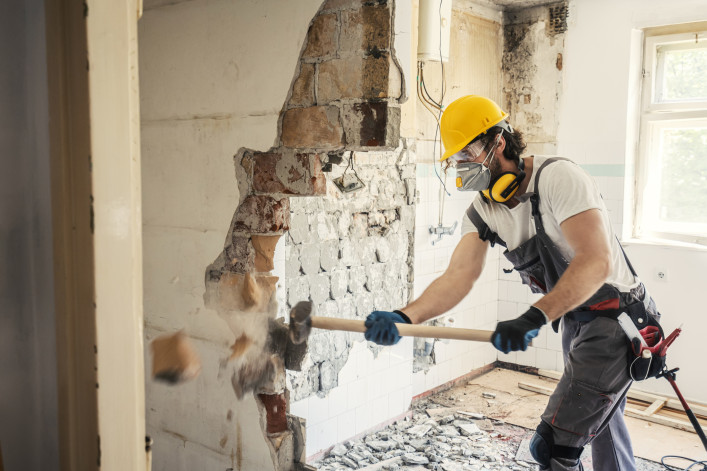 I've heard that landlords can dramatically hike the rent on stabilized apartments by combining or dividing them. How does this work, and is it legal?
Until very recently, there was a longstanding loophole for landlords of stabilized units that allowed them to raise the rent, often by a very large amount, by combining or chopping up existing units and turning them into so-called "Frankenstein apartments," says Sam Himmelstein, an attorney at Himmelstein, McConnell, Gribben & Joseph who represents residential and commercial tenants and tenant associations.
However, last month the state Division of Housing and Community Renewal effectively eliminated this loophole by issuing new regulations, a change that is expected to discourage landlords from combining or dividing rent stabilized units in the future.
What is a 'Frankenstein' apartment?
First, some background on Frankenstein apartments: From 1993 to 2019, landlords were able to remove apartments from rent stabilization through a combination of vacancy increases—the rent would go up when new tenants moved in—and apartment improvements— rent increases proportional to the cost of documented, significant renovations to the apartment. Through these increases, landlords eventually raised the rent over the stabilization threshold, and could make the apartment market-rate.
The Housing Stability and Tenant Protection Act (HSTPA) of 2019 did away with these practices, making it much more difficult for landlords to remove apartments from rent stabilization or raise rents.
The loophole for landlords
But one loophole remained: "If a landlord significantly altered the apartment, by combining two apartments, for instance, or chopping up an existing one into smaller units, they could charge whatever they want as the 'first rent,'" Himmelstein explains. "Under the HSTPA, the apartment would still be rent-stabilized, but the new rent would be whatever a new tenant is willing to pay."
The ability of landlords to create "Frankenstein" apartments out of stabilized units was a longstanding policy of the state Division of Housing and Community Renewal, from before vacancy deregulation was legal.
"The DHCR held that if the landlord in effect created a new apartment by combining or dividing apartments and substantially altering its outer perimeter, that apartment technically never existed before, and the landlord could set what is known as first rent," Himmelstein says. "That rent was potentially whatever the market would bear."
These apartments would remain rent stabilized, but at a much higher rent.
No more 'first rent'
Now, however, new measures abolish the "first rent" rule. In its place are "more complicated—and more tenant-favorable—rules as to how rents are calculated when the outer dimensions of a unit are changed, or two units are combined, with the newly-created apartment always remaining under rent stabilization," says Ronald Languedoc, an attorney at HMGJ.
If a landlord combines two rent-stabilized units, for instance, they can only charge the combined legal rent for the two previous apartments, along with limited increases for improvements they made. Similarly, when a landlord chops up a stabilized apartment, the new rent must be equal to the percentage decrease of the space, plus other applicable increases for improvements.
These changes to the law remove the incentive for landlords to create Frankenstein apartments, as undertaking such renovations will not allow for charging much higher rents.
New York State Legislature has passed a similar measure, which will provide another layer of protection to tenants if it is signed into law by Governor Kathy Hochul, but as of now it is unclear whether she will sign.
"This was one of their last ways of significantly raising the rent on rent-stabilized apartments," Himmelstein says. "Other than doing a demolition or something drastic like that, there are not that many options anymore."
Related: 
Ask Sam: I checked my apartment's rent history and I think it was illegally destabilized. What do I do? (sponsored)
Ask Sam: How do I find out if my apartment should be rent-stabilized--and the landlord owes me money? (sponsored)
Ask Sam: My landlord claims I'm not rent-stabilized because a J-51 subsidy expired before I moved in. Is this true? (sponsored)
Read all our Ask a Renters Rights Lawyer columns here.
---
Sam Himmelstein, Esq. represents NYC tenants and tenant associations in disputes over evictions, rent increases, rental conversions, rent stabilization law, lease buyouts, and many other issues. He is a partner at Himmelstein, McConnell, Gribben & Joseph in Manhattan. To submit a question for this column, click here. To ask about a legal consultation, email Sam or call (212) 349-3000.
Brick Underground articles occasionally include the expertise of, or information about, advertising partners when relevant to the story. We will never promote an advertiser's product without making the relationship clear to our readers.