Roommates + Landlords
Renewing your NYC lease and getting new roommates? You may have to shell out another broker fee
If you renew your lease with new roommates, some brokers consider it a new lease and collect a fee
Renters say that NYC landlords are also requesting renewal fees of $200-$250 per person
Not adding a new roommate to a lease will avoid a broker fee, but there are some risks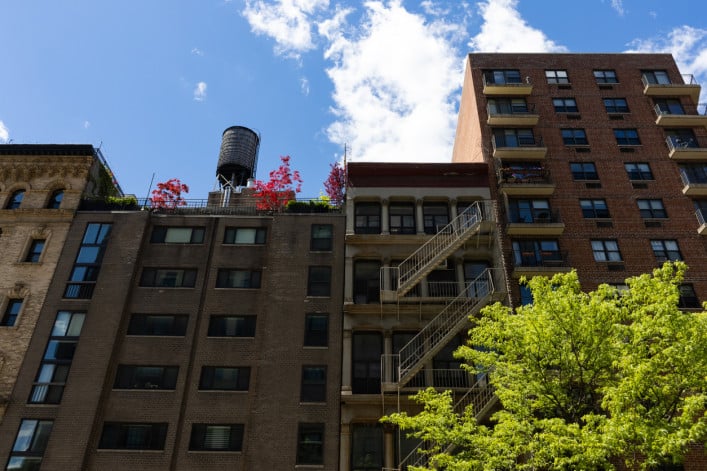 For many renters who work with an agent to find an apartment in New York City, once the lease is signed and the broker fee is paid, they part ways and the interaction ends. When that lease is up for renewal, the ensuing discussion is between the landlord or management company and the tenant—no broker involved.
But when the lease in question is for a large apartment with multiple bedrooms and some roommates are moving out and new roommates are moving in—a very typical scenario in NYC—it appears to be an entirely different situation. Renters say they are being asked to pay lease renewal fees to the landlord and broker fees to the agent—as if is a renewal and a new lease at the same time. Some brokers and a landlord that Brick spoke to say these fees are reasonable.
Coincidentally, whether it is the responsibility of the tenant or the landlord to pay the broker fee is once again the subject of new legislation. In June, NYC Council Member Chi Ossé introduced the Fairness in Apartment Rental Expenses (FARE) Act, which if it passes would put the burden of paying the broker fee on the person who hires the broker. If a landlord hires an agent to show an apartment, the landlord pays the broker fee, and if the renter does the hiring, then the renter pays. Of course, this has been attempted before.
A 7 percent fee broker fee
If you're not prepared to pony up for a broker fee, it can come as a shock. That's the case for a renter who recently reached out to Brick—let's call him Rick. Rick is about to become a new roommate in a four-bedroom apartment where the lease is up for renewal. The agent involved in securing the original lease is requesting a 7 percent broker fee for handling the renewal. (Broker fees for new leases are typically 12-15 percent of the total rent.)
Here are more details about this situation: Three of the original tenants in the apartment moved out at the end of the lease term and are being replaced by three new ones, including him. All three new renters were approved by the landlord and signed the new lease. In addition, the original tenant paid a "$200 renewal fee" to the landlord.
Now for the agent and that broker fee: "He says if we do not pay the fee, he will take us off the lease and find new tenants," Rick writes, asking in a query to Brick, "is this legal?"
Fearful of saying 'no'
To be clear, the agent didn't just pop up one year later to demand a fee, he seems to be actively managing the renewal process. The agent is acting as the go-between the tenants and their landlord to get the lease signed.
"We are awaiting the broker to have [the new lease] signed by the landlord," Rick says.
Rick doesn't think he and his roommates can say no to the fee. "The rent is very good, so we would expect the broker could find tenants to replace us quickly, if he tried," he says.
Brokers sound off
After featuring Rick's situation in Brick Underground's bi-weekly newsletter, brokers had plenty to say. The consensus was that fees for lease renewals are not a thing, but to Thomas Hollingsworth, a broker at Thrive Real Estate, "this isn't a lease renewal."
"When I was a tenant and I moved into my roommate's rent-stabilized apartment, putting me on the lease meant that it was technically a brand-new lease, and the landlord could raise the rent as part of a new lease agreement. We ended up not adding me to the lease," he says. (More on that workaround below).
"If the broker had to run the applications for the three new tenants and spent years cultivating a relationship with the landlord, should they be doing the work for free?" comments one broker, who requested anonymity. "I do believe landlords should be responsible for all fees, even though they will be passed on to tenants."
Emmanuel Jeanty, an agent at Ivey North, says he has never heard of tenants having to pay a renewal fee or broker fee for a renewal.
"Agents like this give other honest working agents like myself a bad rep…I think that there are some blurred lines here and the agent took advantage of the fact that the tenants were not aware," he says.
TC, an agent, who asked to be referred to by their initials, also says they never heard of fees for a lease renewal.
"Under what authority does the broker have the ability to take anyone off of a lease?" they say.
A Brooklyn property owner also responded and asked to remain anonymous. He also asserts that this scenario is not really a lease renewal.
To him, the fact that there was one old tenant and three new tenants signaled a problem. The "remaining roommate may have not ready or capable to find new roommates…He may have also been a deterrent when the broker needed access to show the unit." He adds, "the fee is more than fair." 
Understanding how leases work
New renters are not always aware that a lease is a contract between a tenant and a landlord, and it requires two signatures.
"Without a signature from the landlord, there is no valid contract," explains Ellen Davidson, a staff attorney at The Legal Aid Society. "So, it's not that the broker is threatening to take the tenants off the lease, currently there is no lease."
Holding up the landlord's signature in order to collect a fee, which appears to be happening here, does not break any laws for a market-rate apartment, she says. "It's an unregulated apartment and so the landlord did not have to offer a renewal lease." The landlord is also free to raise the rent as high as they see fit.
And "there are no laws regulating how much or how often brokers can charge tenants," she says.
But that doesn't make this any more palatable to her.
If the remaining original tenant found three new roommates, Davidson says, then "the broker has done nothing other than perhaps running a $25 credit report on these new tenants. And yet he is demanding thousands of dollars in payment for almost no work," she says.
"It's stories like these that support the need for regulation of this business model," Davidson adds. 
A common complaint from renters
Allia Mohamed, CEO of rental listings and building review platform openigloo, says broker fees for new roommates are common in today's competitive rental market. (In 2019, when Brick wrote about them, brokers said they were unusual.)
Lots of renters comment on broker fees for new roommates in their reviews, Mohamed says. Also common are lease renewal fees, for example a condo building in Union Square that charges a lease renewal fee of $250 per person.
To her, Rick's situation indicates the agent has an exclusive with the building, so all rentals go through this agent, and her take is that the agent helped find the roommates. In addition, "this sounds like expiration of a lease and the beginning of a new lease."
And finally, she says it's possible this is a rent-stabilized apartment. There's no law against charging a high broker fee for one of these coveted apartments. Most notoriously, last summer a Manhattan renter was asked to pay a $10,000 broker fee for a rent-stabilized apartment listed for $2,250 a month, Hell Gate reported.
When new roommates are not on a lease
Renters should be aware there is a workaround to renewal fees, she says: Renters can find their own new roommates and not add them to the new lease, in which case it could be considered a more straightforward renewal for the original renter.
Under section 235-f of New York's Real Property Law, known as the roommate law, renters in both market-rate and rent-stabilized apartments are allowed to have one unrelated roommate in addition to immediate family.
This wouldn't apply in Rick's case (too many unrelated roommates) but it could be an option if one tenant needed a roommate for a two-bedroom, or two roommates need two additional roommates, and so on.
Of course, tenants without a lease lack some important protections and can be kicked out more easily. And the renter who is on the lease is on the hook for all of the rent if the roommate leaves.
"A lot of renters are not comfortable with that, they don't want to be responsible for the entire rent," Mohamed says.
Not every landlord requests a renewal fee, or has agents attached to the property, but many do. Renewal fees "are very unsettling but not surprising considering that brokers are the gatekeepers," she adds, calling the fees "opportunistic."
It's also not a good way to start a new tenant-landlord relationship with the feeling that you are being taken advantage of, Mohamed says. She adds the new FARE Act would help reduce renters' frustration and confusion while still enabling agents to get paid for their work.
Brick Underground articles occasionally include the expertise of, or information about, advertising partners when relevant to the story. We will never promote an advertiser's product without making the relationship clear to our readers.