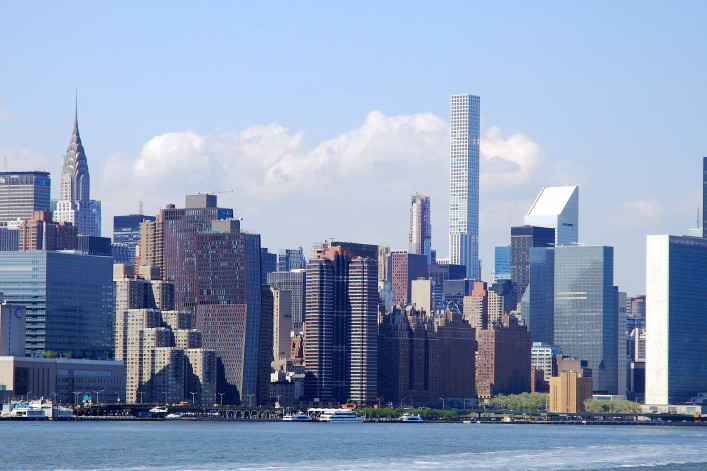 It's been a couple of good years for renters looking for concessions from landlords, such as when the owner agrees to pay the broker's fee, offers one or two months free rent, or throws in building amenities that normally cost extra.
In April, a Douglas Elliman rental market report showed that about half of all apartments in Manhattan, Brooklyn, and Queens were renting with some sort of concession. This had been a trend for more than a year, and it's true at least if you're in the higher end of the market, particularly when looking at new developments. The cause, according to report author Jonathan Miller, president of the appraisal firm Miller Samuel, is a glut of fancy apartments left by a post-recession construction boom that has created more of those units than there is demand for, while failing to offer much in the way of ordinary housing.
(You can hear more of what Miller has to say about concessions in our Brick Underground podcast with him from earlier this year.)
But by Douglas Elliman's May report, this trend had begun to cool, even though concessions are still up from over a year ago in all three boroughs. This is because there's been an influx of new renters in New York City as would-be buyers are putting the brakes on purchasing and opting to lease apartments instead. And that increase in demand is releasing some of the pressure on landlords to offer deals.
Still, concessions remain a strong factor in the market: Manhattan saw the 36th consecutive month with a year-over-year rise in concession market share.
Concession basics
Unfortunately, if you're searching for affordable or even mid-range housing, you're likely still not getting many deals since those apartments have the highest demand. But that doesn't mean deals aren't still out there for you.
For a primer on concessions, check out our How to Rent guide. You'll find out which months are the best for negotiating, and learn the difference between "gross rent" and "net effective rent." Find out which areas are offering the most concessions, and what you can expect to receive (or at least ask for). Just remember that summer is the peak season for rentals, when landlords can command their highest prices without having to give up much. 
Always negotiate
Even though the market is leveling off as we move into summer, you should still negotiate to get a better deal. Read our piece with tips on how to negotiate your rent. It's from last summer, but could still apply to 2018 since concessions remain strong.
In fact, a January report from The Real Deal found that concessions alone weren't cutting it, and landlords finally started to do what they try to avoid: actually lower rents. While median rents in Manhattan dipped for a while, they've started to rise again, but they're only slightly over what they were a year ago. Median rents continued to decrease in Brooklyn and Queens. Overall, listing inventory was down double digits in Manhattan and Brooklyn, year over year, and up slightly (1.5 percent) for Queens.
The market effect
Curious about how concessions affect the overall market? Read why landlords prefer them to lowering the rent, which—you guessed it—keeps face rents, or the "gross rent" higher. What does this mean? If your lease says the rent is $3,000 a month, but a two-month concession brings the net effective rent down to $2,500, be prepared to pay at least $3,000 in year two, if not more, since your gross rent is what any increase will be based on. This is just one of the downsides of rental concessions, so be sure to read the fine print on your lease.
Brick Underground articles occasionally include the expertise of, or information about, advertising partners when relevant to the story. We will never promote an advertiser's product without making the relationship clear to our readers.