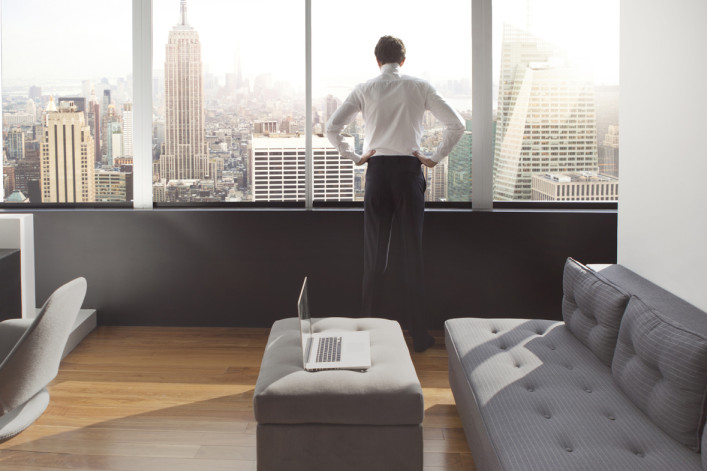 Landlords are offering bigger deals on rent for high-end apartments as rates for the rest continue to climb, according to a new market research report by Douglas Elliman.
The phenomenon is a continuation of a several-year-long trend. The cause, according to report author Jonathan Miller, is a glut of fancy apartments left by a post-recession construction boom that has created more of those units than there is demand for, while failing to offer much in the way of ordinary housing.
In Brooklyn this month, landlord concessions—deals that building owners offer short of dropping the actual rent, such as a giving the first two months free—are at 1.4 months, the highest level since Miller started tracking them seven years ago. Owners don't like to drop the actual rent rate, as it affects their ability to rent at the higher rate going forward, but the average concession offered on new leases across Brooklyn, northwest Queens, and Manhattan, was 1.3 months free, up from 1.2 months this time last year.
The median new lease price was unchanged, at $3,450, but the median net effective rent—what the rent comes out to when you factor in concession discounts—was actually down, to $3,350, a drop of 1.9 percent from last year. Miller says this drop is thanks to deals doled out at the high end. 
As evidence, he points to the fact that the actual median rent for Manhattan doorman buildings, not even including the substantial landlord-offered discounts, has actually dropped slightly since this time last year, from $3,899 to $3,875. Non-doorman buildings, though, have continued to inch up, from $2,932 to $3,000.
"It's been doing that for a couple of years," Miller says. "The price growth is higher in the lower end of the market, and that's because the lower end didn't get any new units. We have population growth and job growth in the city, but the housing growth didn't go to the high end."
Miller predicts that actual luxury rents are on the verge of dropping in actual terms, saying that despite the increases in concessions, such deals are only sustainable to a point. 
He explains: "What's happening is that the concessions for about the last 10 months have been unusually high, but they're not steadily climbing. They're just bumping along and occasionally they'll bump enough to set a record. It's not this upward trajectory. I think the reason for that is that where they're sitting is this threshold where, if it's higher than that, then the tenants are concerned that if the concessions are removed [when it comes time for lease] renewal, they won't be able to afford the apartment."
What this means if you're trying to rent now
If you're looking in doorman and other luxury buildings, now is probably a good time to make a concerted effort to negotiate your rent. For more on how to go about that, check out our handy guide. And if you can hold off, it's possible that choice rentals will be renting for less in a few months, when the slower late-fall/beginning-of-winter season begins.
But if $3,900 is out of your price range, you're not alone: the city's homeless shelter population is at a record 60,000, more than half of New Yorkers spend more than 30 percent of their income on rent, and wages have stagnated since the recession, only showing signs of picking up starting last year.
"Ironically, incomes aren't growing proportionally" to the increases in rents, Miller says. "They don't align with this. That's the affordability challenge that we're facing in all the cities I cover."
If you're looking to rent a no-frills apartment, it couldn't hurt to try to negotiate a rent break using the tactics in our guide, but know that there are a lot of people lined up behind you, so owners are not in the most generous frame of mind.
Avoiding the dreaded broker fee may help ease the pain, though. You can try to do this using the sites and methods laid out in our guide to finding a no-fee apartment in New York City, which is here.
Looking for luxury? Try Queens
Miller's data tracks new leases, which he says represent about a third of lease activity in the city. Renewal lease data is not readily available, so in neighborhoods with lots of new developments, the numbers can skew high because they represent a load of apartments in glassy towers all coming on the market at once. There is a lot of such activity in Long Island City, which is included in Miller's northwest Queens analysis along with Astoria, Woodside, and Sunnyside.  
That said, the new apartments and new leases in that region seem to be doing gangbusters for landlords, as the median rent for new leases there is now $2,998, $203 more than in Brooklyn, where there is no shortage of new development.
The takeaway there: Northwest Queens has a lot in the way of high-end options, but for lower rents, you may want to look elsewhere.
Brick Underground articles occasionally include the expertise of, or information about, advertising partners when relevant to the story. We will never promote an advertiser's product without making the relationship clear to our readers.