Longtime New Yorkers may sneer at the out-of-towners who congregate in Midtown locations like Times Square and Rockefeller Center, selfie stick in hand, but the Instagram accounts of locals and tourists alike reveal that both groups tend to find the same Manhattan spots worthy of their attention. Gothamist reports on a new study that collected millions of public, geotagged Instagram images to analyze the most photographed spots of the city, and found that both visitors and New Yorkers tend to visit the same well-trod sites over and over. 
The study, a project of the CUNY Graduate Center, is dubbed Inequaligram, and it paints a portrait of a city where a relatively small portion of space is considered worthy of people's attention. Seven million-plus pictures posted to Instagram create a map of neighborhoods that are "social media rich" and "social media poor," and as the study's authors write, "the inequality of Instagram images by locals turns out to be bigger than inequalities in levels of income, rent, and unemployment." 
Lev Manovich, the principal author of the study and a computer science professor who leads the Graduate Center's doctoral faculty in digital humanities research, says that Inequaligram can be considered an addition to existing research on inequality. "This is a way of mapping attention," he explains. The project began after he previously conducted research for On Broadway, a New York Public Library installation that compiled images along the 13 miles of the thoroughfare, which brought to his attention the disproportionate amount of images taken in specific areas. 
"I noticed an extreme difference between the amount of social media shared in Midtown and up to the end of Central Park. And then after that, there was almost nothing," Manovich says. "The difference was so big—I was struck by it." 
He decided to examine the discrepancies more closely, and the study shows that indeed, the distribution of images of Manhattan shared on social media is concentrated in certain regions—for tourists and locals. For both groups, Times Square, Rockefeller Center, Central Park South, Chelsea Market, and the corner of 59th Street and Madison Avenue were among the top ten most photographed locations. Locals diverged from visitors in taking snaps of Union Square, Cooper Square, and the corner of Bleecker and Lafayette—though those sites are not exactly under the radar, either. 
Another area of overlap for the two demographics is the scarcity of images of Upper Manhattan. Locals venture further downtown than tourists, but both groups seldom take photographs of the neighborhoods above 110th Street, even though, from the Apollo Theater to the Cloisters, there's hardly a dearth of interesting attractions there.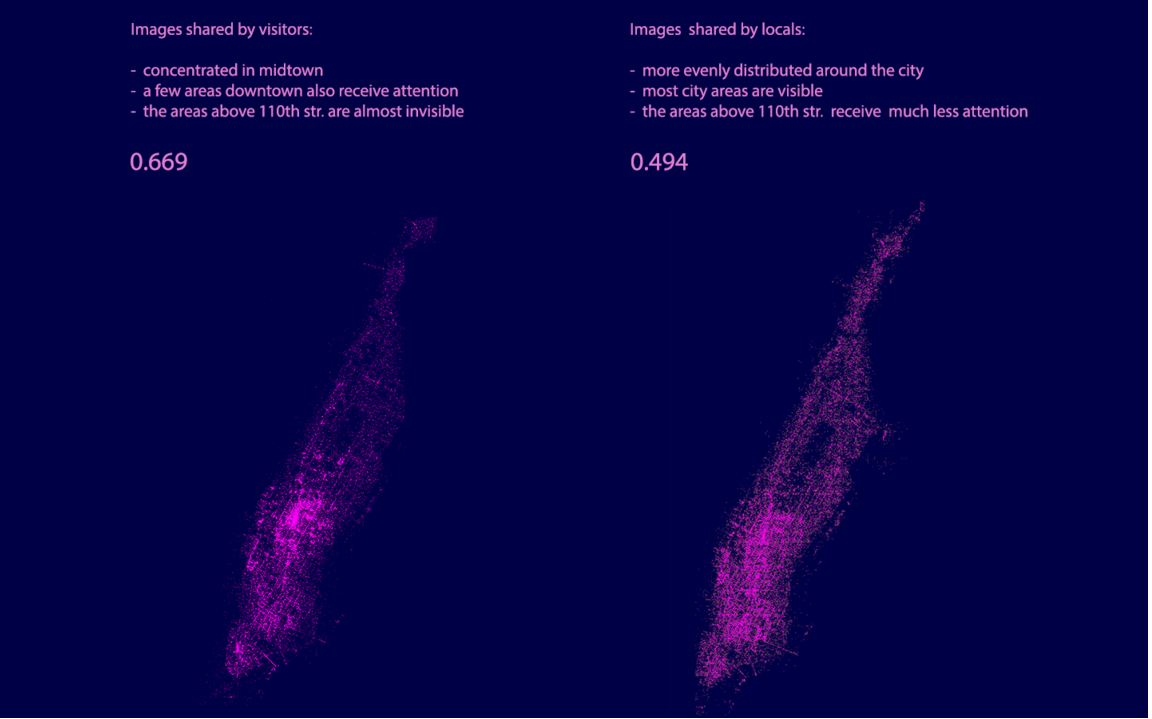 To be fair, Manovich points out that some of this can be attributed to people's daily routines: "During the day, people leave less affluent areas and go to work downtown and Midtown where businesses are," he says. "The spike in Instagram photos could be from a combination of people who live in those neighborhoods, tourists, and people who work there." 
The study also tracks the photos taken at different times of the day and reveals that lower-income (and under-photographed) areas uptown like East Harlem and Washington Heights get more attention during the evening hours, presumably when residents are returning home from work; but even then, no locations above 59th Street crack the top ten most Instagrammed spots. In fact, Manovich and the co-authors discovered that 50 percent of all images that get shared by locals are taken in only 21 percent of the city, while half of tourists' snapshots originate in areas that makes up only 12 percent of New York. 
This glimpse into which places New Yorkers and visitors consider worthwhile and photogenic—and which they don't—may reveal some implicit biases about the neighborhoods of the city. And there is a correlation between less frequently photographed neighborhoods and lower-income neighborhoods. In fact, Instagram inequality is significantly more pronounced than economic inequality, the study found.  
Manovich says that part of the problem has to do with which areas have been "put on the map" by city government and tourism agencies. "Thirty years ago, there was no NoLiTa," he says. "When they start to brand different neighborhoods, people start to go there." 
He adds that he would be interested to see how the data changes over a number of years; upper Manhattan is being gentrified in many areas, the study notes, and even within the five-month period data was collected, there was an elevated number of images shared of some corners uptown.
For now, it's clear that if you really want to appear like a savvy native New Yorker and stand out from the hordes of tourists, you should take your Instagramming further north. 
Brick Underground articles occasionally include the expertise of, or information about, advertising partners when relevant to the story. We will never promote an advertiser's product without making the relationship clear to our readers.