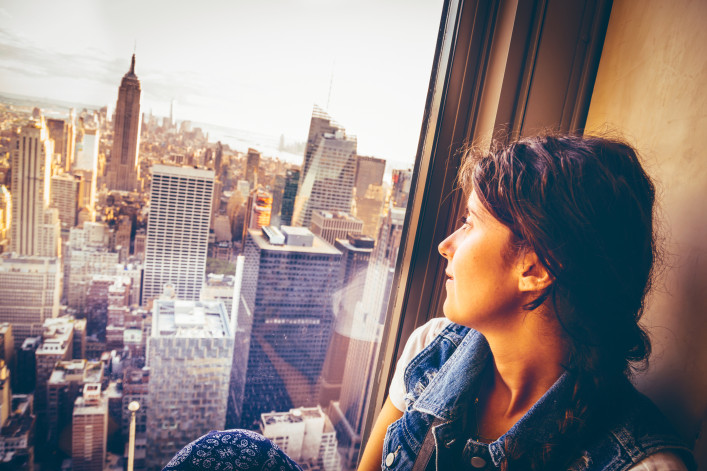 Something rather amazing is happening in the New York City rental market this summer: Landlords are willing to negotiate.
"Landlords have definitely been more accommodating to renters this summer than they have in the past," says Douglas Wagner, director of BOND. While much of the extra inventory is actually at the luxury end of the market, a lot of consumers are seeing news of oversupply and expecting it to trickle down to the middle of the market. In some cases, says Wagner, it has.
So how should you take advantage of this rare occurrence in New York City real estate in which renters may actually have the upper hand? Read on below:
Ask for a realistic price drop
While all of our experts say it's worth asking for some sort of discount on an apartment's original asking rent, you want to make sure your request doesn't offend the landlord (or hurt your chances of actually getting a little bit sliced off the top). "How much you ask for depends on the price of the apartment," says Kobi Lahav of Mdrn. Residential. "For a $2,500 one-bedroom, for example, you can ask about 5 percent off, but if you're looking for $9,000 or $10,000 apartments, I've seen landlords give more than 10 percent off those," he says.
Plus, says Wagner, "don't necessarily assume that if a landlord says no to your first offer, you can't try for another slightly higher one." 
Think beyond monthly rent
Lahav recently worked with a client who rented an apartment in SoHo for $10,000 a month and negotiated with the landlord to get two months' free rent. "The whole building is available for rent, and the market in SoHo is suffering for the first time in a long time," says Lahav. As such, the landlord has a strong incentive to offer something more to the renter. And by offering two months' free instead of a reduction of the monthly rent, the landlord can still go forward with any desired rent increases based on the original asking rent, and other interested renters won't see rental price cuts in the building when they search on StreetEasy or elsewhere. 
Jason Burke, an agent with Citi Habitats,  who says it's always worth trying to negotiate, advises clients to consider negotiating on things other than rent—like lease length, the move-in date, the 15 percent broker's fee, and typically paid-for amenities the landlord may be willing to throw in for free (e.g. use of a gym or pool).
"Don't go straight to the money—see what you want most and let your broker work on that for you," he says. Burke points out that brokers who have relationships with landlords can help in this case.
Pro Tip:
Pocketing a free month's rent is a hollow victory if you have to choose between overpaying or moving when your lease is up. For expert help finding buildings offering the most valuable concessions, negotiating with landlords and leasing agents, and generally getting the best possible deal, put your search into the smart and capable hands at Triplemint. A tech-savvy real estate brokerage founded by a pair of Yale grads in response to the frustrating apartment-search experiences of classmates and colleagues, Triplemint will charge a broker's fee of 10 percent of a year's rent on open listings instead of the usual 12 to 15 percent if you sign up here.  Bonus: The agents at Triplemint are delightful to deal with.  
A closer move-in date can be a real sweetener for landlords, says Wagner. "They may be able to give a little on the price if the move-in date is soon," he says. "No landlord wants an empty apartment, and they're probably even willing to negotiate a little on the rental price so that the apartment's not just sitting there making them no money at all."
He added, "The thing I see not working out is starting with an aggressively low offer and wanting to wait a month to move in. Those negotiations don't get off the ground."
Also, adds Lahav, "cementing these good deals for a longer period of time—a two-year lease rather than a one-year lease or a 16-month lease so you don't find yourself looking for an apartment next year during peak season— is also worth negotiating. There are good deals out there now. Lock them in."
Gauge the landlord's position
You can often tell in advance just how open a landlord will be to negotiating on price—and how low they'll be willing to go—by seeing how many vacant apartments they have in their building. If they have a lot of apartments standing on the market, not making them any money at all, you're in a better negotiating position. 
The flip side of that is true, too, says Mdrn.'s Lahav: "If there's only one apartment available, changes of negotiating are slim."
"A long time on the market is a sign that they may be willing to negotiate," says BOND's Wagner. "Location is also important. Some places like Midtown West and the Upper East Side have apartments that have been sitting on the market for a while."
Build yourself a strong case
"If you're going to use a guarantor, be realistic about their financial qualifications, their location... also, make sure they know in advance that you've listed them as a guarantor. It seems obvious, but trust me, it isn't always," says Wagner. Note: Guarantors usually need to be from the tri-state area and make 80 times the monthly rent. If you don't have someone like that, you may want to turn to an institutional guarantor like Brick sponsor Insurent.
But the main goal, whether or not you're using a guarantor, is to show your financial strength. "You can't negotiate if you're not qualified," says Citi Habitats' Burke. Having a qualified rental candidate who will pay on time, be able to stay in the apartment after the lease is over—and likely handle a rent increase—is more valuable to the landlord than a couple of hundred dollars a month, he says.
To put yourself in the best negotiating position as possible, you want to take the landlord's risk away, explains Wagner. "Sometimes you might even want to offer putting a couple of month's rent down at once." (Note: It's illegal for a landlord in a rent-stabilized unit to accept this.) "But surely have all your documents in order; coming to the party prepared is most of it," he says."Let the landlord see who they're negotiating with."
Brick Underground articles occasionally include the expertise of, or information about, advertising partners when relevant to the story. We will never promote an advertiser's product without making the relationship clear to our readers.