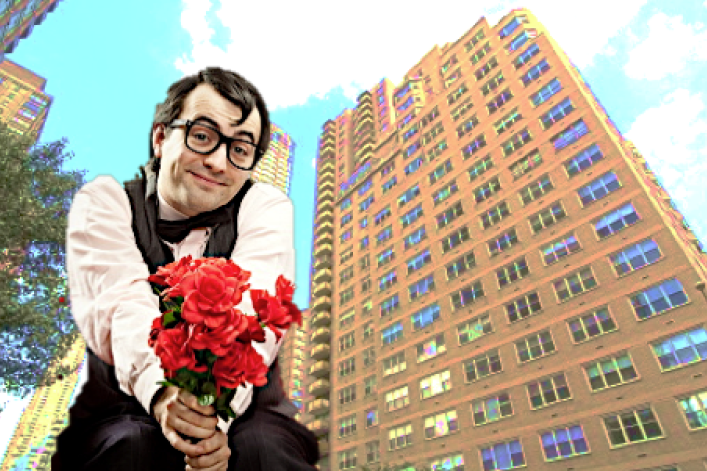 Despite the shaky economy and high unemployment rate, the spring and summer months saw the NYC rental market at its strongest (read: most expensive) in a long time, giving landlords the upper hand in negotiation of new leases and renewal of old ones.
But fall and winter months are typically slower--which means if your lease is up for renewal, landlords can be a little more willing to work with you. While you shouldn't expect the deep discounts or concessions of years past, it's always worth giving negotiation a try, especially if you've always paid your rent on time and have not been a troublesome tenant.
First, a few tips:
Build your case by researching apartments like yours (in your building and beyond) renting for less than yours on sites like StreetEasy.  (Note that the prices you see there are asking rents, which can be higher or lower than the rent actually received.)
Remember that, as one landlord bluntly explains to a tenant interviewed below, it doesn't matter very much what other people in your building are paying for a similar apartment. What matters is the current marketplace: How much are apartments like yours commanding right now? 
If your lease is up for renewal during the slow winter months, offer to sign a lease that gives the landlord the opportunity to put the apartment back on during the busy summer months (e.g., a 16 month lease instead of a year), when apartments typically rent fastest and for the most money.
Think ahead: When you renegotiate your lease, see if you can get an option to renew with an escalation clause giving you the right to renew at terms you agree to now—typically, at a 3-5% increase.
Always try to get the landlord to give you a two-year lease if you think you want to stay.
Now, some New York City residents' recent experiences:
1. One Upper East Side resident was faced with a $200 per month rent increase for her two-bedroom apartment in a large rental building in July. It was the third one-year lease she signed with the building, and the highest rent increase to date. She successfully negotiated a bit with the management company:
"We went back and forth. I told them all the reasons I thought it was ridiculous -- namely that other apartments in the building were slightly cheaper, we'd always paid our rent on time, and they had been doing a lot of work in the work hallway. So they decreased it by a quarter, and we had to pay an extra $150 more a month. They'll do whatever they can to get the most money for an apartment. If they get rid of us, they can fill the apartment with no problem."
2. A Battery Park resident was told that the rent on her alcove studio apartment would increase by $500 per month (based on her net effective rent with concessions) in the summer of 2011. She successfully avoided such a steep increase, but the building's management wouldn't give in to her initial request: 
"There were a lot of calls back and forth. Originally, they said my new rent would be $2,600 a month. I was only paying $2,100 net effective at the time.  I was hoping to get them down to $2,200, but I only got them to lower it to $2,400.  I was also hoping they'd give me a one-month extension on my lease so I could look for a new apartment, but they said any extension would have to be for the market rate ($2,600)."
3. One Carnegie Hill resident decided to move from a one-bedroom to a two-bedroom in the same building in the spring. The mangement company only budged a tiny bit on the rent:
"The amount they quoted for the apartment was $3,850. We went in asking for $150 off and they pretty much laughed in our face. They said the most they ever come down is $25 and that's what they gave us. When we first moved into the building in 2009, we got a free month's rent. They don't do that anymore."
4. One Jackson Heights resident, who lives in a rent stabilized apartment, was actually able to negotiate his rent down:
"At the end of our current lease, we received a letter from the management offering an extension.  I looked at the new rent and realized that although it was the right percentage increase (based off city regulations) it was still above what the company was currently pricing the apartments for new tenants. I sent them a letter detailing what had rented in my building in the time that I had lived there (2 years at that point) and offered to pay what the apartment was going for on the current market – and proposed a two year lease extension. They eventually agreed,  saving us thousands of dollars over the two years.   Moral of the story, do your research!"
5. Two 20-something women were living with their parents and waiting for their rent stabilized Upper East Side two-bedroom apartment to be renovated. Despite an increase in rent, they were able to negotiate, and moved in Sept. 1. This is the story, as told by their broker:
"We were told the new rent (after renovations) would be around $1,900 per month ... but I figured $2,100 to play it safe.  The girls put down a $500 deposit and signed a document stating they would take the apartment (when complete) for a monthly rent up to $2,100.
We eventually found out that renovations cost much more than we thought and the apartment was now asking $2,300 ... We were able to convince the landlord to meet my clients in the middle -- for a rent of $2,200. Moral of the story, be patient, flexible and show you are serious about wanting to rent the apartment….  And just ask!  The worst they can say is no."
6. After one year in a new, large Brooklyn rental building, a tenant found herself unable to afford her rent. In February 2011, She tried to negotiate, to no avail:
"I explained to the management company that my roommate and I never were late on rent, and were good tenants. I brought up the fact that people who were living 30 floors higher than us were paying only $200 more per month. That angered me. They said, rent is based on the market, and I  can't compare other people's rents. I think had they been a small, private managemeent company, they might have given us a break, but because it was a large association, and they run a lot of other buildings, they have a lot of rules and guidelines. They showed me that apartments on the 3rd floor were going for $3,600, and I was paying $3,400 on the 8th.They weren't willing to negotiate at all. I was hoping that they would lower the rent about $300 or $400."
Related:
The 5 biggest unenforceable lease provisions
Find a great agent with BrickUnderground's Agent Referral Service
3 reasons you might not owe rent after all
Confessions of an on-site leasing agent
Brick Underground articles occasionally include the expertise of, or information about, advertising partners when relevant to the story. We will never promote an advertiser's product without making the relationship clear to our readers.