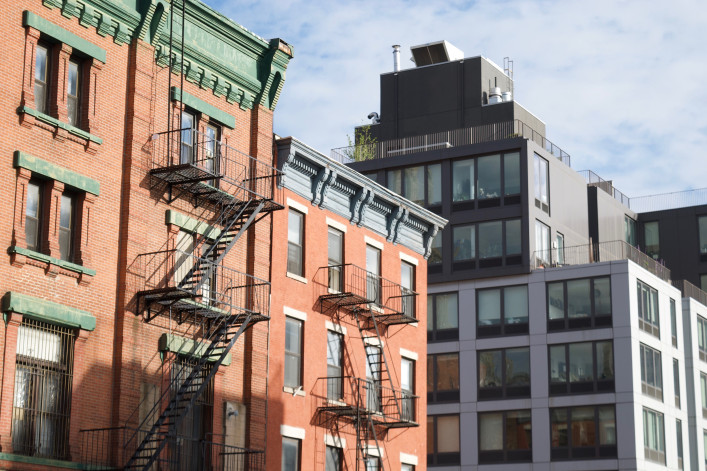 Emily Myers for Brick Underground 
A developer wants to demolish our building and is offering tenants a buyout. Should we make a deal collectively or is it better to negotiate separately?

"In most buyouts, tenants negotiate their own deals, ideally with the help of an attorney, but there can be advantages to working collectively," says New York City real estate attorney Steven Wagner, a partner at Adam Leitman Bailey, P.C. who represents co-op and condo boards and owners. 
Each buyout situation is unique and you typically always benefit from working with an attorney who has experience with buyout negotiations. 
In deciding whether you work collectively or independently, consider the minimum buyout amount you will accept, the amount of time you are willing to stay put while negotiations continue, and how much it matters to you that the last tenant to hold out in the building often gets the highest buyout figure.  
How to negotiate collectively to get a good buyout deal
Negotiating as a group can be a powerful tactic. When you work collectively with your neighbors, you don't necessarily need to use the same attorney. Wagner says he has successfully used what he calls a "no buyout pledge" where each leaseholder signs an agreement not to be bought out except under certain terms. 
Tenants might agree to be released from the no buyout pledge at a certain dollar amount. The pledge can also include other terms such as free rent.
"No buyout pledges can be highly effective. It allows the attorney to negotiate to deliver the building empty of tenants which is very attractive to a developer," Wagner says. For negotiating purposes, it's not uncommon to establish a fairly high number in the no buyout pledge.
"We usually set the dollar amount at the highest minimum amount that any one of the tenants would take," Wagner says. 
In one buyout case, a landlord in Brooklyn offered to buy out four leaseholders for between $5,000 and $15,000 each. Wagner came onboard and encouraged tenants to sign a no buyout pledge. 
"We first did an analysis of what each tenant needed to make it worthwhile for them to move," he says. 
One couple wanted enough money for a down payment and would only agree to a buyout if they could net $100,000 after legal fees, moving expenses, and decorating costs. Another tenant was willing to leave the building and ready to take $5,000 until other tenants reached out and asked her to join the group and sign the no buyout pledge. 
Within six months the tenants got the price they held out for—around $190,000 each. "Every case is different and this was some time ago but I would expect to get substantially more in the current environment," Wagner says. 
Negotiations can sometimes be slow while the landlord offers small increments to the original offer but does not meet the minimum agreed figure and tries to wait out the tenants. 
"Usually with buyouts, time is on the tenants side," Wagner says. 
The last tenant to negotiate often gets the best price
While working collectively has its advantages, negotiating independently can also pay off. "Very often the last tenant to get bought out gets the most money," Wagner says.
That's because even though there's only one tenant left, the landlord must continue to maintain essential services in the building and make payments on a mortgage as well as pay taxes, insurance, and provide minimum staffing. It's likely a landlord will offer a higher amount to a final holdout tenant in an effort to avoid months and months of paying these costs and to move forward quickly with the development project.
Every situation is unique because each developer has different financing, construction schedules, and arrangements with its investors. There are also variables which affect the tenants' ability to claim rent-regulated status or other rights to remain in possession of the apartment. 
All these details—including research into the financing of the building, the history of the developer's other deals, or what it is costs to delay—can affect your position at the negotiating table. (For more on this, see "Landlord wants to buy out your NYC apartment lease? Here's how to name your price.")
It's best to have an understanding of what each party needs in order to reach a resolution. Your attorney will research all these aspects in order to best leverage the deal.
"There may be documents that show the developer is trying to merge zoning lots and in some cases the owner may have filed building plans or the building is landmarked," Wagner says. "When the stakes are high for a developer and they are under time pressures to start construction work, they may be more flexible in offering a good buyout," he says. 
There are also situations where these disputes can end up in court. For example, if there is a disagreement over a tenant's rent-stabilized status or claims of harassment against the owner.
"Sometimes litigation is necessary and can even be helpful in concluding negotiations," Wagner says. 
​​New York City real estate attorney Steven Wagner, a partner at Adam Leitman Bailey P.C., has more than 30 years of experience representing co-ops, and condos, as well as individual owners and shareholders. You can submit a question for this column via email or if you'd like to arrange a free 15-minute telephone consultation with Steve, send an email or call (212) 584-1973.
Brick Underground articles occasionally include the expertise of, or information about, advertising partners when relevant to the story. We will never promote an advertiser's product without making the relationship clear to our readers.