Applications opened up yesterday for 40 affordable rentals spread across four different Harlem buildings, per a listing posted on NYC Housing Connect. The apartment options include studios, one-bedrooms, two-bedrooms, and four-bedrooms, with prices ranging between $822/month and $1,371/month, depending on apartment and family size: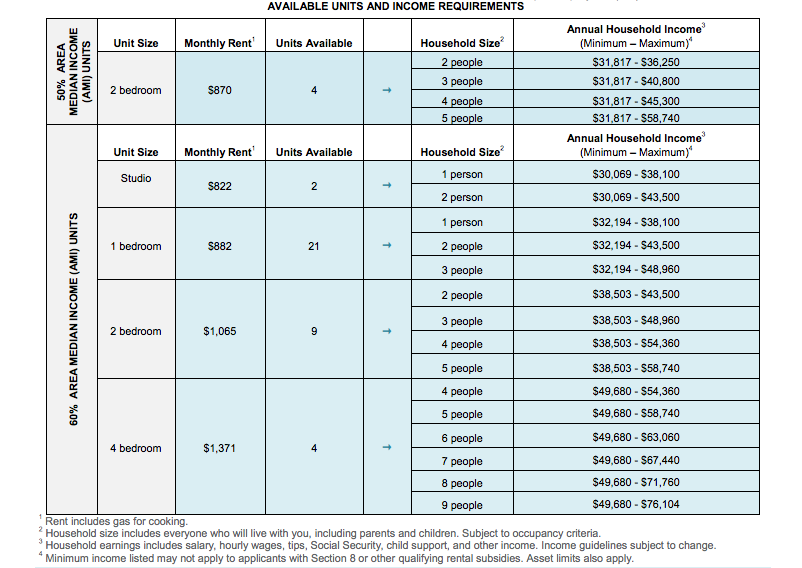 The buildings are located at 304 West 152nd Street; 323 West 149th Street; 2797 Frederick Douglass Boulevard; and 2472 Adam Clayton Powell, Jr. Boulevard, and are noted in the listing as Dorie Miller Apartments, meaning the buildings in question are presumably managed by the management company Dorie Miller, though the West Harlem Group is also listed as a management company. 
(Renter be warned: while Dorie Miller itself doesn't appear to have a website, and scathing online reviews on Yelp and Trulia allege negative experiences in Dorie Miller buildings.) 
Per usual for these types of listings, preference for half of the apartments will be given to current area residents, which in this case means residents of Manhattan Community Board 10. If you're interested and think you qualify, you can create a profile and apply online via NYC Housing Connect, or request a paper application by mailing a self-addressed envelope to Dorie Miller Apartments, 87-14 116th Street Richmond Hill, NY 11418. The deadline to apply is March 31st.
Note: Brick Underground is in no way affiliated with New York City public housing. If you are interested in applying to this or other affordable housing developments, please go to the NYC Housing Connect website for information and instructions.