We're trying to imagine who the intended tenants for this Lincoln Square historic Beaux Arts mansion, listed by Brown Harris Stevens for $100,000 per month, might be. A multi-millionaire who doesn't intend to stay in the city long? A deep-pocketed renter who doesn't have, or doesn't want to part with, the down payment this kind of home would require to buy? Or maybe a recent lottery winner or newly-minted pop star with large families or entourages? 
Perhaps that eye-popping monthly price tag isn't such a terrible deal, given that a smaller rental was listed last year for five times the cost. What that monthly 100K gets you: six floors, eight bedrooms, and 14 baths spread over 15,000 square feet, plus an additional 2,540 square feet of outdoor space; 12 fireplaces; smart-home technology; an elevator; and miles of marble. It may be out of reach to all but Jay Gatsby types, but it's definitely fun to ogle.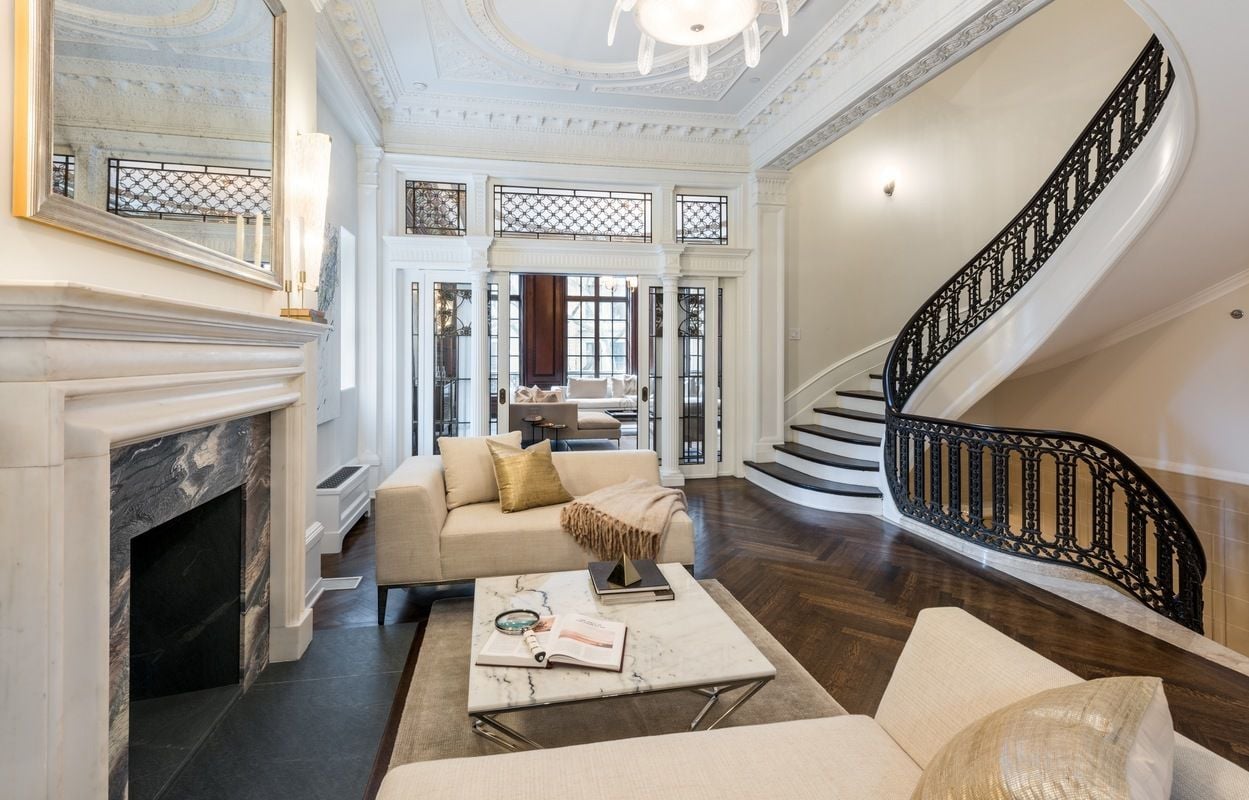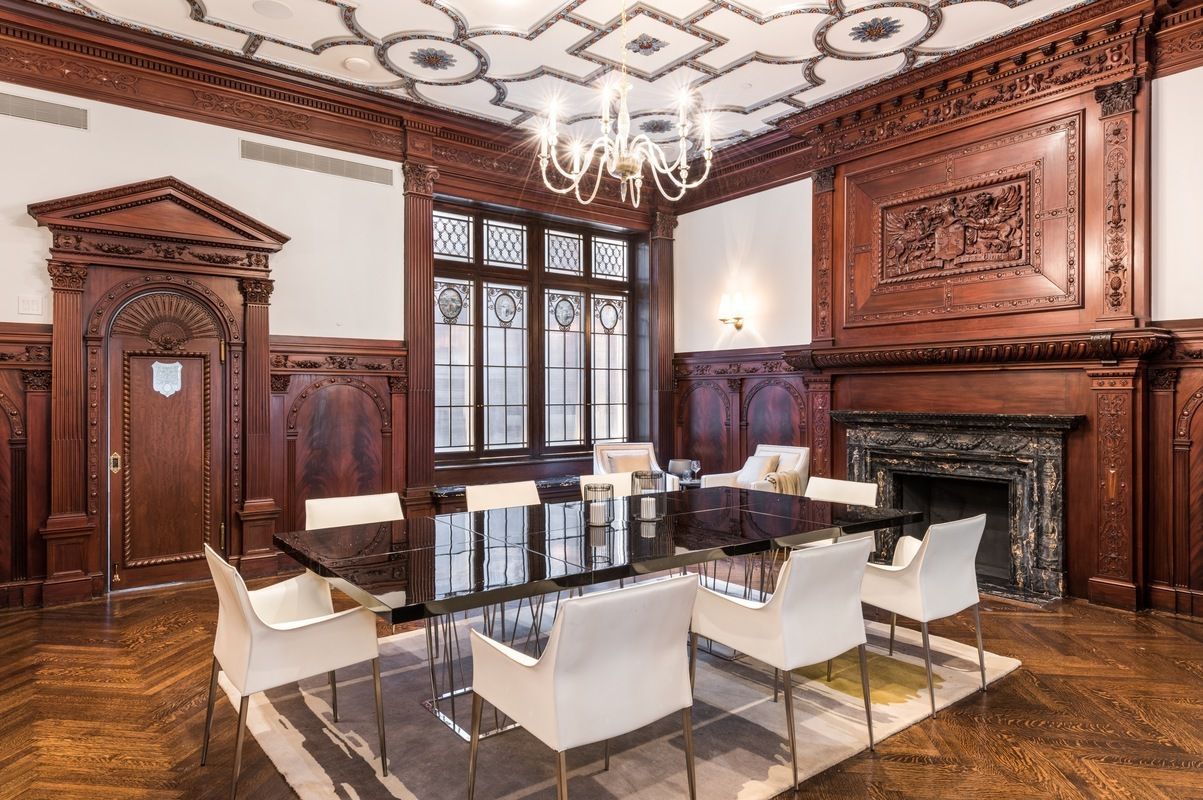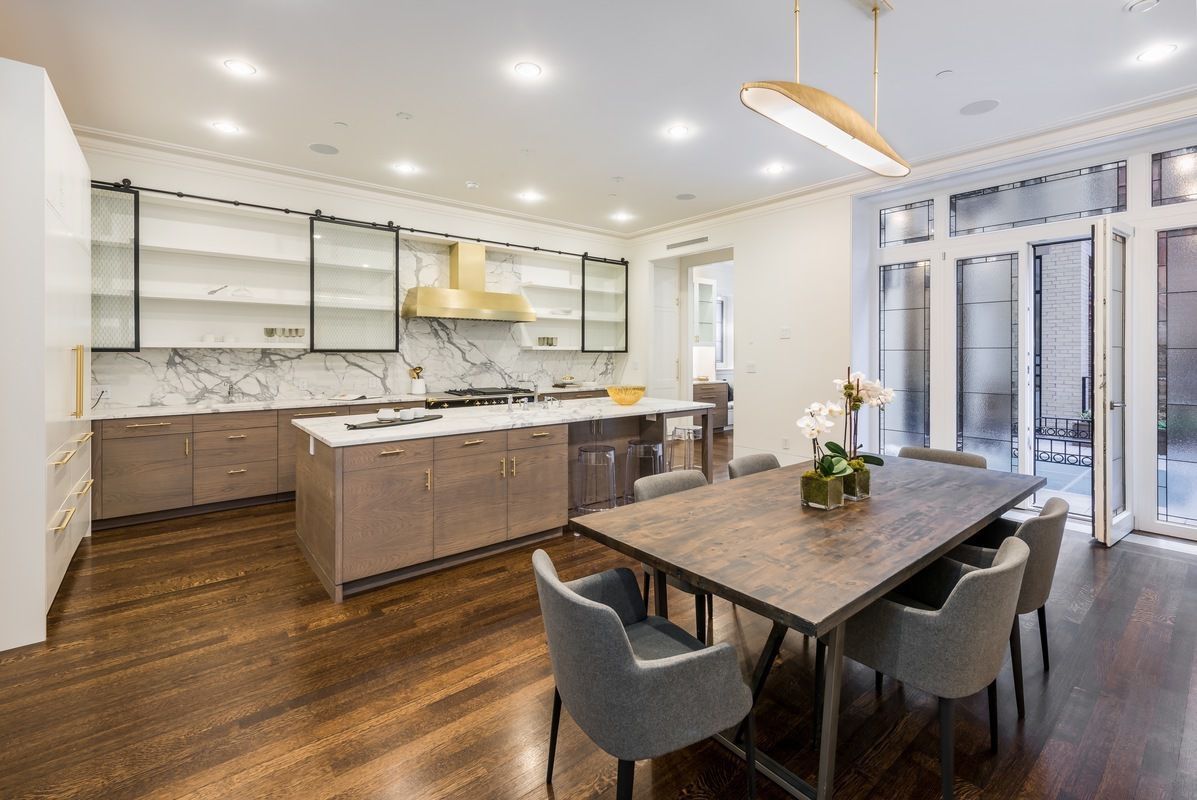 It's the sort of home of which beloved SNL character Stefon might say, "This place has everything." In the living room alone (see main image), you'll find decadent gold millwork, soaring ceilings, woodburning fireplaces, and mahogany paneling. The listing notes that the home was built in 1909 for a Wall Street financier, and the gallery, too, drips with turn-of-the-century grandeur; beyond that, the dining room delivers drama, though it's hard to picture having a laid-back meal here. 
The kitchen, meanwhile, feels more contemporary, with new stainless steel appliances and views of the garden, though it still features loads of marble, including inside the pantry (!). The stove is a French import, and there are two refrigerators and dishwashers, perfect for an epic, Gatsby-style party.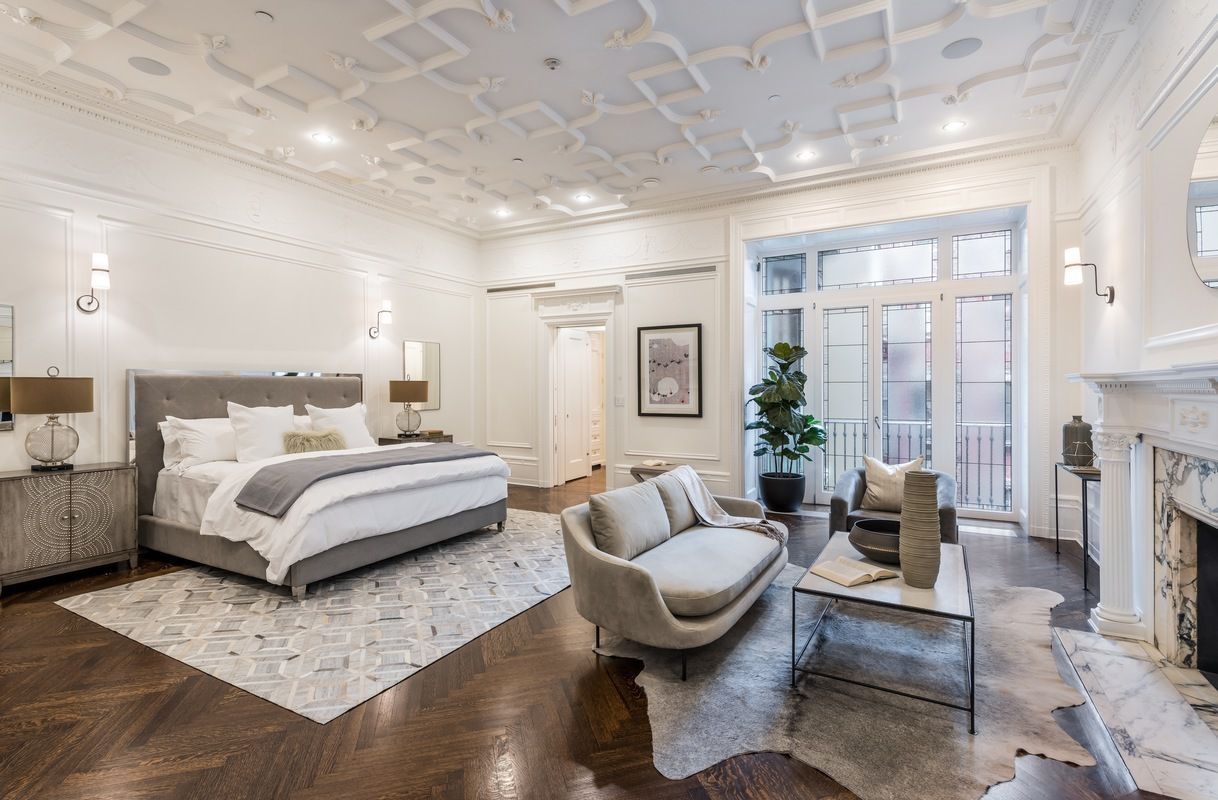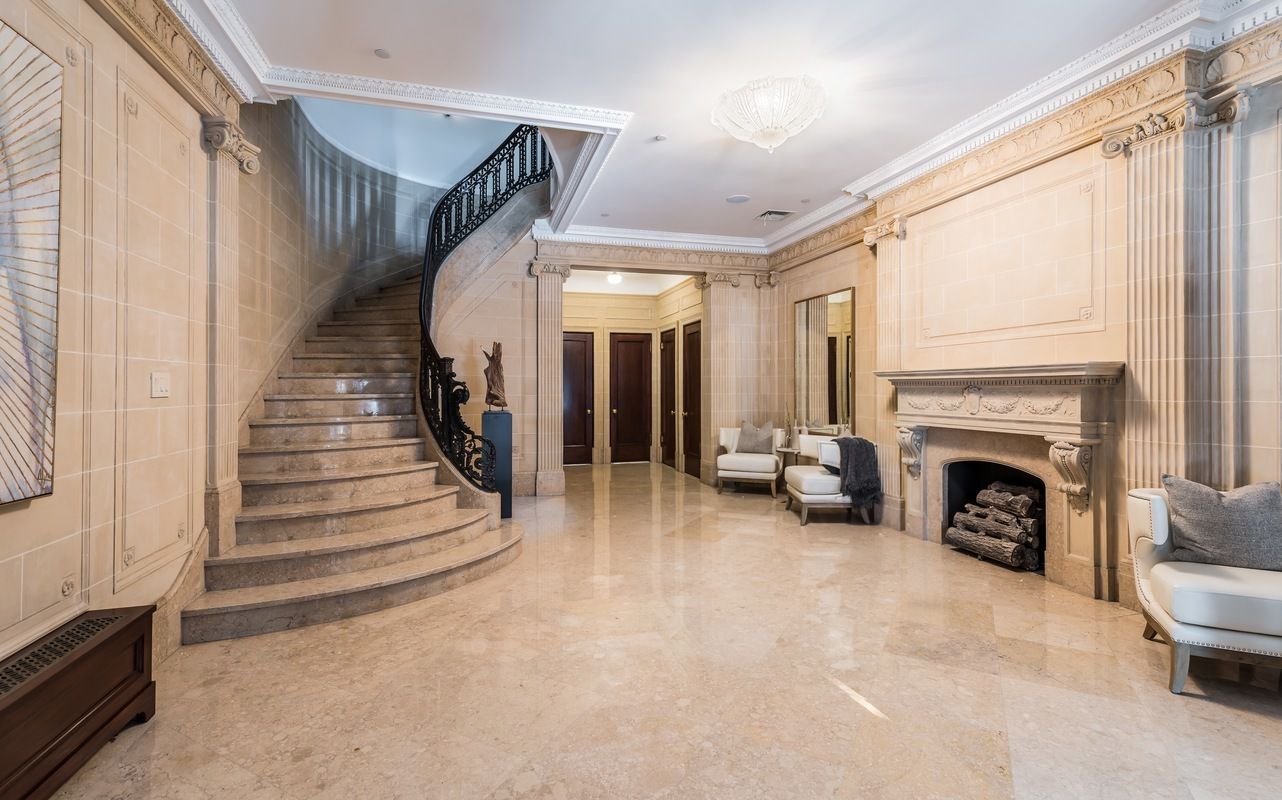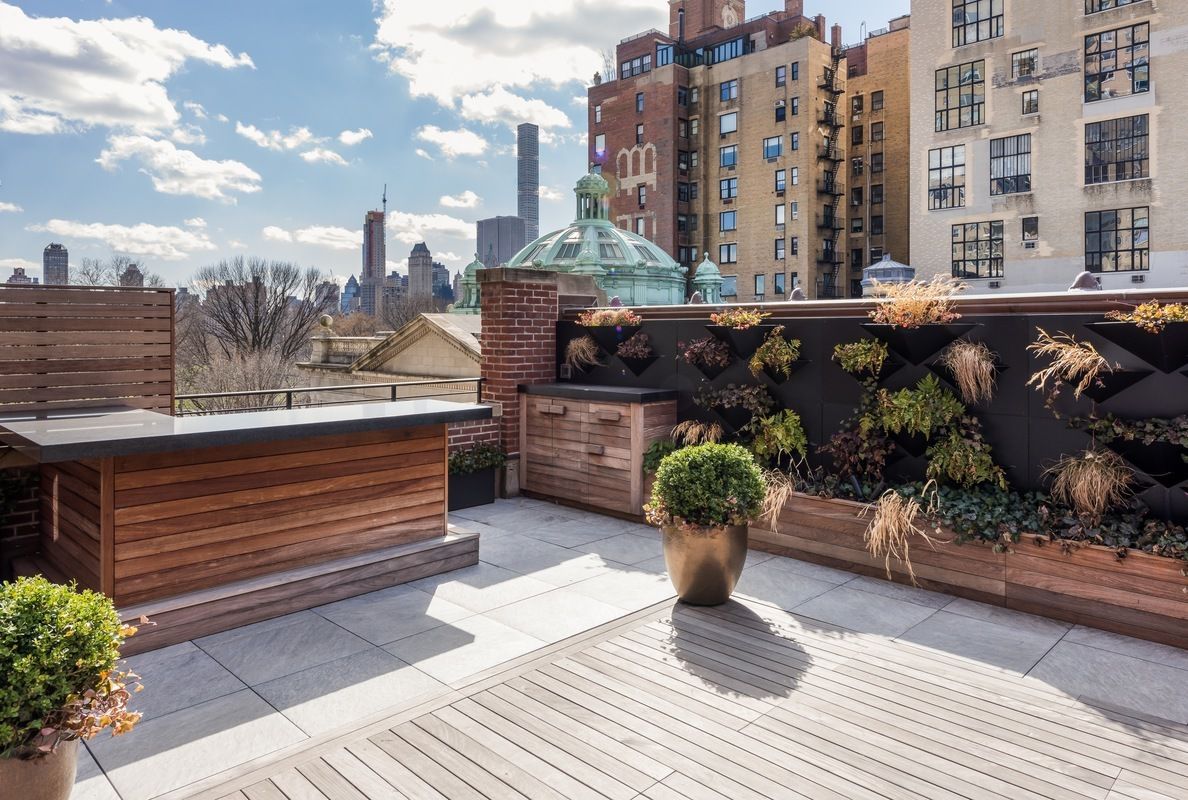 The master bedroom pictured here is suitably massive, with its own marble fireplace, walk-in closet, and en-suite bath; its dressing room is as large as many typical NYC bedrooms. It's also attached to a library and includes a Juliette balcony; the mogul, pop star, or lucky Lotto winner will have plenty of room to live it up here. 
Downstairs, a den features—you guessed it—a fireplace, as well as its own kitchenette, and yet more marble finishes. And the roof deck pictured—just one of several outdoor areas—features a hot tub, all the better to really dive into a lavish lifestyle (without the long-term commitment of ownership).