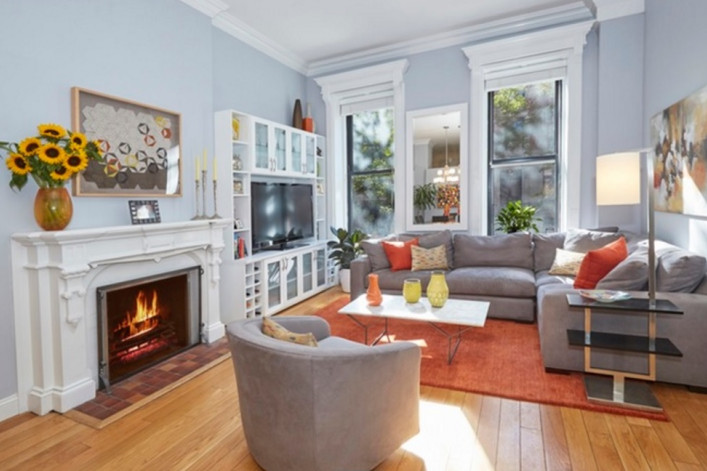 The very idea of a fireplace conjures up cozy images of cuddling with your significant other before a roaring blaze or teaching pajama-clad little ones to safely roast marshmallows in toasty flames. But is having a hearth in a New York City apartment really as romantic as it seems? Let Jamal Syed of BOND New York and Jeff Hannon of Mirador Real Estate illuminate you in this week's Buy Curious.
The proposition:
I've always wanted an apartment with a working fireplace. Where should I look? What do I need to know?
The reality:
If your dreamy vision of a fireplace includes logs that crackle reassuringly in the background, you may be heartbroken to learn that that may be harder to find than in previous years. In 2014, Mayor Bill de Blasio pushed forward a measure that would prohibit the construction of new woodburning fireplaces because of concerns that the smoke that emanated from them could be as damaging to city-dwellers as cigarette smoke.
However, "the ban doesn't restrict the use of existing woodburning fireplaces," says BOND New York's Syed. "The only restriction it imposes on existing woodburning fireplaces is for the wood used as a fuel source to have a moisture content below 20 percent, which creates less smoke." (And of course, there aren't any restrictions on alternative fuel fireplaces, like gas, so developers are free to install them at will.)
Even traditionalists like Mirador Real Estate's Hannon, who calls himself "a sucker for anything prewar in this city, especially a classic brick woodburning fireplace," admits that "if it helps reduce carbon emissions and pollution in a city as densely populated as New York, then I guess it's for the best and I support it."
Read on to find out more about buying an apartment with a fireplace:
What will you need?
A woodburning fireplace requires vents and flues leading outside so that the smoke can travel as far away from a building as possible. These systems can be costly to install and maintain, so many apartment dwellers simply don't bother.
"The maintenance is the biggest drawback," says Hannon. "It can become very expensive and time-consuming to keep up."
Another negative is "the dust and soot and smoke smell" that can permeate your entire apartment. It "can be alleviated a bit with proper flue system and venting," he notes, "but even with this, the smell can irritate some people and cause problems for those suffering from allergies or asthma." 
What type of building should you apartment-hunt in to find one with a fireplace?
While developers at a number of newly constructed buildings and conversions actually did manage to get woodburning fireplaces into their structures just before the ban took effect in July 2014—including 432 Park Avenue in midtown and 40 East 72nd Street on the Upper East Side—your best bet for a wood-burner is to look at older buildings.
"Working fireplaces are most commonly found in prewar buildings, where the fireplaces used to be used as the primary source of heating for residents," says Syed. "Fireplaces are also more commonly found in townhouses since they can be more easily designed with chimneys."
In larger buildings, fireplaces are typically located in higher-floor or penthouse-level apartments, because of their proximity to the chimney and vent/flue systems which must be run to the roof of the building," he says. (Fireplaces using fuel sources other than wood, such as gas, may be found in "various levels of multi-family complexes because of the limited necessity of vent/flue systems," Syed adds.)
And you should know that even if you find a place with a woodburning fireplace that's technically in working order, you still might not be able to light a fire on a cold winter's night.
"I've seen many units where the co-op does not allow the owner to use their fireplace due to the fact that the smoke will escape into other people's units," says Hannon. "In some [instances], an owner can get the board to fix the entire flue system and upgrade it, but in most cases, this is too expensive."
Which neighborhoods have lots of fireplaces?
Hannon suggests starting your search on the Upper East Side and Upper West Side since they "tend to have a very large proportion of prewar building stock with many fireplaces."
But those areas tend to be pricey (with a median sales price of $1.1 million for both locales, according to StreetEasy). For better deals in Manhattan, Hannon recommends "Harlem, Hamilton Heights or Sugar Hill," since they offer "brownstones and small boutique condo buildings that have working fireplaces for relatively bargain prices." For example, this one-bedroom condo at 165 East 104th Street between Lexington and Third Avenues in East Harlem has a working fireplace, and costs just $520,000.
If Brooklyn's more your bag, Hannon advises checking out Cobble Hill or Boerum Hill. "You will also find plenty of fireplaces in Queens and Staten Island in free-standing houses."
How much extra does a fireplace cost?
According to a study conducted by appraiser Jonathan Miller along with researchers from NYU's Furman Center for Real Estate and Urban Policy, apartments equipped with fireplaces cost about 10 percent more than those without them. However, since fireplaces were considered as part of a larger group of amenities typically found in prewar units (such as high ceilings), Miller estimates that the actual fireplace itself only adds 2 to 5 percent to an apartment's price.
Syed agrees, adding that he doesn't believe that a working fireplace adds much to a unit's resale value. "I think, in general, it doesn't affect a property's value as much as an amenity such as a gym or doorman would."
While they sure are charming, do people actually use their fireplaces in NYC?
Not really, says Hannon ruefully, noting that people rarely spend lots of time at home in "the city that never sleeps." "It's more the idea that they have [a fireplace] and can enjoy it when they have the time."
He adds that "due to the time necessary to plan a fire—making sure you have the proper wood, allowing it to burn for a few hours and making sure the fire is out before you can go to bed—sometimes it just becomes too much of a hassle."
Regardless, Hannon believes that there's something to be said for "the luxury of coming home and relaxing by a fire." He calls the experience "magical."
Check out these listings: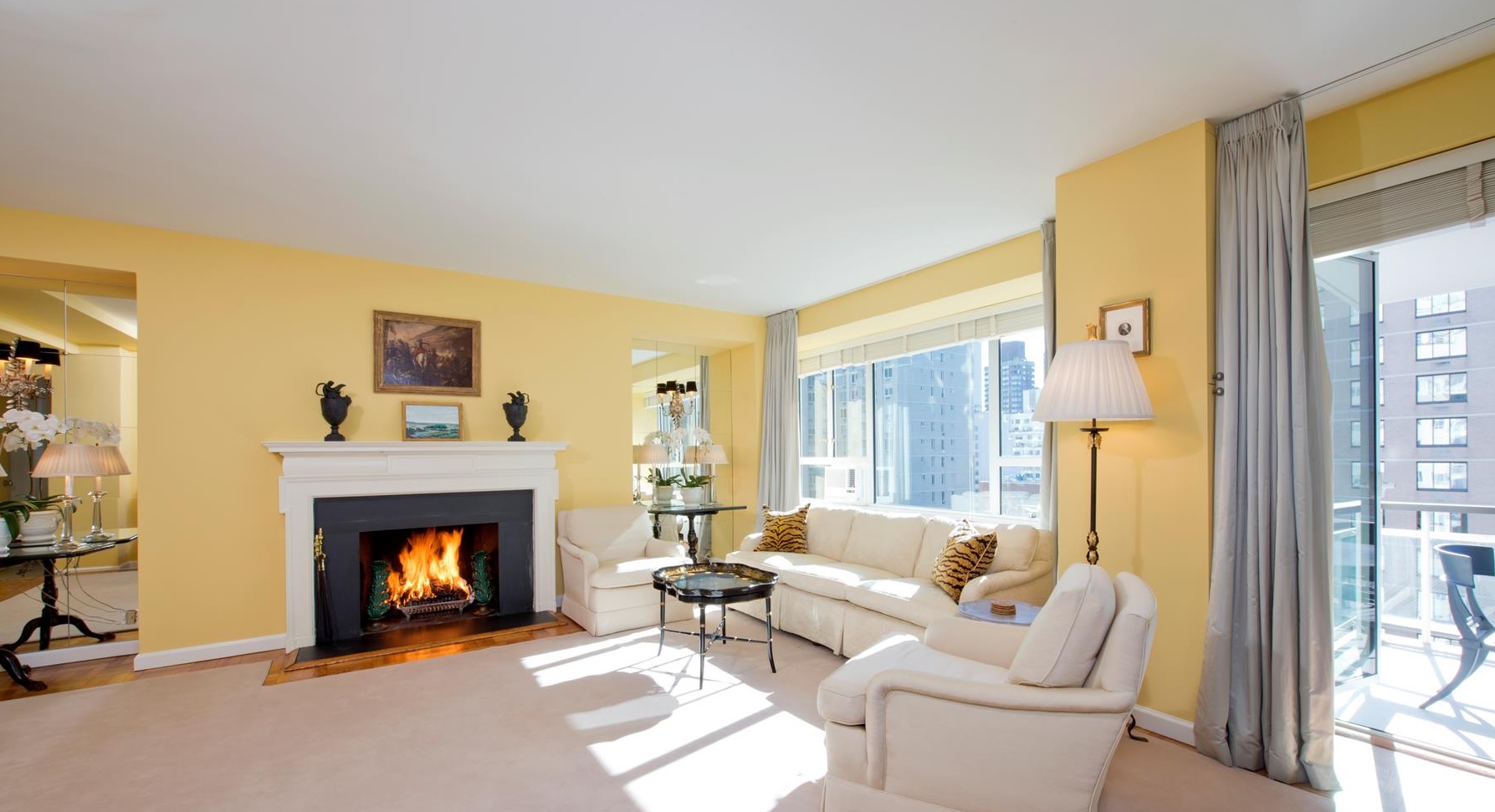 Upper East Side two-bedroom, two-bath condo, $2.695 million: This prewar condo at 200 East 66th Street between Second and Third avenues is nearly 1,500 square feet, and feels even larger. The high-floor unit features an L-shaped living room, a dining room that can comfortably seat 10, a renovated kitchen with GE Profile appliances and a woodburning fireplace. Amenities offered by the condo building include a 24-hour doorman, a private driveway, a parking garage, a children's playroom, a fitness center and a rooftop lounge.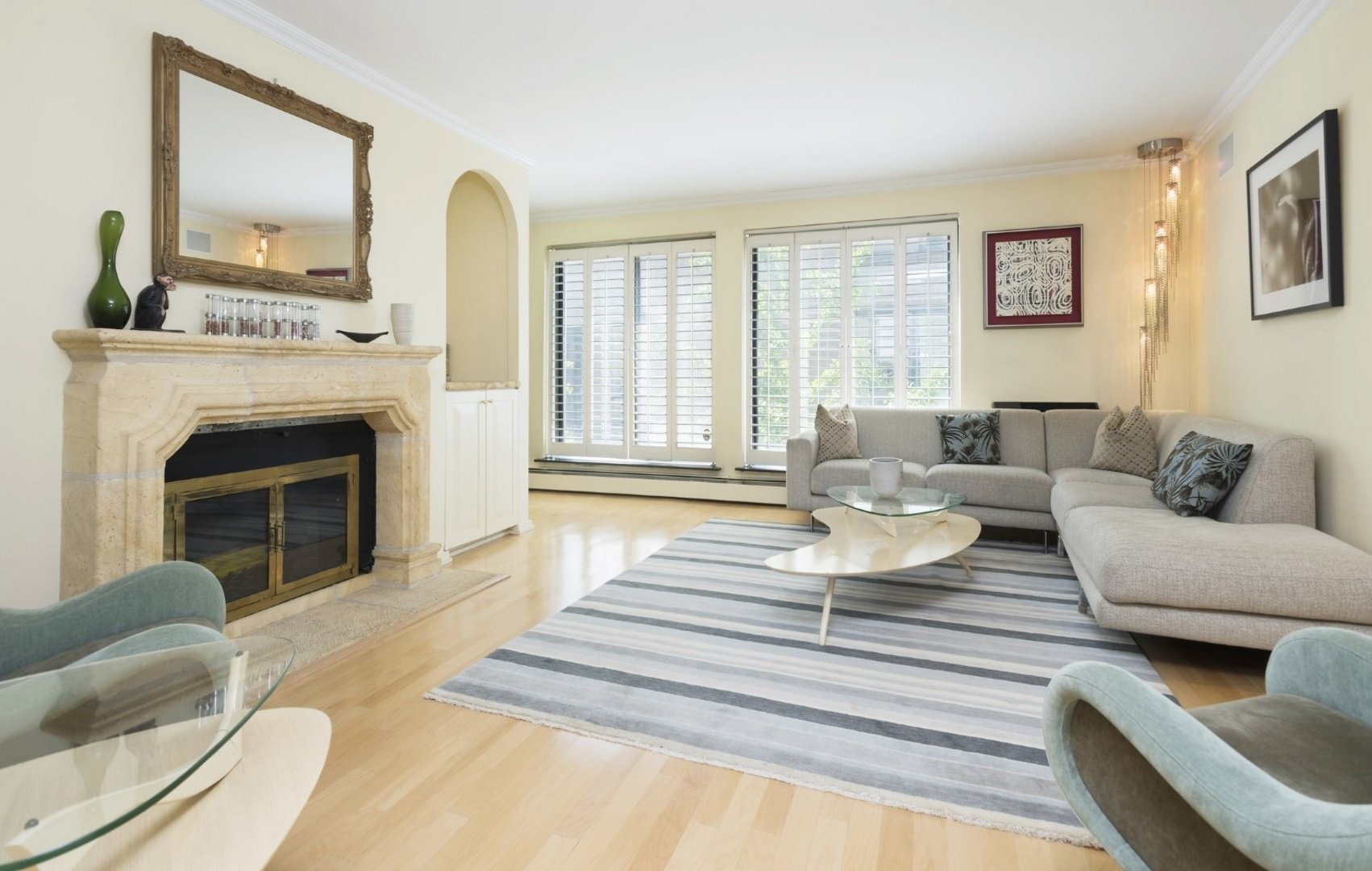 West Village two-bedroom, two-and-a-half-bathroom condo, $3.4 million
: Located at 130 Barrow Street between West and Washington streets, this corner duplex penthouse has a terrace that overlooks the Hudson River, a windowed entryway, blond wood floors, a chef's kitchen with moon rock slate floors and two fireplaces—one in the living room and one in the master suite.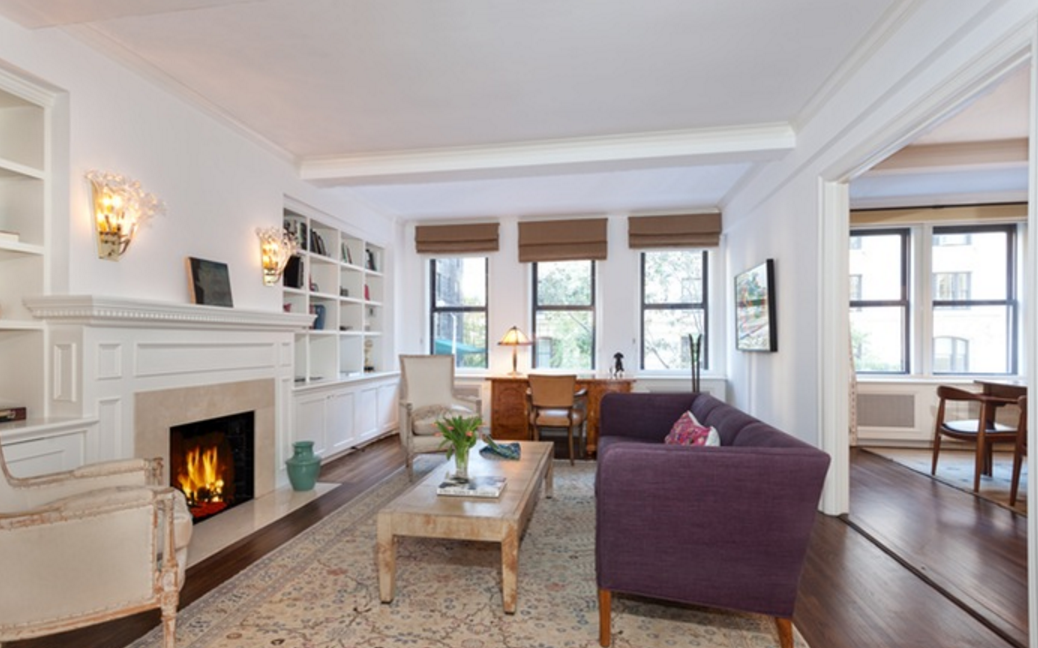 Carnegie Hill two-bedroom, two-bathroom co-op, $2.595 million
: This classic-five at 21 East 90th Street between Fifth and Madison avenues has a semi-private landing, a formal dining room, large windows, an eat-in kitchen with a washer and dryer, two large bedrooms and two windowed bathrooms. The apartment also offers high ceilings, wood floors, and a woodburning fireplace. Plus, the rooms have all been soundproofed!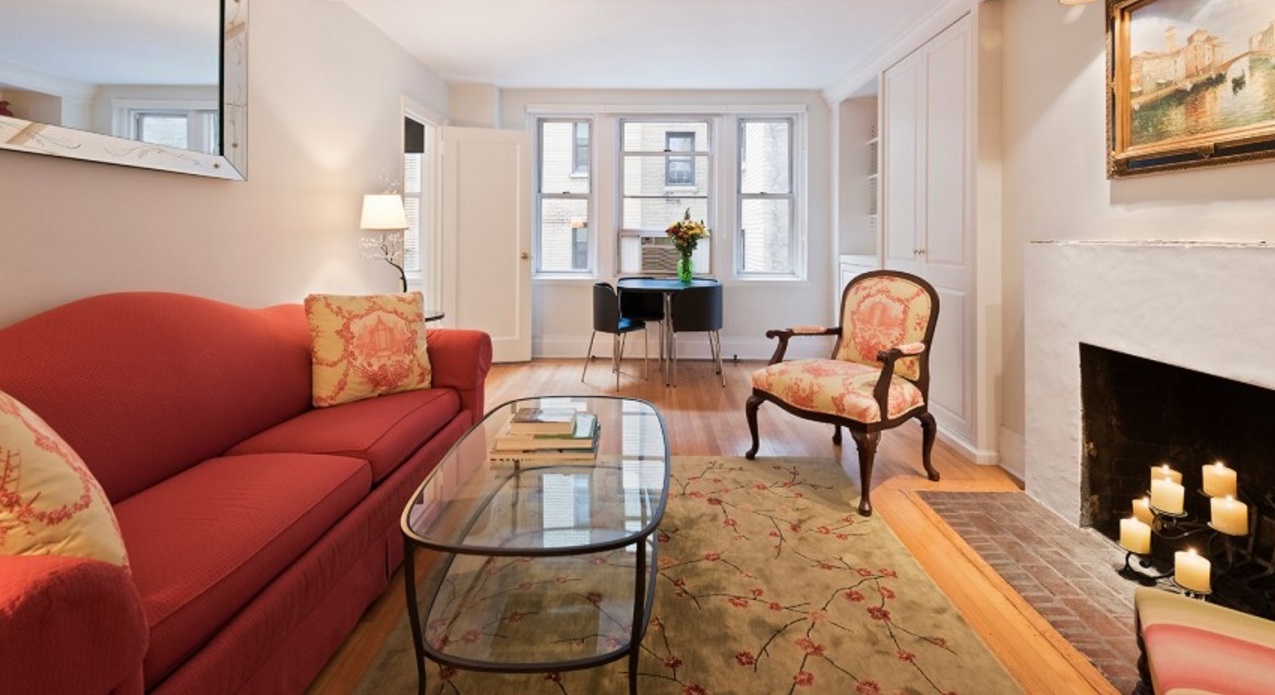 Greenwich Village studio, one-bath condo, $999,000: This studio at 59 West 12th Street between Fifth and Sixth avenues is housed in a landmarked prewar condo building offering a 24-hour doorman, a children's playroom, bike storage, and a laundry room. The unit has two large closets, a windowed kitchen, a Murphy bed, custom cabinets for books and media, and a woodburning fireplace.
Brick Underground articles occasionally include the expertise of, or information about, advertising partners when relevant to the story. We will never promote an advertiser's product without making the relationship clear to our readers.