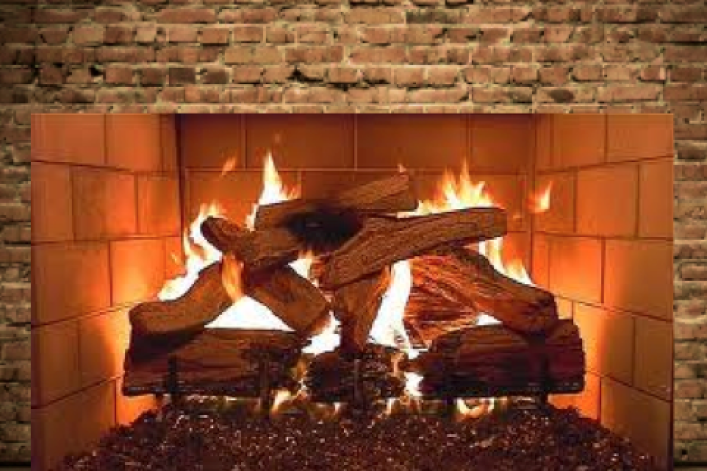 Over on StreetEasy, one NYC-dweller is craving a fireplace (aren't we all?). He says a real, woodburning fireplace isn't an option for his apartment, and he wants to avoid cheesy overly-fake-looking pseudo-fireplaces.

Before we list a few alternatives, some background on the state of the woodburning fireplace in New York City is in order.
Number one, they require vents and flues that lead outside and can therefore be costly and difficult to install (which is why they are more common in penthouses, where the flues can more easily be run to the roof).
Number two, among apartment dwellers lucky enough to have a woodburning fireplace, many are banned from actually using them due to problems with drifting smoke inside the building.
"Most buildings which have apartments equipped with a fireplace are pre-war buildings, which are constructed with terra-cotta or other masonry-type flue," explains Alex Kalajian, a property manager at Solstice Residential.
"Over the years, or in some cases from the time of the original construction, there are defects from poor workmanship or deterioration over time which create voids in between the layers of terra-cotta or brick flue, which allows for smoke to escape the flue and emanate into neighboring apartments," he says.
In some cases, where it's technically feasible, apartment owners can request approval from the board to cure the drifting smoke problem by relining the flue, Kalajian says.
But, "for the average apartment owner, this option is normally cost-prohibitive," he says.
Alternatives for fireplace-craving apartment-dwellers suggested by StreetEasy commenters and others we spoke to include:
1. Something purely decorative. 
Buy an old mantle (check out antique shops like Olde Good Things, as well as the Demolition Depot in Harlem) and add a non-heating "crackling" electric log to make it look and sound more authentic.

2. An electric fireplace.
The coals glow and the flames flicker and there's even a heater option, so you get the whole ambiance of a wood-burning fireplace, minus that campfire smell.
"Some of these can look more realistic than others," says Joe Yakuel, the president of one-stop online fire shop FireforLess.com, whose office is just down the hall from ours. "Many of them come built into a media console which looks great."
Other ideas include hanging one on the wall--"similar to a picture frame, which is a breeze for installation," says Yakuel--or a recessed finish to give it a flush look (make sure the fireplace is approved for this first).
Yakuel recommends picking a well known brand like Dimplex or Napoleon if possible:  "They specialize in fireplaces and will give the most realistic appearance," he says. (To see the range of possibilities, check out the electric fireplaces on the FireforLess site.)
3. Ventless fireplace systems that burn alcohol fuel, like Hearth Cabinet.
This particular system was recommended by general contractor Jeff Streich of Prime Renovations, who says the system is the only ventless fireplace approved by Department of Buildings and NYPD. There is a real flame, but no smoke. To light a fire, you open the lock on a safety door, insert a cartridge into the holder and light it with a long match or BBQ lighter.
"We sell many ethanol fireplaces," says Yakuel of FireForLess. "The bio blaze units are particularly nice looking and quite popular. They come in several shapes and sizes. The one we sell most of is the Square Flame XL."
As far as realism is concerned, says Yakuel, "these produce actual flames so It will not seem as though you are watching a fire on TV."  (The ethanol fireplaces on Yakuel's website are definitely worth a drool over.)
4. Get a DVD of the yule log and pop it in your DVD player. Much easier and cheaper than the real thing (but not quite as warming).
Related posts:
When the temperature drops inside and out
It's 7 degrees outside. Inside your apartment, it's a sweat lodge.
A board's eye view of your renovation wish list
Brick Underground articles occasionally include the expertise of, or information about, advertising partners when relevant to the story. We will never promote an advertiser's product without making the relationship clear to our readers.