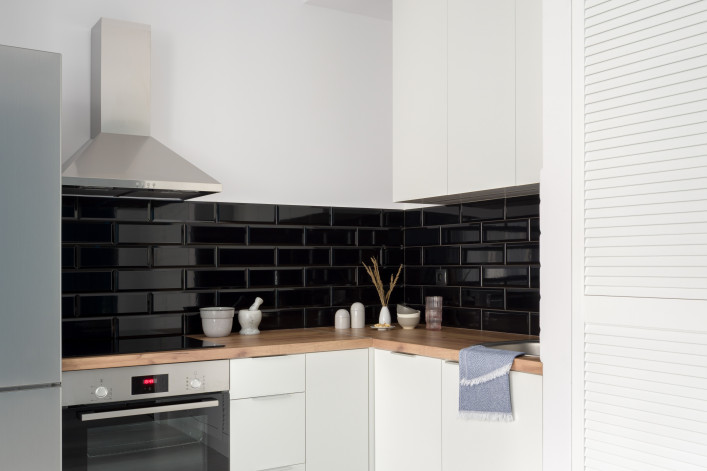 I thought living in a studio apartment with a separate kitchen was like winning the lottery—until my cousin from the suburbs visited and referred to it as "a cute kitchenette." That certainly burst my bubble. Sure, the appliances and sink are small, but I have more counter and cabinet space than many other New York City kitchens I've seen. And, to its credit—I have cooked multiple Thanksgiving dinners in my "cute" kitchen. 
But during the pandemic, my boyfriend and I went from cooking one meal a day to three—and we needed space to store two weeks worth of groceries to avoid frequent trips to the store. We thought about upgrading to a bigger apartment, but one thing that held us back: Almost every apartment we viewed had a kitchen as part of an open-plan living room, or had less counter or cabinet space. 
It's not just us: NYC kitchens are notoriously small, especially in rentals. So, if you're cooking more, you may be looking for ways to organize your kitchen to maximize your space, plus products and appliances that can make it more functional.
Faith Roberson, founder of Organize with Faith, says the first step to organizing your kitchen is to think about what you typically cook. Ask yourself, "what do I eat?" and "what do I have here that I don't actually need?" she says. "It's less about what you think you're supposed to have in a kitchen and more about what you actually need." So, if you have a KitchenAid mixer but don't bake often, it's time to give it up.
Another tip: Don't be redundant with your appliances, especially since so many new appliances have similar functions. Find one that does multiple things and fits your cooking routine. If you're thinking of buying an Instapot, give your Crockpot to a friend.
Janine Sarna-Jones, founder of the company Organize Me, says you should use every part of your kitchen. "Think vertical," she says. If you're running out of space, put shelves on the wall, above the door, or use hooks to hang pots and pans from the wall.
Having trouble finding space for your bulk food purchases? Roberson says you shouldn't worry about having food all in one place. "If you don't have a pantry, I don't think you're missing out," she says. 
She recommends taking storage tips from your grocer. "My first rule is that if it's not refrigerated at the store, then it doesn't need to be refrigerated at home," Roberson says. So foods like onions, garlic, bananas, and even berries can be kept on the counter. This can save you valuable space in your fridge, and help reduce food waste. (You're less likely to forget to use something that you see on the counter.)
If you need more help making the most of your NYC-sized kitchen, keep reading for some products that will maximize your space.
Combo products take up less space 

Our Place's Always Pan promises to eliminate eight traditional kitchen pans including your steamer and skillet. You can braise, sear, steam, strain, saute, fry, boil, serve, and store food in it—it just cannot go in the oven. It has a nontoxic, nonstick ceramic coating and comes with a steam basket and wooden spatula. 
Keurig's K-Mini is their slimmest brewer and takes up a lot less space than other Keurig machines and traditional coffee pots. It's less than five inches wide and can make a cup of coffee from six to 12 ounces. You do have to refill the water for each cup, but if it saves you room, it's worth the trouble. It has 3.5 stars based on 833 customer reviews on their site.
If you're cooking a lot these days and have lots of leftovers, these glass containers can be stored inside of each other, like a Russian nesting doll, to save your cabinet space when you're not using them. They're dishwasher, freezer, and microwave safe and also are a better alternative to plastic food containers.
The Kitchen Robot is a 15-in-1 system that can cool, cook, steam, broil, defrost, bake, and roast. You just put in your meal and tell Suvie when you want dinner ready. It can replace other traditional kitchen appliances like a toaster oven, air fryer, or broiler. It has cool-to-cook technology so it'll keep your food fresh until you want it heated up. It comes with a vegetable pan, protein pan, and steam rack. You can also use an app to control it.

This air fryer does it all: air fry, air roast, air broil, bake, toast, and dehydrate. It also is made to flip up when you aren't using it, saving you valuable countertop space. It also comes with an air fryer basket and a sheet pan. 
Get organized: products that maximize space 
Roberson recommends Linus bins to store miscellaneous items, foods, and random half-used packages of things. They save space and come in various shapes and sizes. This bin is Amazon's choice and has five stars based on 4,610 customer reviews. 
Both Roberson and Sarna-Jones recommend using Mason jars in small kitchens because they're versatile and can be stored in a cabinet, fridge, and freezer. So, if you're making homemade jelly and then a few months later need something to store beans or dry goods in, Mason jars are the solution.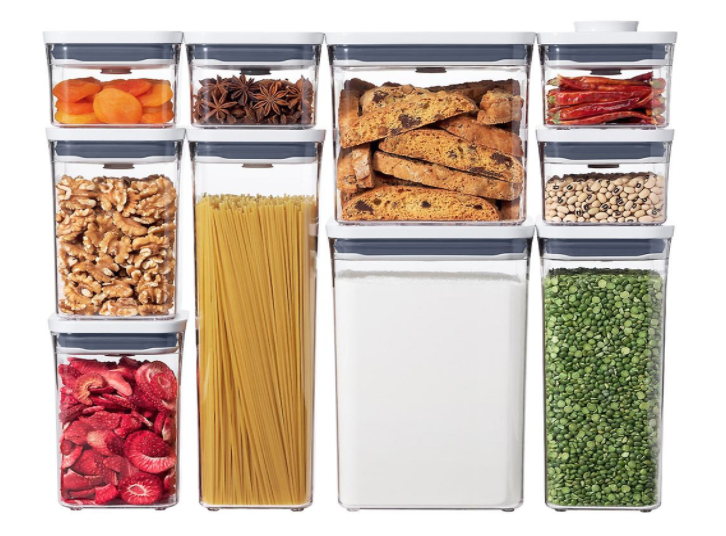 These canisters have a slim design which should take up less space than the boxes and bags that your food comes in. They also have an airtight seal so your food stays fresh. If you don't need as many, you can buy smaller packs in various sizes. This set has almost four stars based on 16 customer reviews.
This magnetic spice rack from Wayfair can also be used to store oils, utensils, and even paper towels, freeing up both cabinet and counter space. It's made of iron and comes in black or white. It can also stick to an iron oven or other metal surfaces. Here's a similar one from Crate&Barrel that only costs $39. 
 
Stackable shelves like this one from Amazon can create more space in your cabinets or counters. This wire rack can be stacked or placed next to each other, and are made from plastic-covered wire. It's Amazon's Choice for stackable shelves and has almost five stars based on 601 customer reviews. 
Brick Underground articles occasionally include the expertise of, or information about, advertising partners when relevant to the story. We will never promote an advertiser's product without making the relationship clear to our readers.