Brick Underground supports our readers with product recommendations specifically curated for New Yorkers. If you buy something through our links, we may earn an affiliate commission.
This Upper East Side one-bedroom co-op, 205 East 63rd St., #12E, owned at one time by the late, great Joan Rivers, is definitely in need of a "cosmetic makeover," says architect Adam Zimmerman of Zimmerman Workshop. It is on the market for $475,000.
(Rivers, who died in 2014, lived in a palatial Upper East Side triplex for the last 25 years of her life. That apartment sold for $28 million in 2015.)
Regarding the fixer-upper, "the kitchen and bathroom are dated and rundown," Zimmerman says. He'd gut them completely and start from scratch. As for the rest of the unit, Zimmerman thinks it definitely has some potential, especially with a few relatively minor tweaks.
---
[Editor's Note: In Brick Underground's Reno Ready column, an architect looks at a listing for a NYC fixer-upper currently on the market and suggests how to improve it.]
---
In this week's Reno Ready, Zimmerman details his plans for this dated co-op, which include reworking the closets near the bathroom, staining the existing floors a more contemporary chocolate brown, and opening up the kitchen to help connect it to the living space.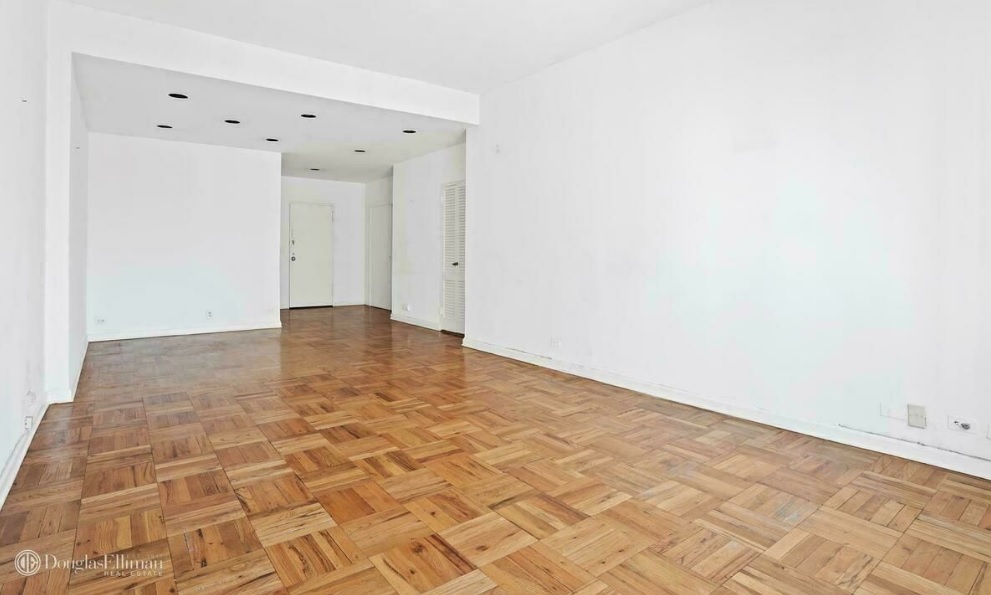 Refinish the floors in the living/dining area
Flooring: "These are real wood floors," Zimmerman says, noting that they look like they're in decent shape. As such, he recommends simply refinishing them. "I'd go with a chocolate brown over this orangey oak that they have now," he says. This should cost around $5 per square foot.
Base moldings: The moldings look a bit beat-up, so he'd get new ones. These should cost around $4-$5 a linear foot.
Radiator cover: He'd have a new enclosure built to house the heating/cooling unit, probably a white painted wood cabinet with a ledge where someone could put photos or knickknacks. This should cost around $5,000.
Lighting: Zimmerman would replace the ceiling lights in the dining area with new ones. "There are better-designed LEDs these days," he says. "Your ceiling doesn't have to look like Swiss cheese." These should cost around $500 a piece.
As for the rest of the room, he'd put up a pair of sconces to illuminate things. These Fike sconces are $68 each at Wayfair.
Paint: "I'm a big proponent of white," Zimmerman says, noting that it's a nice backdrop for whatever you're doing in terms of décor, and it can make a space feel grander. He'd opt for Benjamin Moore's Decorator's White, $80 a gallon, in a matte finish if the apartment is inhabited by adults only. If there are kids or pets present, he'd go with an eggshell finish, which is easier to clean.
Window treatments: "Everything's hard and echoey, so a billowy curtain would soften the space up quite a bit," he says. Prices for these Ripple Fold Drapes start at $486 at The Shade Store.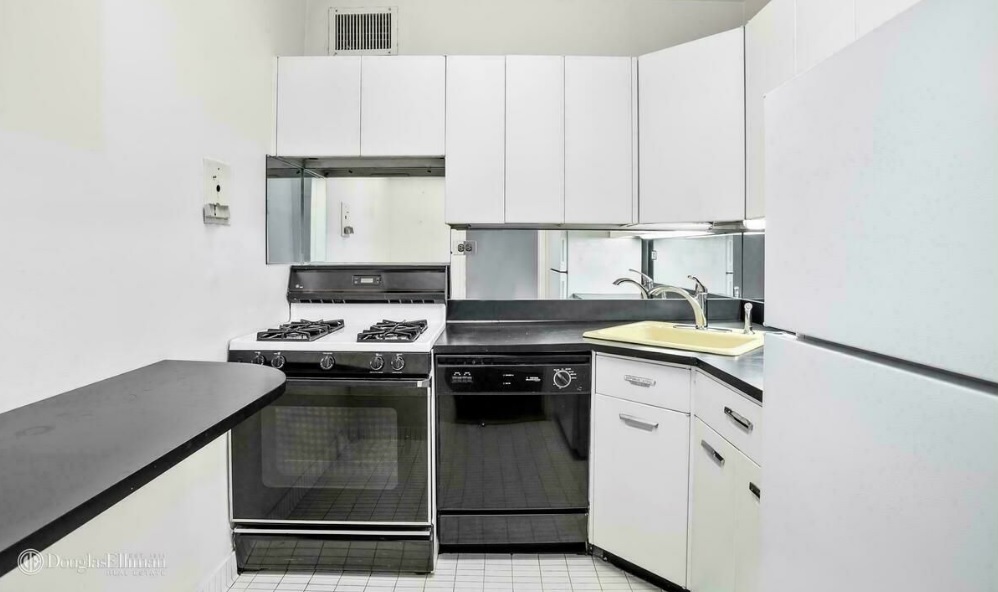 Replace the wall with an island in the kitchen
Wall: Zimmerman would eliminate the wall separating the kitchen from the dining area and put up an island instead. Knocking down this wall will be a part of the contractor's overall demo price.
Appliances: All new appliances are in order as the current ones are mismatched and old. This Bosch four-piece kitchen appliance package is $6,186 at AJMadison.com, and includes a French door refrigerator, a gas range, a dishwasher, and an over-the-range microwave in stainless steel.
Cabinets: "I'd really consider IKEA," Zimmerman says, explaining that you could buy all new cabinets for a space this size for under $15,000. "You could have fun with darker lowers and lighter uppers," he says.
Countertops: Zimmerman thinks Caesarstone would work great in this kitchen. "It's a forever product that you don't need to worry about," he says. "It's a workhorse and it looks great." These should cost around $70 a square foot installed.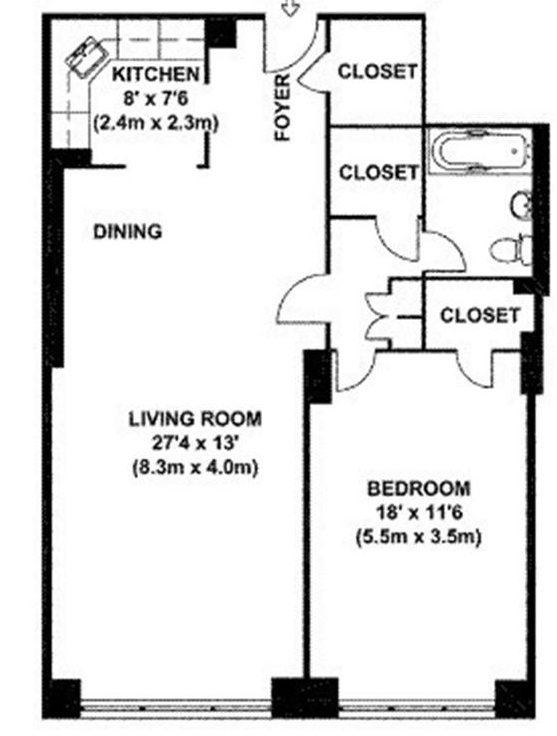 Backsplash: He'd choose a nice porcelain mosaic tile. These should be around $25 a square foot.
Flooring: Zimmerman would install oversize, concrete-looking, gray porcelain tiles. These should also be around $25 a square foot.
Sink: He'd swap out the ancient yellow sink for a more modern under-mount stainless steel sink. This Kraus Standart Pro sink is $300 at The Home Depot.
Faucet: A nice new faucet is also necessary, Zimmerman says, explaining that "it's the jewelry of the kitchen." This Dornbracht Tara Ultra Single Lever Mixer Pull Down Spray is $1,158 at QualityBath.com.
Lighting: Zimmerman would drop the ceiling a bit and install a few recessed down-lights. These should cost around $500 a piece.
He'd also put up a pendant above the new peninsula, and under-cabinet lights, too. This Shunk three-light kitchen island pendant is $172 at Wayfair. These 24-inch LED under-cabinet low-profile light bars are $50 each at AspectLED.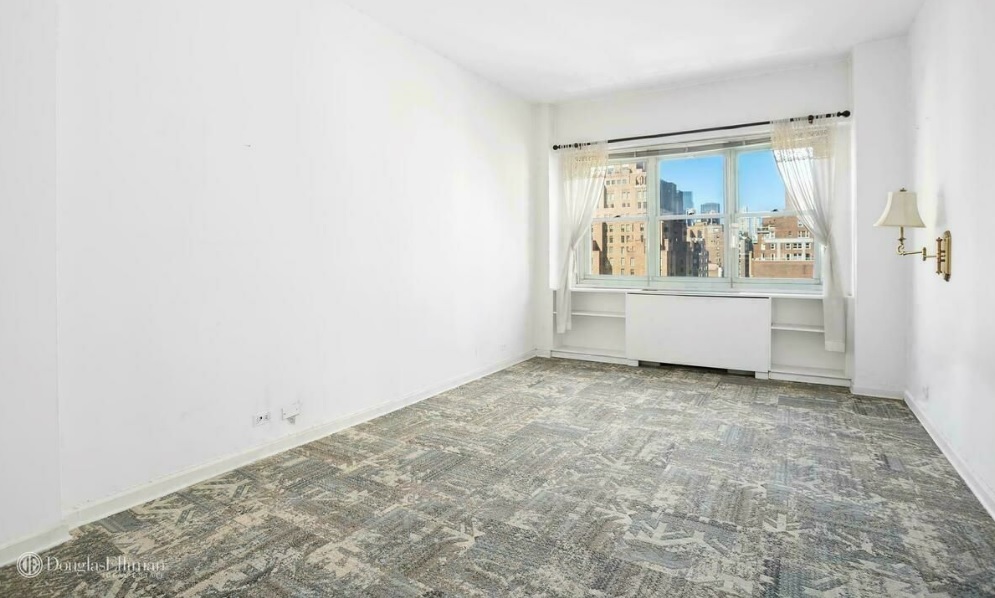 Remove the carpeting in the bedroom
Flooring: There's carpeting in here right now, but Zimmerman is "99 percent sure there's wood underneath." He'd therefore remove the carpeting and refinish the floor to match the living room.
Radiator cover: He'd have a new piece of millwork built to surround the heating/cooling element, just like in the living room. This should cost around $5,000.
Paint: He'd repaint the bedroom with the same white as the living room to connect the two spaces, or go with a soft neutral that'll appeal to most.
Lighting: Zimmerman would put up some sconces, as well as a pair of switched bedside lamps. This George Kovacs Rectangular 10-inch-wide Copper Bronze Wall Sconce Is $166 at Lamps Plus. This set of two Megan USB table lamps with LED bulbs is $130 at Lamps Plus.
Window treatments: He'd opt for curtains here too to add a softness to the space.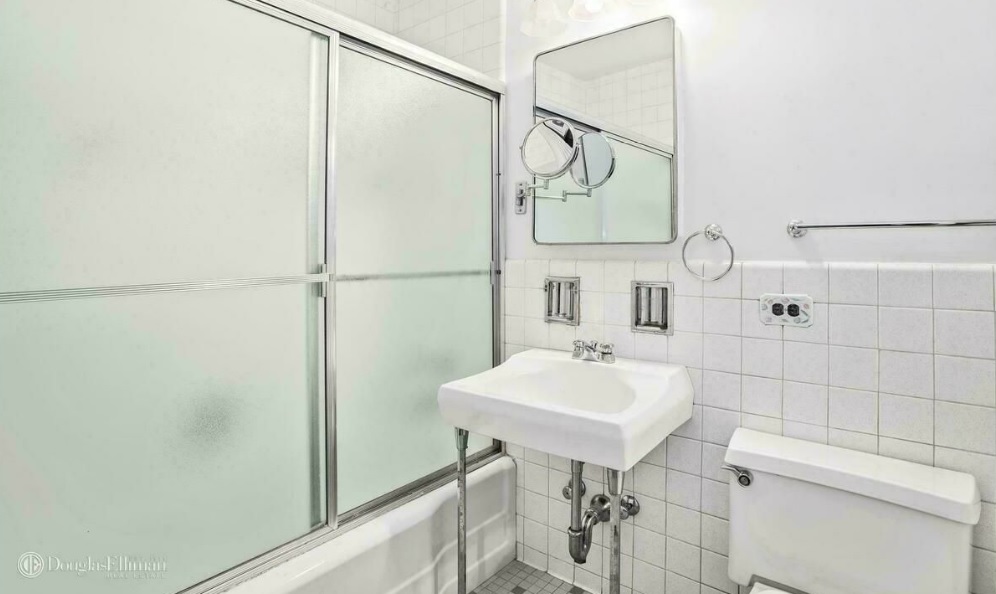 Change the entrance to the bath
Closets: There are two closets in the immediate vicinity of the bathroom—one just outside the door and one just beyond the wall beside the toilet, that opens into the bedroom. He'd lose the second one, and instead move the bathroom door here so that it opens directly into the bedroom. He'd then elongate the other one so that it runs the full length of the bathroom. All this closet work should cost around $2,000 or so.
Flooring/wall tiles: "It looks pretty institutional as is," Zimmerman says of the floor tiles, so he'd replace them with nicer porcelain tiles "that'll really transform the space." He'd get different porcelain tiles for the walls, too. These tiles should cost around $25 per square foot.
Vanity: If the new owner finds the old-school sink charming, Zimmerman advises hanging onto it. If they aren't so attached to it, he'd recommend something with more storage space. This Hurt 24-inch single vanity is $396 at Wayfair.
Tub/enclosure: He'd get a new tub and a new set of shower doors. This Kohler Villager 5-foot cast-iron tub is $393 at The Home Depot. A new custom frameless enclosure can cost around $5,000.
Toilet: He'd also get a new toilet, such as this one from Toto, $487 at Build.com.
Medicine cabinet: Prices for this Robern Uplift medicine cabinet start at $3,379. It comes with a mirror defogger, a nightlight, and an outlet.
Lighting: "I'd get a bright light for the top of the medicine cabinet," Zimmerman says. This Possini Euro Collection Midtown LED light is $236 at Lamps Plus.