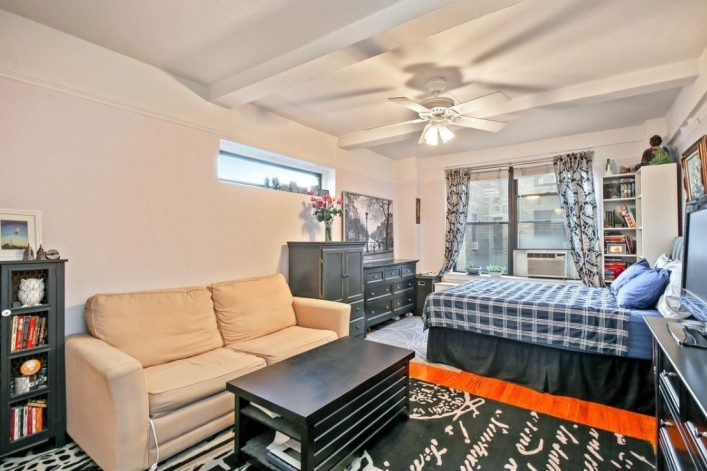 At $389,000, this 15th-floor corner studio at 235 West 102nd St. on the Upper West Side is pretty darn affordable—especially by Manhattan standards. Charming pre-war details like beamed ceilings simply add to the unit's allure.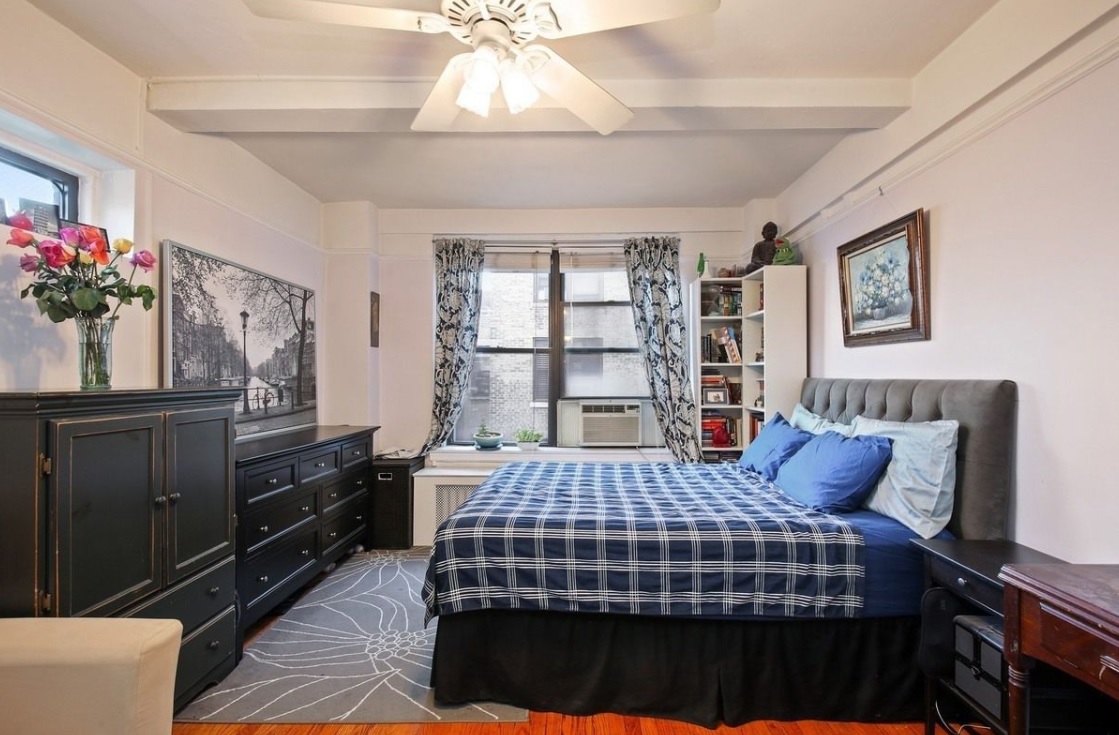 The main living space looks small, but livable, with tawny hardwood floors, and, as it's currently set up, room for a big bed, a decent-sized seating area with a couch and coffee table, and a few dressers and bookcases scattered about. The sheer number of such items seems to speak to a lack of storage space in the unit, but, according to the floor plan, there are indeed two closets near the entrance. Perhaps they aren't particularly spacious?
The view is less than perfect—you look out onto the rust-colored bricks of another building—but the window at the end of the room is large, and will surely let the sun shine in. There's another (somewhat peculiar) window in the room as well—a narrow rectangular opening way up high on the wall opposite the bed. It's not clear what its function is exactly, but more light is rarely a bad thing.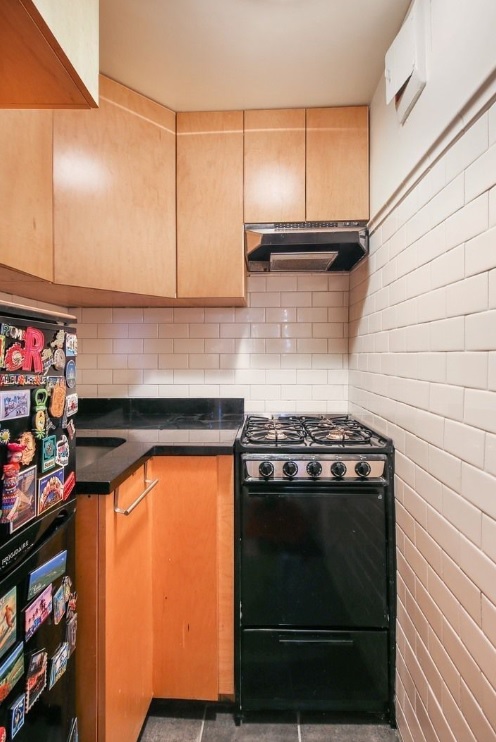 The kitchen is barely-there tiny, but it holds all the basics, including an ancient-looking refrigerator and a small stove. There are a lot more cabinets in here than one might expect, ensuring that the apartment's occupant will have ample room for a variety of mismatched dishes and platters. The counter space, however, is practically nonexistent, meaning that prepping any sort of food in here is going to be a challenge.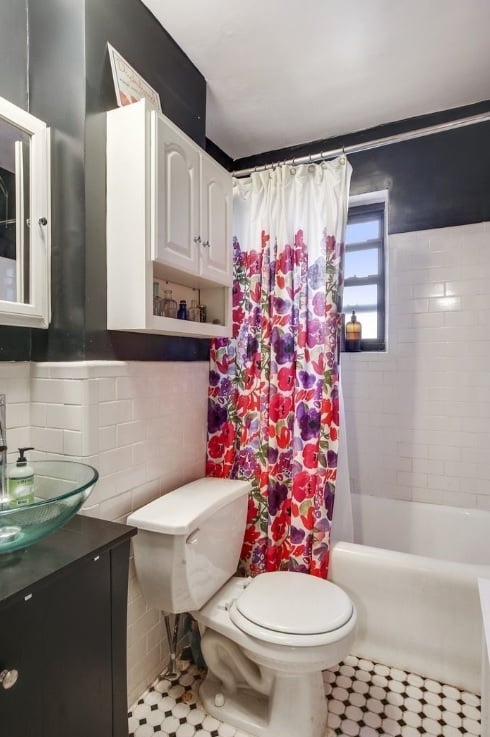 The windowed bathroom is a good size, and offers a black-and-white theme throughout, with black-and-white tiled floors, as well as black paint on the upper portion of the wall and white tiles beneath it. There's also a vessel sink sitting atop a dark wood vanity, a white medicine cabinet, and an additional white storage cabinet above the toilet.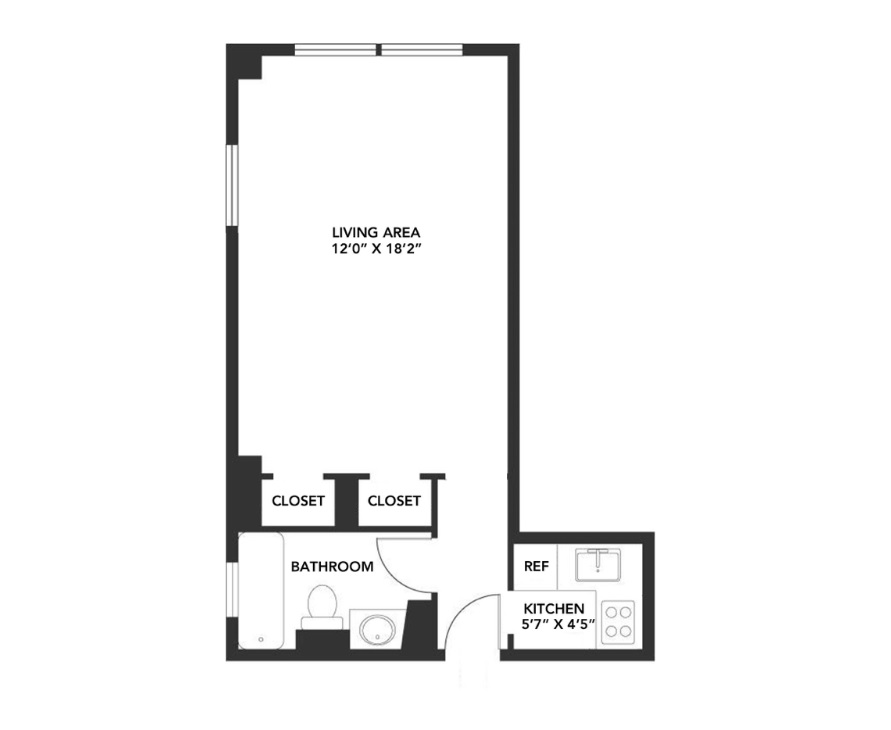 This unit is located in the Broadmoor, a full-service pre-war co-op with a glass-enclosed solarium with a furnished sundeck, on-site laundry, and a bike room. The pet-friendly board permits pied-à-terre, guarantors, and parents buying for their children. Maintenance is $735 a month.
Brick Underground articles occasionally include the expertise of, or information about, advertising partners when relevant to the story. We will never promote an advertiser's product without making the relationship clear to our readers.