Buy Curious
What to know about buying in Long Island City, Queens, a condo boomtown with luxury amenities and Manhattan views
'Prices have caught up with Manhattan in the last five years, but you get a bit more for your money here'
One-bedroom condos run $750,000 to $1.2 million, two bedrooms $1.1 million to $2 million
The western Queens community of Long Island City—home to JetBlue Airways, Silvercup Studios, the red neon Pepsi-Cola Sign, and Wonton Food, the world's largest fortune cookie factory—is the hippest and most happening part of the borough. It's also culturally diverse.
The waterfront neighborhood is undergoing explosive growth, with glittering glass luxury towers giving it upscale cachet.
In this week's Buy Curious, Lauren Renee Bennett, a broker with Corcoran, and Christina DeCurtis, an associate broker with Modern Spaces, give us the inside story on Long Island City.
The question:
I've heard that Long Island City is a pretty exciting place and a viable alternative to Manhattan when it comes to housing prices. What can you tell me about it?
The reality:
Noting that Long Island City has completely remade itself in the last 15 years, Bennett says that "it was a big, blank slate, and what has been created is amazing. Some of my clients have said that the waterfront and glass towers give it a Miami vibe. Prices have caught up with Manhattan in the last five years, but you get a bit more for your money here."
DeCurtis says, "When I started 13 years ago, people were drawn to the quick Manhattan commute and the incredible views of the skyline because there were not many high rises. And the lower carrying costs, rental rates, and taxes were also a draw. Taxes are still lower than in Manhattan, as are the carrying charges, but pricing has skyrocketed."
Where is it?
Long Island City is bounded by Astoria on the north, the East River on the west, Sunnyside's New Calvary Cemetery on the east, and Newtown Creek and Greenpoint, Brooklyn on the south.
Why would NYers want to move to Long Island City?
"It's very accessible to Manhattan," Bennett says, adding that many of her clients work in Midtown or the Financial District. "The new condo developments are a big attraction, but the older developments have noticeably larger floorplates."
DeCurtis agrees, adding that depending where you live, Long Island City is only one to four subway stops from Manhattan. She says most buyers are from Queens, including people who are already in the community and either downsizing, upsizing, or exchanging rents for mortgages.
Where in Long Island City should you live?
There are four named sections in Long Island City.
Hunter's Point (aka Hunters Point, sans apostrophe), home to MoMA PS1 and the SculptureCenter, features some low-rise buildings as well as waterfront skyscrapers.
Queensboro Plaza, the elevated subway hub, is a more dense area with housing, restaurants, and businesses.
Court Square, which features a block of brownstones, is defined by the 50-story, 673-foot-high glass office tower One Court Square, also known as the Citigroup Building, as well as the 1908 Queens County Court House.
Dutch Kills, a mix of new condo developments and townhouses, "feels like Astoria," Bennett says.
What are housing and pricing like?
Although properties were "flying" off the market earlier in the year, Bennett says that because of higher mortgage interest rates, "buyers and sellers have more realistic expectations." What's more, "Buyers have a little bit more power now even though there's not a lot of inventory; they are serious and aggressive."
Most of the housing stock is condos, she says, adding that although there are no true co-ops, the CityLights Building in Hunter's Point is a condop, or a co-op that was created in a condo building.
There is only one single-family house on the market, according to StreetEasy, which also lists 135 condo units for sale in Long Island City.
According to Bennett, one-bedroom condos generally run $750,000 to $1.2 million, with units in new, amenity-rich buildings commanding higher prices. Two-bedroom units typically are $1.1 million to $2 million.
"There are so few single-family homes on the market that there are no significantly reliable statistics," she says, adding that "their prices are pretty high."
There are, however, a number of options for renters, though "things have slowed a bit from the summer when the market was really hot."
Studio apartments usually rent for $2,500 to $2,600 per month, and one bedrooms start at $3,100 and can range up to $4,500 for apartments with desirable features such as large outdoor spaces. 
Two-bedroom units start in the high $3,000s or low $4,000s and can bring over $5,000.
"The rents are so high that they are encouraging buying," DeCurtis says, adding that "the rental inventory far outweighs the condo inventory. The majority of high rises are rentals; we are about $100 more per square foot than Astoria because we are a little closer to Manhattan and the quality of the developments is higher."
She points out that the record price for a condo—$3.451 million set in June 2020 in the middle of the pandemic—was bought by a family who had rented in Long Island City for many years.
Is there a lot of new development? 
In 2019 protests by residents and lawmakers forced Amazon to cancel its plans to build a corporate campus in the community, but since then Long Island City has a lot of new development.
New condo developments include CORE23, NOVA, The Anable, and The Greene as well as 24-01 Queens Plaza North, which is still is in the works. A number of rental developments are also in the pipeline, notably Rise, 2-33 50th Ave., The Green House, and TRIO.
Despite these new projects, "there isn't enough when you look at the population growth," DeCurtis says. "That's why it's so expensive here. There's a decent amount of development, but it's never enough to balance [demand]."
What's the transportation situation?
Commuters do not lack in options. The E, F, G, N, M, R, W, and 7 lines serve the community; so do the Q32, Q39, Q60, Q66, Q67, Q69, Q100, Q101, Q102, Q103, B32, and B62 buses.
The East River Ferry stops in Hunter's Point.
What is there to do?
Socrates Sculpture Park, built on a former landfill, is the community's largest and most popular green space. It features outdoor sculptures and has a robust events' and activities' schedule that ranges from exhibitions and yoga classes to outdoor movie nights.
Court Square Park, outside the Queens County Court House, features a fountain, benches, and walkways.
MoMA PS1 is renowned for cutting-edge, community-centric art exhibits and performances.
SculptureCenter, founded in 1928, focuses on contemporary art.
The Noguchi Museum, dedicated to the work of artist Isamu Noguchi, attracts visitors from around the world.
The architect-designed Queens Public Library at Hunters Point sits on the East River (next to the Pepsi sign) and offers programs and events.
The parks along the waterfront, including the 12-acre Gantry Plaza State Park and the 10-acre Hunters Point South Park, provide what DeCurtis calls "the most spectacular views" of the Manhattan skyline.
What's the restaurant/nightlife situation?
The area boasts several Michelin-rated or starred restaurants, including Casa Enrique (Mexican), R40 (Argentinian), and Bellwether (New American with Mediterranean accents).
Other popular spots include Luzzo's, a place for gourmet pizzas and homemade pastas; Blend on the Water, a Latin-inspired restaurant; Vanessa's Dumpling House, whose name reflects its menu; Murray's Cheese Bar, which pairs cheese with wine and beer; and Jacx & Co food hall, with seven eateries whose menus range from Cantonese barbeque to dim sum.
Café Henri, serving crepes and other French dishes, and Tournesol, a French bistro, are neighborhood staples.
How about grocery stores?
Key Food, Food Cellar, CTown, and Urban Market are all here; Trader Joe's is one of the newer options.
There also are several bodegas and fruit and vegetable markets.
MogMog (Japanese for "munch, munch") is a fish market that also sells prepared seafood dishes and sushi.
Check out these listings in Long Island City.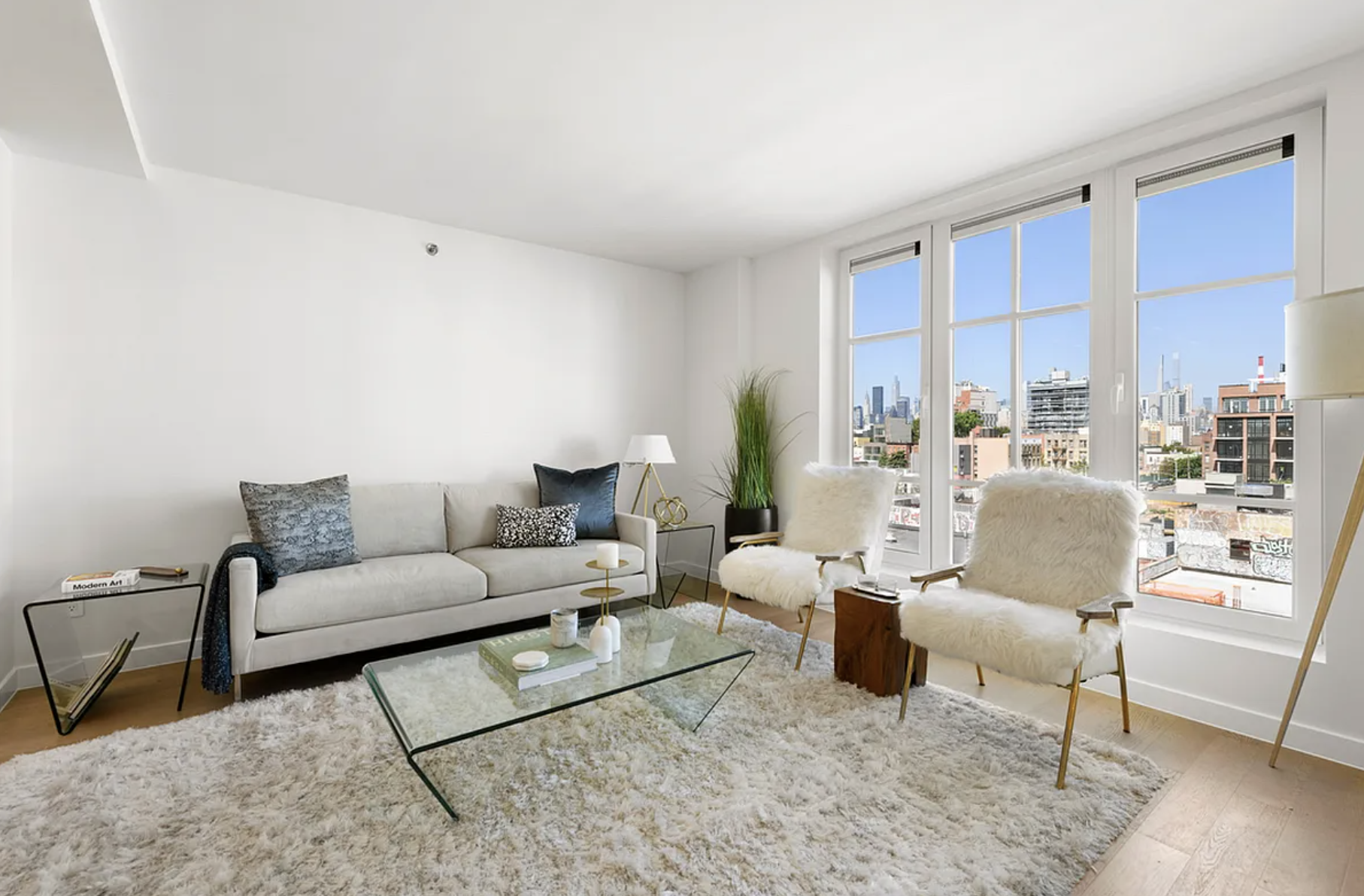 Listed for $695,000, this one-bedroom, one-bath unit is in the new Eden Condominium development in the Dutch Kills neighborhood. The 632-square-foot condo has oak floors, oversize windows, an intercom, a smart-lock system, washer/dryer, and kitchen with a dishwasher, custom cabinetry, high-end appliances, and quartz countertops. The elevator building, which has 70 units and seven floors, has an outdoor courtyard with a reflection pool, sauna, and barbeque grills. Other amenities include a fitness center and yoga studio.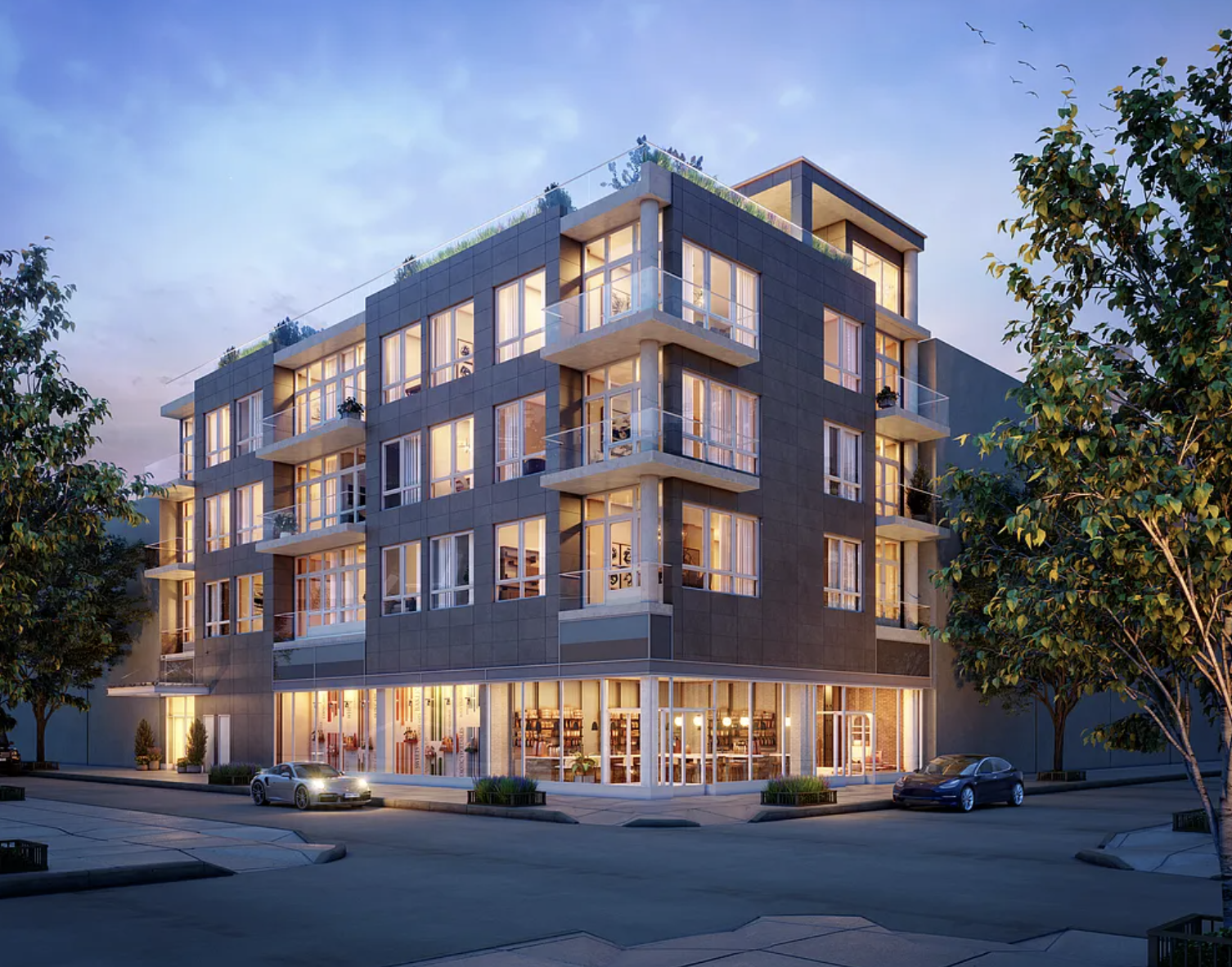 This one-bedroom, one-bath condo in Vernon47 in Hunter's Point is listed for $900,000. It has 11-foot ceilings, engineered-wood white oak flooring, floor-to-ceiling windows, heated bathroom flooring, a washer/dryer, and kitchen with custom cabinets, quartz countertops, and high-end appliances, plus a private terrace. The 15-unit, four-story building was finished in 2021. Amenities include a virtual concierge, landscaped terrace, resident's lounge, equipped gym, package room and bicycle storage; private roof terraces are also available.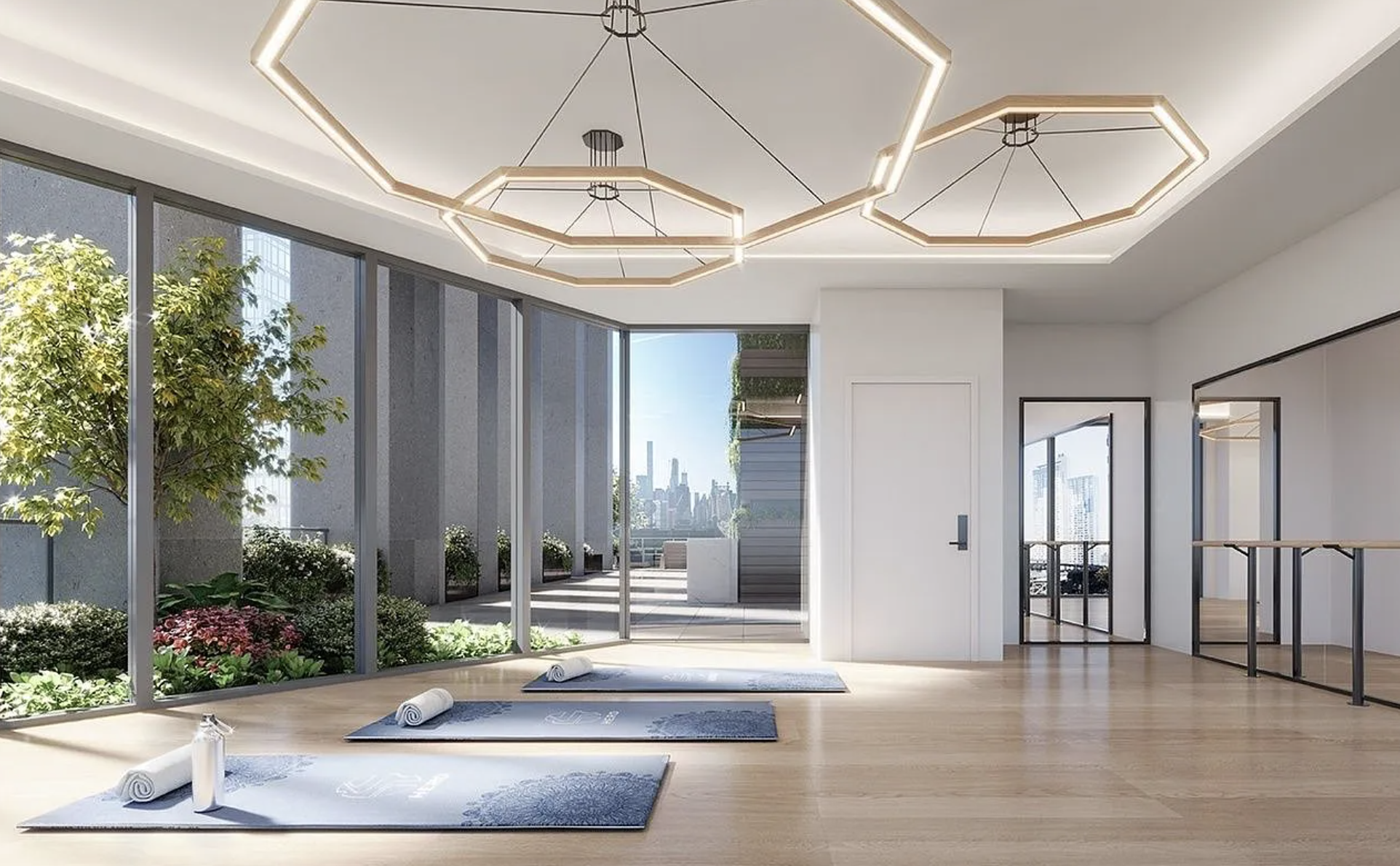 Listed for $750,000, this 578-square-foot corner condo in Hunter's Point has one bedroom, one bath, white oak flooring, and an eat-in, windowed kitchen with custom oak cabinetry and integrated appliances. The 2019 building, which has 109 units and 22 stories, offers a variety of amenities, including a pet spa, zen garden, bicycle storage, package room, roof deck with barbeque grills and sky lounge, health club, and yoga studio with a 3,000-square-foot veranda.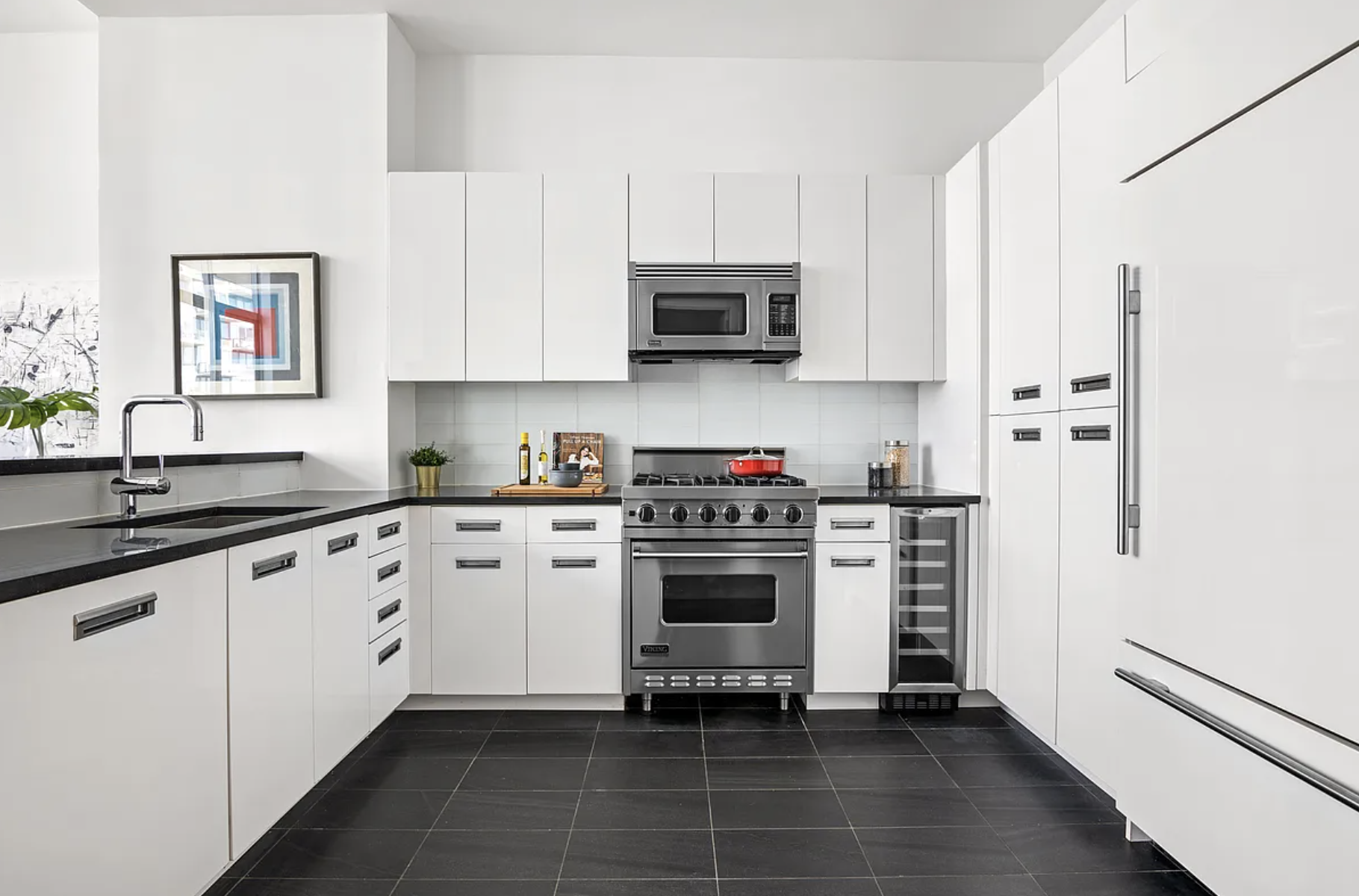 Located in The View at East Coast, one of Long Island City's waterfront condo developments, this 1,500-square-foot penthouse unit is listed for $2.295 million. It has two bedrooms, three baths, 12-foot ceilings, a 200-square-foot terrace, chef's kitchen, soaking tub, washer/dryer, walk-in bedroom closet, and central heating and air conditioning. The building, which opened in 2018, has 184 units, 18 stories, a lap pool, billiards room, fitness center, roof garden, lounge, sauna/spa, and garage parking.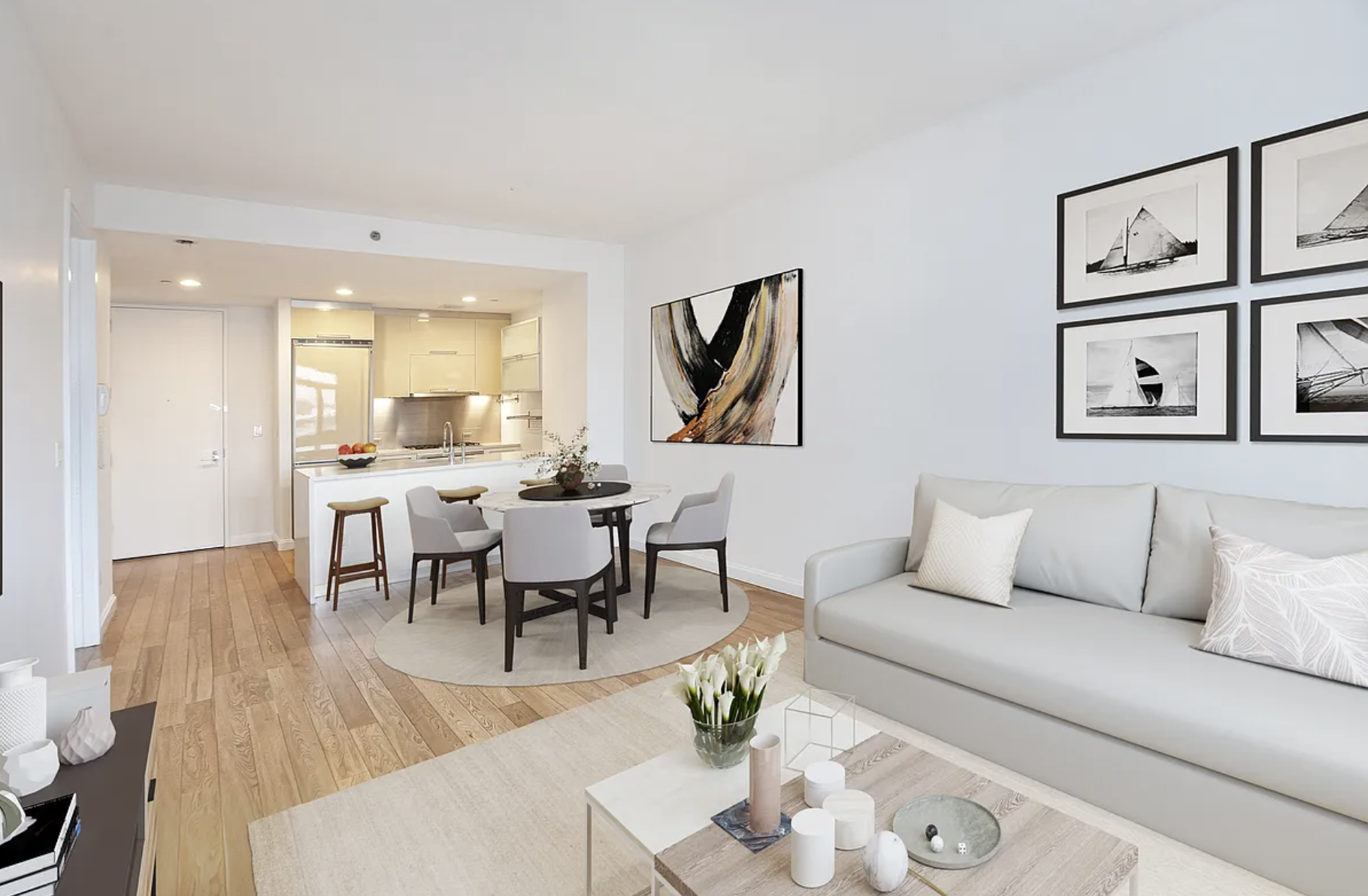 This 725-square-foot, one-bedroom, one-bath condo, listed for $825,000, has one bedroom and one bath. Amenities include 9.2-foot ceilings, oak flooring, a custom kitchen, and a washer and dryer. Dating to 2008, the 122-unit, 12-story building features a 24-hour concierge, fitness center, playroom, yoga studio, and two rooftop terraces.
Nancy A. Ruhling is a freelance writer based in New York City.
Brick Underground articles occasionally include the expertise of, or information about, advertising partners when relevant to the story. We will never promote an advertiser's product without making the relationship clear to our readers.