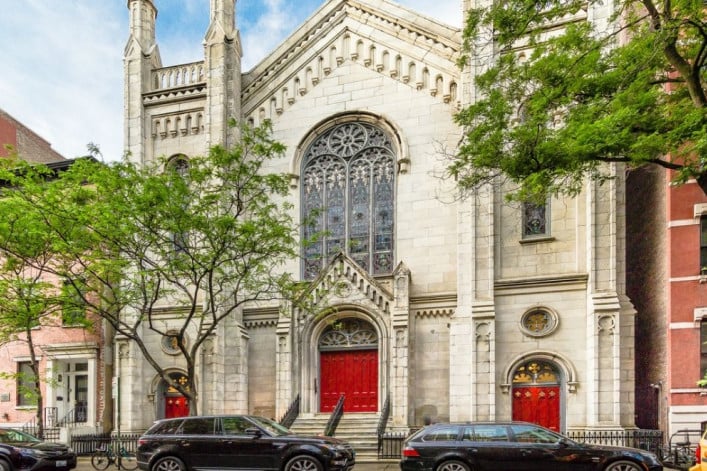 Church. It feels like you spent half your childhood trying to get out of it. But some NYC real estate buyers are doing all they can to get back in. Converted former houses of worship are some of most unique residential buildings in all of NYC.
Typically places of worship are sold because the congregation has dwindled and can't maintain the aging building. According to the Department of Buildings, in the last 20 years, there have been 21 renovation projects that converted existing places of worship (including small storefront churches, larger cathedrals, as well as synagogues, and mosques) to residential buildings with at least one dwelling unit in NYC.
Most of these conversions are in Brooklyn and Manhattan, and while you can find both condos and co-ops that were once churches, the most recent conversions are usually condos.
Sometimes communities try to push back against development, like a current fight over a Flatbush Church. The Brooklyn Paper reports preservationists are desperate to save Flatbush Presbyterian Church at 494 East 23rd St., which has been sold to a developer.
In this week's Buy Curious, T.J. Higgins of Citi Habitats and Gregory Civers of BOND New York take you to Sunday School to explain the condos and co-op conversion process, where to find them, and what it's like to live in them.
The question:
I happened upon a listing for an apartment in a former church, and the idea of living in one really appealed to me. Are there lots of residential buildings like these in NYC? How do I find them?
The reality:
"I think many people today want authenticity and a sense of history—when much of our lives are spent looking at screens," says Higgins, who lives in The Spire Lofts, a former church turned rental building in Williamsburg. "These former church buildings provide that connection to the past that many buyers crave."
Redeveloping a church, often found in prime locations, as opposed to building from the ground up, gives developers an advantage in creating very unique buildings in the competitive condo market. 
Carroll Gardens' 360 Court Street is a condo conversion of a former South Congregational Church. It has high, cathedral ceilings; large, stained glass windows; and plaster arches and columns. Amenities include a live-in super, a common laundry room, and a landscaped garden.
Also in Carroll Gardens is 450 Clinton St., a former church that was converted into co-ops that retain its 18-foot vaulted ceilings and ornate column capitals. The onetime Old Westminster Church has a shared laundry room, a parking garage, a bike room, and available storage.
At 101 Warren St. in Cobble Hill, there's The Arches at Cobble Hill, formerly St. Peter's Church, which is now a condo building. Original moldings have been maintained wherever possible, and there are clear glass skylights. The elevator building has a live-in super, a common courtyard, and a package room.
Moving over to Manhattan, there's The Abbey at 205 East 16th St. in Gramercy Park. Built in 1888, the Romanesque Revival-style building was originally a parish house for St. George's Church, which was next door. It converted to condos in 2005, and includes design elements from its former life, including stained glass windows, exposed beams, and high ceilings. The full-service condo offers a 24/7 doorman, a porter, and a live-in super.
And Greenwich Village has Novare at 135 West 4th St., a onetime Methodist church that converted to condos in 2006. Amenities include a 50-foot atrium, original stained glass, a virtual doorman, and a common storage room.
How does a church can become a residential building?
According to Higgins, a Catholic church must be "deconsecrated before it can be used for any other purpose—and the archdiocese can reject any buyer who plans to use the property for 'sordid' use.
There's no formal process in place to deconsecrate a church, but all holy objects must be removed, and the congregation typically gathers one last time to say their goodbyes before work can begin.
What are apartments in former churches typically like?
The architecture will vary depending on if the building was a landmarked church or a mixed-use building, Civers says.
But buildings converted from more conventional churches are usually loft-like, unique, and have high ceilings.
"In many cases, the old church architecture is really dramatic—and solidly built—so developers tend to play up those features," Higgins says. Many of these homes have original windows (sometimes with gothic arches), exposed brick or stonework, and heavy wooden beams. "This gives the apartments a cozy—almost medieval—vibe."
But although developers tend to keep the building's original design, they do make a point to add modern touches and finishes, like appliances and cabinetry.
"This allows residents to feel like they are living in the past—but with the convenience of modern technology," Higgins says.
"In a city full of new developments and cookie-cutter apartments, a church conversion offers a unique living experience steeped in history and character," Civers says. "Living in a piece of New York history is a very rewarding experience, and you will surely be the subject of many conversations among your friends, family, and visitors."
Higgins, who actually does live in a converted church, chose his building for two reasons. "One, it looks awesome from the outside—much cooler than a normal building. And two, the unique renovations, layouts, and finishes make living in a former church feel like being on a movie set. It makes the everyday feel special."
What are the downsides of living in a former church?
Homes in converted churches aren't for everyone, say our experts.
"If you prefer floor-to-ceiling windows and the latest in ultra-modern design, you would probably not look to a church as your next home," Higgins says. "You have to appreciate the quirks instead of fighting them."
And since the structures are usually old, there are issues like drafts and limited lighting that you'll have to work around.  
"My building—The Spire Lofts—has central A/C, which is typically a must in these conversions as the old windows are too big for window air conditioners," Higgins says.
Another huge con for him is the fact that "delivery people never think the address is right, so getting Postmates or Seamless is typically a pain," he says.
For Civers, the most difficult challenge is the layout. "Whenever you try to reconfigure an unconventional space into a conventional layout, there are issues," he says. "The church may have had different ceiling heights throughout."
That being said, he thinks it's all worth it in order to live in a truly unique residence. "Your home will spark great conversation when you entertain."
What are some of the challenges and advantages of turning a church into apartments?
The layout and architecture or a church is so different from the conventional buildings developers usually handle, however many of them are located in prime locations—on corner lots and in desirable historic communities with brownstones and Victorian architecture. 
"You aren't going to find many former houses of worship in formerly-industrial warehouse areas along the East River, for example," Higgins says.
Some probably see church conversions as a headache because they have to work with existing structures rather than design something from the ground up.
"Managing the unique spaces and shapes and sizes of the buildings can be a challenge," he says. "Because they were not designed for residential use, making sure each room has a window and appropriate light, a point of egress, etc., can cause some interestingly-shaped living spaces."
Another deterrent, Civers says, is the fact that the approval process for the sale by the New York State attorney general can take a while—sometimes a year or two.
What kinds of amenities do these buildings tend to have?
Converted churches tend to be "boutique" buildings due to their size. Many are just a few units—with the larger ones able to accommodate 30 or so apartments.
"Because of their smaller footprints, most do not have the bells and whistles of a 50 story high-rise that's home to hundreds of apartments," Higgins says. Most will, instead, have more modest amenities—a building staff, a virtual doorman, an elevator, a gym, and/or access to a courtyard.
"Buyers look to former houses of worship for charm and aesthetics… not for rock-climbing walls and pet spas," he says.
How much do these apartments typically cost?
Pricing for these homes depends a lot on the neighborhood, with prime Manhattan locales—such as Chelsea or Greenwich Village—commanding the highest prices.
"Currently, pricing for homes in converted churches is averaging from about $800 to $1,200 per square foot in Brooklyn, and about $1,100 to $1,500 per square foot (and beyond) in Manhattan," Higgins says.
Check out these units in former churches: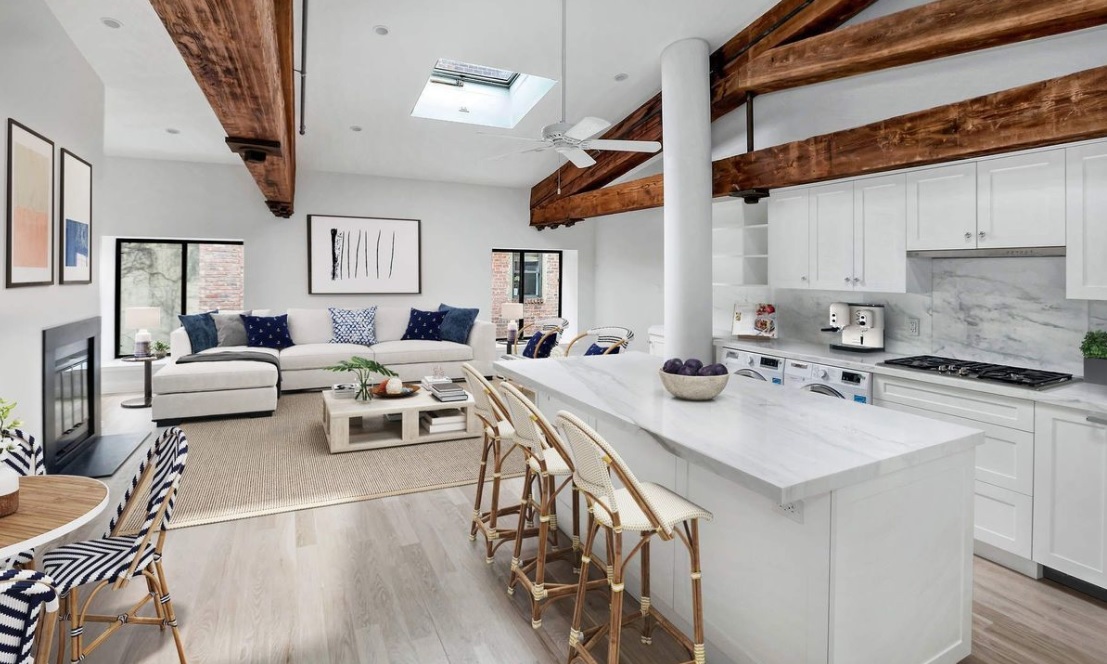 The price of this two-bedroom, two-bath co-op was recently reduced by $700,000 to $2,295,000. The renovated unit has high ceilings, dramatic wooden beams, five skylights, a wood-burning fireplace, white oak floors, a white marble kitchen, and white marble baths. It's located in a pet-friendly building in a historic former church, and has bike storage and virtual doorman security. Maintenance is $2,841 a month.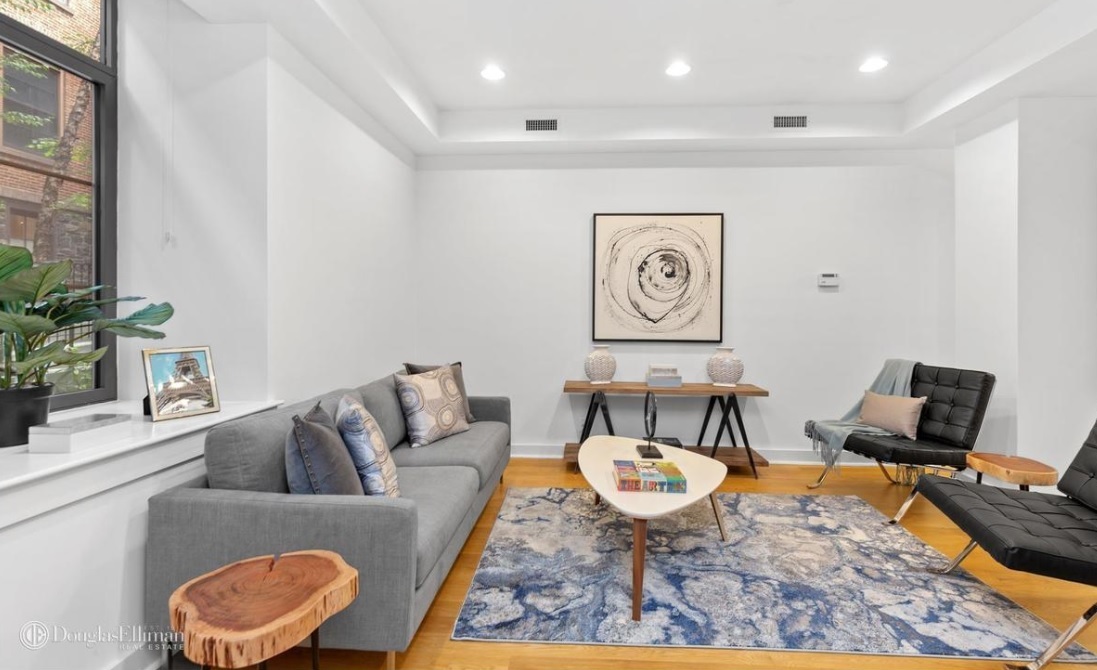 Listed for $1,595,000, this two-bedroom, two-and-a-half-bath duplex has an entrance on the first floor with direct access to the courtyard, and a second-floor entrance from the lobby of the building. The first floor is comprised of a living room, separate dining room, powder room, open kitchen, and laundry room. The second floor has the master bedroom with an en suite bathroom, a second bedroom, another bathroom, and a large storage closet. There's LED lighting throughout, custom closets, hardwood floors, custom tiles, and central heat and air conditioning. It's located in The Arches at Cobble Hill, a luxury condo building that was converted in 2005 and was formerly known as St. Peter's Church. Common charges are $963 a month. Taxes are $700 a month.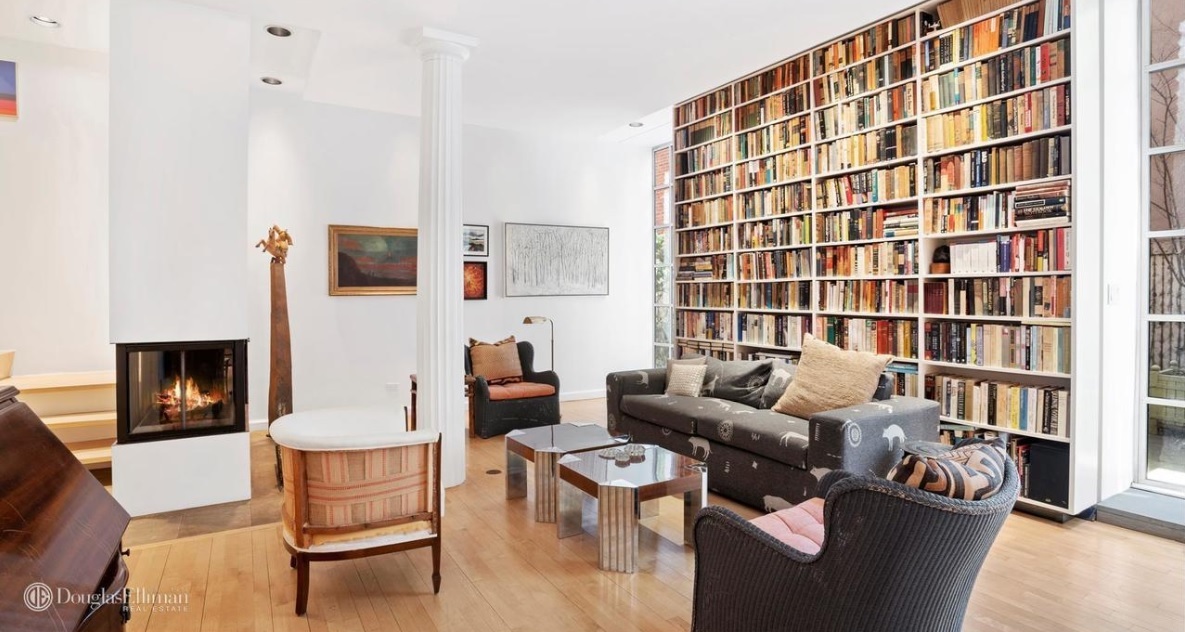 This two-bedroom, two-and-a-half-bath co-op is asking $1,995,000 and has a large private patio, high ceilings, three-sided fireplace, open kitchen with an island, dining area, and laundry closet with a vented washer and dryer. An architectural staircase leads to the second floor, which has two bedrooms, two full bathrooms, and lots of closets. It's in a onetime Greek Revival Church that was converted to co-op. The pet-friendly building has a virtual doorman. Maintenance is $2,787 a month.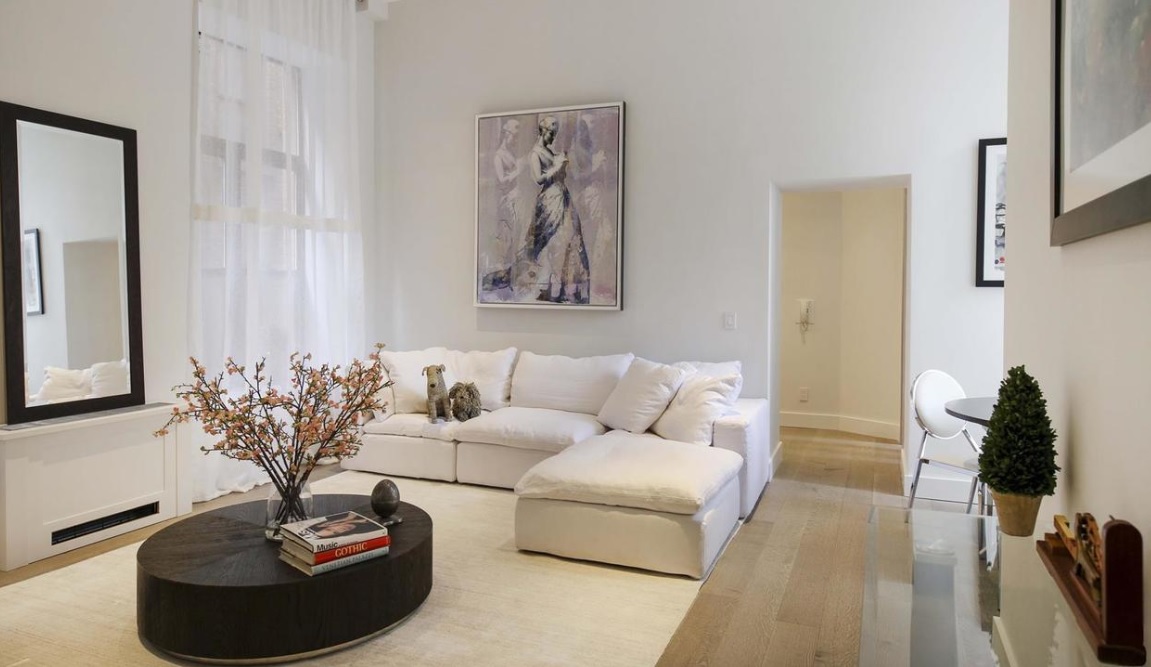 This 1,421-square-foot, two-bedroom, two-bath condo is listed for $2,100,000. It has 14-foot ceilings, a chef's kitchen with quartz countertops, quiet-close drawers, and an under-counter washer/dryer, and oak floors. It's located in The Abbey Condominium, the former Parish House of the St. George Church. Common charges are $1,582 a month. Taxes are $2,082 a month.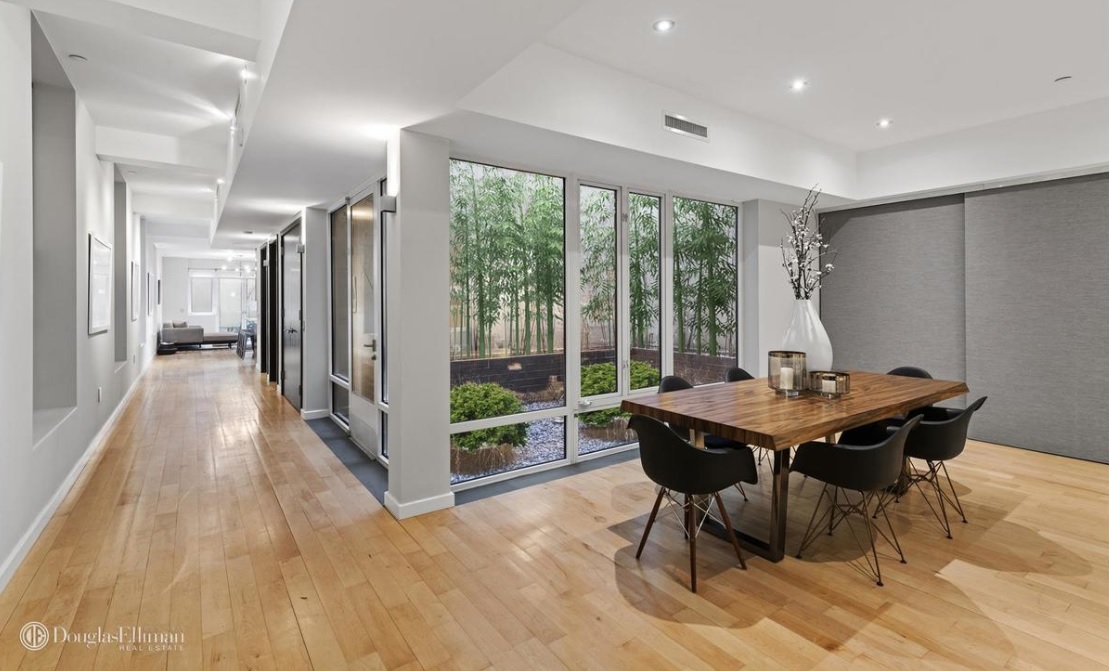 Priced at $2,995,000, this 1,900-square-foot, split-layout two-bedroom, two-bath condo has its own private entrance, an open kitchen and dining room that overlooks a garden, a large living space, separate den, full-sized washer and dryer, central heat and A/C, and high ceilings throughout. It's in a five-story, luxury boutique condo building that was originally built as a Methodist church, and was converted to condos in 2006. It has an elevator, a 50-foot entry atrium, original stained glass, a virtual doorman, and common storage. Common charges are $1,966 a month. Taxes are $2,184 a month.
Brick Underground articles occasionally include the expertise of, or information about, advertising partners when relevant to the story. We will never promote an advertiser's product without making the relationship clear to our readers.