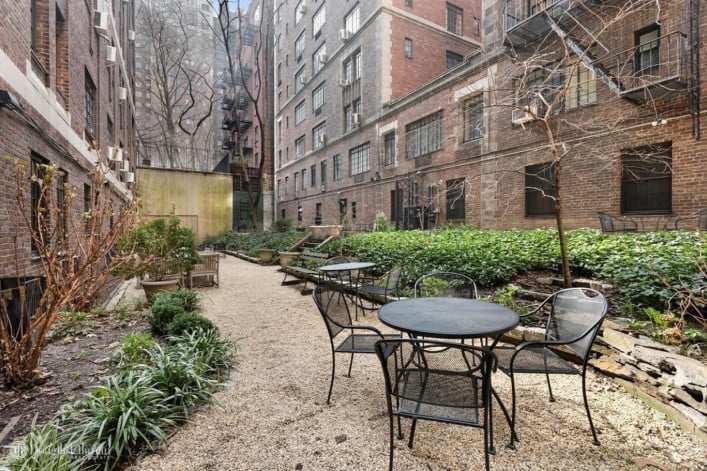 Fancy a place with some outdoor space where you can sunbathe, grow veggies, or while the day away, but figure you don't have the funds to cover that sort of thing in a city as expensive as NYC? Let Barbara Helms of Compass and Doug Bowen of Douglas Elliman tell you how you can turn that (day)dream into a reality in this week's Buy Curious.
The proposition:
I have a modest budget for an apartment ($500,000), but I'd really like a small backyard or outdoor space of my own. What are my options?
The reality:
If you have your own outdoor space—whether it be private or shared with a few neighbors—you don't have to go to a public park to be at one with nature. You can plant peonies, sway on a hammock between trees, or simply sit on a bench to read a book beneath some particularly shady branches—all without ever leaving your own property. As such, this "sanctuary effect," as Douglas Elliman's Bowen calls it, can feel priceless.
Still, outdoor space is one of the few amenities that money can't always buy in New York City since many buildings simply don't have any to offer. But options do exist, even at this price point. You just need to know where to look.
"Buyers that have a smaller budget are already faced with limitations, and when adding a specific amenity, like private outdoor space, it becomes even more of a challenge," says Helms of Compass.
Nonetheless, you should be able to find an apartment that gives you a slice of nature. "Depending on your needs, you may find that a shared space is preferable. You could end up getting a larger apartment in better condition that would make up for the shared space," she says. "Depending on the size of the building and the proximity of your apartment to the garden, this option may work for you. Finally, if grass is not a necessity, you may want to consider an apartment with a balcony, terrace or roofdeck."
Where should you look?
For starters, any neighborhood will obviously have apartments that have outdoor space. But not all neighborhoods offer plenty of options with outdoor space for a half a million or less. Given this, be open-minded with your neighborhood picks. Translation: Go where the outdoor space leads you. 
"New York City real estate is oftentimes about trade-offs, and extending the search by one or two neighborhoods [from where you think you want to live] is one way of getting the specifications you desire," says Helms. "There are a few neighborhoods that have been on the radar of developers and investors and are slated for growth in 2017. Focusing on these areas might benefit the buyer in two ways: lower price point and potential for profit at the time of sale."
Areas that fit the bill and are increasingly popular but not considered prime (like Park Slope, Dumbo, or the Upper West Side) include Prospect Lefferts Gardens, Gowanus, and Prospect Park South in Brooklyn; Astoria and Bayside in Queens; and Kingsbridge in the Bronx.
"Astoria has some large complexes with beautiful shared gardens, likes this two-bedroom," says Helms. "And Kingsbridge is on everyone's radar as an up-and-coming spot where prices are very low. You can snag a three-bedroom townhouse that has the full suburban package, including a private backyard."
In Manhattan, she recommends Yorkville on the Upper East Side or Midtown East, since prices are still relatively low in both locales. "Primarily, this has been based on the distance from the subway," she says. "I expect we will see these neighborhoods change thanks to the arrival of the Second Avenue subway. [For now, though], there is opportunity to get in during this early period of growth."
At this price point, Helms says Yorkville seems to have the most units with outdoor space. "I found many in smaller buildings that had private outdoor space," she says.
Bowen of Douglas Elliman believes that the modest budget you're working with would probably price you out of such primary markets as Brooklyn Heights or Park Slope, so he too suggests looking at regions that aren't yet super-prime but are getting there. 
In Brooklyn, he proposes Crown Heights below Eastern Parkway, Prospect Lefferts Gardens, Kensington, Midwood, Bed-Stuy and East New York. In Queens, he sees "lots of opportunities in Jackson Heights, Kew Gardens, Forest Hills and Ridgewood." In the Bronx, he likes Mott Haven and Port Morris. And in Manhattan, he'd recommend Inwood, Fort George and Washington Heights. 
According to Bowen, units in these neighborhoods run the gamut. "Almost all [of them] contain existing townhouse housing stock, cooperative apartments and new construction," he says. You might find a "townhouse with a split backyard, a back terrace, a shared roof space or a whole roof space or a condo… with a balcony, terrace or rooftop (partial or whole) or a piece of a garden."
What types of buildings should you look in?
Newer mid- and high-rise buildings "will [often] have some sort of outdoor space to compete with the many different amenities available [in other similar buildings]," says Helms. "But a lot of backyard spaces can be found in prewar brownstones. These buildings were typically built as single-family homes. When they were converted to multiple-unit buildings, the first-floor units had the advantage of the backyard space being included." 
If you're willing to forego an actual greenspace, a balcony could be the way to go—especially if your thumb is more black than green. "It's easier to find an apartment with a traditional terrace as opposed to a private yard because there are just more of them," says Helms.
Another option is a walk-up building with a roof deck. Walk-ups are traditionally cheaper, but you will be forced to get a work-out each and every time you exit your apartment. You just have to decide if access to said deck makes up for all the extra stairs you'll have to climb each day. Says Bowen: "There are tradeoffs with any purchase."
Helms adds that while walk-ups are typically more affordable than elevator buildings, "among all of the options for private outdoor space, these are the most rare."
How much is outdoor space worth?
"The general rule is to look at the price of the apartment as though it didn't have outdoor space, and then to add on around 25 to 50 percent of the interior price per square foot to calculate the exterior," says Helms. "For example, if an apartment is 500 square feet and is priced at $500,000 ($1,000 per square foot), a 100-square-foot yard would add $25,000 to $50,000 to the sale price. This is only a general rule, of course, and other factors such as condition, light, noise, etc. will come into play."
And according to this blog post from appraiser Jonathan Miller, "this logic applies to patios, garden areas, and balconies. It doesn't matter whether it is a co-op, condo, high-rise, low-rise or brownstone."
Are there disadvantages?
There always are. According to Bowen, the key disadvantage is that "people underestimate the maintenance it takes to keep outdoor space looking great." You need to rake leaves, mow grass, trim tree branches, etc. to keep the area looking shipshape. Whether that means that you do it yourself a couple of times a week or that you hire someone to do it, it's going to take time and money. So you'd better be sure to set aside both.
Helms agrees, saying that anyone with outdoor space should be prepared to contend with "issues with rain or flooding or the dreaded issue of vermin or insects."
Plus there's the fact that the space will be more or less unusable for a large portion of the year. "Unless you grew up in northern Canada, you probably don't want to hang out outside ... from November through March."
Check out these listings with outdoor space: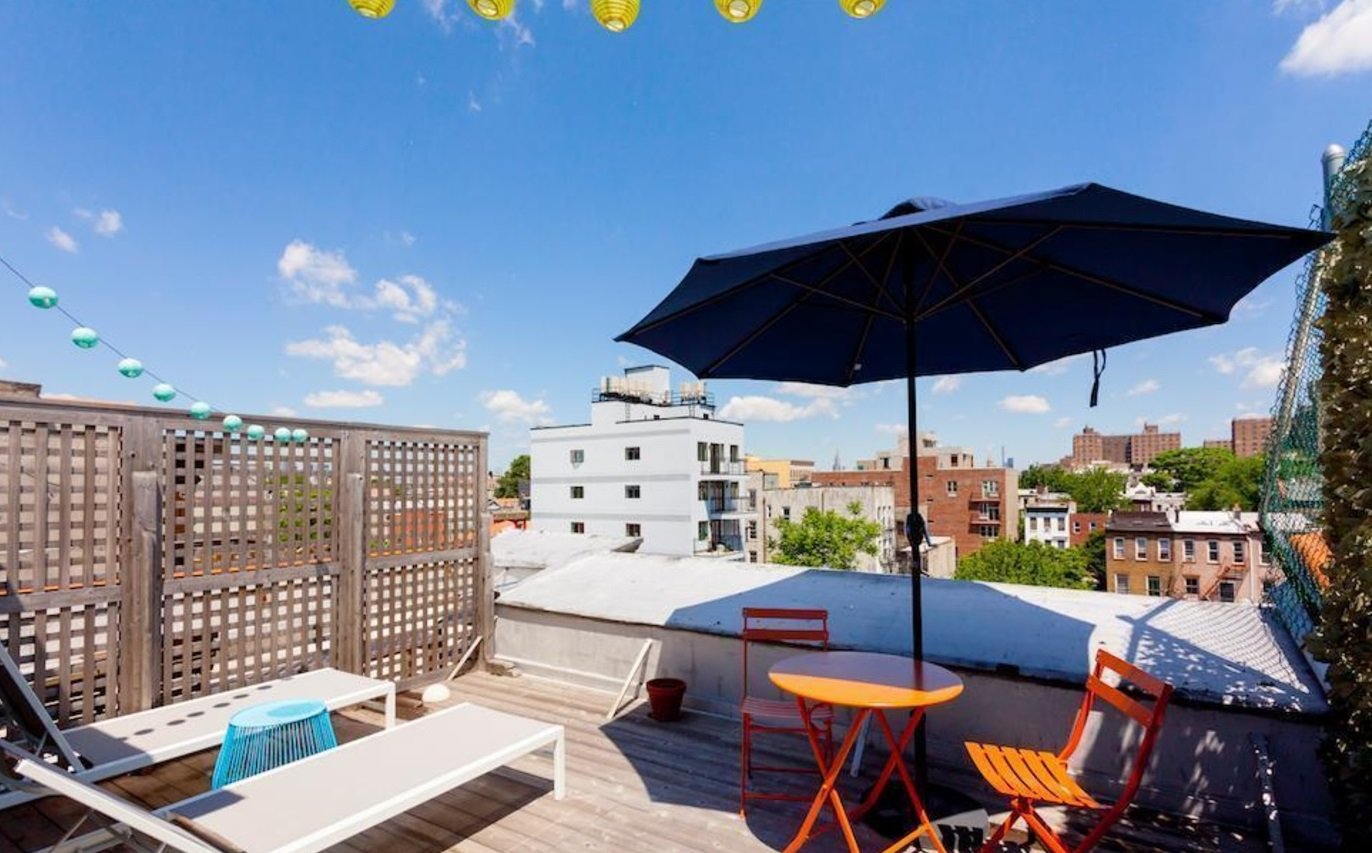 Bedford-Stuyvesant one-bedroom, one-bathroom condo, $540,000: This sunny one-bedroom condo at 156 Pulaski Street (between Tompkins and Throop Avenues) has exposed brick, 11-foot ceilings, a stainless steel kitchen, a central forced-air system for heating and cooling, a balcony off the master bedroom and a private rooftop space.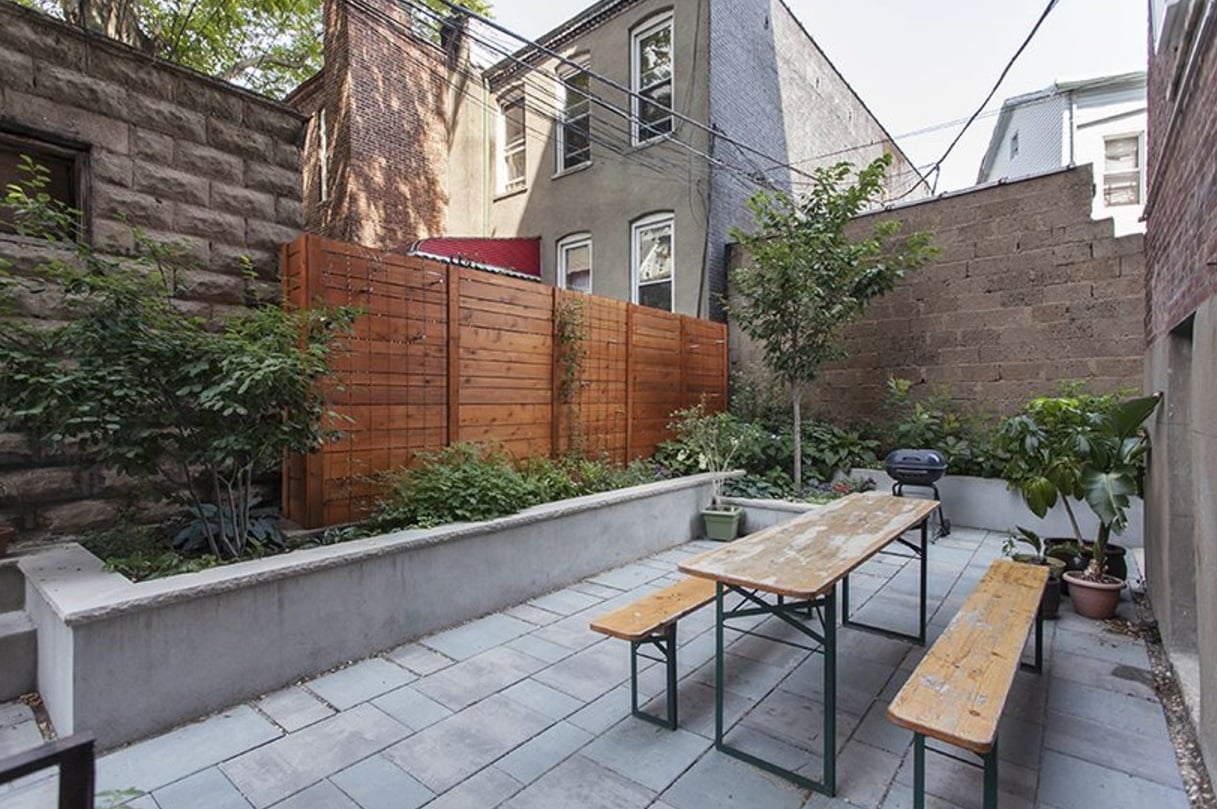 Kensington one-bedroom, one-bathroom co-op, $475,000: Located at 192 East 8th Street (between Church Avenue and Beverley Road), this renovated corner unit offers pre-war details, including parquet floors, arched ceilings and a curio cabinet. There's also a large kitchen and a renovated bathroom and a shared backyard with grilling and seating areas. The pet-friendly co-op building also offers storage, bike storage and a new roof deck.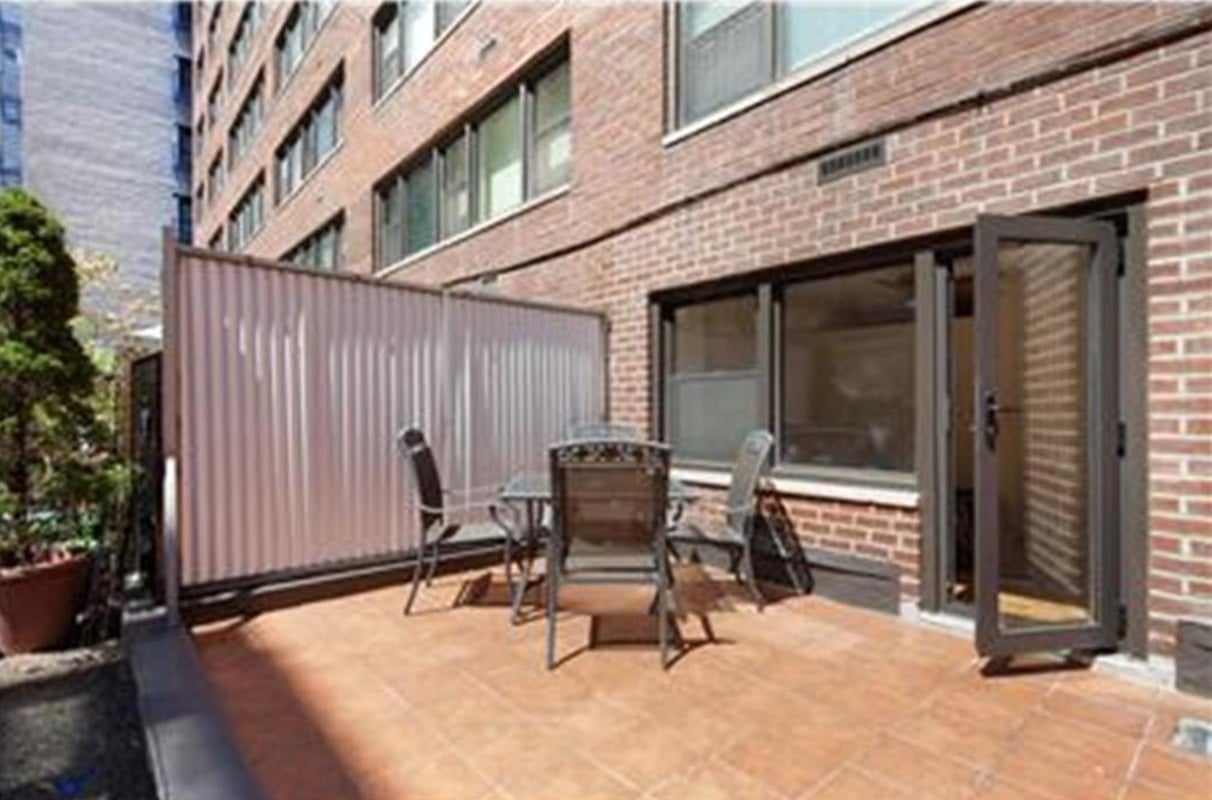 Lenox Hill one-bedroom, one-bathroom co-op, $479,000: This one-bedroom at 220 East 67th Street (between 2nd and 3rd Avenues) was converted from a studio apartment and has new parquet floors, central a/c and its very own private patio. The pet-friendly co-op building has a full-time doorman, a roof deck, bike storage, a garage and laundry facilities.
Brick Underground articles occasionally include the expertise of, or information about, advertising partners when relevant to the story. We will never promote an advertiser's product without making the relationship clear to our readers.