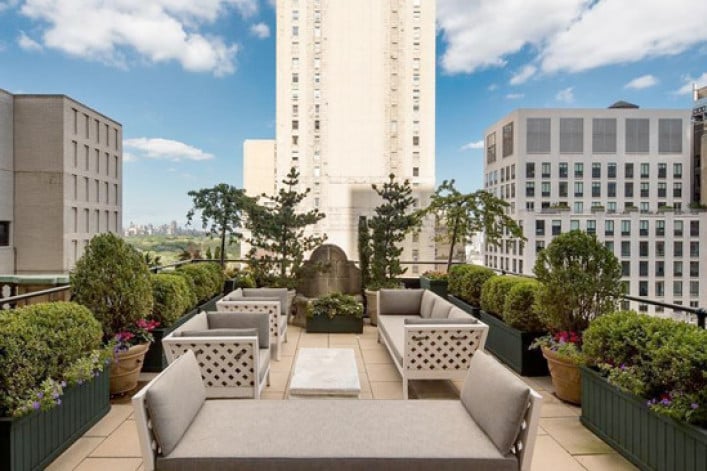 Q. After 12 years in a building with no outdoor space, my husband and I are determined to buy an apartment with a private outdoor area. What are the pros and cons of a patio/backyard versus a terrace/roofdeck?  
A. There is a considerable difference between owning a ground-floor outdoor space and one many stories above, says our experts, and each will cost you.
"Be prepared to pay dearly for it, and sadly, be prepared to compromise," says real estate broker Gordon Roberts of Warburg Realty.
"Oftentimes," he says,  "fabulous outdoor space is attached to a not-so-fabulous interior space. In fact, it's the fabulous apartment with fabulous outdoor space--add to that prime location and a drop-dead view-- that will bring the most competition from other buyers, and possibly an aggressive bidding war."
Overall, says appraiser Jonathan Miller of Miller Samuel, "Patios are less expensive."  
That's because patios are attached to ground floor apartments, he explains, which cost less than higher-floor apartments (except in walk-up buildings).
Priced by square foot, says Miller, both patios and terraces are typically valued at around 25-50% of the apartment's interior price per square foot.
Here are some ups-and-downs to consider as you weigh your options:
Privacy: "The townhouse garden may seem very seductive until you realize you have a live audience every time you use it, or possible complaints about your small, animated gatherings or smoky barbeques," says Roberts. Privacy-wise, he notes, "the 57-foot wide townhouse that Madonna bought a few years ago for $40 million boasts a 3000 square foot garden with mature landscaping, but it is completely visible to neighbors in modest one-bedroom apartments nearby. A perfect stakeout for watchful paparazzi."
Light:  Ground-floor outdoor space is more likely to be surrounded by taller structures, meaning you may only have a few hours of sunshine a day.  
Falling objects: Debris from higher-up apartments can be a problem whether your space is on the ground floor or above. "It could be very annoying if your penthouse terrace is below a neighbor who is in the habit of throwing their cigarettes out the window," says Roberts.
The building comes first: You could spend a fortune on landscaping and irrigation of your terrace or roofdeck, only to have to clear it all off at your expense for major exterior work required by the building, notes Roberts.  And typically none of that will be covered by your apartment insurance, says apartment insurance broker Jeff Schneider of Gotham Brokerage.
Leaks: If your roof deck or terrace has a drainage problem that damages your downstairs neighbor's newly-renovated home, you may have a lawsuit or insurance claim on your hands. You may also spend a lot of money and time tearing up your space trying to find and fix the leak.
Critters: Rats, mice and ants tend to be more of a problem for groundfloor spaces, notes pest control expert Gil Bloom of Standard Pest Management. You can take preventive measures (no standing water where mosquitos can breed, keeping food and trash picked up, etc.), but if neighbors do not, it will be an uphill battle.
Wind: The higher up your terrace or roofdeck is, the more wind it is likely to be subjected to.  Anything above the 30th or 40th floor is likely to be unusable.
---
Trouble at home? Get your NYC apartment-dweller questions answered by an expert! Send us your questions. 
See all Ask an Expert.
Backyard in Manhattan? Better you than me
How high is too high for a roofdeck?
Do I have to let workers on my terrace to fix the building next door?
Hell's Bitchen: Desperately seeking outdoor space
How to get your hands on raw roof space--and what it's worth
Outdoor space roundup: How to tell if your balcony is going to fall off, and more
I can't use my 43rd floor terrace--but the closets are amazing
Brick Underground articles occasionally include the expertise of, or information about, advertising partners when relevant to the story. We will never promote an advertiser's product without making the relationship clear to our readers.