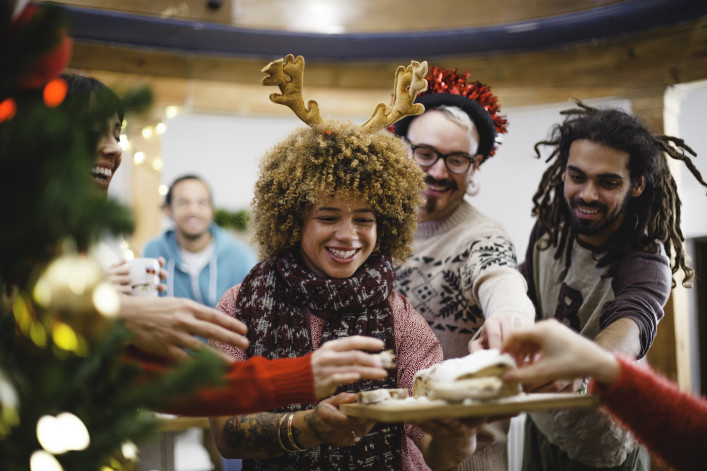 New York City is one of the best places in the world to celebrate the holidays (the holiday markets, the shop windows—you get the picture). But few of us really have the space to throw a party for the ages. That won't stop us from trying, though, nor should it. Whether you're squeezed into a cramped studio or planning a bash last minute, there are plenty of ways to make it work, and make it memorable, in as little square footage as possible.
[Note: This post first ran in December 2014 and was updated in December 2016.]
Embrace delivery options for booze...
First, the drinks: In lieu of schlepping heavy bottles of booze to your apartment in the cold—then finding a place to put them until the day of your party—order them for delivery, instead, and via apps now serving the city.
Drizly, Minibar, Delivery.com, and Swill all drop off libations at the touch of a button (though you'll want to check ahead of time that they deliver to your specific nabe if you live in the outer boroughs). All three services promise delivery of your chosen beverages in under 60 minutes, but if your party is on a holiday (or weekend evening this time of year), it'd be wise to order in the morning, not in the hour before your guests are set to show up. 
...and party snacks
The same tactic applies with the groceries: Get them sent to your door with any of the city's different delivery apps (which we've reviewed extensively). If your kitchen's tiny, hold off on ordering vittles until the day-of so you don't have to hassle with storage. And if you're hoping to throw a full-on dinner party without spending most of the time cleaning, cooking or serving, check out these services around the city which allow you to hire help for the night.
Another pro tip: Devise the menu with your own kitchen in mind—in other words, don't dream up six different appetizers that all need to be served fresh from the oven if you're working with one small stove. Instead, opt for a charcuterie board, or snacks that can be cooked ahead of time and re-heated right before the party.
Minimize stuff, maximize space
"First and foremost, you want to de-clutter as much as humanly possible," says Brooke Stone, founder and CEO of GYST, a company that provides personal assistants by the hour, including for parties. "Even little knick-knacks or framed photos, get them out of the way to make the space more open and keep them from getting broken." Roll up your rugs, since bare floors will make your place look bigger (and ensure spills are easier to clean). Push furniture to the walls, Stone recommends, and make sure there are clear paths to the the door, the bathroom and the bar, the three locales that tend to get congested when a party is packed.
If you can't jam extra stuff into closets, drape a scarf over your shelving or open storage to keep clutter out of view. "Not seeing things in stacks tricks the eye to make the space look more open," explains Stone. If you've got more heavy-duty things to clear out, storage services like MakeSpace will whisk away unwanted stuff and bring it back once the party's over. (If you're really going last-minute, there's always the option of stowing your mattress in the hallway, depending on how much goodwill you have with your neighbors.)
Put the decor to work
If the place is a studio and the party will essentially be in your bedroom, make furniture work double duty: Your dresser can become a sideboard, the nightstand a spot for a tray of drinks, and so on. Use holiday-themed or colored plates, glasses, serving trays, etc. to add festive touches to things that guests will already be using. "This way, you're injecting decor into the party, but not adding extra things to your space," Stone explains. (Smarty Had a Party, a site that sells party-friendly linens and tableware, has lots of patterned, recyclable options.)
Spring for mood lighting
Good lighting has the same ultra-flattering effect on apartments as it does on, say, under-eye circles, and replacing your fluorescent overhead with a soft glow will take the vibe from "cramped" to "cozy." Considering running this tip by your landlord first—unless you plan to un-install before you move out—but putting in a dimmer switch for your overhead lighting can also work wonders. You can find plenty of options at Home Depot for $30 or under, and Apartment Therapy has a guide to installing them here. Also, string lights above the area where people will be eating (or mingling), the Kitchn recommends, as well as peppering the apartment with small candles and tealights. 
Limit your beverage picks
We loved this advice from Refinery 29's guide to hosting Thanksgiving, which could just as well apply to any party during the cold months: Make red wine your party's go-to beverage, so as not to take up precious space in your fridge, which will need some clear space for beer or any other chilled refreshments guests are likely to bring. And since you've moved your rug out of the way—you have, haven't you?—no need to stress about stains.
Brick Underground articles occasionally include the expertise of, or information about, advertising partners when relevant to the story. We will never promote an advertiser's product without making the relationship clear to our readers.